Looking for the best vegan restaurants in Dallas, TX? Here's the good news: Dallas was on PETA's list of the 10 most vegan-friendly cities in the country (in the seventh spot, to be exact).
This means that there are plenty of vegan spots worthy of your attention. The struggle is about deciding which one to try first.
Are you a Dallasite who wants to transition to a healthy vegan lifestyle or a long-life vegan with a visit to the city? Or seeking to accommodate your vegan friends who come from another state? If yes, here are some places in Dallas that dish up the best vegan foods.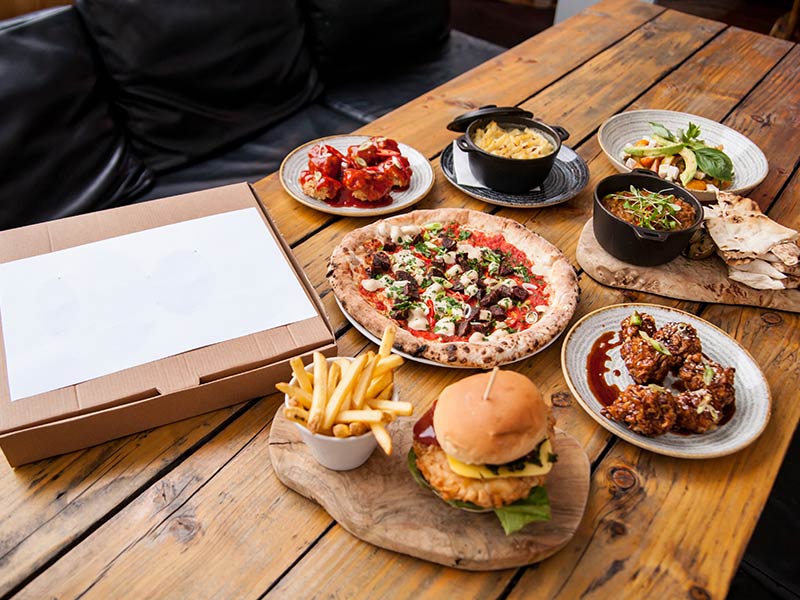 15 Best Vegan Restaurants in Dallas Tx To Add To Your List!
Unlike many cities in the state, it won't take hungry vegan diners long to find a decent eatery when they're in Dallas. For example, if you are searching for a good restaurant in Trinity Groves, Dallas serving vegan foods, you can find some good names to choose from.
Overall, the city is home to many well-known vegetarian and vegan restaurants. From Mexican-inspired dishes, and Southern foods, to homegrown fast-food meals, Dallas will more than satisfy your belly and soul.
Led by two vegan sisters, Marianne and Annette, Nature's Plate features all-vegan dishes mainly (75%) made of organic ingredients. They use non-GMO ingredients and no organic items in the "Dirty Dozen" (a list of pesticide-ridden fruits and vegetables).
All the items on the core menu are also entirely made of whole grains. They also keep the use of gluten-based ingredients and oil in the cooking process to a minimum.
Nature's Plate offers an array of comforting foods, including Shepherd's pie, enchiladas, veggie Mac, spaghetti, and meatballs. You'll love enjoying comfort food knowing that they're good for you.
If you make it in time for breakfast, consider carrot cake cookies or breakfast biscuits (with savory fillings of eggs and sausage).
This eatery also provides weekly homestyle meals. With more familiar flavors and textures, these dishes are a great choice for people embarking on vegan dining to adapt better.
In addition, baked goods here are also worth trying. Try not to miss brownies and cookies, which are decadently fresh and delicious.
Price Range: $
Food Styles: Vegan, gluten-free
Location: 10233 E. Northwest Hwy #432 Dallas, TX 75238
Website: https://naturesplate.com/
Phone: 469-307-4217
Order Online:
Table Reservation: Not available
Recipe Oak Cliff is a popular plant-based and vegan spot in Dallas. In a cozy space that measures around 1000sf are the shared kitchen space, market, and a completed juice bar.
The eatery focuses on tackling food security issues and aims to provide the best interpretations of indigenous and ethnic family street food. There's a variety of hot tea, juice, and smoothies on offer from the bar; all are made with healthy veggies and fruits.
Come for a citrus blast, a mixture of citrus fruit families like orange, lime, grapefruits, and lemon. Or try Hey Red, with a flavorful mix of apple, banana, and strawberries. For even healthier beverages, give their nutrient-dense juice shots a try.
Speaking of food, everything is made in-house and uses locally sourced ingredients. They're best known for BBQ jackfruit tacos and vegan burgers. The burgers are my favorite, with all the homemade, savory toppings.
The cashew sauce just takes the buns over the top. Best of all, you'll love its unbeatable prices; almost every dish costs under $13. Vegan foods never taste so good and affordable!
Price Range: $$
Food Styles: Vegan, sandwich and salads
Location: 1831 South Ewing St. Dallas, Texas 75216
Website: https://www.recipeoc.com/
Phone: 469-930-8284
Order Online:
Table Reservation: Not available
Regarding Mexican eateries, El Palote Panaderia earns a special place in the neighborhood. This cozy dining spot is among the finest Mexican restaurants in Dallas, Texas, and it also stands out with its completely vegan foods.
The restaurant started off as not an entirely vegan dining spot in 2015. Not long after, in 2016, their vegan offerings were so well-received that the El Palote Panaderia transitioned to a full-fledged plant-based restaurant.
El Palote Pandaria's menu boasts a wide selection of authentic Mexican fares. They specialize in savory Tacos, but other Mexican dishes, such as enchiladas (corn tortillas stuffed with filling and savory sauce) and burritos, also share the spotlight.
For a well-rounded dining experience, classic Mexican sides, such as queso (Mexican cheese dip), salsa, rice, and beans, are also on the menu. The food is in good portions and reasonable when weighing the price. You can feel satisfied at the end without feeling too heavy.
Price Range: $$
Food Styles: Mexican, bakeries
Location: 2537 S. Buckner Blvd Dallas, TX 75227
Website: https://www.elpalote.com/
Phone: 972-807-2673
Order Online:
Table Reservation: Not available
If your craving for Mexican food hits, let's see if El Palote Pandaria's offerings can tame it!
Goji cafe serves up a variety of Chinese and Asian vegan foods with a robust but healthy twist. Options range from protein spring rolls, French fries, pho, tofu, and patties, to sesame soy nuggets. The Asian dishes are creatively crafted, light on the stomach, and all satisfying.
The menu also includes traditional American comfort fare, such as steak burgers, BLT, and French fries, to better accommodate plant-based diner's needs.
The eatery's foods are a good example that you don't need meat to have a satisfying meal. Goji cafe is a relaxing, comforting, and spacious space. This is a great place to introduce your meat-eating friends to the world of vegan dining.
There are juices and vegan desserts on offer, too, to round out the dining experience. Goji Cafe holds a lunch buffet every Sunday, so stop by with a big appetite. The restaurant is spacious for accommodating up to 90 seats. Plus, Goji Cafe is closed on Tuesday.
Price Range: $
Food Styles: Asian, American, Vegan
Location: 2330 Royal Ln STE. 900 Dallas, Texas, 75229
Website: http://gojicafedallas.com
Phone: 972-243-1888
Order Online:
Table Reservation: Not available
The Spiral Diner and Bakery is also a vegan staple in the neighborhood. It grew from a small lunch counter to a restaurant with 3 locations in Dallas, Denton, and Fort Worth.
The eatery serves up classic comfort food that everyone grew up loving. Hearty sandwiches, nachos and sides, and quesadillas are all featured.
The burgers are also among the main offerings, and diners can choose their favorite added protein, such as cashew-quinoa patty or Beyond chicken tenders.
Spiral diner and bakery is also a go-to destination for all-day breakfasts, with breakfast tacos, pancakes, and more ready to serve at any point of the day.
Price Range: $$
Food Styles: American, International, and bakeries
Location: 1101 N Beckley Ave, Dallas, TX 75203
Website: https://spiraldiner.com/
Phone: 214-948-4747
Order Online:
Table Reservation:
Helmed by the team behind Little Pine in Los Angeles, Belse Plant Cuisine is an instant hit in Newyork City.
Regarding vegan dining, the restaurant also ranks top of the best restaurants in downtown Dallas. This Dallas vegan newcomer (launched in 2021) now opens for brunch on weekends and dinner from Wednesday to Sunday.
Besides iconic items like sausage fennel flatbread and apple sandwiches, diners can also expect to indulge in various veggie-forward dishes. Bring along company to enjoy signature shared plates such as sweet potato empanadas, Mocki rolls, or cauliflower tostadas.
The sausage fennel flatbread, to me, is phenomenal. Roasted fennels, vegan sausage, and romesco sauce just hit all the right notes of flavors. Plus, there are also kid-friendly options if you bring along your kiddos.
The opening hours, however, are quite limited. The good news is that the vegan eatery just extended dinner hours to 9 pm on weeknights and Saturdays. This means diners have an extra hour to enjoy the delectable vegan offerings.
Price Range: $$
Food Styles: American, international, pizza
Location: 1910 Pacific Ave Suite 1400, Dallas, TX 75201
Website: https://www.belsedallas.com/
Phone: 469-818-7010
Order Online:
Table Reservation:
Take a sneak peek into Belse Plant Cuisine in Dallas and some dishes on offer!
Tiki Loco topped the list of the greatest restaurants in Deep Ellum for breakfasts in Dmagazine (2019).
However, this vegan eatery, situated in Deep Ellum, also doubles as a casual cafe. Good food and cafe, this place is where you want to linger all your morning.
The restaurant's menu features seriously great Mexican and American vegan foods. Tacos, nachos, salad bowls, and burgers are all plant-based and gluten-free. Salsa is made in-house, so don't forget to ask for some to serve with your Tacos.
The full-service coffee bar has quite a wide selection. You can choose from shaved ice desserts, coffee, juice, smoothies, or beer. It's worth noting that some of the beer contains gluten, though.
I love the tropical ambiance inside the shop. It's welcoming and relaxing and invites you to sit back and enjoy some good Tacos and drinks. My favorite is juices, not only because they're delicious but also pressed in-house.
Price Range: $$
Food Styles: American, Mexican
Location: 2639 Elm Street, Dallas, Texas 75226
Website: https://tikilocodeepellum.com/
Phone: 469-399-7997
Order Pickup:
Order Delivery:
Table Reservation: Not available
Vegan Food House is a well-rounded vegan restaurant in Oak Cliff, Dallas. The menu is substantially inspired by Southern influence, featuring classic, regional comfort food such as Catfish Po-boys, Shrimp and Grits, and Boudin Balls.
Besides, the Oak Cliff vegan eatery also highlights some facets of Tex-Mex cuisine with stuffed jalapeños, shrimp and sausage quesadillas, and fried fish tacos on the menu.
They serve up completely vegan dishes. They use seitan, jackfruit, soy, and mushroom to closely mimic the meaty textures for their dishes, so good that even the meat-lovers will approve.
Buffalo mac and cheese burger, cauliflower wings, and fried oyster mushrooms are best-sellers. In addition, the eatery offers alcoholic beverages to enjoy along with the food.
Price Range: $$
Food Styles: American, desserts
Location: 832 West 7th Street, Dallas, Texas 75208
Website: https://www.veganfoodhouse.com/
Phone: 469-248-0297
Order Online:
Table Reservation: Not available
Casa Del Vegano is a Tex-Mex vegan restaurant founded by the same owners of the Vegan Food House.
They serve a robust menu of tacos from grilled fajita chickenless tacos, coast scallop tacos, crispy Thai jackfruit tacos, and everything in between. If you're out for a Tuesday vegan taco night, there's no better place in the city to go.
With a sleek black design, the interior somewhat has a vibe of a nightclub to it. The seating is comfortable and can accommodate a decent crowd. The establishment also has a full bar, which is always a nice plus.
Besides the food, the restaurant also has various drinks on the menu. Whether it's Cucumber Cool, Pink Pantera, or Watermelon Margarita, you'll get a drink that pairs perfectly with the renowned Tex-Mex vegan dishes.
Stop by during happy hours, 4 P.M-7 P.M from Monday to Saturday, to take advantage of lower prices.
Price Range: $$
Food Styles: Mexican food
Location: 333 Jefferson Blvd, Dallas, TX 75208
Website: https://www.casadelvegano.com/
Phone: 972-685-3003
Order Online:
Table Reservation: Not available
Food should make you feel better, not worse! That's part of the True Food Kitchen's philosophy since its inception.
The foods from this vegan restaurant are artificially crafted and only use quality, in-season ingredients. The menu offers everything from bowls, salads, pizzas, and burgers, to sandwiches. You'll struggle to choose what to eat for dinner.
The best thing about this cozy dining spot is dishes can be customized to better accommodate the diner's dietary preferences, including keto and paleo diets.
True Food Kitchen is a great place for vegan, health-minded, or anyone who wants a break from meat-based foods to meet!
Price Range: $$
Food Styles: American
Location: 8383 Preston Center Plaza #100, Dallas, TX 75225
Website: https://www.truefoodkitchen.com/
Phone: 214-377-3333
Order Online:
Table Reservation:
Lucas Bradbury founded Project Poll to make plant-based foods more accessible to the surrounding community. Until now, this vegan fast-food chain has still been a hot dining spot in Dallas's Greenville or one of the best-loved restaurants for vegans in San Antonio, TX.
The popular vegan spot is known for its trademark "chickenless" sandwiches, with the vegan chicken made from a mixture of vegetable protein textured soy. The bold flavors are bound to impress and perfectly compare to a regular fried chicken sandwich.
If you stop by, don't miss the crowd-favorite Nashville Hot "Chicken" or Spicy Project sandwiches! Apart from sandwiches, diners also have plenty of other options to nosh on, ranging from burgers, brunch burritos, chicken nuggets, and protein bowls.
Everything, from the patty to the cheese, is plant-based, but the foods from this San Antonio young chain are so good that they draw a large portion of meat-loving customers, too. Plus, the eater also has a drive, though!
Price Range: $
Food Styles: American, fast food
Location: 4814 Greenville Ave, Dallas, TX 75231
Website: https://www.projectpollo.com/
Phone: 469-250-7949
Order Online:
Table Reservation: Not available
Da Munchies, situated in West Dallas, focuses on a variety of Southern-style comfort food. The owner, Angela Alexander, established this plant-based restaurant following years of committing to healthy, meat-less eating.
The vegan spot is a hole-in-the-wall joint tucked away in the corner of a strip mall; despite the sketchy location, Da Munchies dish out the best vegan foods in the neighborhood. A gem is hidden in plain sight!
The menu items, from fried oyster mushroom, buffalo chicken sandwiches, beyond meat burgers, cajun crab stuffed jalapeno poppers, and other great veggie-forward foods, are sure to satisfy any of your cravings.
This black-owned eatery is not open till late at night. However, if you're craving Cajun or jalapeno poppers hits during the day, stop by for take-out from 11 am – 6 pm Wednesday through Saturday.
Price Range: $$
Food Styles: Fast food, Southern-style
Location: 4121 N Westmoreland Rd, Dallas, TX 75212
Website: https://www.damunchiesndfw.com/
Phone: 214-828-7097
Order Online:
Table Reservation: Not available
Explore Da Munchies' menu with burgers and Mac and cheese in this video.
Soulgood vegan food truck not only sells delicious plant-based foods. They also set out to give back to the community with each meal or catering reservation from their customers.
The owners are committed to supporting Cystic Fibrosis Foundation or promoting plant-based health education programs in their immediate community.
Soulgood has both a food truck and brick-and-mortar establishment. The latter, located at the Oakland Complex at 1201 Oakland St, is in full-swing operation at the beginning of 2022. The restaurant is currently open for breakfast and lunch.
The extensive menu includes vegan buttermilk biscuits, burgers with Beyond meat, waffles, tamales, tacos, and more. All are completely vegan. The dining spot aims to serve healthy foods for students at the Denton campus and out-of-town diners.
Soulgood's vegan food truck serves its foods around Dallas, so check out their social media for detailed locations. Vegan beef street tacos, vegan tamales, or vegan Mexican chocolate chip cookies crafted by the founder and chef Cynthia Nevels are worth trying.
Along with breakfast and lunch, there are also desserts available for delivery. This food truck is named one of the 10 food trucks across America on livekindly.com. It's also listed as one of the best food trucks in the neighborhood by thedallasobserver.com.
Price Range: $
Food Styles: Fast food
Location: 520 Shepherd Dr, Garland, TX 75042
(For selling location, check out the restaurant's official website or their social media)
Website: https://www.eatsoulgood.com/
Phone: 940-898-3661
Order Online:
Table Reservation: Not available
Midtown Pizza, located at 5782 Alpha Rd., was once an eatery that served an omnivorous menu. However, from 2020, the restaurant has reinvented itself to mostly focus on the vegetarian and vegan menu.
Plant-based meat toppings, such as crumbled beef, pepperoni, Italian sausage, and even faux chicken, gracefully march into the restaurant's menu.
Their popular dishes include pizzas, subs, calzones, and made-to-order sandwiches. Best of all, they have offerings with vegan cheese to accommodate vegan folks, too.
Besides savory vegetarian and vegan dishes, the eatery also offers terrific desserts in the city, from sorbet, icecream, to cupcakes and beyond. The dough for the Newyork-style crust is made in-house, and you can opt-out gluten in your order, too.
Price Range: $$
Food Styles: Pizza
Location: 5782 Alpha Rd, Dallas, TX 75240
Website: https://www.midtownpizzadfw.com/
Phone: 972-980-8707
Order Online:
Table Reservation: Not available
Nuno's Tacos & Vegmex Grill is a Tex-Mex joint led by the former co-owner of the popular El Palote Panaderia – Aurelio "Nuno" Arias Jr.
He started the business with a mission to convince carnivores to eat vegan comfort food for a healthier lifestyle. This vegan eatery, currently located in North Dallas, serves up tacos, flautas, tortas, tamales, enchiladas, and chimichangas, just to name a few.
However, try not to miss al pastor quesadillas, which is a huge favorite among diners. Another thumbs-up for this restaurant is their vegan cheese is made in-house.
For desserts, Oatly soft serve cones & milkshakes and Sopapillas are among the must-tries when you're dining there.
Price Range: $$
Food Styles: Vegan, tacos, Tex-Mex
Location: 8024 Spring Valley Rd Dallas, TX 75240
Website: Not available
Phone: 972-685-2703
Order Online:
Table Reservation:
Sierra Valley Food is a well-known vegan Mexican restaurant in Texas. The restaurant offers plant-based foods with an aim to help cut down on water consumption on the planet.
Their Mexican dishes, with true Mexican flavors, prove that there's no need to compromise on the flavors while you're going vegan.
Sierra Valley Food is situated at Dallas Farmers Market, only open on Saturday and Sunday, from 10 AM to 5 PM. Come for some good tacos or nachos on the weekends.
Yet, they also sell their tamales, vegan meats, and sides such as cashew-based queso and salsa online. Therefore, you can enjoy plant-based meals at home!
Price Range: $$
Food Styles: Vegan, Mexican
Location: 920 S Harwood St, Dallas, TX 75201
Website: https://www.sierravalleyfood.com/
Phone: 817-723-6906
Order Online:
Table Reservation: Not available
17. Flower Child
Flower Child is a neighborhood's favorite among vegan, vegetarian, and gluten-free folks, but their amazing, feel-good foods also attract many carnivores.
The menu offers a great selection; their foods are known for bright and bold flavors. The "Forbidden" rice and Mother Earth are among the best-sellers of this eater.
Besides these dishes, my favorite is Glow Bowl, a spicy sweet potato noodle cooked with jalapeño and coconut milk. Plus, dishes like wraps, bowls, or salads are customizable with a wide range of veggies and fruits to suit diner's preferences.
On a side note, Flower Child occasionally changes its menu as they try to use the best ingredients in season. So, look out ahead for interesting seasonal dishes.
Price Range: $$
Food Styles: Vegan, vegetarian, salad, American (new)
Location (Addison): 5290 Belt Line Rd, Addison, TX 75254
Phone (Addison): 469-480-8556
Location (Inwood Village): 5450 West Lovers Ln, Dallas, TX 75209
Phone (Inwood Village): 214-231-5367
Location (Preston Royal): 5959 Royal Ln, Dallas, TX 75230
Phone (Preston Royal): 469-501-2510
Location (Rosewood Court): 2101 Cedar Springs Rd r100, Dallas, TX 75201
Phone (Rosewood Court): 469-904-6310
Website: https://www.iamaflowerchild.com/
Order Online:
Addison
Inwood Village
Preston Royal
Rosewood Court
Table Reservation: Not available
Visit These Plant-Based Eateries In Your Future Trip!
Vegan eateries play a big part in Dallas's dining landscape. This means meatless-eaters won't have to think long and hard about where to go for their lunches or dinners.
Most of the restaurants here serve exclusively vegan foods, and they also factor in other dietary aspects of their customers, such as oil-free, gluten-free diets.
Many also go the extra mile when crafting their foods to create an exciting dining experience, which those new to vegans will appreciate.
So, when you come and visit Dallas, I hope this guide will help you have a wonderful experience dining here.
Have you already been here and tried out these spots? Tell me whether it lives up to your expectations. If the answer is yes, share this list with your vegan friends!