All the best halal restaurants in Dallas, Texas, can be found in this concise post. Since this huge city is famous for its inclusiveness, local eateries catering to this kind of diet are numerous. Besides Middle Eastern and Mediterranean food, they also boast choices like Cajun and Indian dishes.
In case you don't observe Islamic teachings, a trip to these dining venues is still a refreshing experience. Besides, halal food can be highly healthy. For example, making halal meat requires the animal to be alive and healthy at the time of butchering, ensuring the best taste and health values.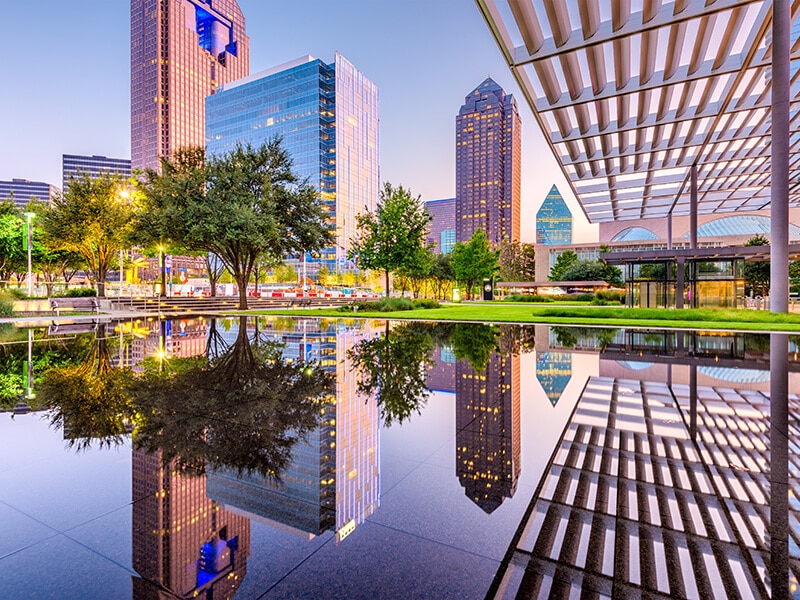 Let The Hunt For Halal Restaurants In Dallas Begin!
Are you familiar with the following names? Some of them are nationally famous restaurant chains, while others are local fixtures that not many outsiders know about. My advice is to try them all!
Fadi's Mediterranean Grill – Dallas
Sahara Mediterranean Restaurant
The Halal Guys – Dallas
Big Guys Chicken & Rice – Dallas
AL Kabob Grill & Cafe
Open Sesame Lebanese Grill
Lyari Cafe Finest Pakistani/Indian Halal Cuisine
Dave's Hot Chicken – Dallas
Swamp Cafe
INVASION
JC's Philly Cheesesteak
Angel Chicken Kitchen
Wava Halal Grill
Baboush
Where To Go For Halal Eats In The Heart Of Texas
From healthy Mediterranean food to irresistible Western fast food, Dallas' halal restaurants are available in so many forms.
Founded in 1996 in Houston, this award-winning Lebanese and Mediterranean restaurant chain has established multiple locations around Houston and in the Fort Worth – Dallas area.
Why choose this restaurant:
Fadi's Mediterranean Grill is headed by a Lebanon-born chef who ensures that the offerings are chock full of exotic Middle Eastern flavors and, of course, halal-friendly.
It embraces the classic cafeteria-style service that resembles a buffet: pay at the counter and get whatever you want from the large assortment of mouth-watering dishes. Many patrons praise the hefty sizes of the portions and their reasonable prices that give them a big bang for their buck.
What to eat:
You should try various kinds of wraps with shawarma (shaved spit-roasted meat), such as chicken, beef, and lamb. Alternatively, order a Fadi's Platter with falafel, your choice of meat, veggies, and sides.
Location: 3001 Knox St #110, Dallas, TX 75205
Website: https://www.fadiscuisine.com/
Phone: +12145281800
Are you looking for an amazing BYOB restaurant in Dallas that also serves top-notch halal food? This Persian-Mediterranean eatery is the answer to your prayer!
Why choose this restaurant:
Since 2004, this family-run hole in the wall has curated an enviable reputation as the top spot for Persian fare in the Dallas-Fort Worth area. Even better, you can purchase aromatic Middle Eastern baked goods and exotic goodies in its cute market.
Of course, you should do so after stuffing yourself with the delicious homemade Persian food Sahara Mediterranean Restaurant has to offer. Its huge portions already have attractive prices, but you should take advantage of lunch specials to get even more value for your money.
What to eat:
The special Isfahan chicken (featuring well-seasoned and charbroiled chicken thighs) is the top crowd-pleaser, though the bone-in lamb shank in the signature sauce is just as tasty. As for specials, the superb stew gheimeh bademjan (with beef, tomatoes, eggplant, etc.) is my top choice.
Location: 5441 Alpha Rd #112, Dallas, TX 75240
Website: https://www.thesahararestaurant.com/
Phone: +19727881898
3. The Halal Guys – Dallas
In 1990, The Halal Guys made a splash in New York City's food scene by opening the first-of-its-kind halal food cart. In 2016, this fast-casual restaurant chain expanded to Dallas and has remained very popular since.
Why choose this restaurant:
Speaking of this famous street food cart-turned-restaurant, many people can't help admiring its legendary white sauce and red sauce: the former incredibly creamy, the latter unbelievably spicy. Its gyros and falafels wouldn't be that famous without these sauces.
Here is a small tip: if the sauce isn't poured on your platter, you can get extra sauce on the side for free. The Halal Guys closes very late, around 10:30 PM or even midnight. I find the sight of its juicy spit-roasted meat behind glass windows very comforting when craving a late-night snack.
What to eat:
I highly recommend the beef gyros and falafel sandwiches, both served with vegetables, your choice of toppings, and the famous white/ red sauces. Feel free to order extra falafels, french fries, and hummus for the sides.
Location 1:
Location 2:
Similar to The Halal Guys, Big Guys Chicken & Rice started out as a halal street food vendor in New York City. Its Dallas location is one of the coolest eateries in Deep Ellum, offering palatable wraps and rice platters.
Why choose this restaurant:
If you love the late-night offerings at The Halal Guys, you will have an even better time at this restaurant since it can stay open until 4 AM! After a night of hard work or wild fun, feel free to enter the chic dining room adorned with eye-catching murals and order halal bites in hefty portions.
What to eat:
You can't go wrong with the Big Guy's mixed rice platter (featuring New York-style chicken and gyro), aloo wraps (made with mashed potatoes), or gyro salad. There are also New York cheesecakes for desserts.
Location: 2614 Elm St, Dallas, TX 75226
Website: https://www.orderbigguyschickenandrice.com/
Phone: +12148101955
The best Halal food isn't confined to Middle Eastern cuisine; you can find mouth-watering Muslim-friendly dishes in South Asian cooking as well. This Indian/ Pakistani restaurant in North Dallas is a perfect example.
Why choose this restaurant:
AL Kabob Grill & Cafe may look unassuming on the outside, but it is actually quite spacious, with plenty of indoor seating. While most guests don't rate its customer service as stellar, they love its on-point Indian/ Pakistani well enough to bear the occasionally long wait time.
The huge portions, relatively fair prices, and daily specials are other factors drawing locals here for a hearty lunch or dinner.
What to eat:
Biryani, made with just the right amount of heat and available in many varieties, is the most-sought after item. You can find goat, beef, chicken, and other flavors. If possible, try chicken seekh kebabs, haleem, and naan with beef/ chicken patties.
Location: 11357 Harry Hines Blvd, Dallas, TX 75229
Website: Not available
Phone: +19726209300
Located in North Dallas, this Turkish food spot is the go-to destination for fantastic flatbreads and other eats.
Why choose this restaurant:
Many guests order nothing but flatbreads at Lezzet Cafe, and it's easy to see why. The team behind this restaurant makes its own dough and toppings daily, infusing the robust flavors of multifaceted Turkish cuisine into its bites. The reliable pickup/ delivery service also helps.
Its two biggest stars are pides (the Turkish version of pita) and lahmacuns (flatbreads topped with spices, minced meat, and minced vegetables). But don't forget that you can order snacks, appetizers, and filling dishes for the main course, plus the much-hyped Turkish coffee.
In addition, keep in mind that Lezzet Cafe may Americanize some recipes to suit local tastes, so if you want to try authentic Turkish cuisine, inform the server of your preference before ordering.
What to eat:
My favorite topping combos for flatbreads are mozzarella and Turkish pepperoni (sucuklu) and spinach and feta (ispanakli). In case you prefer a proper sit-down meal, go for dolmas stuffed with grape leaves, shepherd's salads, and lamb skewered kebabs.
Location: 6869 Frankford Rd #100, Dallas, TX 75252
Website: https://lezzetcafetk.com/
Phone: +14699312033
A spectacular Mediterranean restaurant in Dallas with exotic Eastern allure, this hidden gem in Oak Lawn is surely worth visiting.
Why choose this restaurant:
The moment your gaze rests on the attractive grass-colored wall emblazoned with the neon sign "Yalla habibi" ("Come on, my dear"), you will know that you've come to the right place for halal food and fun. The interior is equally eye-catching, with large space and comfy chairs to boot.
But if you come here with a canine companion, the expansive dog-friendly patio outside is a better dining venue. Make yourself comfortable and order the tempting Lebanese dishes that this restaurant has to offer. They come in hefty portions that can be easily split between friends.
What to eat:
Don't come to Open Sesame Lebanese Grill alone because, as I said, its food is available in heaping sizes. You can verify it by ordering the Ultimate Mixed Grill with 5 sides and skewered kebabs of lamb, beef, and chicken. For a lighter meal, you can go for chicken shawarma sandwiches.
Location: 2615 Oak Lawn Ave, Dallas, TX 75219
Website: https://www.facebook.com/
Phone: +14697262825
Shiraz Mediterranean Grill is another place to get perfect Persian food in Dallas. It is open for lunch and dinner.
Why choose this restaurant:
Though Sahara Mediterranean Restaurant and Shiraz Mediterranean Grill are both located in North Dallas, they couldn't be more different. The former appeals to patrons in love with homely food and casual ambiance, while the latter is all about being elegant and fashionable.
Its halal fare doesn't come cheap, and complimentary cheese and bread aren't available, either. But it boasts charming decor that will do well for a romantic date, a gorgeous patio that will add a magical flair to your meal, and a full bar with refreshing beverages to help you unwind.
What to eat:
You can easily find the house specials on the website: khoresh bademjan (split yellow bean and eggplant stew with braised beef), ghormeh sabzi (Persian beef stew with kidney beans and herbs), and khoresh karafs (celery stew with lamb).
Location: 18101 Preston Rd Suite 101, Dallas, TX 75252
Website: https://www.shirazdallas.com/
Phone: +12144846075
Can't have enough South Asian goodness? You can try another Indian/ Pakistani spot with halal food in North Dallas. It serves breakfast, lunch, and dinner.
Why choose this restaurant:
Although this spotless restaurant is frequently packed with hungry guests, its staff will always treat you with courtesy. You can find yummy biryani and nihari (a stew from Lucknow with slow-cooked meats), as well as other traditional dishes from South India.
Add in these factors, and you can easily see why it's got so much positive word of mouth despite being a relatively new dining venue. But don't forget that it also offers a daily special Iftar buffet during Ramadan; check the updates on its Facebook page for more information.
What to eat:
The all-day breakfast anda paratha (Indian egg-topped flatbread) is an excellent choice to start a new day. Don't forget to check out the aromatic goat pulao, nihari beef, and chicken tikka breasts for the main course or aalu samosas (potato samosas) for snacks.
Location: 11641 Harry Hines Blvd #201, Dallas, TX 75229
Website: https://www.lyaricafe.com/; https://www.facebook.com/
Phone: +19726201727
With more than 100 locations in America and several other countries, this California-based fast-casual restaurant chain offers fantastic fried chicken covered in spicy cayenne pepper sauce.
Why choose this restaurant:
When Dave's Hot Chicken opened its Dallas location in 2021, locals lined up for hours for a chance to try its famously tender hand-breaded chicken, including Muslims. They were here for halal-friendly offerings, which has long been a terrific feature of this chain.
The menu is very compact, consisting of only chicken, a few sides, and signature milkshakes with real ice cream. However, few patrons mind it much because they only have eyes for the juicy chicken, which comes in seven levels of spiciness.
That's right: Dave's Hot Chicken isn't necessarily hot. You can ask for a non-spicy chicken tender or one with tongue-burning heat. Other pleasant perks include the eccentric, queerly entertaining decor, friendly waitresses, and late closing hours.
What to eat:
You can order chicken tenders or sliders, both coming with sides of your choice, like cheese fries, pickles, or coleslaw. The heat level ranges from "no spice" to "reaper", which is the highest level of spiciness and not for the faint of heart.
Location: 14750 Preston Rd, Dallas, TX 75254
Website: https://www.daveshotchicken.com/
Phone: +12146131099
Using only halal meat, Swamp Cafe is a must-try Cajun spot in Dallas for people following Islamic faiths. It serves all-day breakfast, lunch, and dinner.
Why choose this restaurant:
Swamp Cafe is an intriguing cultural melange: the chef-owner is Chinese-born but has decades of cooking New Orleans-style food, and his restaurant's fare employs exclusively halal meat. The result turns out to be an amazing destination for foodies from all cuisines.
In fact, this unassuming restaurant is probably the only one serving halal Cajun eats in Dallas. Besides its finger-licking eats, you can also enjoy the bonus of having interesting chats with the witty and charismatic owner.
What to eat:
My favorite menu item is the large po'boy, which comes with French bread, tomatoes, lettuce, mayonnaise, and various choices of protein, like oysters, halal fried chicken, catfish, and so on.
Make sure to try the daily specials, such as seafood gumbo and muffuletta (round bread stuffed with turkey pastrami and chips). For desserts, the famous beignet and Louisiana-style cafe au lait is an unbeatable combo.
Location: 17721 Dallas Pkwy #104, Dallas, TX 75287
Website: https://www.swamp.cafe/
Phone: +19728187888
Anyone looking for gourmet, halal-friendly sandwiches in East Dallas should head to this laid-back counter-serve spot.
Why choose this restaurant:
Food made with organic, locally sourced ingredients isn't reserved for fancy dine-in restaurants; a small sandwich shop will have no difficulty delivering healthy eats if it follows the same high standards as INVASION.
While its interior is somewhat small, the outdoor wooden patio is quite spacious and fun to hang out. But outdoor seating isn't the only thing with a big size here: the specialty sandwiches are so huge that you can make a full lunch and dinner out of it.
What to eat:
While INVASION's menu is highly diverse, its most suitable items for people observing halal are Notorious Sandwiches (featuring beef, caramelized onions, seared basil leaves, and mozzarella) and Berry Good Burger (with beef, roasted strawberries, goat cheese, jam, etc.)
Location: 4029 Crutcher St, Dallas, TX 75246
Website: https://www.eatinvasions.com/
Phone: +12142727312
If you love both halal food and Philly cheesesteaks, this family-run joint in North Dallas will help you keep the cake and eat it too.
Why choose this restaurant:
From chicken tenders and roast meat to veggies and mushrooms, JC's Philly Cheesesteak has every kind of cheesesteak for everyone. Whether you're a vegan, halal, or just an ordinary foodie, this friendly hole in the wall won't let you down.
What to eat:
You can't go wrong with the house-special mushroom cheesesteak footlong with provolone, halal steak, and mushrooms; nor can you resist the pepper cheesesteak (with banana peppers in place of mushrooms).
In addition, JC's punch and hand-cut fries are extra things that guests visiting JC's Philly Cheesesteak often order on the side.
Location: 18918 Midway Rd #100, Dallas, TX 75287
Website: https://jcphillycheesesteak.com/
Phone: +19727077436
Raise your hands, chicken fans! This inexpensive diner in North Dallas will help you realize your wildest culinary fantasy!
Why choose this restaurant:
Angel Chicken Kitchen specializes in chicken dishes from various cuisines around the world, which are made with fresh and 100% halal-appropriate ingredients. Whether your thing is Asian, African, or American food, you can find it here.
The dining room is quite spacious and brightly lit, designed with chicken in mind. You can even enjoy the many colorful paintings of the bird done by young children on the walls.
What to eat:
Under no circumstances should you fail to try the Hill Country sandwiches, made with crispy chicken breast, house-made biscuits, strong-tasting Texas goat cheese, jalapeno jam, and vegetables. While they can be an acquired taste for some, you will find them quite addictive.
But if you prefer something more mellow in flavor, go for the chicken shawarma bowl (grilled chicken breast, hummus, and tahini sauce) or chicken kabobs served with roasted veggies and a starchy side of your choice.
Location: 7632 Campbell Rd #314, Dallas, TX 75248
Website: https://www.angelchickenkitchen.com/
Phone: +18174705668
Since 2018, Wava Halal Grill has been a popular destination for halal fast food in Lower Greenville. It has another location in Richardson.
Why choose this restaurant:
New York-inspired fast food with Mediterranean flavors is a staple of this modern, hole-in-the-wall eatery. And if you need a quick bite late at night but want a different place than The Halal Guys, stopping by Wava Halal Grill is a perfect idea since it is open to 3 AM daily.
What to eat:
The most sought-after combo is the Tri-Borough Combination Platter, featuring lamb/ beef/ chicken gyro, falafel, cooked rice, pita bread, and house-special sauces. If possible, order the kofta kebab plate (made with ground beef) or the crispy falafel gyro over rice and vegetables.
Location: 3611 Greenville Ave A, Dallas, TX 75206
Website: https://www.wavahalalgrill.com/
Phone: +14697780787
How about some halal food with North African flavors? If you think that sounds great, visit this exciting eatery in Uptown Dallas for a taste of Moroccan – Lebanese cuisine.
Why choose this restaurant:
While Baboush is open to 10 PM or later daily, lunch is its strongest suit. It revolves around mezze, which means small plates in Middle Eastern and Mediterranean cooking and is the equivalent of tapas.
But that doesn't mean you can't find mouth-watering entrees here. In fact, after stepping into its beautiful dining room, which is decorated in the same style as a traditional Marrakech, you're in for delicious dishes mixing Western cooking techniques with exotic ingredients from afar.
While it sounds a little strange for a halal establishment, Baboush also has a lively bar, whose happy hour is from 2 PM to 6 PM from Monday through Friday.
What to eat:
The Morocco cigars on the menu are, in fact, phyllo pastries filled with spicy ground beef and are extremely wonderful in both flavor and texture. If you are curious about mezze, ask for the signature platter with baba ganoush (chopped eggplants with seasoning), hummus, olives, etc.
Location: 3636 McKinney Ave #160, Dallas, TX 75204
Website: https://baboushdallas.com/
Phone: +12145990707
Dallas Is A Dream Destination For Halal Foodies
Halal food in Dallas is more than just Middle Eastern fare: you can find American fast food, Southern comfort, Cajun bites, Indian delights, and more in the Big D. It is so easy now to both follow your religious teachings and satisfy your cravings for good food.
Go out and try those places! I'd be very happy if you could share your opinion or list more halal restaurants in Dallas in the comments below. Do your relatives, friends, or colleagues have to go to Dallas and find local halal eateries like you? Then please share this post with them!