Choosing the best restaurants to eat in Downtown Houston can be tough, given the sheer variety of it. But that's also a blessing in itself since you have more options for dining and drinking. The central hub for the nation's fourth largest city has something for everyone.
Nestled between the district's towering skyscrapers are restaurants of every kind. From steakhouse to Asian eats, you won't get bored venturing in and exploring every opportunity in the surrounding area.
In this article, I have composed the finest dining and drink establishments for your pleasure. Scrolls down, and you will encounter many surprises. Let's explore the best this neighborhood has to offer.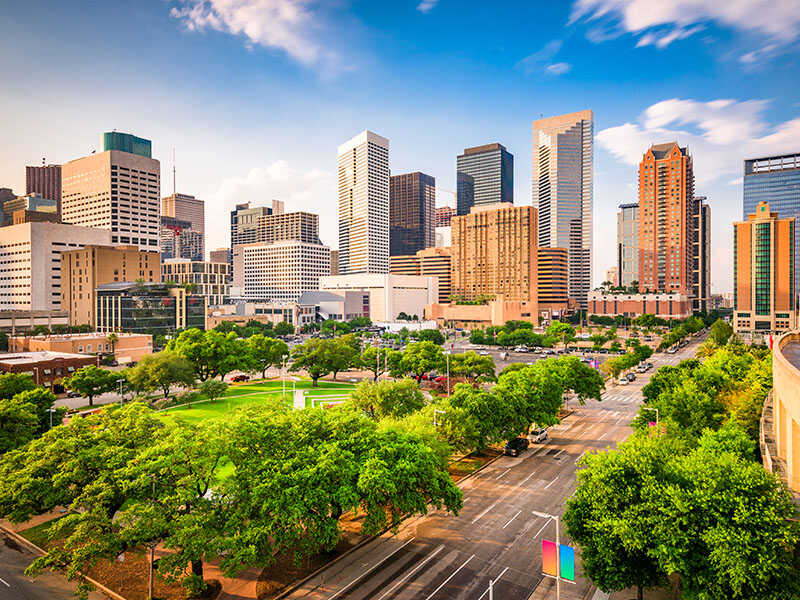 Top Downtown Houston Restaurants Every Foodie Must Visit Once
Houston is consistently on the list of the best foodie destinations in the US. Downtown Houston's dining scene is diverse and unique just like the city. You may find Houston's best restaurants in the state in this neighborhood.
You won't get bored spending several nights or weekends exploring all of the different cuisines in this one area. From Mexican and Vietnamese to Italian, you can find them all here. This is the place to gather, eat, drink, and have a good time.
The establishment is the epitome of the unique vintage and chic antique ambiance. Once you first step inside, you will be greeted by the exposed brick wall, chandelier, polished wood bar, and a high ceiling – everything down to the last brick gives a very historical vibe.
This restaurant is in the 2nd oldest building in Houston. The structure was designed by Texas architect Eugene T. Heiner and built in 1889. But that doesn't mean the place lacks modern touches.
Some of the new elements were added later as the former owner Lee Benner, Houston artist and architect, purchased the place in 1994. The modern eclectic designs blend with an old history from the iron and brass staircase along with other artistic and unique design choices.
Given there's a bar, the drinking menu is as extensive as the food ones. Whether it's pasta, sandwiches, or Mexican-inspired dishes, you can find it here.
You can expect the best of foods from all Hearsay branches. There is also another branch in Houston, named Hearsay On The Green, on Dallas street. You can give both of them a try. But between the two, most people prefer the Market one for their foods and vibes.
Price range: $$
Food styles: American, Lounges, Bar
Location: 218 Travis Street, Houston, TX 77002
Website: http://hearsaygastrolounge.com/
Phone: (713) 225-8079
Table reservation:
Order online:
Whenever you want a fulfilling meal or just a delightful place to be, Theodore Rex welcomes you with open arms. Relaxing, welcoming, and comforting is how every visitor describes this restaurant.
Theodore Rex can make you forget about the hustle and bustle of a metropolitan area. It's like you are in an entirely different world when in reality, you are just 10 feet away from the East freeway. The atmosphere is just that amazing!
If you get the chance to visit this small and cozy place, try the classic tomato toast and spring peas. Most of the foods are at attractive prices and ideal for sharing with others. One thing to note is you should make a reservation as the space is not very large.
Price range: $$$
Food styles: American, Modern Europe
Location: 1302 Nance St. Unit A, Houston, Texas, 77002
Website: https://trexhouston.com/
Phone: (832) 830-8592
Table reservation:
You won't be disappointed with one of the finest Italian restaurants in Houston. Just across the street from Minute Maid Park is this superb and upscale restaurant named Potente.
The prominent feature is how the offerings are locally sourced with the most premium quality ingredients. Rest assured that everything on your plates will be first-class. There's nothing like homemade pasta, daily seafood offering, and steaks cooked by the renowned chef Danny Trace.
Besides the usual, this place also offers many private dining options: dining terrace, buy-out, private room, etc. – all of which provide a comfortable yet sophisticated backdrop for your special occasions. For your big day with 100+ guests, you should check with the staff at least 30 days in advance.
Note: Potente requires you to wear business casual attire. Shorts, T-shirts, hats, and other informal items of clothing are not allowed.
Price range: $$$$
Food styles: Italian, Seafood
Location: 1515 Texas Ave, Houston, TX 77002
Website: https://www.potentehouston.com/
Phone: (713) 237-1515
Table reservation:
Order online:
Xochi is not your everyday Mexican restaurant in Houston. The restaurant does not specialize in Tex-Mex but rather in Oaxaca cuisine. The dishes here pay homage to the beautiful and culturally rich city of the same name in Mexico.
You must try the Mole Tasting, a serving of four classic housemade moles – gravy or sauce with cooked meat. Another delicious option you could go for is Memela, toasted masa pancakes with roasted pork rib and tomatillo avocado sauce.
Located inside Downtown's luxurious Marriott Marquis on Walker Street, it's an obvious choice for visitors staying in the hotel. But its fine selection of flavor and food also draws locals as well.
Price range: $$$
Food styles: Mexican, Oaxaca
Location: 1777 Walker St, Houston, TX 77010
Website: https://www.xochihouston.com/
Phone: (713) 400-3330
Table reservation:
Order online:
Explore the reasons why Xochi should be your next go-to restaurant next time you are in town.
Here's another great restaurant that specializes in Italian fare for you. Grotto Downtown is a perfect place to dine in after watching an Astros game since it's one or two blocks away. True to its name, the establishment's decoration is very Grotto-like.
Grotto Downtown has many branches across the state. Besides Houston, you can enjoy their fine-quality menu in LA. and New Jersey. All of them provide consistent world-class services, foods, and drinks.
Remember, Happy Hour lasts from Monday to Friday, 3 pm to 7 pm. I recommended finding a window table for a cozier experience. The staff is highly praised for their top-notch services and manners, so you will have a good time dining here.
What's more, there are vegan and gluten-free options. Some dishes like pasta or pizza state that they are "gluten-free upon request". Once you tell the staff, they will ensure that the sauce and cauliflower crust contains no gluten.
Price range: $$
Food styles: Italian
Location: 1001 Avenida De Las Americas Ste A Houston, TX 77010
Website: https://www.grottorestaurants.com/
Phone: (713) 658-0752
Table reservation:
Order online:
Also overseen by Executive Chef Danny Trace, Osso & Kristalla restaurant is the playful and casual sibling of the more mature and sophisticated Potente. Whether it's lunch, brunch, weekend, or Happy Hour, you must visit this light, airy space for its decadent menus.
The decor and dim lighting give a luxurious vibe, but the atmosphere is a real laid-back and casual one. Every eater will feel like they have been transferred to an outdoor patio with a neutral Italian space.
The man who brings this place to life is Jim Crane, a Houston-based American businessman and Astros team owner. Potente and Osso & Kristalla were all named after his three children, showing his appreciation for the importance of family.
There are many good options on the menu. Whether it's lunch, dinner, weekend brunch, or Happy Hours, you can hardly go wrong with any pick. But for suggestions, I recommend going for some black truffles with parmesan fries, bruschetta, and some drinks at the bar.
Price range: $$
Food styles: Italian, American
Location: 1515 Texas Ave Houston, TX 77002
Website: https://www.ossoandkristalla.com/
Phone: (713) 221-6666
Table reservation:
Order online:
If you are looking for an affordable venue to enjoy good Mexican food in Downtown Houston, La Calle Tacos is the ideal place. Their food and drink selection is small but extensive, ranging from tacos and street corn to platos. Everything is delicious, high quality, and well worth the price.
The arrangement of the place consists of two sections: a restaurant on the left side and a bar with a large lounge on the right. When you reach the place, there are two separate doors leading to these two settings.
The staff is prompt and friendly. They have no problem giving you extra onion and extra cilantro once requested. Plus, most of them are Spanish speakers, so it's a good chance to practice speaking this language here.
The only downside is you have to wait in line to get your order, but it's to be expected when the food is so delicious. When waiting, you can grab a drink from the cooler, which is just in front of the ordering counter.
Price range: $
Food styles: Tacos, Latin American, Lounge
Location: 909 Franklin St, Houston, TX 77002
Website: http://www.lacalletacos.com/
Phone: (832) 735-8226
For table reservations, please contact the restaurant for further information
Order online:
Huynh Restaurant is the definition of a hidden gem. Hidden in plain sight on St Emanuel street, this old-school restaurant continues to offer delicious Vietnamese and Asan-inspired dishes as the old Chinatown transforms into the new East Downtown.
If you're feeling lost for your first time trying Vietnamese dishes, don't worry because the staff will help you with that. They are very helpful and willing to guide you through the selection based on your mood and preferences. Huynh Restaurant cares about what you eat.
With an extensive menu of about 100 dishes, It's truly one of the best Houston restaurants with a BYOB policy. The prices are very reasonable. Appetizers like spring rolls and most noodles and soups are reasonably priced.
One of the authentic Central Vietnamese meals you can find in this place is My Quang (a noodle specialty), which can be hard to find around the US.
Pho is equally amazing, but take note that the portion is smaller than you used to at other places. Cafe Sua Da (Vietnamese iced coffee) is another must-try drink.
Price range: $$
Food styles: Vietnamese
Location: 912 St Emanuel St, Houston, TX 77003
Website: http://huynhrestauranthouston.com/
Phone: (713) 224-8964
Table reservation: please contact the restaurant by phone (Note: the place only accepts complete parties of 6 or more)
Order online:
Sinking your teeth into a juicy burger is one of the happiest things a man can do. Come to Rodeo Goat, and you can taste the best and most unique burgers in Downtown Houston. What's more, you get to enjoy them in a spacious area of an outdoor patio (it's dog-friendly, too!).
There are vegan-friendly patties. So rest assured that your vegan friends will love this Houston restaurant. The cost is fair; you are getting a bargain for such great meals. However you go about it, a classic burger and fries duo never gets old!
Other than that, the restaurant also offers delicious beers and tempting desserts like milkshakes and goat balls to end your meal. The aroma is what lures most people to Rodeo Goat in the first place. And the good news is the burgers are just as good as they smell.
Price range: $$
Food styles: Burgers, American
Location: 2105 Dallas St Houston, TX 77003
Website: https://www.rodeogoat.com/
Phone: (281) 853-9480
Table reservation: please contact the restaurant by phone
Order pickup:
Order delivery:
Zydeco Louisiana Diner has been providing decadent Louisiana-style dishes to folks in Downtown Houston for more than three decades. Since 1988, the establishment has been passed down to three generations and is going strong forward.
This is one of the greatest places to taste seafood in Houston. The special menu changes daily, so make sure to check out what they offer on a certain day beforehand to catch your favorite dishes.
The outer appearance is unassuming and no-nonsense, but the cafeteria-style Cajun restaurant gives a simple and pleasant vibe from its walls of antique and neon signs. Some love Zydeco Louisiana Diner for its homey quality and homemade-like meals.
Given the diner's long history, it's no wonder that there are many loyal customers to the place. They regularly come to it at lunch or supper to dine the mouth-watering crawfish etouffee, gumbo, corn maque choux, and more. And you may find yourself becoming a frequent visitor, too.
Price range: $
Food styles: Cajun/Creole, Southern, Seafood
Location: 1119 Pease St, Houston, TX 77002
Website: http://zydecolouisianadiner.com/
Phone: (713) 759-2001
There's no table reservation available (but the restaurant offers take-outs)
Order online:
A place with class, an intimate atmosphere, and a premium menu, that's Vic & Anthony's Steakhouse. With impeccable cuisine and service, this is where you want to spend a romantic night with your partner or a special celebration with your family and friends.
You will find many home runs with their award-winning menu. Many people praise the epic steaks and Wagyu beef highly. But the crab cakes and Caesar salad are inviting in their own rights, which you should also give a try.
The dress code is not strict since it's hot and humid in Texas. You can wear a T-shirt with jeans, but not shorts. Some customers do not dress up, and some may dress up to the nines. Nonetheless, the friendly and knowledgeable staff treat everyone equally, helpfully, and politely.
Price range: $$$$
Food styles: Steakhouse, American
Location: 1510 Texas Ave, Houston, TX 77002
Website: http://www.vicandanthonys.com/
Phone: (713) 228-1111
Table reservation:
Order online:
Irma's Southwest has been a prominent name in the neighborhood for a long time. The place opened in 1998 and has been led by Irma Galvan, recipient of the 2008 James Beard Award, and Louis Galvan, her eldest son. The original Irma's is just a few blocks away from this place.
This eatery specializes in Authentic Mexican cuisine with some Texas Southwest twists. Eating in an upscale and elegant ambiance, I believe you will have a blast biting on the exceptional queso, fajitas, guacamole, etc.
Besides the normal restaurant, Irma's Southwest provides private or semi-private renting space. The building can accommodate up to 120 people for weddings or corporate events on premise. This place can cater to home or corporate deliveries of 300 people (please contact their email to do so).
Price range: $$
Food styles: Mexican, Tex-Mex, Venues & Event Spaces
Location: 1475 Texas Ave, Houston, TX 77002
Website: https://irmassouthwesthouston.com/
Phone: (713) 247-9651
Table reservation:
Order online:
You can never go wrong with pizza. It's the solid choice for every weeknight or any gathering occasion. This is another age-old restaurant that almost everyone in Downtown Houston knows about. The joint has a reputation for late-night serving up to 3 am on Friday and Saturday.
Having been around since 1997, Frank's Pizza specializes in hand-tossed pizza, burgers, wings, lasagna, wings, sandwiches, etc. The offerings are nothing fancy, but they are scrumptious beyond belief.
The place is perfect for a quick stop to grab a late-night meal. The small and cozy space makes for a perfect midnight dining experience. Alternatively, just like any pizza restaurant, you can buy take-out or order deliveries, paying a little extra for the shipping fee.
This is a world different from your run-of-the-mill pizza chains. You can get yourself full with slices of pizza that don't skimp on the topping and cheese at an affordable price. The meal value is insane!
Price range: $
Food styles: Pizza
Location: 417 Travis St Houston, TX 77002
Website: https://www.frankspizza.com
Phone: (713) 225-5656
Please call for pickup orders
Order delivery:
Let's find out how decadent the pizza at Frank's Pizza is.
Dine And Drink To Your Heart's Content In Downtown Houston
There are plenty of great places for dining and drinking in the area. You just have to know where to look. And I just give you an extensive list of the best places to hit after an Astro game night, even if it's late. No matter the hours and days, you can get the best foods and drinks to fill your belly.
Spread the words If you want other visitors to get to taste the succulent dishes in the neighborhood. You don't want anyone to miss the vibrant dining scene in this part of the beautiful city. The best restaurants in Downtown Houston are for everyone to enjoy.
How is your adventure to the places I have listed above? Do they live up to or even exceed your expectations? By chance, do you discover any underappreciated establishments in the area? Tell me all about it in the comment section!