Nowhere is better to shake off all the accumulated stress than these best bars in Tyler, TX. Some bars can be as lively and energetic as the typical imagination about bars. But I've also included other choices more suitable for people seeking some quiet time.
And, of course, the highlight is always the drink. You'll find several spots focusing on beer, while others have a more extensive list of wines, spirits, or cocktails. Thus, bar-hoppers can spend all night jumping between these choices.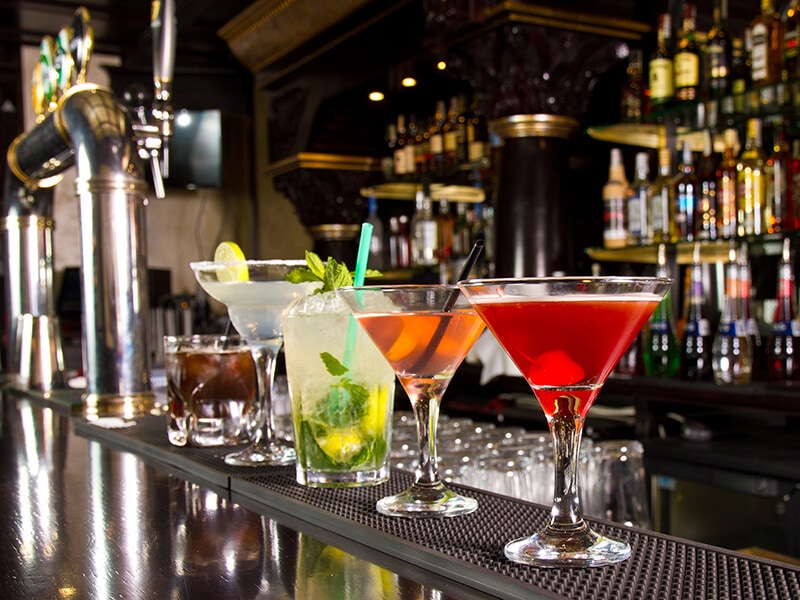 11 Best Tyler's Bars To Spend Your Nights
No drinking trip will be the same after you try these bars below. Everything is perfect, from the atmosphere to the space, service, and food.
Since its appearance in Downtown Tyler in 1992, Rick has always been a place for the citizens to kick back and relax. It closes pretty late (up to 1 AM), so you can come here anytime for a drink.
Why you should come to this bar:
Rick is divided into 2 sections: dining spaces and the Black Pearl bar; both offer wines, spirits, beers, and cocktails. It even has a patio with live band performances on Thursdays, Fridays, and Saturdays.
What to drink/eat:
The Black Pearl's alcohol menu easily overwhelms you right at first look. It can provide you with whatever you think of, from bubble wines like Dom Perignon Brut to imported beers (Corona, Guinness, Heineken, etc.) and other select spirits, such as whiskey, rum, vodka, etc.
And if you sit in the dining room, the list may be shorter but no less impressive. There are several unique cocktails for people loving new things. For example, the Part-time Lover uses El Jimador/Jameson Aperol with St. Germain, lemon, and honey.
Location: 104 W Erwin St, Tyler, TX 75702
Website: https://ricksonthesquare.com/
Phone: (903) 531 2415
Walk-On is a shared dream between two close friends, Brandon Landry and Jack Warner after they wandered across the country. From the first location in Louisiana, it now becomes a massive chain with more than 100 branches.
Why you should come to this bar:
As it was born in Louisiana, its decoration follows the Louisiana style with various colored lights and flags. It's also equipped with multiple TV screens everywhere, so you can easily grab a drink and watch your favorite games or shows.
What to drink/eat:
Cocktails are Walk-On's primary signatures. It often makes its drinks based on traditional recipes. For example, Mad Mary takes the classic Bloody Mary and mixes it with handmade vodka.
I also recommend trying 2 versions of Eddy's Sangria. The red one uses lemon vodka with blackberry puree and 7 Moons red blend. Meanwhile, the white version includes peach vodka, Ruffino Pinot Grigio, and peach puree.
Location: 6523 S Broadway Ave, Tyler, TX 75703
Website: https://walk-ons.com/
Phone: (903) 707 2087
Besides a well-loved BBQ spot in Tyler, Applebee is also a lively bar with countless beers and cocktails. That explains why it has kept its top place for over 40 years.
Why you should come to this bar:
Applebee is an ideal place to come on game days. There are several TVs inside, making it much easier to follow your favorite sports match. Not to mention, its vibrant and lively atmosphere is perfect for chatting.
What to drink/eat:
The most attractive section on Applebee's menu is obviously the signature cocktail. To suit the ambiance here, its cocktails are also colorful, such as the Top-Shelf LIT is yellow, Shark Bowl is blue, and Captain Bahama Mama is red.
There is also another category for beer and wine. You can order a single beer bottle or 6 packs at once. As for wine, it's only sold in 750-ml bottles.
Location: 5502 S Broadway Ave, Tyler, TX 75703
Website: https://www.applebees.com/
Phone: (903) 509 4848
With more than 70 bottles of different spirits, Stanley takes great pride in having the most extensive whiskey selection in East Texas. And coming here, you'll get to taste all that exquisite alcohol.
Why you should come to this bar:
After a recent renovation to add a 2000-square-foot space to the indoor dining room, it's more comfortable to sit inside and enjoy the acclaimed best live music in East Texas.
Moreover, now you can enjoy Stanley's drinks on the patio, as it recently has 2 additional full bars with an alcohol menu as long as at the main bar.
What to drink/eat:
Stanley won't let you get bored with its whiskey since it has created 12 tasting flight combinations so customers can try whiskey with other wines. Some combine multiple bourbon styles, while others include different types of rye whiskey.
And, of course, besides drinking them straight, feel free to ask the bartenders to turn them into your favorite cocktails. Stanley even has several local brews and beers on top for easier drinking.
For the food, the star on their menu is Mother Clucker sandwich, which has always been a locals and tourists' favorite.
Location: 525 S Beckham Ave, Tyler, TX 75702
Website: http://www.stanleysfamous.com/
Phone: (903) 593 0311
Apart from Stanley, XL'N is also a regular spot for the locals to come and share a drink with their friends. My recommended time is after 7PM on weekends for the XLN'T live music shows.
Why you should come to this bar:
With 8 custom pool tables, XL'N is the best place for fans of this sport. You can enjoy the game with your friends or other customers. The rent fee is by hours, but it's quite reasonable, so make sure to come early for a slot.
Smokers will love the smoking-friendly chill patio at the back door. Or you can sit inside and enjoy the live performance from local artists. These performances are free so any passer-byers can walk in and enjoy the music.
What to drink/eat:
XL'N doesn't have a fixed menu, so you can walk up to the bar and ask the bartender to make your favorite drink. It also has several vending machines showcasing different alcohol and non-alcohol beverages.
Location: 2109 E 5th St, Tyler, TX 75701
Website: http://facebook.com/
Phone: (903) 535 7956
Since it is located at a corner of West Southwest Loop 323 and Highway 69, you can easily reach BJ from anywhere in town. Starting in 1978 focusing on deep-dish pizzas, this place is now a brewhouse bar famous for its craft beers.
Why you should come to this bar:
BJ is more than your regular bars. Besides the bar area equipped with TVs, it has a relaxing cocktail area and a small, covered patio with heaters. And customers can even hold large parties or events here with its 75-person private back room.
What to drink/eat:
Not trying beers at BJ will be a huge waste, as its beers and cider on tap have earned various awards. If you don't know what to try, go for the Gold Medal beef flight for 4 premium samples.
There are also about 10 seasonal beers rotating throughout the year to liven up your experience. And for light drinkers, try the guests' favorite cocktails, such as purple pina lemonade or Tito's lavender lemonade.
Location: 210 W SW Loop 323, Tyler, TX 75703
Website: https://www.bjsrestaurants.com/
Phone: (903) 939 2840
As its name implies, Texas Music City offers you the experience of drinking Texas beer and listening to live Texas music. Besides, it also has multiple classic Texas foods like BBQ or chicken fried steak. I believe you'll love it right on the first try.
Why you should come to this bar:
Even Texas Music City's interior design is different from other places. No more TV screens; its walls are covered with antique guns and trophy games. The Tyler location even has an outdoor patio for those wanting fresh air.
Live music performances are available almost every day in Texas Music City, but mostly on Wednesdays, Fridays, and weekends. So make sure to clear your schedule on these days to come here.
What to drink/eat:
Unlike other bars, Texas Music City offers mainly wine. Heavy drinkers seeking something robust will love the Red 55 or Three Thieves red blend. Then this spot also provides light wine, such as Silver Oak Alexander Valley or Rey De Copas Cava Sparkling.
Location: 5424 Old Jacksonville Hwy, Tyler, TX 75703
Website: https://www.texasmusiccity.net/
Phone: (903) 509 4222
Although a steakhouse, the locals still look out for Saltgrass when they need a nice drink. A steak well seasoned with 7 spices and a suitable wine or beer will make your dinner even more memorable.
Why you should come to this bar:
Following the cattle kitsch style, Saltgrass brings forth a casual ambiance. Its decoration leans more on the old-fashioned side, with various historic pictures on brick walls. The visible water pipes also add a unique touch to the bar.
What to drink/eat:
Newcomers should first try the Saltgrass favorite cocktails full of creative ideas. They include pomegranate mojito, White Cosmopolitan using white cranberry juice, or The Saltgrass Coronarita (frozen margarita with Coronita Extra).
Then, its top-shelf margaritas are also a must-try, with various versions, such as grilled pineapple, The 818 with 818 Reposado tequila, or Perfect Patron using Patron Silver tequila.
Location: 7214 S Broadway Ave, Tyler, TX 75703
Website: https://www.saltgrass.com/
Phone: (903) 561 8316
Despite closing pretty early (10-11 PM), 1836 Texas Kitchen still earns a spot on this list thanks to its extensive alcohol list. Not to mention, many come here to try its delicious dishes inspired by different areas in Texas.
Why you should come to this bar:
Compared to other bars, 1836 Texas Kitchen is more elegant and refined. The white curtains and string lights create a cozy, romantic atmosphere for date nights. There are also several wine shelves in the dining room so the customers can get to know them more.
What to drink/eat:
1836 Texas Kitchen has a long wine list, from regular ones to reserve bottles that can cost hundreds of dollars, such as the Larkmead Dr. Olmo Cabernet Sauvignon 2013 or the Dancing Hares Vineyard Red 2013.
Besides, you can also find multiple canned beers and local brews at affordable prices here. There are several classic house cocktails for light drinkers, including the signature 1836 Mule.
Location: 2467 Crow Rd, Tyler, TX 75703
Website: http://1836texaskitchen.com/
Phone: (903) 630 7725
The Grove is a pretty young face in Tyler's culinary scene, as it only appeared in 2016. However, it soon attracted many visitors due to its farm-to-table concept with ingredients obtained from local farmers.
Why you should come to this bar:
The Grove is a combination of 2 styles: casual and high-class. While its partially-shaded patio is full of wooden tables and chairs, creating a relaxing space, the indoor dining room brings a luxurious feel, with sofa chairs and chandelier light.
What to drink/eat:
I am always impressed with The Grove's spirit list, as it contains multiple types of whiskey: North American, rye, and Irish. Other familiar spirits are also available, like Scotch, cognac, tequila, or vodka.
Its cocktail list is not so extensive but still full of creativity. Try the iconic Grove margarita using el Jimador Silver Tequila or the unique Secret Garden with Townes vodka and ginger beer.
Location: 3500 Old Jacksonville Hwy, Tyler, TX 75701
Website: http://thegrovetyler.com/
Phone: (903) 939 0209
Modern bars are not the only place you can drink. Daniel Boone will take you on a one-of-a-kind journey with its tavern at the back. Let's quench your thirst and fill your hungry stomach with the homey dishes here.
Why you should come to this bar:
Step inside Daniel Boone, and you'll think you're in a European street since the group tables are divided into separate slots that look like a little house. And the door leading to the tavern looks like something stepping out of a fairy tale.
What to drink/eat:
Daniel Boone's tavern focuses more on ice-cold draft beer and local brew, including several foreign choices like Zeigenbock. It also has several European wines (both red and wine types): Chardonnay, Cabernet, etc.
And don't forget to order some savory accompaniments. With each meal, this eatery will provide a free portion of pinto beans and Blue Bell ice cream. Some locals' favorites are chicken fried steak, hamburger steak, etc.
Location: 1920 E SE Loop 323, Tyler, TX 75701
Website: http://www.danielboonestyler.com/
Phone: (903) 595 2228
Dress Up, And Go To These Bars Now!
Tyler may not be a nightlife city, but its bars aren't inferior to any big names. These places are a perfect chance to hang out with your family and friends or just sit back and spend some time for yourself.
Do you have any other recommendations for my list? If yes, comment below so I can add them to this list. And feel free to introduce these options to your relatives for a fun night next weekend.