These best bars in Corpus Christi, Texas, are where you can find expertly-crafted cocktails, ice-cold beers, and lively nightlife. Sitting along the Texas Gulf coast, this stunning city is better known as a beach town, with sunny skies, sandy beaches, and spectacular views of the Padre and Mustang Islands.
All of these elements turn the city into a vibrant tourist spot during daylight. Yet, the nightlife at Corpus is no less impressive, as there are after-hour bars, energetic nightclubs, and other live music venues packed with fun awaiting the revelers.
If you want a trip overflowing with memories of this coastal city, go to these top neighborhood bars and dance the night away with the locals!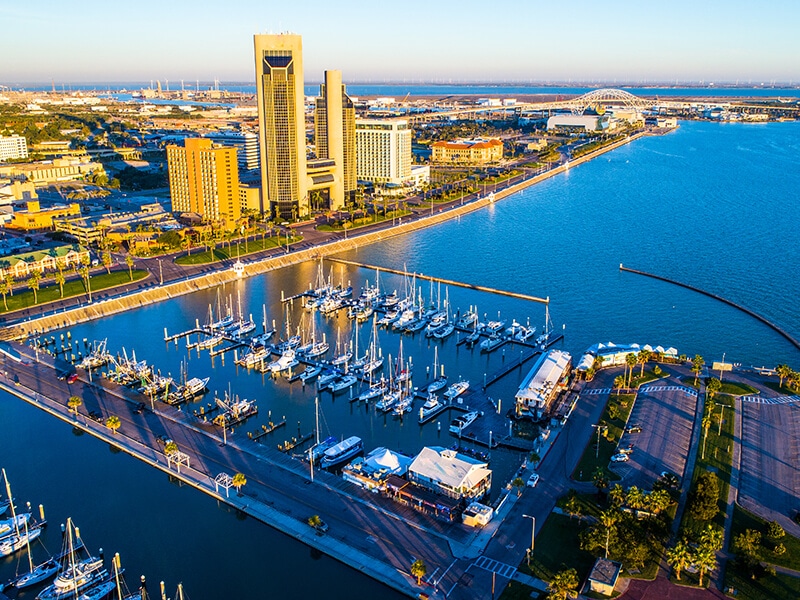 Bar Crawl Bliss: Navigating Corpus Christi's Best Drinking Spots!
During warm, starry Texas nights, there's no better thing to do than to toast a drink on a lovely patio or rock the dance floor with live music at these top-rated bars. From beachside hotspots to cozy dive bars, here are the must-visit destinations in town for the best drinking experience!
Black Monk Tavern
Tapology Texas Pub
Harrison's Landing
The Gold Fish
House of Rock
Pelican Lounge
Rockit's Whiskey Bar & Saloon
FLOCK
The Texan
It'll Do Saloon
Bar Hop Like A Local At The Must-Visit Bars In Corpus Christi!
Fans of good beers, music, and vibes will surely have a good time at these bars in Corpus Christi. Here are the top drinking spots that offer the best of all three, where you can kick back, relax, and let the good times roll!
As a neighborhood hideaway, Black Monk Tavern is a strictly 21-and-up bar known for its tasty cocktails and Cajun-inspired seafood dishes. With dark lightning, low key vibe, and a distinct dive bar feel, Black Monk Tavern is the secret of many locals for a place to chill out!
Why should you visit this bar?
On the drink side, this local bar has seriously great craft cocktails and a selection of ice-cold drafts, domestic and imported beers, all at fair prices. If you want to save some bucks, their special buy-one-get-one orders on Taco Tuesday are not-to-be-missed events.
Their outside patio is also a sought-after spot of the bar, where folks can drink, smoke, and catch up with friends. Yet, there's no lack of fun for those who settle inside. From foosball, and pool tables, to pinball machines, there's endless entertainment you can join.
Black Monk Tavern is also a wonderful music venue where you can listen to free punk bands or local metal while sipping great cocktails.
What to eat/drink?
For a light starter, try the popular Ahi tuna wonton crisps, which is a harmonious blend of beautifully-seasoned tuna and crispy wontons. The kitchen also does a stellar job of tacos, and you can go wrong with either flounder tacos, Ahi tuna tacos, or Trash Can tacos.
The blackened Voodoo burger also unexpectedly helped this dive bar rival the best burger joints in town. Don't forget to ask the friendly bartender about their amazing craft cocktails, too.
Location: 5712 Gollihar Rd, Corpus Christi, TX 78412
Website: https://m.facebook.com/
Phone: (361) 334-2932
Tapology is a beer haven in Corpus with a selection of hoppy, well-crafted beers that can give those bars in San Antonio or Austin a run for the money.
This Southside neighborhood pub and taproom has it all: gateway beers that are easy to drink for newbies and exotic flavors for long-time beer lovers!
Why should you visit this bar?
What mainly draws many folks to this pub is the spectacular beer varieties, starring numerous tasty IPAs (Indian Pale Ale) and 40 beers on tap. Besides, Tapology Texas Pub also has a full liquor bar for those looking for something other than beers.
Tapology Texas Pub is also an ideal neighborhood spot for unwinding, with shuffleboard, pinball, pool, darts, and many typical bar games to entertain with your crews. There are also several TVs for sports lovers to keep up with the games.
The wood-paneled taproom is spacious and relaxed, perfect for enjoying a drink and catching up. Yet, the smoke-friendly patio is another chill place where you will likely lose track of time. While food is unavailable, diners can always bring snacks or have pizza delivery!
What to eat/drink?
Big fans of IPAs can treat themselves to tasty hop varieties like Pure Stoke, Stone Ruination, Citra Slice, and Medical Grade Haze.
For non-IPA drinkers, there are also Hefeweizen, Firemans, or Big Kemah (available at 16-ounce draft), whereas stronger alcohol content options like Sweet Repute, Colombiana, and KBS Espresso are for those who want to get a little tipsier!
Location: 4334 S Staples St, Corpus Christi, TX 78411
Website: Not available
Phone: (361) 334-0413
Touted as the must-visit seafood restaurant in Corpus Christi, Texas, Harrison's Landing is frequented for fresh seafood and waterfront dining.
Yet, many diners there also unexpectedly stick around longer to enjoy a good drink at the on-site floating tiki bar. Affectionately dubbed as "Tavern on the Bay", this restaurant-and-bar concept is just within a short distance of downtown hotels, making it a great stop for many tourists!
Why should you visit this bar?
At Harrison's Landing, diners have the chance to enjoy the freshest seafood under the thatched roofs with amazing bayside vistas.
Harrison's Landing tiki bar is another big draw, where you can unwind with a margarita or frosty beer on the floating deck (so you'll be moving slightly with the waves), and of course, with killer water views.
Once you've done with dining and drinking, don't forget to check out the nearby Cathy's Boutique and Gifts, where you can bring home some exciting gifts or decor items.
If you want to get closer to the water, note that there are also occasional marina boat tours that roam around downtown Corpus Christi, Harbor Bridge, the Texas State Aquarium, and more. The tour lasts around 1 hour, and guests are allowed to bring their bottles for boozier riding.
What to eat/drink?
While enjoying the soft rock and roll of the floating bar, don't forget to grab a bar specialty like Texas Bloody Mary, Cucumber Mint Collins, Tavern Sunset, or Shoreline Tea.
There are some unique hoppy flavors to Corpus, like the locally-made Lazy Beach Corpus Christi and Loralei Ephyra you may want to try. In addition, join their happy hour (Monday – Thursday, 3-6 PM) for discounted beers, whites, reds, and wells.
Location: 108 Peoples St T-Head, Corpus Christi, TX 78401
Website: https://harrisonslanding.net/
Phone: (361) 881-8503
Sitting on the corner of Taylor and Mesquite Street, the outdoor Biergarten-style bar is converted from a 1900s construction gas station, which gives it a character like no other in the city.This trendy bar also boasts a lovely patio where locals in the know love to spend their evenings with their folks.
Why should you visit this bar?
Go back in time for a night at this Corpus's water hole, where you can instantly immerse in the rustic and old-school feel of a bygone gas station.
There are numerous details that contribute to the whole unique vibes of the place, from metal accents and all-glass French doors to painted brick. It all makes you feel far, far away from the city.
Mostly an outdoor bar, their patio is where the crowd head to. When the night comes, it's great to grab a seat at their long picnic table and sip on a cocktail with One Shoreline Plaza as a backdrop. For the best night ever, The Gold Fish offers live music several days a week.
What to eat/drink?
Among the top-selling cocktails is the GF Old Fashion, made with simple syrup bitters and Templeton rye. Yet, the bartenders also beautifully craft the Upper Broadway, STX Heatwave, and The Chaparral. All are made using all-natural juices squeezed in-house.
If these are not enticing enough, note that the full-service bar also offers various whiskeys, wine by the bottles, and beers. There are also some lighter options like Bud Lite, Coors Lite, and Miller Lite to accommodate more drinking preferences.
Location: 724 N Mesquite St, Corpus Christi, TX 78401
Website: https://www.thegoldfishbar.com/
Phone: Not available
Sitting in the heart of downtown Corpus Christi, House of Rock packs many elements for a happy night out: bars for late-night revelers, deep-dish pizzas for hungry diners, and a music venue for music lovers.
Why should you visit this bar?
As a solid neighborhood music spot, House of Rock hosts free live music Wednesday through Sunday.
Besides, patrons can catch many other art genres, like comedy, poetry, and music, if they swing by on Open Mic Night every Sunday. If you want to listen to your favorite tunes, simply put a request on their online jukebox anyday of the week.
House of Rock is among the rare bars that focus on the food just as much as their drinks. The Kitchen inside the bar has served hungry bar-goers solid deep-dish pizza, salads, sandwiches, and more seven days a week. It also offers half-price happy hour on their appetizers from 4-7 PM daily.
What to eat/drink?
My first choice for food is always their signature deep-dish pizzas. Yet, the Earth Day pie, cheesy garlic bread, and calzones (with your chosen toppings) are also worth the penny. Guests also give a big thumbs up for the pepperoni rolls, cobb salad, and a basket of meatballs.
While mingling at the full bar, get yourself a solid margarita like Sexy Mexy, too. Alternatively, if you're into beers, their 80+ craft beers from around the globe won't disappoint.
Location: 511 Starr St, Corpus Christi, TX 78401
Website: https://texashouseofrock.com/
Phone: (361) 882-7625
This casual sports bar is another Padre Island haunt you don't want to miss! With nice music from live bands, a full American food menu, shuffleboard, and more, the place turns into an exuberant hangout spot after dark!
Why should you visit this bar?
There's a lot going on at this dive bar on Tuesday, from Karaoke nights to shuffleboard tournaments starting at 7 PM. Alternatively, you can swing by on weekends to rock the house with different music lineups.
For game lovers, the bar also puts out its College night, so you can hark back to the good old days with beer pong or corn holes.
With their all-night-long happy hour on Monday, you can get the most refreshing drinks and tasty bites for your bucks. If that's not enough, there are also a pool table and darts games to add more fun.
What to eat/drink?
Most will agree that Pelican Longue has some of the best burgers on the island you have to try. Their fries and wings are also perfectly cooked if you come extra hungry. The bar also has several tasty cold beers to fuel your fun.
Location: 14330 S Padre Island Dr, Corpus Christi, TX 78418
Website: https://www.facebook.com/
Phone: (361) 949-8222
This spacious venue has been an iconic entertainment destination on the island since 2015. Many music events rotating throughout the week and wallet-friendly drinks have turned this saloon into a favorite local hanging-out spot.
Why should you visit this bar?
Swing by The Launchpad to sip on rock-n-roll-themed shots in an intimate, laid-back space filled with live music memorabilia. If you come with your crew, grab seats in the Barrel room (with tables made from antique whiskey barrels) to enjoy pool games.
For those wanting to catch some good music, join the crowd at The Whiskey Room and get a taste of premiere whiskey there. Good things don't stop there, as you can also enjoy more live performances on Friday & Saturday nights at the back Beer Garden.
What to eat/drink?
While the namesake Rockit's Old Fashioned is a shining star on the menu, other signature cocktails like Rockit's Manhattan, Sarsaparilla Float, or Rockit's Whiskey Mule are just as impressive.
The Launch Pad also delights drinkers with interesting shots like Afterburn, Rocket Fuel, and Walk the Moon, all stuck to rock-n-roll themes. Treat yourself to delicious gourmet slices of pizza, as well.
Location: 709 N Chaparral St, Corpus Christi, TX 78401
Website: https://www.rockitscc.com/
Phone: (361) 360-0330
Many avid drinkers come to this South Texas bar for its one-of-a-kind "Flocktails", rotating draft beers, seltzers, and ciders. Yet, they also lose track of time at this bar with non-stop DJ beats.
Why should you visit this bar?
Ambience-wise, this 44-foot bar showcases a huge old-world bookcase that gives it a rustic vibe. Yet, it also derives a vibrant character with massive disco balls sitting in the middle and some oddities from the animal decorations scattered throughout the walls. A bar like no other in Corpus!
On weekends, the crowd also heads to this bar to dance the night away with the hottest beats dropped by the DJs. Meanwhile, every Thursday, their live Karaoke also shines the spotlight on vocal pros.
If you want to catch on to some thirst-quenching deals, hit up the bar during its weekly Geeks Who Drink trivia nights, where inexpensive drafts and well drinks are available throughout the night.
What to eat/drink?
One must-try is the Strawberry Fields cocktail, a concoction of strawberry puree, lemonade, berry vodka, and champagne. Another nice recommendation from the bar is Ruddy Jalapeno, also called Jalapeno Margarita, with a little kick from jalapeno slices.
Their daily drink specials, from Monday through Sunday, are also great offerings if you want to drink to your heart's content without breaking the bank.
Location: 1813 Ennis Joslin Rd #107, Corpus Christi, TX 78412
Website: http://theflockbar.com/
Phone: (361) 991-3562
The Texan is among the oldest bars in Corpus Christi, which has served the community for over 7 decades. Humbly started as a place selling milk, eggs, and bread, The Texan has instead become a favorite spot for locals to grab a cold beer.
Then, what came next was the addition of pool boards, darts, a washer pitching court, and a backyard garden to give the bar a look it is today!
Why should you visit this bar?
With extended (and early) opening hours, from 7 AM to 2 AM the next day, The Texan undoubtedly welcomes a diverse crowd, from spunky millennials to refinery workers.
In addition to a great collection of beer and booze, there's a great jukebox if you love to play your own tunes on request and weekend live music that stars some amazing metal and rock bands.
Even without these lively events, this long-standing tavern is still ideal for a low-key date or casual hangout for its smoking-friendly fenced-in backyard. With plenty of lush trees and picnic tables, bar-goers can feel like they are landing in a jungle elsewhere.
What to eat/drink?
The Texan serves some of the coldest beer in the neighborhood, and there is a wide variety to choose from. All the bartenders are also informative about what's available, so feel free to ask if you're in doubt!
Location: 3625 S Staples St, Corpus Christi, TX 78411
Website: https://www.facebook.com/
Phone: (361) 444-5522
For those who don't search for much rowdiness in a bar, It'll Do Saloon is a comfortable, laid-back place to drink the night away with nice live music. Expect an older clientele at this bar!
Why should you visit this bar?
It'll Do Saloon is where great live music meets the neighborhood bar, with an assortment of music acts scheduled on weekends. It's also a bar dancehall karaoke destination where good vocalists can show off their talents, and the rest can take their loved ones to the dance floor and unwind.
While smoking is not allowed inside the bar, the back porch outside, lined with wooden seating, is where you light up a cigar or two. No matter the reason that draws you there, this 70's-themed always serves some of the most well-priced drinks in town.
What to eat/drink?
There is a good list of beers and wines to keep your night flowing. The bartender also beautifully crafts many ice-cold mixed drinks, so remember to check them out!
Location: 4125 Gollihar Rd, Corpus Christi, TX 78411
Website: https://www.facebook.com/
Phone: (361) 855-2766
Raise Your Glass To The Best Bars In Corpus Christi!
While Corpus Christi is not usually associated with nightlife, it's surprising that many vibrant bars within the neighborhoods do a great job of entertaining the locals and tourists when the night comes. They put out some of the city's best cocktails and far-reaching beer lists!
Don't forget to jot down these destinations unless you want to miss out on an interesting side of the beach town. If there's any hotspot that this list fails to mention, let me know in the comment section below. Before you leave, please spread this bar guide to those planning a night out in Corpus!