Here is the list of best restaurants in Houston Heights, Houston, for your next adventure in the area. From Asian to European, there's no limit to what you can enjoy in the area. So pack your stuff, and let's discover the eateries in the Greater Heights region.
While you may find the Heights has numerous shopping centers, parks, and nightlife spots, the spot also boasts many impressive restaurants in Houston, Texas. All you need is a little research to find the one that suits your taste the most.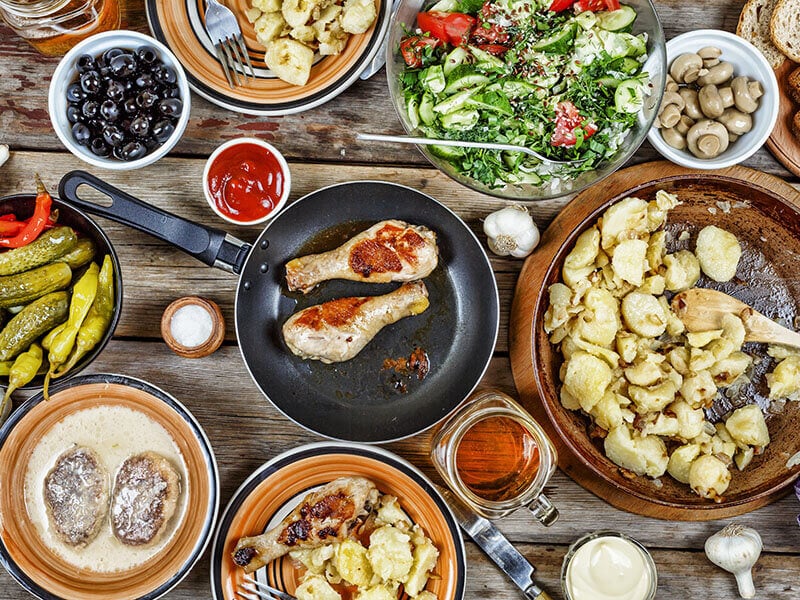 Satisfy Your Appetite With These Eateries In Houston Heights
No matter the time you get hungry, Greater Heights always has a place for you to recharge your battery with tasty food and drinks. I hope this compilation will make it easier for you to navigate the area.
Hando is your ultimate eatery for authentic Japanese cuisine in the heart of Houston. The location has a sushi bar with around 22 seats to give customers the best view of how sushi chefs create beloved specialties.
Interestingly, the spot requires zero reservation, as you can walk right in to find a seat and order your favorite dish. One small note is the place doesn't use cash, so you may want to bring your cards whenever you visit the establishment.
At Hando, Happy Hour starts at 3 P.M, offering a 50% price reduction for all cocktails. After filling your belly, stay for the Kanpai Club, an extension of the restaurant that offers its Happy Hour events.
Price Range: $$
Food Style: Japanese, Sushi Bar
Location: 518 W 11th St Suite 500, Houston, TX 77008
Website: https://www.handohtx.com/
Phone: (713) 393-7425
Order Online:
Table Reservation: Not available
Discover the setting of Hando through the word of the place's owner.
If you're in the middle of the Houston Heights area, Better Luck Tomorrow (BLT) is a fan favorite for grabbing a drink in the afternoon hours. One intriguing fact is that the bar's name references Justin Lin's movie, released in 2002.
As a bar, Better Luck Tomorrow offers numerous beverages for customers to quench their thirst. I suggest coming during the weekdays between 12 P.M and 5 P.M for the Happy Hour when you can enjoy any drinks for half the price.
In addition, the ambiance of BLT with colorful neon lights instantly put people into a party atmosphere. As for the food, BLT offers different specialties for each day of the week to make every bar moment special.
Price Range: $$
Food Style: American, Bar
Location: 544 Yale St, Houston, TX 77007
Website: https://www.betterlucktomorrowhou.com/
Phone: (713)-802-0845
Order Online:
Table Reservation: Not available
For the massive choices of spirit in Houston Heights, you should pay 1751 Sea And Bar a visit. The spot is heaven for gin lovers with its diverse selection of up to 150 types. The number 1751 in the bar's name is a tribute to the year when gin was banned from selling.
Aside from being a top-notch drinking destination, people consider 1751 one of the highest quality seafood establishments in Houston. Don't miss out on the raw bar, where you can get the freshest oyster coming straight from the Gulf coast.
During the Happy Hour event, all customers can enjoy wine in a glass for half the usual price. Furthermore, 1751 offers a private room service that allows you to customize the menu and cocktails for the best experience.
Price Range: $$$
Food Style: Seafood, Bar
Location: 191 Heights Blvd, Houston, TX 77007
Website: https://1751houston.com/
Phone: (832) 831-9820
Order Online:
Table Reservation: Contact their phone number for parties with 10 people or more.
It's time to enjoy quality Mexican delicacies by stopping by La Lucha on Shepherd Drive. The establishment is next to the Superica, which is under the same ownership as La Lucha by chef Ford Fry. At La Lucha, the site replicates a comfortable atmosphere of the 70s vibe.
Aside from classic Mexican dishes, the establishment has various fresh seafood options from the Gulf for people to experience. One of the most wanted items is the raw oyster with its succulent meat and a light touch of sweetness.
Normally, La Lucha welcomes its guests at 4:30 P.M on weekdays, but you can go there on the weekend at 10 A.M. The location is also perfect for hosting events with 14 guests or more, but you will need prior booking.
Price Range: $$
Food Style: Mexican, Seafood, Cocktail Bar
Location: 1801 N Shepherd Dr #A, Houston, TX 77008
Website: http://laluchatx.com/
Phone: (713) 955-4765
Order Online:
Table Reservation:
Mico's Hot Chicken is a new player in the restaurant business in Houston Heights and has gained a positive reputation around the area with its fried chicken. More to the story, the owner of the place only took six months of business to go from a food trailer to a stable brick location.
While the Houston Heights area is the main establishment of Mico's Hot Chicken, you can also get your portion from the Katy food truck park. One special feature of the restaurant is they allow you to customize the spiciness of your food for the best comfort.
The house specialty is the Sammich, a thick burger with crunchy fried chicken in the middle and toasted buns.
Price Range: $$
Food Style: American
Location: 1603 N Durham Dr, Houston, TX 77008
Website: https://micoshotchicken.com/
Phone: (713) 434-6133
Order Online:
Table Reservation: Not available
Find out why people in Houston Heights are going crazy for Mico's Hot Chicken menu items.
Are you looking for the foremost Mexican dining destinations in Houston? Look no further, as Chivos is a top-tier choice with traditional Mexican specialties. The place maintains its casual ambiance by utilizing low lights, common stools, and a bar to serve customers.
At Chivos, I suggest heading to the raw bar to uncover an assortment of dishes ranging from Ceviche (raw seafood with cucumber, avocado, and pico) to tuna Tostada. Furthermore, customers coming between 5 and 6:30 P.M can purchase wine bottles for a reasonable price.
Don't forget that Chivos is not open for service on Monday and Tuesday, so you should note it in your schedule. Although you may find the food menu at Chivos is not as extensive as the drinks, people mainly come for the fine spirits.
Price Range: $$
Food Style: Mexican
Location: 222 W 11th St, Houston, TX 77008
Website: https://www.chivoshou.com/
Phone: (832) 767-1417
Order Online:
Table Reservation: For party reservations with 7+ guests, contact through their email ([email protected]).
Opening in 2019, Squable is a cozy area in the Houston Heights neighborhood. Furthermore, the eatery captivates everyone's attention with its vibrant decoration. Squable also combines European dishes with American twists to bring a new experience.
More to the story, Squabble is the creation of the team behind the success of the Better Luck Tomorrow bar. In some way, the team manages to bring Squable to life with a wooden interior concept similar to what you see in upscale European restaurants.
Come to the place on Sunday at around 11 A.M, so you may enjoy the brunch menu items. Remember, the bar is the main highlight of Squable, which offers a 50% reduction on all drinks on weekdays from 4 P.M to 6 P.M.
Price Range: $$
Food Style: European, American
Location: 632 W 19th St, Houston, TX 77008
Website: http://squabletime.com/
Phone: (832) 834-7362
Order Online:
Table Reservation:
I admit that there are endless options for a pizza eatery in Houston, but Coltivare should be your priority. Located on White Oak Drive, the eatery is a part of Agricole Hospitality, a group of restaurants scattered across Houston with unique food philosophies.
Unlike other pizza destinations, Coltivare mainly revolves its toppings around available products from its garden. Aside from pizza, the spot also has various classic Italian plates of pasta, desserts, and entrees for customers.
As a top-tier Italian restaurant in Houston TX, it's understandable when Coltivare possesses some classic wine choices for people to pair with their food. Remember, Coltivare is usually open at 5 P.M and doesn't operate on Tuesday.
Price Range: $$
Food Style: Italian, American
Location: 3320 White Oak Dr, Houston, TX 77007
Website: https://www.agricolehospitality.com
Phone: (832) 203-7890 / (713) 637-4095
Order Online:
Table Reservation:
In the heart of Houston Heights lies Lola, a modern establishment for people to enjoy delicious morning meals. One of the great quirks of Lola is its availability throughout the week from 6 A.M to 9 P.M to provide customers with all sorts of dishes.
You may expect bacon and egg-related dishes as Lola is one of the renowned breakfast places in Houston TX. Still, the destination offers more than that with its pasta and salad sections. Better yet, Lola provides great vegan options for people running on a plant-based diet.
Furthermore, Lola is also perfect for holding private events with its exceptional service and the choice to customize it to your will.
Price Range: $$
Food Style: American, Breakfast & Brunch
Location: 1102 Yale St, Houston, TX 77008
Website: https://www.eatlola.com/
Phone: (713) 426-5652
Order Online:
Table Reservation: Not available
Loro is a unique eatery with an amazing fusion of Asian cooking in its grilled meat dishes. This Asian smokehouse has left a great impression on the locals with the spacious dining area and a unique combination of brick and wood to make up Loro's exterior.
Before ordering tasty dishes, check out the beverage area of Loro, which offers wine on tap and many cocktails to satisfy your thirst. Furthermore, Loro has the Happy Hour time frame where you can enjoy discounted spirits and taste-test unique alcohol.
Sunday or Monday is when you can experience the house's smoked baby back ribs that are usually available at 4 P.M. Aside from the meat menu, Loro also provides many veggie options for people to balance their meals.
Price Range: $$
Food Style: Smokehouse, Bar, Asian
Location: 1001 W 11th St, Houston, TX 77008
Website: https://www.loroeats.com/
Phone: (713) 930-2326
Order Online:
Table Reservation: Not available
Uncover the idea behind how Loro succeeded on US soil.
Trattoria Sofia is on the 11th street of Houston Heights, a lovely destination to enjoy fine Italian cuisine. The place provides rustic Italian dishes and possesses a romantic ambiance to make your dinner more intimate than ever.
Typically, Trattoria starts welcoming guests at 11 A.M daily. One small thing to note is the kitchen area usually ceases its operation at around 9 P.M (Sunday – Tuesday), so you may want to come early during these dates.
Furthermore, Trattoria offers special services for private dinners with their room and fine food. However, you should notice that the place requires booking three days before your event. In addition, Trattoria has many events frequently updated on its website.
Price Range: $$
Food Style: Italian
Location: 911 W 11th St, Houston, TX 77008
Website: https://www.trattoriasofia.com/
Phone: (713) 804-0429
Order Online (Pickup):
Table Reservation:
Smacked in the historic Heights neighborhood of Houston is Field & Tides, an eatery destination founded by chef Lenig. The restaurant's name represents a combination of products from the "field" and seafood from the "tides."
Field & Tides is an upscale destination that fuses with a casual setting to give the customers the most comfortable eating experience. Don't forget, Field & Tides is open for brunch hours on Saturday and Sunday.
The spot offers a diverse range of entrees and soups for people to pick their favorite. During the summers, customers can also experience their unique summer menu with many dishes made from local ingredients.
Price Range: $$
Food Style: Southern, Italian, French, Asian
Location: 705 E 11th St Houston, TX 77008
Website: https://fieldandtides.com/
Phone: (713) 861-6143
Order Online: Not available
Table Reservation: Call their phone number to make a reservation.
Another restaurant from the Agricole Hospitality family is the Eight Row Flint, a mashup between a bar and an eating spot. The site is unique in its serving hours, when you may enjoy beverages up to midnight or later to 2 A.M on Friday and Saturday.
Although Eight Row Flint may seem to focus on the diversity of spirits, you can order some Mexican-style dishes like the El Breakfast-tacos with cheese and scrambled eggs. After filling your tummy, you may discover the seasonal cocktail section with many intriguing names.
Eight Row also offers the Locker Program, which allows customers to receive various merits on special occasions or when they reach a certain checkpoint. Furthermore, customers joining the program receive a personal locker to store their favorite liquor during business hours.
Price Range: $$
Food Style: Gastropub, Mexican
Location: 1039 Yale St, Houston, TX 77008
Website: https://www.agricolehospitality.com/
Phone: (832) 767-4002
Order Online:
Table Reservation: Not available
Dinette is the perfect combination of a Vietnamese restaurant with a bar to give the people a great time. Although Dinette may be a newcomer to Houston Heights, the eatery quickly becomes popular with many unique Vietnamese dishes.
The establishment doesn't require you to reserve a table, so you can walk in and find a seat that suits your mood. Another note is that you should bring your cards as Dinette doesn't use cash as payment.
Normally, Dinette is in line for dinner service at 5 P.M except for Monday, as the restaurant is off for service. In addition, you may drop by between 11 A.M and 3 P.M to grab tasty lunch bowls at Dinette.
Price Range: $$
Food Style: Vietnamese
Location: 1018 N Shepherd Drive Houston, TX 77008.
Website: https://www.dinettehtx.com/
Phone: (713) 393-7134
Order Online:
Table Reservation: Not available
After Vietnamese cuisine, visit another Southeast Asian eatery in Houston Heights. Kin Dee is the best location for Thai cuisine in the middle of Houston TX. The spot on Shepherd Drive offers a modern space to enjoy authentic Thai flavors.
Usually, Kin Dee has a special set of food for each day of the week so customers can keep coming back to experience new dishes. Along with the food, many cocktails at Kin Dee have Thai twists to bring more fun to the guests.
If the food and drinks are not enough to convince you, Kin Dee also provides live music service from many artists to immerse you in a joyful ambiance. In addition, Kin Dee is more than ready to bring you happiness with its fully customizable private party service.
Price Range: $$
Food Style: Thai, Cocktail Bar
Location: 1533 N Shepherd Drive Ste 160 Houston, TX 77008
Website: https://kindeethaicuisine.com/
Phone: (281) 826-2655
Order Online:
Table Reservation; Or call their number to book a table.
Melange Crêperie's story was inspirational when it started as only a food stall selling crepes on the street corner. The current establishment is a solid brick building with a duty to produce tasty Parisienne street-style crepes for local people.
Furthermore, the modern interior with a see-through counter allows customers to witness the making process of their favorite crepes. As for the crepe, Melange usually switches up their filling options to keep the customers returning for another round.
If you think Melange is only serving for the breakfast time frame, think again because the Crêperie spot is open for business 12 hours every day. This means you can enjoy crepes anytime you have a chance to pass by the site.
Price Range: $
Food Style: Crepe, Parissiene
Location: 711 Heights Blvd Suite B Houston, TX 77002
Website: http://www.houstoncrepes.com/
Phone: (713) 393-7578
Order Online:
Table Reservation: Not available
Check out the amazing crepes at Melange Crêperie.
To round up this list, Rainbow Lodge is my go-to dining spot with a waterfront in Houston (Texas) as it provides many wild meat dishes in an old-school cabin. Thanks to the wooden interior of Rainbow Lodge, the place brings a nostalgic feeling to guests.
Besides the wild meat like bison, quail, elk, and antelope, the Lodge also boasts a menu revolving around seafood products. Depending on the season you're coming to Rainbow Lodge, you may get treated to seasonal catches from growers and local ranches.
Despite the old-school atmosphere of Rainbow Lodge, the site has four cabins ideal for housing parties or events with a capacity of 80 people or more. In addition, the Rainbow Lodge constantly updates many exciting activities on their website to keep customers informed.
Price Range: $$$
Food Style: American, Seafood, Wild Game, Steak
Location: 2011 Ella Blvd Houston, TX 77008
Website: http://www.rainbow-lodge.com/
Phone: (713) 861-8666
Order Online Delivery:
Table Reservation; Or call for special requests.
Explore Houston Heights Through Its Wonderful Cuisine
Although the Greater Heights area of Houston may sound like a small region, the area has many places to satisfy anyone's taste buds. I suggest making a checklist of the eateries you want to visit, so you may have a fabulous time enjoying your time there.
If you remain uncertain about the area, you may drop your question in the comment, so veterans from Houston Heights may resolve it. Share this article with people looking to explore Houston. I hope you have a fantastic trip.