Are you looking for the best Greek restaurants in Houston, TX? Well, you've come to the right place! This post consists of nothing but the most outstanding eateries to enjoy authentic, delicious Greek cuisine in the "Space City."
Gyro, papoutsakia, moussaka, pastitsio, and many more; the restaurants listed below offer the very best versions of these traditional Greek dishes! So, stick with me on this culinary journey and see what Houston has to offer when it comes to Greek cuisine.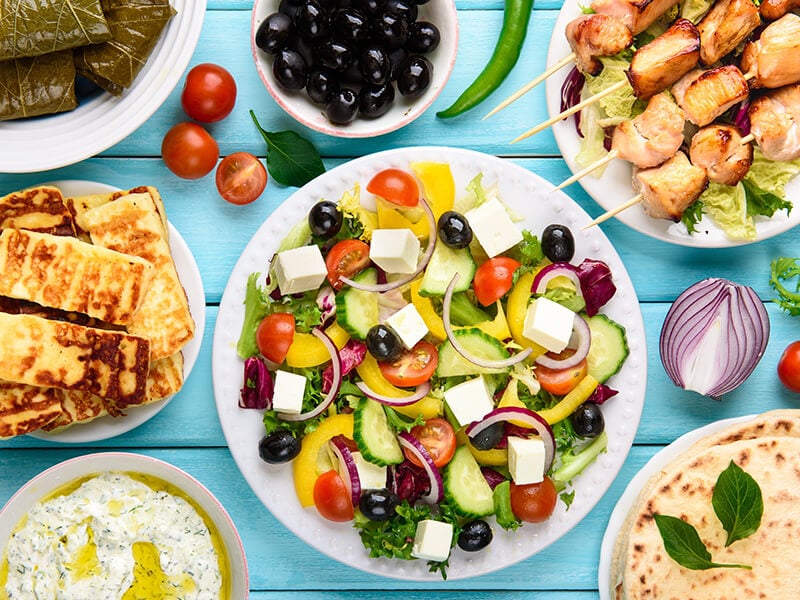 20 Best Greek Restaurants In Houston You Shouldn't Miss
Here's the list of the 20 top-notch Greek restaurants you can find in Houston. Some of them are well-established places that most people have heard about, while some are hidden gems that only true foodies would know!
Nestled in the heart of Rice Village, Helen Greek Food & Wine offers regional Greek delicacies made from the freshest ingredients. This place is also the first modern restaurant serving Greek cuisine in Houston.
Why Visit This Restaurant
Helen Greek Food & Wine is the creation of proprietor Evan Turner and investor Sharif Al-Amin. Behind the scenes, chef William Wright and Nicu Dalman lead the kitchen with their expertise, crafting a menu that constantly changes with the season to keep things exciting.
When you're in the mood to sample some unique wines, this restaurant won't disappoint, as it boasts the second-largest Greek wine menu in the States. Better yet, sommelier Molly Brown is always on hand to provide knowledgeable recommendations for each and every palate.
While the place is dedicated to authentic Greek cuisine, it likes to think outside of the box regarding dessert. The innovative sweet course here combines traditional Greek flavors and the chefs' twists on the dish to make it more exciting.
What To Order
The Green & Cheese Pie is a pleasant surprise, considering its simple description. You should also try the Feta-Brined Chicken and most definitely should not leave this place without grabbing a bit of the renowned Texas Pecan Baklava Sundae.
Website: https://helengreek.com/
Location: 2429 Rice Boulevard, Houston, TX 77005
Phone: (832) 831-7133
2. Niko Niko's
If you're a food lover living in Housten, it's very likely that you've heard about Niko Niko's, providing that the place has been a local favorite for over 35 years. From its humble beginnings to multiple locations across the city, this restaurant remains a quick, friendly, and (incredibly) clean eatery that offers an astonishing amount of food.
Why Visit This Restaurant
During its more-than-3-decades of operation, Niko Niko's has gained national recognition, being voted the Best Greek Restaurant by the Houston Press in 2021. In addition, the place also appeared on the Food Network's Drive-Ins, Dives, and Diners in 2009.
Any dish of Greek origin served in Niko Niko's is literal perfection, especially the gyros, avgolemono, and chickpea croquettes. Besides Greek delicacies, this restaurant also serves up delicious American classics with the addition of its own creative flairs.
Moreover, go-to orders are the norm at Niko Niko's. So feel free to drop by and grab some tasty Greek dishes to enjoy at home.
What To Order
Gyros are a must-try when dining at Niko Niko's. Also, check out their Chicken Avgolemono, Greek Salad, and splendid Cypriot Breakfast.
Website: https://nikonikos.com/
Location 1: 2520 Montrose Blvd, Houston, TX 77006
Phone 1: (713) 528-4976
Location 2: 301 Milam St, Houston, TX 77002
Phone 2: (713) 224-4976
Location 3: 1040 W Sam Houston Pkwy N, Houston, TX 77043
Phone 3: (832) 981-4976
3. Aladdin Mediterranean Cuisine
For more than 15 years, this famous Mediterranean eatery in Houston has been serving mouth-watering and healthy dishes to the people in the region. With two convenient locations in Montrose and Garden Oaks, it has become a go-to spot for those looking for affordable and plentiful meals.
Why Visit This Restaurant
This cafeteria-style restaurant was voted Best Mediterranean Restaurant by the Houston Press, a well-deserved recognition for its dedication to providing fast, fresh, and tasty dishes.
The menu provides a true Mediterranean feast, with a wide variety of salads, vegetable-based dishes, spreads, shawarma, sandwiches, shish kabob, etc. You'll never run out of options to try!
It would be a big mistake not to mention the fresh-baked pita here, which is consistently regarded as the best in town. It's the perfect complement to any of their dishes, and you will, for sure, keep on going back for more.
What To Order
The lamb and chicken kabob is irresistible and my first order every time I'm there. Add some roasted cauliflowers on the side, and you'll have a full meal. Besides, lots of the dishes at Aladdin's are vegan-friendly, so anyone can have a delightful experience.
Website: https://aladdinshouston.com/
Location 1: 912 Westheimer Street, Houston, TX 77006
Phone 1: (713) 942-2321
Location 2: 1737 W 34th St, Houston, TX 77018
Phone 2: (713) 681-6257
Tucked away in the former garage area of the Ekko gas station at South Rice, Ekko's Greek American Deli is a true hidden gem. The new owners have continued the place's legacy and provided authentic Greek food to the masses at a reasonable price point.
Why Visit This Restaurant
At Ekko's Greek American Deli, the flavors of Greece come to life. Their moussaka is simply divine, and one bite is more than enough to convince even the pickiest foodies. While the moussaka is undoubtedly a standout dish, their gyros are also no joke. Some people even argue that this place offers the best gyros in the area!
While Ekko's does have a few small tables and a long counter with stools, most customers prefer taking their food on the go. Either way, the well-trained and prompt staff does a great job of making your experience here as pleasant as possible.
What To Order
Definitely give the classic Greek Moussaka with velvety fried eggplants, ground meat, and flavorful tomato and bechamel sauce. The Gyros Plate is another must-try.
Website: http://www.ekkosdeli.com/
Location: 5216 Richmond Ave., Houston, TX 77056
Phone: (713) 622-2625
Pasha Turkish is a family-run eatery that has been delighting diners since 2004. Here, it's not just about the food but also about sharing moments and making connections, with each guest treated like part of the family. "Your story is our story," as the owners would say.
Why Visit This Restaurant
Coming to this incredible Halal restaurant in Houston, you'll find nothing but incredible Mediterranean dishes. And don't just take my word for it. This place has been recognized by many food critics and publications, like Houston Press, Texas Monthly, Zagat, and more. The Houston Chronicle even named Pasha one of the best restaurants in town in 2004.
The restaurant offers certified Halal and Zabiha food, catering to customers' religious beliefs. In addition, If you, like many others, have fallen in love with the place and want to celebrate a special occasion there, Pasha has a Party Room that seats up to 35 guests.
Website: https://www.epasha.com/
Location: 2325 University Blvd, Houston, TX 77005
Phone: (713) 592-0020
Another must-visit family-owned restaurant specializes in Mediterranean cuisine. More impressively, this eatery places great emphasis on the quality of the ingredients, resulting in dishes that are both delectable and health-giving.
Why Visit This Restaurant
The secret to Fadi's success is its commitment to using only the freshest ingredients. The restaurant refuses to use frozen products and prepares every dish daily with the utmost care and attention.
With a variety of classic Mediterranean treats, including falafels, kabobs, shawarma, gyro, and pita, you are spoiled with choices when coming here. Besides, don't hesitate to go to Fadi's if you follow a vegetarian diet, as it has many dishes to adhere to your needs.
What To Order
Meat enjoyers will love the decadent Lamb Shank and Curry Chicken. For my vegetarian readers, don't miss the vegetarian sampler, which has a little bit of everything. Oh, and do try out the Baklava for dessert and the Turkish coffee.
Website: https://fadismeyerland.com/
Location: 4738 Beechnut St, Houston, TX 77096
Phone: (713) 666-4644
Athena's Greek & European Kitchen lies in a convenient location that's super close to Independence Square on Farm to Market Road. It has been offering fresh, authentic Greek meals made from scratch since March 2022.
Why Visit This Restaurant
The owners of Athena's, Maria Stefanakis and Ari Varoutos, are of Greek origin and have brought family recipes passed down for generations to this neighborhood gem. As expected, all the dishes here are incredibly authentic and taste absolutely phenomenal.
Another thing that makes Athena's such a big hit is the warm and friendly feeling that it evokes. Even first-timers will be treated like family! You can tell how much the owners care about their business.
What To Order
You can't go wrong with their Chicken Kebab and Pastitsio. The Greek Potatoes and Meatballs are also excellent options.
Website: https://www.athenasgreekkitchen.com/
Location: 13250 Farm to Market Rd 529, Houston, TX 77041
Phone: (832) 328-5494
Why olive oil? You might ask. Well, the name of this eatery derived from the fact that the Greeks love using a lot of olive oil in their cooking. What could be a more fitting name for a Greek cuisine-focused restaurant?
Why Visit This Restaurant
While the original The Olive Oil was first opened in 2008, the Hulliaris took over the ownership in 2010 and decided to do a full revamp of the menu. As of right now, the expansive menu consists of one hundred percent traditional family recipes!
As expected, the food here is crazy-delicious! Imagine having a Greek grandmother with years of cooking for the whole family preparing your meal; that's how it feels like to dine at The Olive Oil.
As the cherry on top, the restaurant also provides live entertainment, the kind that you won't expect, on Friday and Saturday nights. Have you ever seen a belly dancer performing live or witnessed the awe-inspiring Greek plate-smashing custom? If not, you now have the chance to do so!
What To Order
If I had to pick one dish to recommend at The Olive Oil, it must be the Moussaka which features eggplant, potato, and ground beef cooked to perfection in a mixture of sauces. Other than that, the Gyros and Lamb Souvlaki taste like a dream, too.
Website: https://theoliveoilrestaurant.com/
Location: 373 Sawdust Rd, Spring, TX 77380
Phone: (281) 367-0114
Savvas Greek Cuisine & Grill has been around for about 10 years, delivering tasty, authentic Greek cuisine to people living in Humble.
Why Visit This Restaurant
Before opening up Savvas, the owners of this place actually ran a successful gyro and grill restaurant in Thessaloniki, Greece. After moving to America for their children's education, they decided to establish a new shop specializing in Greek dishes in 2009. And that was the beginning of Savvas Greek Cuisine & Grill.
Here, you can expect masterfully cooked grilled meats and a collection of homemade Greek desserts. In addition, the waiters are kind and will serve you with a smile on their faces.
What To Order
Savvas has one of the best-tasting Gyro meat in the area, so definitely don't miss the Gyro Sandwich served with fries. I also recommend trying the Falafel.
Website: https://www.facebook.com/
Location: 6730 Atascocita Road, Humble, TX 77346
Phone: (281) 312-6358
Ouzo Bay is an upscale restaurant designed to make you feel like you've stepped onto a Greek island. The decor alone, with its stunning oceanic palette and accents, whitewashed grapevines, and calming greenery all around, already make this place a must-visit.
Why Visit This Restaurant
Ouzo Bay's expansive menu of Greek seafood delicacies, all made from the freshest ingredients, will easily satisfy any gourmet. The restaurant also boasts one of the largest Greek wine collections in all of Texas, not to mention its top-notch cocktails. Trust me; you'll never fail to find the perfect pairing to complement your meal.
If you are a sucker for great live music, The Ouzo Bay hosts many talented DJs, musicians, and bands from Wednesday to Saturday night. Besides, you can always drop by this place between 3 and 7 PM from Sunday to Friday to join the Happy Hour and enjoy delicious foods and drinks at a surprisingly affordable price.
What To Order
The wild-caught Aegean Bronzino is a highlight in the menu that I highly recommend. The Crab Cake Sandwiches are also a real treat.
Website: https://www.ouzobay.com/
Location: 4444 Westheimer Rd Suite G130, Houston, TX 77027
Phone: (832) 430-6610
One of the things that I like most about Greek foods in America is that you don't necessarily need to visit a restaurant to have a great meal. Sometimes, a counter spot will do just fine, and that exactly describes what LuLu's Mediterranean is.
Why Visit This Restaurant
Located in Greenway Plaza, this "small but mighty" eatery packs a punch when it comes to flavor and variety. You can find excellent shawarma, hummus, fresh Greek salad, crispy falafel, and many more yummy Greek dishes here. Best of all, LuLu's only uses high-quality ingredients.
While the atmosphere here is nothing to brag about, the customers always enjoy their meals with happy faces, as they know that the food is the star of the show. If you crave some healthy, fast, and, most importantly, delicious Greek cuisines, this is the spot!
What To Order
The menu at LuLu's Mediterranean can satisfy both meat eaters and vegetarians. If your diet plan allows it, go for the Chicken Shawarma. Otherwise, the Mediterranean Sampler Plate (vegan option) is a must-try.
Website: https://www.facebook.com/
Location: 5 Greenway Plz c620, Houston, TX 77046
Phone: (281) 827-3287
Simply Greek started off as a food truck before turning into a brick-and-mortar restaurant in 2015. After the switch, this place has gained even more popularity as an ideal spot to enjoy authentic Greek food.
Why Visit This Restaurant
The owner, Terry Stamatakos, was born in New York but grew up in Athens, Greece. He went back to America in his 20s and attended the Culinary Academy of Long Island to hone his cooking skills further.
Using his expertise in cooking and Greek cuisine, Terry has crafted a menu full of mouth-watering gyro, chicken ranch, gyro Philly, and many more. In addition, you'll get a free Greek salad along with a side dish of choice when you order a platter.
Yes, Simply Greek is a modest place, but the cozy atmosphere here will charm you, with beautiful photos of sun-filled Greek islands and fishing nets adorning the walls. For a memorable dinner, drop by on Saturday nights to join the festive Greek Night, featuring live music and belly dancing.
Note that Greek Night does not happen every week, so it's best that you call to check and reserve a table in advance.
What To Order
The Original Gyro is Simply Greek's most popular dish and is worth every praise in the world. Their Gyro Philly and Bacon Chicken Ranch are no joke, too. You must also try some of their Platters!
Website: https://www.facebook.com/
Location: 1900 Blalock Rd, Houston, TX 77080
Phone: (832) 649-2900
Harry's has been a cornerstone in Houston's food industry for over 7 decades, serving mouth-watering dishes since 1948. Johnny Platsa, together with his wife Patricia, took over the place about 20 years ago and brought the menu to a whole new level by adding delicacies from their Ecuadorian and Greek heritage.
Why Visit This Restaurant
Living up to its slogan," The Globe at your Fork", you can find a plethora of delicacies from Latin, European, and Southern cuisine at Harry's. The restaurant also places an unwavering emphasis on offering the highest-quality, made-from-scratch dishes with authenticity.
Harry's is one of the most popular places in Houston to enjoy brunch and, of course, breakfast, too. Thanks to the friendly staff, who treat you with down-to-earth Southern hospitality and smiling faces, you'll feel right at home even if this is the first time you've been here.
Besides breakfast and brunch, the ever-changing lunch menu here will also wow you. Moreover, Harry's features a selection of meals from different regions of Greece every Sunday, meaning that diners will have a chance to explore the beautiful cuisine of this country fully.
What To Order
Definitely try out the Churrasco Platter and Chilaquiles Divorciados, with options for green or red salsa. The French Toasts here are also a delight to enjoy.
Website: https://harryshtx.com/
Location: 318 Tuam St, Houston, TX 77006
Phone: (713)528-0198
Sawa Mediterranean Restaurant & Grill is a top-tier place to have lunch or dinner. As the name implies, they serve a fusion of Mediterranean and Lebanese cuisine using only the freshest ingredients.
Why Visit This Restaurant
You would miss out big time if you didn't try the shavings of fresh beef and chicken that Sawa's has to offer. If you have any restrictions on your diet, the chefs at this restaurant also offer halal options.
The interior of this restaurant is sleek and welcoming, with a series of hanging pendant lights adding a warm and calming ambiance to the dining room. If you want, you can easily host a party here or ask them to cater your private event.
What To Order
Since the dishes served at Sawa are influenced by Lebanese cuisine, they won't taste authentic to Greece. Nevertheless, their Beef (or Chicken) Shawarma and Falafel Sandwiches won't fail you.
Website: https://sawarestauranttx.com/
Location: 16608 El Camino Real, Houston, TX 77062
Phone: (281) 990-0817
La Fendee serves a blend of Mediterranean and Middle Eastern cuisines in a casual dining atmosphere. This family-owned and operated eatery has been a hit among the locals for over a decade.
Why Visit This Restaurant
The restaurant is equipped with glass windows, allowing natural light to pour in and create a bright and airy ambiance. The handcrafted, made-to-order dishes here are phenomenal, thanks to the use of fresh ingredients coming from local sources.
La Fendee is also an incredible choice if you're looking for a restaurant with a beautiful outdoor area in Houston. Gather your friends and enjoy some tasty cocktails, wine, or an ice-cold beer, if that's your cup of tea, in the joyful and uplifting outdoor area!
What To Order
Must-try dishes include the Baba Ghanoush, Tabbouleh, and Falafel Sandwich. If you want to get a little bit of everything, go for the La Fendee Sampler, which includes hummus, labneh, and more.
Website: http://www.lafendeehtx.com/
Location: 1402 Westheimer Rd, Houston, TX 77006
Phone: (713) 522-1505
The Mediterranean Chef has been a hidden gem in the area that attracts many foodies with a fine taste in Greek cuisine.
Why Visit This Restaurant
Imagine the ideal mom-and-pop eatery, and you have the Mediterranean Chef. Although the restaurant is run (seemingly) by only two people, it has managed to please numerous customers with excellent food and service for over 20 years.
One step into the place, and the appealing aroma of falafel will hit you like a truck, urging you to sit down and enjoy the exceptional dishes that are to come!
What To Order
The Gyro tastes amazing and is definitely very authentic. Their Falafel and Moussaka are must-tries as well.
Website: N/A
Location: 1305 E NASA Pkwy, Houston, TX 77058
Phone: (281) 486-8854
17. Alwadi Mediterranean Sandwiches
Fans of yummy and affordable Greek food have certainly heard of Alwadi Mediterranean Sandwiches. Since its grand opening in 2016, this restaurant has been a well-loved spot for the locals, with a long line of eager customers spotting outside the place.
Why Visit This Restaurant
By blending the best aspects of Greece, Lebanon, and Italian cultures and heritages, the chefs at Alwadi have created a truly special menu. Fret not if you're looking for a vegetarian-friendly dining spot in Houston, as the menu has plenty of options for you to choose from.
As mentioned, you'll usually find a waiting line at Alwadi's doorstep, but that's not a reason to shy away from this place. The line moves at a quick pace, thanks to the well-trained staff!
What To Order
I recommend the Hummus Gyro and the Chicken and Shrimp Kebabs. In addition, they offer a sampler platter (with a vegetarian-friendly option) if you simply want to try everything at once.
Website: http://www.alwadicuisine.com/
Location 1: 15655 John F Kennedy Blvd, Houston, TX 77032
Phone 1: (281) 590-1700
Location 2: 9222 Louetta Rd, Spring, TX 77379
Phone 2: (832) 639-8863
Sokol's Greek Deli, located just across from Clear Lake High School on Bay Area Boulevard, is an eatery/grocery store that will cover all your Greek cuisine-related cravings.
Why Visit This Restaurant
One of the things that makes Sokol's special is its dedication to creating every dish in-house from scratch, using cherished family recipes. Besides the great food, the friendly and attentive staff is another reason that keeps people coming back here.
Recently, the restaurant has gone through a management overhaul, with new, younger people now being at the helm. In other words, you can expect many exciting changes to come to this over-two-decade-old establishment!
What To Order
While you're here, order an Egg-Lemon Chicken Rice that the restaurant dubs the "Miracle Soup." The Chicken Gyro Plate will undoubtedly impress you too.
Website: http://www.sokolsgreekcafe.com/
Location: 2410 Bay Area Blvd, Houston, TX 77058
Phone: (281) 286-2989
Situated right in front of Phoenicia Specialty Foods on Westheimer, Arpi's is the go-to spot for Houstonians for their daily Mediterranean-style breakfast, lunch, or dinner.
Why Visit This Restaurant
When talking about this long-standing place, it's hard not to mention its renowned shawarma sandwiches. Mouth-watering cuts of chicken, lamb, or beef marinated and cooked to perfection on a rotisserie spit, then wrapped in fresh pita, what else can one ask for?
Besides the food, the restaurant also embraces Mediterranean culture through its choice of decor, featuring the region's iconic olive tree symbolism. You can choose to dine inside and enjoy the contemporary interior or drop by for a drive-through or takeout. In addition, the place also offers a delivery service.
What To Order
The obvious choice here is the Shawarma Wrap (or Plate). The Falafel Shawarma is super tasty, too. In addition, you can try the Box Lunches, including Salad Plate, Pilaf Plate, and Wrap Plate, when you need something to take to work.
Website: https://arpisdeli.com/
Location: 12151 Westheimer Rd, Houston, TX 77077
Phone: (281) 558-0416
Last on today's list is Gyros & Shish Kabob, another hidden with more than 30 years of operation. When you want to enjoy some delectable gyros or just Greek and Mediterranean cuisine, in general, this mom-and-pop restaurant is one you shouldn't miss.
Why Visit This Restaurant
Despite its simple decor, Gyros & Shish Kabob more than makes for it with the amazing food it puts out. Gyro, the place's signature dish, is so good that some customers praise them as the best gyro in West Houston.
The restaurant's website features a catchy slogan that will make you want to drop everything and head straight to the door: "Come in and eat or we'll both starve!" Gyros & Shish Kabob will do more than just sating your hunger. In fact, the mouth-watering dishes here will keep you coming back many more times!
What To Order
The Gyros Sandwiches and Gyros Plates are the stars of this restaurant. In order to enjoy them to the fullest, don't forget to order some delish side dishes, like Baklava and Hummus.
Website: http://www.gyrosandshishkabob.com/
Location: 4486 Hwy 6 N, Houston, TX 77084
Phone: (281) 855-1224
Enjoy Authentic Greek Cuisine Right In Houston!
With the help of today's collection of great restaurants, you can experience the best of Greek food culture right where you live. Or if you're having a trip to Houston and haven't decided where to eat yet, the eateries in this post are top-notch choices, too.
What's your favorite option? Are you a regular at any of the establishments listed? Don't be shy; let me know your opinions in the comment section. Oh, and don't forget to like and share this article with your loved ones so they can have a great meal as well!