These best Mexican restaurants in Corpus Christi offer some of the tastiest breakfast tacos, enchiladas, and quesadillas that have ever crossed your plates!
When you've gotten enough fresh seafood and Texas BBQ, let's move on to the next feast – drool-worthy Mexican fares you will remember back home. Spoiler alert: there is a lot to explore in this sparkling city by the sea, from tacos, fajitas, burritos, huevos con chorizo, and beyond.
It's all about casual dining in Corpus Christi, where hole-in-the-wall establishments are where the locals and food-savvy vacationers head to for a fulfilling fiesta!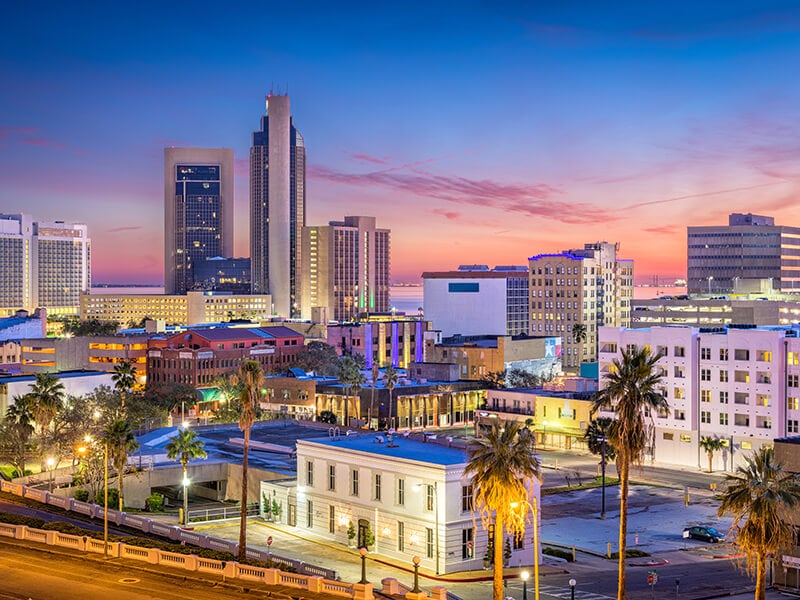 10 Must-Visit Mexican Restaurants In Corpus Christi To Get Your Spice Fix!
A fiesta of flavors in this coastal city should kick off at any of these great Mexican restaurants! With every bite of tacos, taquitos, or fajitas, there is a celebration of the rich and diverse flavors! The list below presents the most popular spots to get your spice fix in no particular order!
El Jalisco Grill
Chuy's
Linda's Restaurant
Hacienda Vieja
Hi-Ho Restaurant
Santa Rosa Restaurant
Alteño Taqueria
La Palma
Guajillo's On The Island
YOLA cocina mexicana
10 Essential Mexican Dining Spots In Corpus Christi To Try Now!
Join me on a gastronomic adventure through the top-rated Mexican restaurants in Corpus, where the ambiance is warm, and the food is hotter! Also, expect Texas-sized portions and downright affordable price tags for your meal!
This Tex-Mex taquerias in Corpus proves that sometimes the best breakfast isn't necessarily extravagant but still flavor-packed. Come and get a taste of their tacos and fajitas, which are prepared by a team with 20+ years of cooking experience, and see why!
Why should you visit this restaurant?
El Jalisco Grill's long menu revolves around Mexican classics and Tex-Mex fares, with their Chilie con queso and flour tortillas made from scratch in-house.
It's where Corpus Christi folks head to for a quick, casual meal, with plushy, comfy booth seats and fast service to deliver your orders in no time. The quick drive-through is also available for those in a morning rush!
What to eat?
There's no excuse to skip the unforgettable classic fajitas (especially the beef version) – the top-selling item of the taqueria. Campechana street tacos, breakfast tacos, cheese enchiladas, carne asada, and the Molcajete are all crave-worthy for your breakfast and brunch.
Their in-house margaritas also pack a punch, so try them if you're in the mood for a drink. Drop by early if you come for breakfast, as the eatery only serves salsa and chips until 11 AM.
Location: 1813 Ennis Joslin Rd #113, Corpus Christi, TX 78412
Website: https://www.facebook.com/
Phone: (361) 452-0500
2. Chuy's
Having been making waves as one of the top restaurants in Austin, Texas since 1982, Chuy's has spread its reputation to the island with its gourmet Tex-Mex dishes.
To truly reflect authentic Mexican cooking, Chuy's also committed to hand-rolling their tortillas using scratch-made dough. All of the sauces, salsa, and guacamole are made in-house.
Why should you visit this restaurant?
Like many outlets across the state, Chuy's at Corpus Christi sticks to funky, eclectic decor. Each dining room has its own theme, like one filled with works of art or the other adorned with hubcap pieces.
What sets this eatery apart from the pack is its full-service bar, showcasing some of the tastiest margaritas in town. Chuy's also has tempting happy deals on the island. During 3-6 PM from Monday to Sunday, diners can grab marked-down chips n dips, beers, and drink specials.
What to eat?
Customer favorites include the stuffed chile Rellenos, Chicka-Chicka Boom-boom enchiladas, and the famous creamy jalapeño.
Happy hour runs from 4 p.m. to 7 p.m. on weekdays, and it's more than just the drink specials that draw the crowds, but the complimentary fully loaded, build-your-own nacho bar. Margaritas are made with fresh-squeezed lime juice, and hand-shaken Texas martinis are a crowd-pleaser there.
Location: 5933 S Padre Island Dr, Corpus Christi, TX 78412
Website: https://www.chuys.com/
Phone: (361) 985-0608
Expect no-frills dining at this Mexican eatery: you select the food from photos on the menu, settle on a wooden table and wait for the extra hearty portions of your meal. Food is always hot and fresh, the tortillas are always fluffy, and everything comes at an unbeatable price!
Why should you visit this restaurant?
Come with a big appetite, as everything is served in Texas-sized portions at this restaurant. Everyone talks about their soft and fluffy tortillas, sizes bigger than you can find in any dining spot on the island. The burritos or breakfast plates are just as generous.
The restaurant is also well-loved for its sweet tea (which comes in generous portions, just like the food). Linda's restaurant boasts a well-managed double-line drive-through, so there's just a little wait during rush hours.
What to eat?
Their carne guisadas are a bomb, as are the breakfast tacos. My perennial favorite is the brisket plate since it always arrives with fork-tender meat and killer charro beans. Tortilla soup, chicken fajita plate, and puffy tacos also receive plenty of orders at this Mexican spot.
Location: 4033 Gollihar Rd, Corpus Christi, TX 78411
Website: https://lindasrestaurant.us/
Phone: (361) 852-0040
This is another hole-in-the-wall establishment in Corpus that you shouldn't miss. Breakfast tacos are also hot and fresh right off the griddles, and fast and cheerful service and affordable prices turn this restaurant into a hotspot in the coastal city.
Why should you visit this restaurant?
For those looking for a tasty drinking fare, let the variety of margaritas at their full bar take care of the rest! While the size of frozen margaritas is slightly modest, everyone still raves about the taste. You can get the best bang for your buck by dropping by during their happy hours.
What to eat?
The Menudo and tortilla soup shine the brightest on the menu, but their fajitas, cheese enchiladas, breakfast tacos, and carne guisada are just as much beloved by frequent diners.
Those who routinely have eggs for breakfast will adore their Huevos con Chorizo (chorizo & eggs) or Huevos con Tocino (bacon & eggs). For a refreshing drink, you can never go wrong with their spectacular margaritas (I highly recommend their watermelon Chamoy).
Location: 2703 4301 S Staples St, Corpus Christi, TX 78411
Website: https://haciendavieja.us/
Phone: (361) 994-6530
This great little spot holds a special place in the hearts of the Hispanic community, as it was a beloved dining spot of none other than the legendary Selena Quintanilla herself.
Hi-Ho is also known as one of the longest-standing taquerias on the island, serving hot and fresh breakfast tacos for over 4 decades (and still counting)!
Why should you visit this restaurant?
Hi-Ho treats avid diners with hefty portions of Tex-Mex food in a cafeteria-like space. Stepping into the eatery, you can feel the affection for Selena is exemplified throughout, from many of her iconic photos adorning the walls. That's why Hi-Ho is also highly suggested by the next-door Selena Museum.
Not just Selena, this old taqueria is also the top choice for Hollywood stars and celebrities. The place also welcomed Bill Clinton, who savored the restaurant's spectacular enchiladas when he was in town.
What to eat?
Among their top-selling items is the Suicide Taco – three tacos melded into one, brimming with bacon, potatoes, refried beans, chorizo, and cheese. If you want to stick to something more conventional, their carne guisada is absolutely crave-worthy. It's also known as Selena's favorite plate!
Other popular orders at this taqueria are cheese enchiladas, Mexican plates, breakfast tacos, and chalupas (a south-central Mexico specialty).
Location: 3703 Morgan Ave, Corpus Christi, TX 78405
Website: Not available
Phone: (361) 888-4992
This quaint, charming eatery is a breakfast taco haven (served all day long). In addition, it's also famed for lunch and dinner plates featuring both seafood and steak, worth drooling over.
Why should you visit this restaurant?
Santa Rosa is a casual dining space bathed in natural light flooding through the large windows wrapping around it. The space inside is roomy, making Santa Rosa perfect for group dining (and the restaurant is incredibly kid-friendly, too).
If you prefer to eat at home, Santa Rosa is also among the best drive-through services in town. Food always comes out fresh instead of looking like being made in bulk and left sitting for a while!
There are also many tasty drink options to complete your fiesta, from Licuados (Latin-American blended milk and fruits), fun Aguas Frescas, and alcoholic beverages.
In addition to big and tasty homemade tortillas and good chips, and salsa, this Mexican eatery is also well-talked about for its thick and tasty refried beans.
What to eat?
This local favorite has awesome breakfast tacos with hand-tossed tortillas and amazing chorizo con huevos tacos you should try. The lunch and dinner menu also stars sumptuous items like cheese enchiladas, carne asada plate, and chicharron & egg a La Mexicana.
If you don't know where to start, Santa Rosa also serves daily lunch specials like rib-eye with cheese enchiladas on Saturday or camaron a la parrilla on Sunday.
Location: 2722 S Staples St, Corpus Christi, TX 78404
Website: https://santarosarestaurant.us/
Phone: (361) 853-3388
Hidden behind the closed doors of this somewhat shabby hole-in-the-wall establishment is amazing home-cooked Mexican fares.
Despite its little presence online, this local staple has received tons of rave reviews revolving around its food's quality. A destination for genuine and delicious sit-down Mexican-inspired meals!
Why should you visit this restaurant?
Alteño Taqueria's unpretentious and simple setting lets diners focus on what matters most – the food! Moist rice, tender beans, and tasty salsa with just the right kick make you feel like they came out of grandma's kitchen. The eatery also has delicious lemonade and coffee you can try.
The long lineup of a drive-through in front is also a telltale sign of how well Alteño Taqueria is running its business. Yet, no worries, as the fast and efficient service there ensure that the food is almost ready as soon as you pull up!
What to eat?
On the big menu of their traditional Mexican dishes, the most popular order is the delicious breakfast tacos. My top pick is the carne guisada, with tender meat smothered in well-seasoned gravy. The kitchen also excels in whipping up their Menudo, huevos rancheros, steak and eggs, and pancake plates!
Location: 2601 Ayers St, Corpus Christi, TX 78404
Website: Not available
Phone: (361) 882-8003
This nautically-themed dining spot is an island favorite to many locals and tourists. Opening for lunch and dinner, La Palma has a wide-ranging menu that covers anything from appetizers, burritos, and taquitos to gordita to ensure you'll find some delicious eats each time you arrive!
Why should you visit this restaurant?
Nice spicy salsa and chips make for a great greeting at this restaurant. What comes next is the budget-friendly deals this lively business puts out daily with its breakfast/lunch specials.
La Palma also steps up the drinking game with their full bar, topped with daily happy hour (2-7 PM) that features downright inexpensive margaritas and taps. Their swift service at the drive-through also makes the restaurant a great stop to grab some bites on the way to the beach!
What to eat?
Few spots can do better than La Palma regarding breakfast tacos, which are only elevated by their homemade corn tortillas. Chile relleno, cheese enchiladas, beef crispy tacos, and Carne guisada are fabulous and can convince their most serious food critic.
Whether you go for their Pina Colada (rum-based cocktail with coconut cream/milk and pineapple juice) or any of their varieties of margaritas, the flavors are always fresh and on point!
Location: 15326 S Padre Island Dr, Corpus Christi, TX 78418
Website: https://www.facebook.com/
Phone: (361) 949-3461
Guajillo's On The Island's menu showcases the 25 years of Mexican cooking experience of the owners with its freshly-made dishes every day.
As the menu claims, "the Mex without the Tex", you can expect truly authentic delicious Mexican cuisine with their soups, mole poblano, enchiladas, and highly shareable appetizers there!
Why should you visit this restaurant?
Guajillo's On The Island is among the rare Mexican dining spots catering to gluten-free and vegetarian folks. Their rice and beans are oil/lard free, whereas the sauce used in their specialties' sauce is prepared without flour and flat.
If you wish to soak in the nice weather of the island, Guajillo's long, reddish picnic tables arranged outside are also a great spot to dine and drink!
What to eat?
Guajillo's menu surprised me with tons of delicious options. First-timers can always start with the fan favorites like green chicken enchiladas, mole poblano, chicken tortilla soup, and birria soup.
While seafood lovers couldn't get enough of their garlicky Mahi Mahi, adventurous diners will get thrilled with the one-of-a-kind offering – Ensalada de Nopalitos or cactus salad.
Location: 15037 S Padre Island Dr, Corpus Christi, TX 78418
Website: https://guajillosontheisland.com/
Phone: (361) 949-3291
Tucked inside Lamar Park shopping center, this Mexican eatery stands apart from the rest of Corpus Mexican eateries with a chic and timeless space.
The restaurant is run by the same team behind BKK Thai Kitchen + Bar, a top-rated Thai restaurant on the island – you can expect something extraordinary there!
Why should you visit this restaurant?
From 11 AM – 2 PM on weekdays, this Mexican restaurant currently offers "Comida Corrida" – a three-part set meal beloved back in Mexico. If you come early for dinner, don't hesitate to get a pre-dinner cocktail or two at their cozy full bar.
YOLA is also a destination for alfresco dining, with rows of casual tables lined with green plants and umbrellas to shield the Texas heat on scorching days.
Their roomy interior feels elegant with black-and-white tiles, warm light, and comfy black booths, creating an upscale yet casual feel for solo diners, group parties, or any celebration! If you want to host private parties, their 40-seat patio, 80-seat dining room, and 12-seat bar are always available!
What to eat?
Dive into a Mexican feast with their impeccably flavorful asada (grilled steak), birria (sirloin and shank), and chicken tinga. At YOLA, diners can also indulge in the most authentic Queso Fundido – it's packed with goodness from stringy cheese and chorizo, all served on soft corn tortillas.
Other top-tier entrees include enchiladas verdes, Pescado al pastor, guacamole, and fajitas. Also highly recommend their exceptional Oaxacan Old Fashioned Or Mole Manhattan if you're down for a drink or two.
Location: 3818 S Alameda St, Corpus Christi, TX 78411
Website: https://www.yolacocinamexicana.com/
Phone: (361) 334-0020
Join Me On The Culinary Journey Through Corpus Christi's Best Mexican Cuisine!
While Corpus Christi's Mexican food scene still lacks upscale dining spots, locals and vacationers are always pampered with many family-owned, unassuming restaurants offering authentic Mexican and Tex-Mex dishes.
On your trip to Corpus, there's no need to daydream about street tacos, sizzling fajitas, or savory enchiladas. These top-rated spots can always satiate your dining whims for Mexican foods. Yet, there might be some more restaurants that this list has yet to mention.
So feel free to drop your comment about your favorite spot. Don't forget to share this post with other Mexican food-loving folks with an upcoming trip to the island, too!