What are the best restaurants in Taylor, Texas, for informed tourists? That isn't easy to answer because this city is home to quite a few amazing eateries, including world-famous BBQ joints. But a few minutes of reading this concise post will solve that problem for you.
You will find very Texas-like options to calm down that rumbling stomach of yours, like Southern fast food and flavorful Mexican delights. After a tour of the historic buildings in the city, you can visit these restaurants to end your trip on a high note.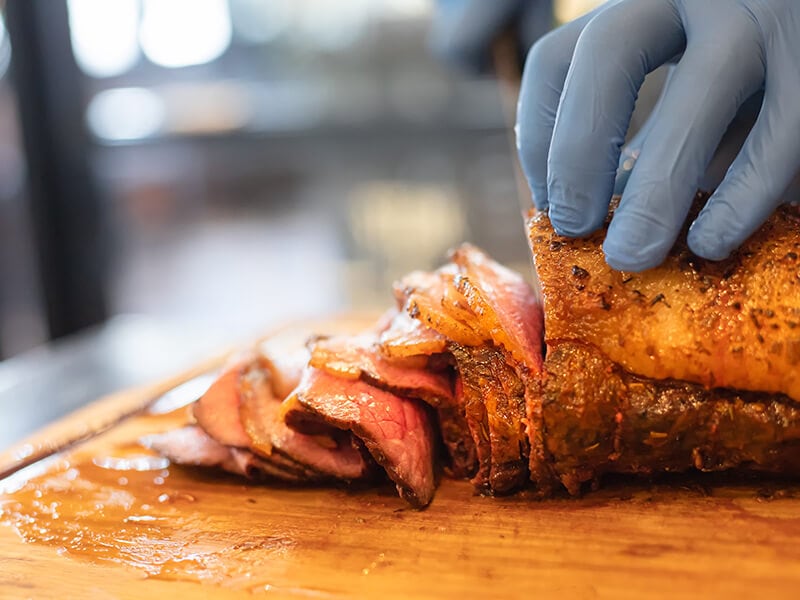 Enjoy The Tantalizing Tastes At The Top Restaurants In Taylor
Below is a summary of the best places to eat in Taylor. It will give you a good idea of what to expect.
Plowman's Kitchen
Masfajitas
El Corral Lozano
Sirloin Stockade – Taylor
Golden Chick – Taylor
Lucky Duck Café
Louie Mueller Barbecue
Texas Bay Seafood and Steak
Chicken Express – Taylor
The Icehouse Kitchen & Tavern
Davis Grocery & BBQ
New York Pizza Pasta
Mariachis de Jalisco
Hungry In Taylor? Check Out These Superb Restaurants
If you Google "best things to do in Taylor, Texas", chances are that some of the following destinations will be at the top of the list. Scroll down now to see what kind of fascination they possess!
Located in one of Taylor's many historic neighborhoods, Plowman's Kitchen is an old-school restaurant in the literal sense: it lies in the old band hall of the former high school in Taylor. It serves made-from-scratch American dishes for breakfast, lunch, and dinner.
Why choose this restaurant:
This family-owned restaurant is a favorite breakfast spot for locals, welcoming patrons from 9:00 AM every day. Its Sunday brunch is even more spectacular. If you're looking for a scrumptious lunch or dinner, the large menu of soups/ salads, steaks, seafood, and more will satisfy you greatly.
As it is part of the brick, 1920s-style building that served as Taylor's former high school, the eatery has a nice vintage flair, with old band instruments doubling as lamps and wall art. It is a terrific place for anyone who wants to remember the good old days without a care in the world.
What to eat:
Chicken fried steak, Mom's meatloaf (served with tomato sauce, mashed potatoes, and veggies), and blackened shrimp alfredo are some of the most popular dishes at Plowman's Kitchen. For breakfast, go for its famed eggs benedicts and breakfast burritos.
But it is the unbelievably delicious homemade desserts that make this place stand out. The Miss American pies and cheesecakes are a revelation. There are also daily specials worth trying, such as strawberry cakes and coconut meringue pies.
Price range: $$
Food style: American
Location: 305 W 9th St, Taylor, TX 76574
Website: https://plowmanskitchen.com/
Phone: +15123520055
Since 1997, this homely and no-frills have provided Taylor inhabitants with mesmerizing Mexican and Tex-Mex eats. Its appetizing drinks are also some of the best in town.
Why choose this restaurant:
Many diners at Masfajitas have no qualms about showering its staff with praise. Rest assured that even if you have a bad day, you will always receive top-notch service from the staff members.
Accompanying the flavorful Mexican-inspired food is a large number of beverages, including craft beer, wines, and cocktails. Its refreshing margaritas with a nice balance of flavors are a particularly must-try delight.
Some of these drinks are available as daily specials, allowing you to buy them at reduced costs. Also, the place offers happy hour every day, with yummy snacks or small plates that will go nicely with whatever you order.
What to eat:
Try the standard Mexican and Tex-Mex delicacies: queso dips, tortilla soups, combo quesadillas, beef fajitas, or spicy cowboy (a highly seasoned mixture of meat, jalapeño, cheese sausage, and sides of your choice). You can also order from its decent lunch menu.
Price range: $$
Food style: Mexican, Tex-Mex
Location: 1905 N Main St, Taylor, TX 76574
Website: https://www.masfajitas.com/
Phone: +15123529292
Here is a family-run Mexican restaurant serving food of the same quality as you may expect at home. It is open from dawn to dusk, meaning that you can also get a great breakfast at this place.
Why choose this restaurant:
Tasty Mexican food is the strongest suite of El Corral Lozano, though it also boasts a lively Southwestern ambiance to match. While the restaurant may look small on the outside, the place has a lot of space for patrons to sit down and browse through the extensive menu.
There is a kid's menu with delicious bites for the little ones, so feel free to take them with you. But the music at El Corral Lozano can be a little loud for their taste.
What to eat:
If you come here for breakfast, the many types of omelets (consisting of bacon, cheese, sausage, and more) will make a good start. You can also try the palatable pancakes or combos like huevos rancheros.
As for main dishes, you can choose from more than a dozen varieties of fajitas, the main attraction drawing foodies to this spot. The spicy chile relleno with cheese and chicken/ beef is my favorite.
Price range: $$
Food style: Mexican
Location: 300 W 2nd St, Taylor, TX 76574
Website: https://www.facebook.com/
Phone: +15123523728
The Taylor location of the famous restaurant chain Sirloin Stockade is a good place to enjoy a classic all-you-can-eat American buffet, including steak and other eats.
Why choose this restaurant:
Home-style food in generous servings at a dream price? You must be talking about Sirloin Stockade, which has served mind-blowing buffets since 1966. At the Taylor branch, you can find both hot and cold dishes, plus a large variety of sides and desserts.
You can find beef/ chicken steaks, sausages, sandwiches, veggies, sweet treats, and more. The superb salad bar provides many choices to make your meals healthier. Build your own platter and enjoy it in a clean and modern setting.
Previous customers at the restaurant comment that lunch is the best time to enjoy the highest-quality fare. Besides, you can enjoy more varieties of steak between 11:00 AM and 4:00 PM on the weekdays.
What to eat:
You won't be disappointed with the main dishes, whether you choose sizzlin' sirloin, chicken fried steak, ribeye steak, or baked chicken. Don't forget to take some fresh rolls, green beans, or mashed potatoes to balance the richness of the meat.
About the lunch specials, I recommend lunch ancho fish and lunch grilled chicken, both of which come with two side dishes.
Price range: $$
Food style: Buffet
Location: 3607 N Main St, Taylor, TX 76574
Website: https://sirloinstockade.com/
Phone: +15123529424
Golden Chick is a fast food restaurant chain with more than 200 locations throughout America. It specializes in chicken-based delights, especially golden fried chicken. Its first location opened in 1967,
Why choose this restaurant:
Walk under the iconic golden awnings of the restaurant, and you've stepped into the world of attractive fried chicken. Or you can just drive through it: Golden Chick offers fast drive-through service to help you enjoy delicious chicken without getting out of your car.
The appeal that keeps customers returning to this place is the care they put into the chicken: the meat undergoes rigorous marination before being hand-breaded and fried until crispy. You will feel a lot of deliciousness in every bite.
What to eat:
At Golden Chick, chicken tenders are the name of the game, but you can also go for fried chicken legs or thighs. In terms of extras, the most popular items are the signature gravy, freshly baked yeast rolls, and jalapeño poppers.
There are family-sized orders with a lot of chicken, gravy, sides, and rolls to satisfy large groups of people. You can also sign up for limited offers to enjoy chicken, shrimp, or catfish dishes.
Price range: $$
Food style: Fast food, Southern
Location: 1706 W 2nd St, Taylor, TX 76574
Website: http://locations.goldenchick.com/
Phone: +15123094680
How delicious can fried catfish be? Find out the answer at Lucky Duck Café, a casual comfort food restaurant in the historic downtown district of Taylor.
Why choose this restaurant:
You can sit back behind the large glass window and watch the traffic go by on Main Street. After all, Lucky Duck Café lies in an exciting part filled with good restaurants and great things to do. The relaxing atmosphere oozing from the gorgeous interior is another added bonus.
Taking children to his place is a good idea since the restaurant houses an ice cream parlor called Lucky Loo's Sweet Treats. Anyone with a sweet tooth will fall in love with the many flavors it offers, including Blue Bell.
While this restaurant serves its food on styrofoam plates, the quality and price are attractive enough to keep you focused on the meal. Besides the standard dishes, every weekday brings a special one worth waiting for.
What to eat:
Fried catfish and fried chicken steak are the two most famous choices at this casual restaurant. Seafood lovers can have a taste of hand-breaded oysters or shrimp. If you want to enjoy something on the go, a grilled chicken sandwich or Lucky Club sandwich will make a good selection.
Price range: $$
Food style: American
Location: 220 E 4th St, Taylor, TX 76574
Website: https://luckyduckcafe.com/
Phone: +15123528777
Founded in 1949, Louie Mueller Barbecue is an award-winning BBQ joint that has delighted many generations of hearty eaters. This family-owned business, nicknamed "cathedral of smoke", will show you what Texas BBQ should be all about.
Why choose this restaurant:
Louie Mueller Barbecue has appeared in prestigious publications and won important honors, such as the James Beard award, as proof of its excellence. Due to the high demand, you should place an order in advance.
This eatery is so full of tempting steak aroma that you can almost smell your way to it. It relies on post oak to fuel the pits, which imparts a nice spicy fragrance to the meat. Getting inside may be a challenge, though: the waiting area and certain parts of the restaurant don't have air conditioning.
But I promise your hard work will pay dividends soon, especially when you enter the airy dining room and take in the rustic charms the place has to offer. The original brick pit was nearly destroyed in an accident, but many others are still working tirelessly to produce mouth-watering steaks.
This BBQ restaurant doesn't use many spices in their meat: The classic recipe of 9 parts pepper to 1 part salt is the secret to its success. But you will quickly be enthralled by the umami magic that such simplicity can bring about.
What to eat:
It is difficult to decide which is the best item at Louie Mueller Barbecue. While all are worth a try, you can start with beef ribs, beef briskets, pork ribs, spare ribs, and jalapeno sausage,
Price range: $$
Food style: BBQ
Location: 206 W 2nd St, Taylor, TX 76574
Website: https://www.louiemuellerbarbecue.com/
Phone: +15123526206
Where should someone in love with top-tier seafood and steak go in Taylor? My answer is Texas Bay Seafood and Steak, which is only a short distance from Taylor's Murphy Park.
Why choose this restaurant:
This eatery may not look like much on the outside, but don't judge a book by its cover. It has many delicious dishes up its tricks, especially anything grilled or made with catfish. Services may be slow at times, but you will feel really relaxed in the amicable ambiance of the place.
Texas Bay Seafood and Steak is also a good place for lunch, with many yummy eats to give you a sufficient energy boost without a too-full feeling. Alcoholic beverages consist of domestic and imported beers.
What to eat:
Fried alligator meat is an intriguing option for appetizers. Then, continue your meal with Cajun gumbo, catfish po' boy, or Cajun dirty rice. Don't forget to check out many types of grilled seafood, like jumbo shrimp, red snappers, or scallops.
Price range: $$
Food style: Seafood, Steakhouse
Location: 200 W Lake Dr, Taylor, TX 76574
Website: https://www.texasbayseafoodandsteak.com/
Phone: +15123526889
Fans of Southern fast food probably know about Chicken Express, a restaurant chain with more than 250 locations throughout America, one of which lies on Main Street of Taylor.
Why choose this restaurant:
Golden Chicken isn't the only mecca for local fried chicken lovers. Chicken Express is a worthy competitor, serving juicy chicken dishes made with a secret batter mix that makes customers come back for more. It offers both dine-in and drive-through services for maximum convenience.
Another selling point of Chicken Express is its famous sweet tea, which is probably the most refreshing of its kind in Texas. You will find it an impeccable match for chicken.
What to eat:
Besides the popular chicken tenders and boneless wings, you can also choose chicken gizzards and, for a change in flavor, fish filets. If you order from Family Meals, your serving will include gravy and sides. French fries, corn on the cob, and fried okra are my picks for the latter.
Price range: $$
Food style: Fast food
Location: 3506 N Main St, Taylor, TX 76574
Website: https://chickene.com/
Phone: +15123527666
When you need a nice sports bar with refreshing beverages and tasty food to match, the Icehouse Kitchen & Tavern is an excellent candidate. Locals frequently come here to unwind; you can join in the fun as well.
Why choose this restaurant:
From an old Conoco service station, the Icehouse Kitchen & Tavern has come a long way to be what it is today: a dazzling place to relax and hang out with friends, a hole-in-the-wall full of retro vibes and perfect for taking a break from the outside world.
Let's choose from the numerous bottled beer or 10 varieties of beers on tap, ranging from stout to lager, and watch sports matches on the large flat-screen TV. If that isn't your thing, there are many live entertainment options, pool tables, and games to make time fly.
Karaoke is available in case you come here on Thursday and Saturday nights, while the whole Sunday is a day-long happy hour event. The friendly and professional bartenders will make you something nice to enjoy.
What to eat:
You can expect classic bar fare: mozzarella sticks, chicken tenders, Philly cheese steak, or hot wings (buffalo or Cajun parmesan).
Price range: $$
Food style: American, Bar
Location: 1321 W 2nd St, Taylor, TX 76574
Website: http://www.tayloricehouse.com/
Phone: +15123527993
As stated in the name, this African-American-owned place consists of a small BBQ restaurant and grocery store. Though its size is fairly small, its fame isn't.
Why choose this restaurant:
While Taylor is home to a few hugely popular BBQ joints, it also contains hidden gems easy to overlook. For example, just off South Robinson Street is a little general store that happens to serve superb meat and sides for lunch and dinner.
It serves fall-off-the-bone steak at a considerably lower price than many high-end names, but the succulent goodness is largely the same. Want to save money without compromising the quality of your meal? You know where to go now!
The atmosphere is casual and relaxing but has no background music, so the only sound you will hear is that of you attacking the meat and sniffing its aroma.
What to eat:
While the menu isn't large, it's got something for every BBQ lover. Besides beef ribs and briskets, you can also try pork ribs, chicken, mutton, and sausage. They are available by the pound as well as stuffed in sandwiches.
Price range: $$
Food style: BBQ
Location: 400 S Robinson St, Taylor, TX 76574
Website: https://davis-bbq.com/
Phone: +15123528111
Pizzas and pasta aren't the only things you can find at this much-loved pizza joint in Taylor: for lunch and dinner, you will be spoiled for choices with salads, subs, desserts, etc.
Why choose this restaurant:
Raise your hand if you love the New York-style pizza by the slice! New York Pizza Pasta accommodates this way of serving. It also uses a drive-through concept that helps you get hot, straight-out-of-the-oven pizzas very conveniently.
At this restaurant, 12 specialty combinations are available to diversify your pizza experience, as well as the option to create your own combo. Whatever you choose, a mix of crispy-outside, soft-inside crust, stretchy cheese, and fresh toppings is surely there to please you.
What to eat:
Meat Lover stuffed pizza, white pizza, and Hawaiian pizza are just a taste of what New York Pizza Pasta has to give. For non-pizza specialties, you can refresh your taste buds with garlic knots, calzone (with cheese, sausage, or spinach), and meatball subs.
Price range: $$
Food style: Pizza
Location: 1701 W 2nd St, Taylor, TX 76574
Website: https://www.ordernewyorkpizzapastamenu.com/
Phone: +15123526000
Do you need a terrific breakfast or lunch restaurant with Mexican eats? Look no further than the delightful Mariachis de Jalisco in the heart of Georgetown.
Why choose this restaurant:
At Mariachis de Jalisco, lunchtime can be very busy, and the breakfast crowd is no less impressive. Once you get through it, however, mouth-watering Mexican food served in a homely setting will be yours to enjoy.
While the flavors are toned down to milden the spiciness, they are still strong enough to impress you. Besides breakfast and lunch, I recommend you get a place between 2 PM to 6 PM to enjoy the happy hour deal with a margarita or beer.
In addition, live mariachi music is a great event at this Mexican eatery. You should check the website to keep track of what night it will take place.
What to eat:
A wide variety of enchiladas, fajitas (especially bistec ranchero), and seafood-based dishes (like camarones de Ajo, grilled shrimp with veggies) are waiting to make your breakfast or lunch memorable. They are served with beans, guacamole, salsa, and other sides.
Price range: $$
Food style:
Location: 3100 N Main St, Taylor, TX 76574
Website: https://www.mariachisdejaliscotaylor.com/
Phone: +15123521700
Those Culinary Gems In Taylor Won't Disappoint You!
Come to Taylor hungry, and you will leave satisfied to the core. While the city may be small in terms of area or attractions, it has a big food scene. Louie Mueller Barbecue isn't the only name dominating that landscape, nor is BBQ: explore and let your taste buds guide you!
I welcome any contribution to make this list more inclusive, so feel free to comment on any name you think deserves a spot. And I love to hear about your experience at those restaurants, too! Please share this post with your friends! Many thanks, and see you later!