Stop worrying about where to find the best restaurants in San Angelo, Texas; you'll find the answer right now. The eateries listed in this collection get approval from locals and visitors alike for offering unbeatable eats and top-notch customer service.
San Angelo attracts foodies and tourists nationwide for being located on the beautiful Concho River. Also, this place has many worth-visiting tourist attractions, from the Concho River Walk to parks, museums, and an array of exceptional eating spots.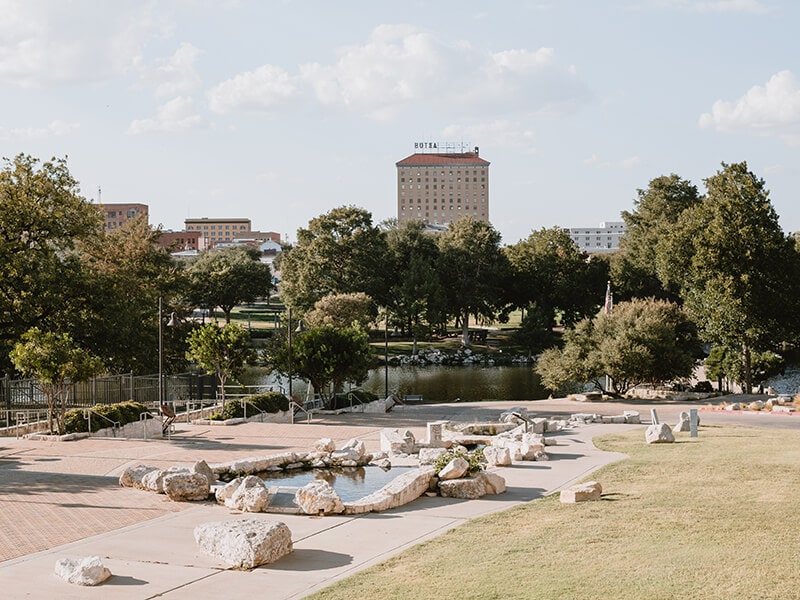 San Angelo's Most Enticing Restaurants To Eat, Drink, And Kick Back
The restaurants I'm introducing include reputable chains with hundreds of worldwide locations and local establishments winning the customers' hearts for excellent cuisines. Regardless of which one you visit, I'm sure they won't fail to accommodate you.
Rosa's Café & Tortilla Factory
Freddy's Frozen Custard & Steakburgers
Outback Steakhouse
Cork & Pig Tavern
Schlotzsky's
Joe's Italian Restaurant
El Paisano Restaurant
Twisted Root Burger Co.
Texas Roadhouse
Angry Cactus
The Original Henry's
Dun Bar East Restaurant
Los Panchitos
Gil's Restaurant
Roxie's Diner
Packsaddle Bar-B-Que
Miss Hattie's Restaurant
You'll Return To These Eateries In San Angelo Multiple Times
This post contains bustling eating spots near the riverwalk and popular tourist attractions. Plus, I added some locations close to highly rated hotels or motels for visitors who still do not know where to stay in the city.
1. Rosa's Café & Tortilla Factory
Firstly opened in San Angelo in 1983, Rosa's Café has expanded with 47 locations statewide and become a top-notch place to eat in Midland, Abilene (Texas), and more. It's well-known for flavorful tacos, burritos, fajitas, and many Mexican plates.
Why Visit The Restaurant
Rosa's Café takes pride in using secret marinades and grilling meats over West Texas mesquite woods to create excellent fajitas with unique flavors. Tortillas and sopaipilla (fried dough) are also made from scratch to guarantee top quality.
Every location has a festive, colorful setting with bars serving wide complimentary salsa varieties. The chain also has express drive-thru windows, so Mexican food enthusiasts can grab their favorites and eat anywhere.
What To Eat
Rosa's Café is notable for the "Tuesdays Were Made for Tacos" deals starting at 10:30 AM. It's when patrons can get low-priced tacos served with rice and beans. Besides, favorites like smothered burritos or chicken enchiladas are perfect for dinner.
Website: https://www.rosascafe.com/
Location 1: 1602 Knickerbocker Road, San Angelo, TX 76904
Phone 1: (325) 617-4595
Location 2: 4235 Sherwood Way, San Angelo, TX 76901
Phone 2: (325) 942-7597
Freddy's Frozen Custard & Steakburgers is a Kansas-based chain with over 400 locations offering hot dogs, sandwiches, and burgers. Its namesake is inspired by Freddy Simon, a World War II veteran and the father of two out of three owners.
Why Visit The Restaurant
Steakburgers at Freddy's are cooked to order with 100% lean ground beef, free from fillers and additives. The vintage-style restaurant also boasts a wide selection of toppings, including veggie options to satisfy any appetite.
Freddy's is also reputable with frozen custards. You can create your own dessert with vanilla, chocolate, or half-and-half flavor.
What To Eat
Must-try favorites at Freddy's are the original double with cheese or the double jalapeño Pepper Jack steakburgers. For sweet treats, signature turtle (fudge, caramel, and pecans) or dirt 'n worms (cookies and Gummy worms) frozen custards are soul-satisfying.
Location: 2702 Southwest Boulevard, San Angelo, TX 76904
Website: https://www.freddys.com/
Phone: (325) 703-6550
Angry Cactus is opened and operated by Timothy W. Condon, the owner of the award-winning food truck Lonestar Cheeseburger Company. Angry Cactus is a bar and grill featuring American bistro-inspired dishes in a Southwestern ambiance.
Why Visit The Restaurant
You'll easily locate the eating joint in Downtown San Angelo with a large irritated cactus on the roof of the establishment. Its interior is nicely decorated with amazing artwork. Moreover, a giant lit-up blue tree and a comfortable patio also set a great atmosphere at this place.
What To Eat
You don't want to skip excellent daily special eats at the eating joint. On Monday, patrons can savor inexpensive tacos and taco salad. Tasty prime rib is available on Wednesday from 5 PM until sold out.
For drinks, specialty cocktails get an attractive price on Saturdays (11 AM – 6 PM). Or on Sunday, bloody mary and mimosa are discounted all day.
Location: 1 West Concho Avenue, San Angelo, TX 76903
Website: https://www.theangrycactus.com/
Phone: (325) 703-6999
Outback Steakhouse is an Australian-inspired casual dining chain owning 1,000 locations worldwide. In Texas only, it's a popular restaurant in Irving, Garland, Pasadena, and many other cities, thanks to offering premium steaks, fresh seafood, and tasty chicken dishes.
Why Visit The Restaurant
The energetic steakhouse showcases 7 cuts of marbled steaks trimmed by hand, aged, seasoned, and perfectly cooked. Aside from steaks, bloomin' onion is an iconic appetizer at this place, made with fresh onions cut into 200 petals and fried crispy.
There is also a full-service bar in the restaurant serving signature cocktails, craft beers, and wines. Outback Steakhouse in San Angelo is housed in Sherwood Oaks Shopping Center, which is adjacent to many hotels and shops as well as convenient to highway access.
What To Eat
Let your taste buds be completely satisfied with the bloomin' onion appetizer, seared Victoria's filet mignon, and char-grilled ribeye. The bloomin' fried chicken served with spicy signature bloom sauce is also unbeatable.
Location: 4505 Sherwood Way, San Angelo, TX 76901
Website: https://www.outback.com/
Phone: (325) 224-2796
Gil's Restaurant can please any picky eater with authentic Mexican cuisine and mouth-watering American options. This family-owned and operated spot has never lost its reputation for serving award-winning food, especially fajitas, voted the best in the Concho Valley.
Why Visit The Restaurant
Offering large-portioned dishes and many special promotions make this place popular for San Angelo residents and visitors. From Tuesdays to Thursdays (5 PM – 9 PM), nachos, enchiladas, burrito plates, and more are sold at half price.
The restaurant's menu contains delicious combos for kids and seniors. Its collection of domestic, imported, or premium beers, wines by the glass, and mixed drinks are ideal for pairing with any meal.
What To Eat
From 8 AM to 10:30 AM, the spot features breakfast huevos rancheros, steaks and eggs, or omelets. For lunch and dinner, you can't miss Gril's signature extreme enchiladas and award-winning fajitas.
Location: 837 Knickerbocker Road, San Angelo, TX 76903
Website: https://www.gilsrestaurant.net/
Phone: (325) 655-5080
Join Roxie's Diner to eat satisfying breakfast items freshly made from 6 AM. From biscuits to omelets and home fries, every delicacy at the diner is packed with excellent flavors.
Why Visit The Restaurant
Don't let the unappealing exterior appearance trick you! Once entering, you'll be amazed by its unique decoration with Elvis Presley and Marylin Monroe's pictures and other memorabilia on the walls. The eatery is next to a hotel, making it a convenient eating spot for travelers.
What To Eat
Biscuits with sausage and gravy and cheese omelets are a must-try at this venue, recommended by many gourmets. If you head to the place for lunch, Roxie's Diner will offer you chicken fried steak, porkchop, or chicken strips.
Location: 4609 South Jackson Street, San Angelo, TX 76903
Facebook: https://www.facebook.com/
Phone: (325) 655-4403
Packsaddle Bar-B-Que is a roadside eatery founded in 1984 and known for irresistible smoked meats, burgers, and catfish. Plus, this family-operated joint receives positive feedback for the home-style cooking and country feel.
Why Visit The Restaurant
The barbecue eatery welcomes visitors from 10:00 AM, seven days a week, to enjoy brisket smoked for 14 hours. On Friday, the place offers discounted fried catfish plates or baskets, a favorite choice at Packsaddle Bar-B-Que.
What To Eat
Onion rings and hushpuppies are perfect starters before trying juicy brisket, sausage, or yummy catfish as main dishes. The menu also boasts some refreshing beers that ideally complement the juicy barbecues.
Location: 6007 Knickerbocker Road, San Angelo, TX 76904
Website: https://www.packsaddlebarbque.com/
Phone: (325) 949-0616
Cork & Pig Tavern, a must-try restaurant in Midland, Southlake, and Odessa (Texas), also presents wood-fired pizzas and fine wines in San Angelo. It provides an easygoing environment for colleagues and families to relax and relish good food and drink.
Why Visit The Restaurant
The gastropub opens its doors seven days a week and boasts a broad menu ranging from gourmet salads to signature entrees and pizzas. On weekends, it welcomes food lovers to try delicious brunch dishes between 10 AM – 3 PM.
You can join the bar during the daily Happy Hour (3 PM – 6 PM) to get cheap beers, cocktails, pizzas, and selected appetizers. The tavern also has a fabulous patio with a misting system where live acoustic performances happen regularly.
What To Eat
It's never a bad idea to order deviled eggs with bacon as a starter, then have the pig pizzas, roasted pork chop, or beef rib for entrees. Remember to save room for the famous beignets (deep-fried pastries) for desserts.
Location: 1407 Knickerbocker Road, San Angelo, TX 76904
Website: https://www.corkandpig.com/
Phone: (325) 227-6988
Let Joe's Italian Restaurant comfort your craving with Italian and American-style fares. Its excellent menu offers an array of items, including homemade pastas, veal entrees, pizzas, and seafood dishes.
Why Visit The Restaurant
Joe's Italian Restaurant is known for attractive weekday lunch promotions from 11 AM to 3 PM. It also offers daily specials for 18-inch pizzas suitable for large dining groups. Besides, there is a long list of fine wines sold with affordable prices.
What To Eat
It never goes wrong trying favorite items recommended by the restaurant, including stuffed mushrooms, fettuccine alfredo (pasta dish), and chicken marsala.
Remember to order the stromboli (pizza rolls) stuffed with Canadian bacon, pepperoni, and sausage, which many customers also suggest.
Location: 1601 Bryant Boulevard South, San Angelo, TX 76903
Website: http://www.joesitaliansanangelo.com/
Phone: (325) 486-9339
El Paisano Restaurant invites locals and visitors to indulge in its comforting Mexican classics, steak tips, and fajitas. The local eatery is suitable for families, friends, and large groups to have breakfast or celebrate lunch parties and casual dinners.
Why Visit The Restaurant
In addition to various choices for adults, El Paisano provides yummy plates for kids. Tea, milk, coffee, and Mexican coke are also available to quench customers' thirsts. On top of that, the place is highly rated for offering good prices on all items.
What To Eat
The unbeatable chips and salsa bean dip is always great to start a meal. Carne guisada plate (beef stew), steak bits, beef fajitas, and chicken fried steak receive good customer reviews.
If you visit for breakfast, El Paisano will serve you huevos rancheros (breakfast egg dish), Spanish-style omelets, and pancakes.
Location: 1406 South Chadbourne Street, San Angelo, TX 76903
Facebook: https://www.facebook.com/
Phone: (325) 659-8529
Established in 2006, Twisted Root Burger Co. is a well-known eatery in Deep Ellum, Dallas, then quickly expanding to other locations across Texas. It has become famous for specializing in made-to-order burgers in a casual atmosphere.
Why Visit The Restaurant
Twisted Root Burger Co. stuffs fresh buns with 1/2 pound beef patties, homemade toppings, condiments, and pickles. More than that, guests can also customize the buns with their choices of toppings.
The San Angelo outpost was rebuilt from a historic building constructed in 1958. The establishment showcases a comfortable interior space, a horseshoe bar, and a covered patio overlooking Concho River and the park.
Another unique experience only at Twisted Root Burger Co. is that when ordering, the servers will give you a celebrity name to call when your food is ready.
What To Eat
Besides the build-your-own burgers, you can go for the freshman 15 (fries, cheddar, and eggs) with fried pickles as a side. This trendy hangout also provides the weekday Happy Hour from 3:07 PM to 7:07 PM with discounted domestic crafts, canned wines, and wells.
Location: 333 South Chadbourne Street, San Angelo, TX 76903
Website: https://twistedrootburgerco.com/
Phone: (325) 653-7668
Founded in 1993, Texas Roadhouse is a chain steakhouse serving made-from-scratch food, hand-cut steaks, and cold beers. American dishes are twisted with a Southwestern flavor and always made with the freshest ingredients.
Why Visit The Restaurant
Meats at Texas Roadhouse are excellently cut by the on-site meat cutters or butchers. The kitchen bakes fluffy rolls every 5 minutes and serves them complimentary with honey cinnamon butter when customers are seated.
The venue showcases a Texas-themed setting with a laid-back atmosphere for families and folks to kick back. Bar seating is available, which provides many fantastic margaritas.
What To Eat
You'll come back to this place countless times to try its crowd-pleasing prime rib paired with green beans as a side. Rattlesnake bites (jalapeno and Jack cheese) with Cajun sauce are the customers' favorite appetizer you must try.
Location: 3057 Loop 306, San Angelo, TX 76904
Website: https://www.texasroadhouse.com/
Phone: (325) 223-8940
The Original Henry's is a favorite hangout for locals and travelers to dig into Mexican and American dishes. It's a family-owned establishment housed on Sherwood Way with a capacity of 500 people after a couple of times of relocations.
Why Visit The Restaurant
Besides the irresistible cuisine, the Mexican joint gains customers' attractions thanks to the beautifully decorated interior and pleasant atmosphere. Diners can sit in the spacious dining room or the well-stocked bar equipped with some TVs.
What To Eat
Kick things off with the yummy white sauce and chips before savoring tortilla soup, beef fajitas, and chicken fried steak. If you intend to accompany your kids there, get them chicken strips, Mexican plates, or fried shrimp.
Location: 3015 Sherwood Way, San Angelo, TX 76901
Facebook: https://www.facebook.com/
Phone: (325) 223-0171
Unlike other joints, The Dun Bar is a restaurant and motel in San Angelo. San Angelo residents and visitors can visit this venue to enjoy daily specials, high-quality steaks, and hamburgers in an old-fashioned space.
Why Visit The Restaurant
Dun Bar East Restaurant opens at 6 AM every day, so earthly birds can grab freshly made breakfast items and coffee. Alternatively, you can stop by and check out its lunch special or sip fine wines in the evening until 9 PM.
The establishment has 50-plus years of experience providing high-quality room service for travelers in the city. Besides, it also provides apartments for monthly and long-term rent.
What To Eat
Never skip the bread rolls and onion rings at this venue. For main dishes, let its popular chicken fried steak, grilled pork chop, or fried calf liver and onions comfort your craving. Plus, you'll regret leaving without tasting the top-notch pie made daily here.
On Sunday, the spot features traditional turkey, dressing, and all the fixins you should try at least once.
Location: 1728 Pulliam, Bus US Highway 67-J, 1728 Pulliam Street, San Angelo, TX 76905
Website: https://www.dunbarsanangelo.com/
Phone: (325) 655-8780
Established in 1971, Schlotzsky's is a notable eatery in Austin, Texas, specializing in sandwiches and pizzas. The chain quickly grew and expanded with over 330 outposts nationwide, especially 209 franchised units in Texas.
Why Visit The Restaurant
At Schlotzsky's, sandwiches can be made in 3 different sizes or served as a wrap, and pizzas can be prepared in round flatbread shapes, depending on customers' requirements. Gluten-free buns and pizza crusts are available for special dieters.
The eatery opens daily from 8 AM to 9 PM to welcome guests for breakfast, lunch, and dinner. Parking at Schlotzsky's is easy, with plenty of spaces for customers to dine in. The spot also has a drive-thru window for pick-up orders.
What To Eat
You'll love the Original sandwiches with signature sauce, ham, and salami. For pizza enthusiasts, I recommend the California chicken and avocado topped with cheddar, mozzarella, and light mayo.
Location: 302 West Harris Avenue, San Angelo, TX 76903
Website: https://www.schlotzskys.com/
Phone: (325) 658-3354
16. Los Panchitos
Owning two locations in the town, Los Panchitos has featured daily prepared Texan and Mexican foods for over 30 years. Its environment is friendly to families, with a kid's menu and extensive drinks for adults.
Why Visit The Restaurant
Both Los Panchitos' outposts are adjacent to the many tourist attractions along the Concho River. Therefore, you can head to some of them before or after satisfying your craving at Los Panchitos.
The outpost on East Avenue D is also a favorite destination for celebrating large parties and birthdays for its elegant, cozy setting.
What To Eat
First-timers can order popular sour cream chicken enchiladas, quesadillas, or chile con queso (cheese and jalapeno). There are also many dessert options, such as ganache, churros, and creamy pecan pralines.
Website: https://www.lospanchitostx.com/
Location 1: 34 East Avenue D, San Angelo, TX 76903
Phone 1: (325) 653-5814
Location 2: 1601 Pulliam Street, San Angelo, TX 76905
Phone 2: (325) 486-1694
Miss Hattie's Restaurant is an old-fashioned American restaurant that has served high-quality fares to the San Angelo community since 1998. Its extensive menus include seafood, steaks, beers, and wines.
Why Visit The Restaurant
What sets Miss Hattie's apart from others is that it's reconstructed from the original San Angelo national bank building built in the 1880's. Today, guests can find details from the Victorian-style room, like the tin ceiling or elegant brick-exposed walls.
Besides, the Cathouse lounge, a full-service bar at this historic destination, serves well-mixed cocktails and red or white wines for a relaxed evening drink. On top of that, there is live saxophone background music performed by a talented artist who elevates the mood.
What To Eat
Miss Hattie's allows patrons to customize appetizers with their choices of onion rings, fried zucchini, Texas toothpicks (onion and jalapeno strips), or fried mushrooms. Favorite entrees worth your try are 21-day-aged ribeye steaks, meatloaf, and chicken fried steak.
Location: 26 East Concho Avenue, San Angelo, TX 76903
Website: http://www.misshattiesrestaurant.com/
Phone: (325) 653-0570
Get The Most Enjoyable Dining Experience In San Angelo, Texas
Hopefully, you will get memorable moments eating out with your beloved ones at the restaurants listed above. I bet from a first-timer, you'll soon become a regular customer of these eating spots thanks to their top-notch food and service.
Now, it's your turn to express your opinion or recommendations about these places in the comment section. Also, hit the share button if you like this post and want to make it reach more food lovers out there. Have a nice week!