It's hard to pin down all the best restaurants in Richardson, Texas – a rapidly booming dining scene that matches the CityLine development. Yet, with this ultimate list, you will find many essential places for the best dining and drinking experiences within the neighborhood.
Home to hundreds of great restaurants, Richardson is also touted as a melting pot where you can easily appease all your cravings with American, Indian, Mediterranean, Chinese, or Vietnamese cuisines.
The city's multicultural population gives rise to the development of an abundance of ethnic restaurants. This means finding a place to settle down for a halal meal is as easy as getting your street taco or burger fixes.
Whether you set your heart on a romantic date, a casual boozy brunch, or want to dive into a new world of sweet treats and confections, allow this to guide you to the best destination that promises nothing but one of the most memorable gastronomic journeys in your life!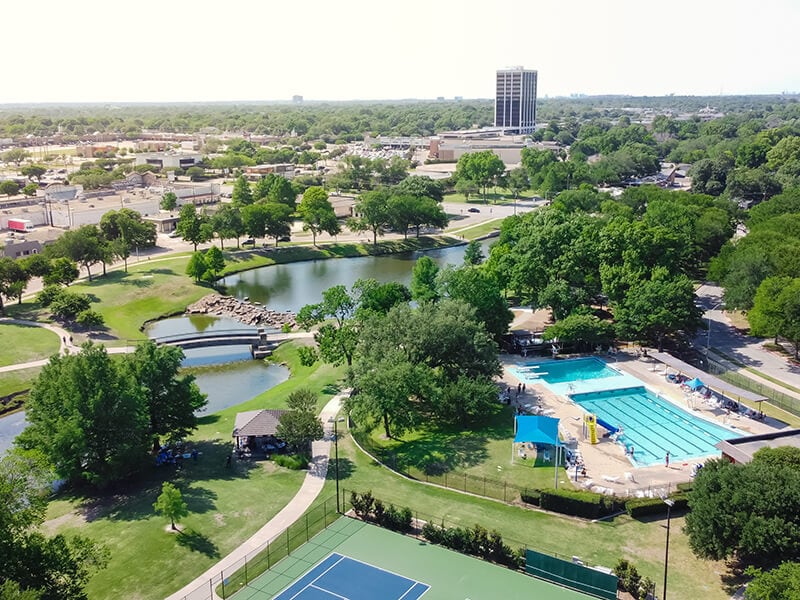 Your Roadmap To The Best Restaurants In Richardson, TX
Are you looking for old-fashioned diner eateries, casual burger shops, crowd-favorite bakeries, or long-established steakhouses? No matter the form, just figure out what your heart desires, and this restaurant guide of the best places to eat in Richardson will have you fully covered!
Taco Ocho – Richardson
First Watch
Pappadeaux Seafood Kitchen
The String Bean Restaurant
Jasper's Richardson
Saigon Block
LA Burger
Tricky Fish
Afrah Mediterranean Restaurant And Pastries
Piada Italian Street Food
DOS Charros Restaurant
Monta Ramen
Bangkok At Beltline
Haystack Burgers And Barley
Ten50 BBQ
King's Noodle
OMG Tacos
Jeng Chi Restaurant
Pineda's Mexican Cuisine
Ali Baba Mediterranean Grill
Anaya's Seafood – Richardson
Mena's Tex-Mex Grill Cantina
Masala Twist Richardson
Fish City Grill
Grand Cafe
Sushi Sake
Thai's Thumbz Urban Kitchen
Silver Fork
TLC Vegan Cafe
The Fifth: Fireside Patio And Bar
Phở Trương
85C Bakery Cafe – Richardson
Dog Haus
Good Union Urban BBQ
Hoki Poki
Sueño Modern Mex-Tex
Olive Burger Richardson
Dos Arroyos Comida Casera
Hot Pancakes
Cafe Amore
Masami Japanese Sushi & Cuisine
Freshii
Edoko Sushi And Robata
Thai Noodle Wave Richardson
Bigdash Ice Cream Pastries
Bambu Asian Cuisine
Pho Is For Lovers
Richardson's Top-Rated Restaurants For Every Type Of Cuisine
While this is by no means an exhaustive list of every good spot to dine in Richardson, you can rest assured that you will find many favorites to come back to time and again. Let's embrace the diverse culinary scene in the city before proudly introducing it to your out-of-town friends!
Since its debut in 2011, this family-owned restaurant has built a cult following of customers for its Latin and Mexican-inspired dishes, especially its tacos, tortas, and nachos. Beyond Richardson, Taco Ocho is among the iconic restaurants in Frisco, Texas, McKinney, and Flower Mound.
Why should you visit this restaurant?
On the broad menu of Taco Ocho, you might find it hard to decide among the amazing 16 tacos, with options ranging from beef, seafood, pork, and vegan filling.
The restaurant also draws the crowd with special events like Taco Tuesday, when two tacos are offered at an unbeatable price, Torta Thursday for bargains on tortas and fries, and a solid weekend brunch menu.
The best time to swing by the bar is from 11 AM – 6 PM (Monday-Friday), when you can grab their happy hour deals on margaritas, beers, wines, and wells.
What to eat?
This taqueria also earns a considerable reputation for its vegan tacos. Their tasty offerings like Rico Ocho (plantains, black beans, and potatoes) or Pura Vida (guacamole, black beans, and plantains) are well-received by vegans and non-vegans alike.
For meat lovers, jalapeno pork tacos, Latin Love tacos, and smoked chicken elote tacos are all heaven on a plate to savor. If you stop by for weekend brunch, consider their irresistible Ocho stack, avocado toast, and breakfast taco plate.
Location: 930 E Campbell Rd #109, Richardson, TX 75081
Website: https://www.tacoocho.com/
Phone: (972) 238-8080
2. First Watch
Since 1983, this breakfast and brunch chain has swept the nation with its 470 branches across 29 states (and still counting). The brand now boasts 2 outlets in Richardson, both with outdoor seating if you prefer alfresco dining.
Why should you visit this restaurant?
One of the major draws of First Watch is the use of farm-fresh ingredients, which results in a seasonal yet tastiest menu for breakfast and brunch. The menu changes with the season, so you can expect something new regularly.
Health-conscious or vegetarians can find many healthy and vegetarian items to match their desires. The menu also has a section to accommodate your kids, too.
To round out a healthy meal, First Watch also offers fresh juices like Kale Tonic and Morning Meditation Fresh Juice that are downright delicious.
What to eat?
This fast-casual chain does an impressive job of whipping up its avocado toast, classic benedict, elevated egg sandwich, and Chickichanga (spicy chicken breast smothered in whipped eggs and cheeses).
Their Belgian waffles, Power Breakfast quinoa bowl, and Market Hash skillet are no less impressive for your morning meal. Don't forget to get a tasty boost-your-juice drink from the bar.
Website: https://www.firstwatch.com/
Location 1: 930 E Campbell Rd, Richardson, TX 75081
Phone: (972) 234-3447
Location 2: 202 W Campbell Rd Ste 202, Richardson, TX 75080
Phone: (469) 613-2727
Join a delightful culinary journey at Pappadeaux Seafood Kitchen, where New Orleans-style dishes are taken to a new height. This fun and festive chain has spread its wings across 8 states with up to 39 outlets.
Why should you visit this restaurant?
As the name implies, Pappadeaux is a seafood heaven where you can find a little of everything under the sea, from oysters, clams, and shrimp, to catfish. The menu is also well-rounded, with offerings from the lands, like gourmet steaks and chicken-based dishes.
If you're in the mood for mingling, note that there's also a full bar where you can sip on a craft cocktail, spirit, or wine before getting the conversation flowing with the nearby folks. Alternatively, grab your drink on the cool patio and immerse yourself in the nice weather outside.
What to eat?
Don't miss out on their Cajun-inspired specialties, notably Pasta Mardi Gras, crawfish platter, Jumbo shrimp brochette, and crawfish etouffee. If you're a shrimp lover, take note of their palatable shrimp and grits and shrimp Fondeaux, too.
The kitchen also garners tons of attention for its fried seafood, and you can always be satisfied with its fried shrimp, fried catfish filet, and fried crawfish.
Location: 725 S Central Expy, Richardson, TX 75080
Website: https://pappadeaux.com/
Phone: (972) 235-1181
Since 1977, The String Bean has proudly claimed itself as the place where home-style cooked Southern-style comfort food is done right!
The original eatery began with just a humble menu of 4 entrees before being relocated to Richardson in 2010 and grew into a large establishment with more than 34 entrees.
Why should you visit this restaurant?
The String Bean runs its rotating daily specials from Monday to Saturday, so be sure to check out the day's highlights! Yet, above anything else, this local staple is known for its amazing weekend breakfast buffet, running from 10:30 AM – 2 PM on Saturday and Sunday.
Sitting on W. Campbell Road, the dining spot now provides its patrons with a full bar well-stocked with wines and bottled beer.
In addition, the restaurant is family- and kid-friendly, offering a kid-friendly banquet and a designated playroom. This is not to mention a lovely patio that lets you soak in Texas's nice weather, too.
What to eat?
Over the years, this Richardson staple has built a reputation with its specialties like pot roast, meatloaf, chicken fried steak, and chicken & dumplings. For hard-core seafood lovers, there are also delectable, well-done fried catfish and grilled tilapia to please their palates.
You can't also go wrong with the fried string beans and black-eyed peas. There's no better way to round out your meal with their world-famous coconut cream pies or the equally impressive cobbler of the day.
Location: 1310 W Campbell Rd Ste 101, Richardson, TX 75080
Website: https://www.thestringbean.com/
Phone: (972) 385-3287
Jasper's Richardson is the ultimate destination for unforgettable backyard cuisine in town! The eatery takes its backyard dishes seriously, as shown in the chef-driven menu built only from top-notch ingredients.
Why should you visit this restaurant?
If you're making brunch plans, remember Jassper's Sunday brunch running from 11 AM – 3 PM. Most importantly, don't forget to take advantage of Jasper's Happy Hour deals from Tuesday to Saturday, 4-9 PM, for delicious bargain bites and signature pours.
What to eat?
You must try their blue cheese potato chips, whose unbeatable flavors can convince blue cheese haters. Hyplains rotisserie, prime rib, braised short rib, and crispy Brussels sprouts are all superior choices for the night. For dessert, allow the decadent chocolate bundt cake to shine through!
Their happy hour menu also encompasses plenty of tasty fares, including baked pork empanadas, tenderloin sliders, and lox flatbread for your drinks to wash down!
Location: 1251 State St #950, Richardson, TX 75082
Website: https://www.jaspersrichardson.com/
Phone: (214) 716-2610
If you're partial to traditional Vietnamese food, Saigon Block is where to satiate all your cravings. Voted as the best Vietnamese restaurant by Dallas Observer, this family-friendly eatery is known far and wide for umami-packed pho and the beastly baked whole catfish.
Why should you visit this restaurant?
For family/group dining, their seven courses of beef present a show-stopping culinary journey of Vietnamese flavors that you shouldn't miss.
Another highlight is their baked fish, which comes in generous helping enough for a crowd of 5 or so, and the sides like vegetables and noodles can be refilled. This trendy little spot is also a BYOB establishment, which means you can cut down your costs on the beverage.
What to eat?
If you don't know where to start, Saigon Block specialties like fondues, hot pot, Phở Sài Gòn, and Sài Gòn 3 Vị (meatball, shrimp ball, and ground beef) are the way to go.
Yet, the place is best known for its whole baked dish, with a killer sauce sprinkling on top and accompanied by condiments to let diners make their spring rolls. The lesser-known yet equally tasty is their "bò nướng lá lốt" – with the flavor-packed ground beef wrapped in Hawaiian leaf.
Location: 2150 E Arapaho Rd #200, Richardson, TX 75081
Website: http://www.saigon-block.com/
Phone: (214) 575-6400
Constantly crowned as the top dining spot in Irving, Texas (where it began), LA Burger harmoniously infuses Korean influences into familiar American fare.
Their Korean fusion hotdogs and burgers took only half a year to become a suburban success before helping the brand branch out to 5 other spots in North Texas, including Plano, Carrollton, Keller, Grapevine, and Richardson.
Why should you visit this restaurant?
LA Burger has built a large fan base for its awesome fusion-style burger. You'll be hard-pressed to find such delightful creations in this popular joint, such as bulgogi (Korean BBQ beef), Dejigogi (Korean BBQ pork), and kimchi on burgers.
As one of the top places to eat with children, LA Burger offers a separate kid-friendly menu with cheeseburgers, mini corn dogs, and chicken nuggets. In addition to the best burgers in town, LA Burger also hides some awesome cold brews behind closed doors, so be sure to check them out!
What to eat?
Many regulars always rave about their K Town, Cali Sunshine, Holy Smokes, and West Coast burgers. LA burger also whips up surprisingly savory cheese steak, tacos, and tots. For something more filling, the rice bowl laden with bulgogi, fried egg, jasmine rice, and kimchi will hit all the right spots.
Location: 2000 N Plano Rd, Richardson, TX 75082
Website: https://la-burger.com/
Phone: (469) 547-2717
Sitting across the street from CityLine Plaza, Trick Fish treats diners to creative Southern seafood in a rustic, industrial setting. The brand is helmed by Chris Degan, also known for the success behind Razzoo's Cajun Cafe – one of the most popular restaurants in Dallas, Texas.
Why should you visit this restaurant?
What sets Tricky Fish apart is the unique service style the eatery aims to deliver – "polished casual" dining. In its casual concept, where you still have to order and pay at the counter, you're first greeted at the doors and escorted to the table by the friendly staff.
Diners can also unwind at their full bar, where the prices of bar bites, beers, wines, and craft cocktails are marked down 2-6 PM from Monday to Friday.
The eatery also earns huge points on their daily specials on drinks, with half-priced wines on Wednesday or special deals on Bloody Marys on Sunday.
What to eat?
The menu highlights Today's Catch, where diners can relish in the freshest crawfish etouffee (at market prices). Sharing the spotlight are their calamari, fish sandwiches, fried shrimp, and catfish platter. The heavenly banana pudding and French toast sundae only take your meal over the top.
Location: 1251 State St #750, Richardson, TX 75082
Website: https://www.tricky-fish.com/
Phone: (972) 437-3474
Afrah is the top spot in the DFW area if you're searching for hummus, kebabs, falafel, and many more Mediterranean fares.
This local favorite has a humble beginning as a pastry shop in 2003 that sells only Mediterranean desserts. Today, the place draws a huge crowd at noon for its amazing lunch buffet.
Why should you visit this restaurant?
Stepping into the restaurant, you can instantly spot a counter well-stocked with colorful gelato, baklava (Ottoman pastry desserts), and many other sweet treats. Right behind it, a rotating vertical pit slowly roasts their traditional Middle Eastern shawarma.
It's hard not to mention Afrah's weekday all-you-can-eat lunch buffet, where diners can dive into 32 types of home-style Mediterranean food, grilled meats, appetizers, and desserts. The buffet charge already includes a drink too.
What to eat?
Whether you dine in or join the buffet, you shouldn't sleep on their mouth-watering gyro and shawarma plates. As for the shawarma, the kitchen nails both beef and chicken renditions, so be sure to get a taste.
Hummus, lentil soup, Greek salad, and chicken Kabab are all delicious choices that can please your taste buds. In addition, remember to add some baklavas and gelato to cleanse your palates; the latter can also be purchased separately from the buffet.
Location: 318 E Main St, Richardson, TX 75081
Website: https://www.afrah.com/
Phone: (972) 234-9898
This hugely successful chain started in 2010, following the founding chef's visit to Rimini (a city in northern Italy). The talented chef took inspiration from the markets and roadside food carts he encountered in the place he passed through.
Why should you visit this restaurant?
Located in the CityLine Market, Piada is a fast-casual, counter-order eatery with a pet-friendly patio. Contrary to an abundance of fine-dining Italian restaurants, the place is where you can get a quick Italian meal at a more affordable price.
Piada's wide-ranging menu offers patrons options from iconic Piadas (Italian-style wraps), salads, grain bowls, and pasta. If nothing on the menu can please your palates, go ahead and build your salad, Pidadas, and pasta.
What to eat?
It would be a shame to give their namesake dish a pass, so go for their avocado Piada, BLT Piada, or Chef's favorite Piada (with spicy Diavolo sauce and ranch).
The house's carbonara pasta (even better with hot fried chicken) and basil pesto pasta make any pasta lover fall head over heels. If you want a healthy dose of greens, their amazing Farmers Market salad is the way to go!
Location: 1551 E Renner Rd #800, Richardson, TX 75082
Website: https://mypiada.com/
Phone: (972) 807-9087
DOS Charros has been a familiar name in the North Texas restaurant scene for several decades and is now expanding to Sunnyvale. With on-point Tex-Mex dishes, impeccable service, and portion sizes that are likely to leave leftovers, DOS Charros is a top choice in the DFW neighborhood.
Why should you visit this restaurant?
Despite its unassuming interior, DOS Charros is still well-loved for Tex-Mex eats, complemented by unlimited warm chips and salsa.
After your meal, you can hit up their cozy bar at the back, where the bartender serves delicious signature cocktails and iced cold beer to complete your Tex-Mex fiesta. Their strong margaritas are a massive hit – they pack a punch that guarantees your next visit.
What to eat?
Many diners come for their delectable enchiladas and fajitas. The seafood plate is also a winning choice, which comes with a generous helping of fresh shrimp, tilapia, and snapper, all elevated with savory garlic butter.
Location: 1425 E Belt Line Rd #108, Richardson, TX 75081
Website: https://www.facebook.com/
Phone: (972) 783-7671
Touted as the top-rated restaurant in Las Vegas, Monta Ramen is also a welcomed addition to Richardson's booming dining scene.
Situated on the southeast corner of Arapaho and Coit Road, this cozy ramen shop is the ideal stop for hand-crafted ramen, especially the Kurume-style Tonkotsu.
Why should you visit this restaurant?
What ramen enthusiasts will appreciate is the wide selection of broths they can choose from. The list includes Shoyu ramen (light chicken broth), Tonkotsu Shoyu ramen (light pork broth), along with a few exciting varieties like Kuro (creamy pork broth with garlic oil).
Another special feature is their Kaedama offerings for those with a bigger palate. Simply save some broth in the bowl and order Kaedama; the restaurant will refill you with another bowl of noodles (for an extra cost).
What to eat?
Monta Ramen is a master of umami-packed broth, and it shows in their top-selling Tonkotsu, Shoyu, Miso, and Ruko ramens. Their spicy Tonkotsu variety will also leave spicy food eaters satisfied. If you come extra hungry, you may want to add Takoyaki and crispy rice to your order.
Location: 800 N Coit Rd #2550B, Richardson, TX 75080
Website: https://www.montaramen.com/
Phone: (469) 330-7777
This restaurant is a must-stop at Richardson Heights Village for classic Thai delicacies like Pad Kee Mow and chicken satay. Gorgeous, high-end plating of dishes and top-notch service makes this perfect for business luncheons, date nights, or whenever you have something to celebrate!
Why should you visit this restaurant?
Besides the amazing food, the eatery hosts afternoon Thai tea sessions every Saturday (1-4 PM), where diners can indulge in the luxury of tea service at a relaxing pace. Their three food tiers are well selected to match the flavors of their hot green, white pear, and hot Thai tea.
What to eat?
Bangkok At Beltline is where you can get the most authentic Pad Thai, Pad See Ew (drunken noodles), green curry, and Pad Kee Mow in town. For appetizers, give the fan favorites crispy spring rolls and crab rangoons a shot; you won't disappoint!
Their orange chicken, Tom Kha Soup (coconut milk), and Thai dumplings are all perfectly cooked, so you might take note for the next visit!
Location: 100 S Central Expy #108, Richardson, TX 75080
Website: https://www.bangkokbeltline.com/
Phone: (469) 930-9755
Launched by husband-and-wife team Kevin and Jenny Galvan, the family-owned Haystack Burgers And Barley is another excellent addition to Richardson's dining scene (and also good news to burger-loving folks). The diverse menu comes with Tex-Mex fairs to honor the owners' backgrounds.
Why should you visit this restaurant?
This burger shop has a light, airy, and Southern feel with its modern design. Ample seating and parking are always a great plus, too.
Haystack's menu offers something for everyone, with plenty of options from sandwiches, burgers, appetizers, and creative milkshakes. Their gluten-free buns are also among the best in the area.
For the "barley" part in the name, this casual eatery has put out a dozen rotating local beers on tap. Cocktail lovers can also get thrilled with their signature Big Haymaker (Maker's Mark, tea, lemonade, and orange juice).
What to eat?
The Cubby's chicken sandwich is a bomb, as are the fried chicken burgers, Down on the Farm burgers, and pitch pork chili. Fried pickles, Haystack salad, and Half & Half (onion rings and French fries) are also great additions to your meal.
Last but not least, go with the suggestion from the restaurant's name and pair your burgers with tasty barley to complete your meal.
Location: 100 S Central Expy #17, Richardson, TX 75080
Website: http://www.haystackburgers.com/
Phone: (972) 479-9424
Regarding pork-tender Central Texas-style smoked meats, Ten50 BBQ is among the first names that pop into Richardson residents' minds.
Walking into the restaurant, you'll be first greeted by the mouth-watering smell of meat before seeing a huge smoker and joining the walk-up line to place your order. Everything is a la carte there!
Why should you visit this restaurant?
Ten50 BBQ has a warm, rustic ambiance and long wooden tables that set just the perfect tones for your BBQ feasts. While the dining room is spacious and airy, you can join the crowd on their nice patio, soaking in the breezy weather while sipping a fresh beer.
Yet, what put Ten50 BBQ on the map is the food. Twelve hours of slowly and lowly smoking their Prime USDA meats yield the juiciest and tastiest ribs and briskets that anyone will feel are worth their drive down south.
What sets this BBQ joint apart from other BBQ spots in DFW is its fully-stocked indoor bar with various beers and hand-crafted cocktails. If you want to throw a party, Ten50 will host a memorable feast for up to 70 seated guests in their private dining room.
What to eat?
St. Louis pork ribs, chicken torpedoes, brisket torpedoes, and prime brisket will surely please the choosiest meat-loving folks. Remember to get some fried okra and corn on the cob on your menu, which are phenomenal side dishes of the smokehouse.
If you want to bring your lunch to a sweet end, go for a serving of key lime pie. In addition, swing by the bar to taste their Bloody Marys if you still have time.
Location: 1050 N Central Expy, Richardson, TX 75080
Website: https://www.ten50bbq.com/
Phone: (855) 783-1050
King's Noodle is a hidden gem in the bustling Richardson dining scene, where you can reasonably expect exceptional Taiwanese beef noodle soup and boba tea. Vegetarians can also dive into some tasty offerings from their menu.
Why should you visit this restaurant?
This mom-and-pop eatery is frequented by many Asian diners, which is the first telltale sign of the authenticity of their dishes. The kitchen puts out some of the most authentic noodles in town, as shown in their chewy noodles and good chunks of beef in the bowl.
The drink menu also allows diners to experience another exciting side of Tawainese cuisine. It's worth every scent to give their pearl milk tea, jelly milk tea, or Taiwanese shaved ice a try.
What to eat?
Za Jiang Mein noodles and beef stew noodle soup are guaranteed to warm your belly (and soul) on chilly days. The kitchen also has an interesting take on dry noodles, whether dry beef noodles or dry noodles with ground pork sauce.
If you're a fan of wonton, their fresh shrimp & pork wonton noodle soup or fresh shrimp wonton soup won't disappoint you. There are also frozen items like wontons and dumplings if you want to take home their delicious food.
Location: 201 S Greenville Ave, Richardson, TX 75081
Website: https://kingnoodle.site/
Phone: (972) 437-0881
Featuring build-your-own tacos, burritos, quesadillas, and a full bar, OMG Tacos in Richardson promises diners an immersive taqueria experience.
In addition, the taqueria doesn't close its doors until 2 AM most days (and even later at 3 AM on Friday and Saturday), making it a prime destination to satiate your late-night hunger in the Dallas suburbs.
Why should you visit this restaurant?
Sitting in where Paul Qui's Tacqui once was, this OMG Tacos' outlet boasts a dining room that is twice as large as other spots. Illuminating neon signs on the walls give the place a cheerful vibe, whereas flat-screen TVs keep guests entertained between bites.
To top off your dining experience, the team also offers a vibrant daily hour stretching from 3-7 PM. Swing by these hours to enjoy marked-down chicken, pastor, and Lengua tacos without hurting your wallet. The same tempting deals are also on offer all day every Tuesday.
This Richardson branch also has a full bar (6 PM – 2 AM), which features some must-try seasonal cocktails and martinis to keep you hydrated.
What to eat?
OMG chicken tacos, OMG steak tacos, barbacoa, and pastor tacos are among the most ordered items at this taqueria. Their OMG elote also gets many guests talking. The vegan fish quesadilla, fish-loaded fries, and fish burrito will surely delight any plant-based eaters.
Location: 744 S Central Expy Suite 220, Richardson, TX 75080
Website: https://www.omgtacos.com/
Phone: (469) 941-4317
Jeng Chi is another trusted destination for authentic Chinese dishes in DFW Chinatown. The eatery started as a humble store carrying dough items around 3 decades ago, and it has transformed itself into a heaven for Taiwan, Mainland China, and Sichuan dishes.
Why should you visit this restaurant?
Jengchi's dough-based menu starring juicy dumplings has attracted a huge fan base of Asian and non-Asian clientele. The kitchen churns out thousands of dumplings each month, and they are all sold out.
Yet, if you're not a fan of dumplings, you can still always find something to please your taste buds among their 250 items on the menu, from seafood plates to stir-fries. If you want to drink, you can find plenty of libations in their full bar (it's among the first full-service bars in ChinaTown).
Also, check in at their bar during happy hour, from Monday to Friday between 4-6 PM, where you can grab well drinks, wines, and beers at more budget-friendly prices.
What to eat?
Their popular egg rolls and green onion pancakes are amazing appetizers to start with. As for the mains, small juicy steamed dumplings, pork and crab juicy steamed dumplings, and chicken dumplings always make headlines at this Chinese restaurant.
The next best things you can savor are their spicy Dan Dan noodles and orange chicken. In the attached bakery, you can also grab home some chocolate parfaits.
Location: 400 N Greenville Ave #11, Richardson, TX 75081
Website: https://jengchirestaurant.com/
Phone: (972) 669-9094
This local staple is a little harder to find (it's located in the strip center right behind Dickies BBQ), but the customer favorites like quail Flautas and brisket tacos are worth the hunt!
Why should you visit this restaurant?
Pineda's first good impression is the still warm and tasty chips and salsa served right when you settle on the table. This family-owned eatery is also praised for its twist on Mexican classics, and it is also among the few Mexican eateries that ditch the oven and smoke their quails and briskets instead!
If you desire a fiesta at home, note that the eatery also offers take-out specials such as taco, enchilada, and quesadilla packs enough to accommodate 4-6 diners. Vegetarians are also pleased with plant-based items like beans, spinach enchiladas, and veggie fajitas.
What to eat?
Never leave without trying their quail Flautas and Stiney's brisket tacos, which come with mouth-watering smoky flavors. Poblano enchiladas, fajitas, carne asada, and bean soup are all the highlights that will satiate your Mexican food cravings.
Location: 1144 N Plano Rd #119, Richardson, TX 75081
Website: https://pinedasmexican.com/
Phone: (972) 863-8466
Ali Baba has been in the business for over 3 decades, so it's no surprise they dish out some of the best falafel and tabbouleh. This restaurant has thrived throughout its history and now boasts 2 outlets in Dallas and one in Monterey, Mexico.
Ali Baba also has a sister restaurant – Terra Mediterranean Grill – which topped the list of the best restaurants in Plano, Texas.
Why should you visit this restaurant?
For an indulgent lunch meal, head to this Richardson institution on Monday through Sunday to join their big lunch buffet. The eatery excellently nails its all-you-can-eat offerings, with a huge variety of meats and sides, along with consistent quality.
This is not to mention the various vegetarian offerings in the buffet. The salad bar with offerings like hummus and baba ghanoush (that you'll be hard-pressed to find anywhere else) and complimentary, always-hot pita bread for dipping only top off the experience.
What to eat?
The famous roasted chicken (voted best by Dallas Observer) will surely please the pickiest diners. It's a filling dish with half chicken and saffron rice smothered in garlic sauce.
Besides, it's hard to go wrong with the house's hummus, saffron chicken, lamb chops, and Kibbie. Their rice pudding will nicely wrap up your meal and leave you 100% satisfied!
Location: 2103 N Central Expy, Richardson, TX 75080
Website: https://alibabamedgrill.com/
Phone: (972) 437-1222
The daily fresh offerings written on the chalkboard are a good indicator of a seafood restaurant. This is what Anaya's Seafood has done from day one, and its fresh fish and chips, gulf oysters, and the rest of the menu speak volumes about the quality.
Why should you visit this restaurant?
While dining at Anaya's, make sure to catch their happy hour, which runs throughout the week from noon – 7 PM on weekdays, and all day on weekends.
There are also special deals on food like Gulf oysters and dynamite shrimp that you'll find hard to resist; just make sure you arrive between 2-5 PM from Monday to Thursday. Anya's also hosts Saturday and Sunday brunch (starts at 10 AM) – a major draw for brunch lovers.
What to eat?
Their fresh crab cakes and dynamite shrimp will make for a great starter. It's impossible to have a disappointing meal when moving to the mains, with phenomenal offerings like Ruby Red trout, garlic Parmesan flounder, or Anaya's grilled shrimp & fettuccine.
If you come extra hungry, don't hesitate to add roasted poblano cream soup and tropical tuna tacos to your table. This local favorite also whips up great craft cocktails, so it's worth paying extra for their Paloma, Anaya's signature margaritas, or jalapeno cucumber martini.
Location: 3600 Shire Blvd suite 100, Richardson, TX 75082
Website: https://www.anayaseafood.com/
Phone: (214) 501-2540
Mena's Tex-Mex is just among a few successful ventures of the talented chef Mario Leal. Long before Mena's establishment, Mario had been known across North Texas for his amazing TexMex dishes offered in Mario's Chiquita and Mario and Albertos.
Mena's Tex-Mex Grill Canina, which opened later and inherited all the best things about Mario's experience, effortlessly won the title of the best TexMex Restaurant in the DFW area.
Why should you visit this restaurant?
At this Tex-Mex eatery, diners are treated to red and green salsa, topped with crispy thin tortilla chips. If you have any hangovers to kill, come and indulge in Mena's brunch menu on Saturday and Sunday, which features delicious bites, Sangria, mimosa, and more.
Residing inside Shops at Eastside plaza, Mena's is a cozy dining spot with a small-town feel. You can spot many people having fun in the dining room, at their long bar, or on the outside patio. The eatery also offers live music every week, so plan accordingly to have a blast with the crowd.
What to eat?
Try their delicious and mind-blowing Chipotle brisket taco, fajita quesadilla, and Mena's Chimichanga. Some other must-orders include ceviche, carne asada, Tacos al Pastor, and Chefs Special (breaded chicken breast with cilantro lime sauce).
Location: 1851 N Greenville Ave, Richardson, TX 75081
Website: https://www.menastexmexgrill.com/
Phone: (972) 235-6300
Masala Twist is where Richardson residents usually dive into an array of traditional and modern Indian dishes. With a menu emphasizing North and South influences and encompassing filling dishes and light bites, you'll find something to satisfy your taste buds.
Why should you visit this restaurant?
Masala Twist's Sunday lunch buffet always draws an eager crowd of diners who come to sample over 30 varieties of food. There are many veteran-friendly items, along with many popular offerings like bottomless chai tea, soup, and rice cakes, just to name a few.
In addition, Masala Twist is also certified as a halal dining spot, where the meat is chicken and lamb are permissible and separated from other forbidden meat.
What to eat?
For seafood fiends, the kitchen also does an amazing job of cooking their Kerala fish curry and Nandu (blue crab served with a south Indian curry sauce). Yet, there are more specialties to delight your palates, from paneer butter masala, tikka masala, Arcot biryani, masala dosa, and gobi manchurian.
Location: 955 E Campbell Rd #200, Richardson, TX 75081
Website: https://masalatwistusa.com/
Phone: (817) 516-6751
With the tagline "Friendly Folks. Serious Seafood", diners know they can expect some of the freshest fish and seafood-based dishes in town. It's a must to take a glance at their chalkboard, where the special offerings are updated daily!
Why should you visit this restaurant?
If you're into drinking, grab a seat at the bar, where their talented bartenders can craft you a refreshing Margarita or Bloody Mary. However, the best time to swing by is from 3 – 6 PM (Monday-Friday).
During these three prime hours, you can score great deals on nachos, burgers, oysters, and drinks like cocktails and wines.
For those into alfresco dining, there's always a lovely patio for them to enjoy the breezy weather. A separate menu for gluten-free folks ranges from tasty appetizers and salads to shrimp, catfish & oysters served with gluten-free sides.
What to eat?
Fish and chips are spectacular dishes that earn a considerable fan base for the restaurant. No less impressive are the fish tacos, nachos, shrimp & grits, and crab cake. Besides, your best bet on a chilly night is their crab bisque and jalapeno soup.
While their red bean & rice is slightly under the radar, trust me when I say it's among the tastiest rendition you've had!
Location: 1415 E Renner Rd Suite 260, Richardson, TX 75082
Website: https://fishcitygrill.com/
Phone: (972) 235-3474
This restaurant is another long-standing local staple, with a menu that looks up to Mediterranean and American cuisines for inspiration.
Grand Cafe is more like a hole in the wall, where plastic forks and spoons are used instead of fancy silverware, yet, the 25 years of expertise they pour into the food always impresses.
Why should you visit this restaurant?
Grand Cafe treats its hungry patrons to reasonably-priced lunch specials (it's among the cheapest meals you can find in the area).
The place is also the destination for atheists, as the owners guarantee every item on the menu is permissible. Get a taste of their Grand burger (with 100% halal meat), and you won't disappoint.
What to eat?
On the Mediterranean, Grand Cafe dishes out some impressive classics like hummus, falafel, shawarma, and Shish Tawook platter. This little eatery also beats many other Mediterranean places with Tabouli salads and lentil soup.
Regarding American fares, their kitchen is highly praised for its Philly steak sandwiches and half-pound Grand burgers. One important note: whether you're going for falafel Philly sandwiches, gyro, or Philly chicken sandwiches, ask the server for the fan's favorite hot sauce. ,
Location: 1887 N Plano Rd, Richardson, TX 75081
Website: https://www.facebook.com/
Phone: (972) 231-7400
Few places in Richardson play the sushi game as strongly as Sushi Sake! The restaurant was founded by chef-owner Takashi Soda in 1997 and has successfully built a reputation among sushi aficionados who come for their delectable rolls.
Why should you visit this restaurant?
For such a sushi shop, it's highly appreciated as the restaurant offers several vegetarian items, from salad, and tempura, to ohitashi (Japanese blanched greens). The biggest highlight is their sushi section which stars 15 raw and cooked rolls, all of which are offered at unbeatable prices.
If you come with a crowd, Sushi Sake also has a private dining area (for 6 guests and above) where diners are asked to take off their shoes and enjoy the sushi in a very Japanese fashion. On a side note: the place doesn't take reservations, so come early to avoid the wait during their typical dinner rush.
What to eat?
You can select your favorite item from their sushi à la carte menu or opt for preset combinations such as a sushi sampler or sushi & sashimi combination if you want to taste a bit of everything.
Everything is fresh and palatable there, but I strongly recommend their red snapper, yellowtail, salmon, surf clam, and flounder. Their shrimp tempura, seaweed salad, and tonkatsu are worth a try, too! Noodle fans shouldn't miss out on their mouth-watering selection of udon and soba noodles.
Location: 2150 N Collins Blvd, Richardson, TX 75080
Website: https://www.sushisake.info/
Phone: (972) 470-0722
Opening for lunch and dinner, Thai's Thumbz Urban Kitchen is an upscale dining spot where Pad Thai and many traditional Thai dishes are taken to another level. It's a wonderful BYOB establishment, so snag your favorite bottle of vino or beer before heading to the restaurant.
Why should you visit this restaurant?
While Thai dishes offered at this local favorite are slightly Westernized, diners can expect they still come in generous portions and budget-friendly prices. The kitchen also serves complimentary salad and soup bowls accompanying your entrees during their lunch hours.
I also appreciate that Thai's Thumbz Urban Kitchen accommodates different heat tolerances. With a scale of 5 spice levels running from mild to OMG (incredibly spicy), you can easily find a sweet spot for a tasty bite. If you're vegetarian, there are palatable items like tofu for them to savor.
What to eat?
Above all, start with their chef specials, including Grilled Ribeye in Green Curry Sauce, Grilled Beef Tenderloin Panang Curry, and lamb satay. Other staples are drunken noodles, pad Thai, pad see ew, and crab fried rice.
Try their papaya salad with char-grilled chicken thigh or the flavorful Tom Yum soup for something lighter and refreshing. If you've never tried Thai coffee, this eatery is a great place to start!
Location: 3610 Shire Blvd, Richardson, TX 75082
Website: https://www.thaisthumbz.com/
Phone: (972) 423-2444
At this fine-dining restaurant, you can expect a satisfying date night, business meal, or celebration with fine wine and the juiciest cuts of USDA prime steak. Beyond its steak menu, Silver Fork is prized as a seafood haven, where lobster tail, salmon, and scallops are fresh and well-executed.
Why should you visit this restaurant?
If you want to complement your big slabs of beef, it's a must to choose a perfect bottle among 2000 varieties of wine from the house's superb wine cellar. If you're a veteran, the restaurant also offers you a discount on your bills.
With a high-end setting, Silver Fork is a perfect destination for private dining. There are up to 4 private rooms on the premise, which are appropriate for different purposes and hold 10-70 seated diners.
What to eat?
Their filet mignon is tender, juicy, and perfectly elevated by mashed potatoes and sugar snap peas. There are also incredible prime bone-in ribeye, prime New York strip, and baseball-cut filets guaranteed to please the most serious meat cravings.
On the seafood side, it's also hard to overlook crowd favorites like cold water lobster tail, Chilean sea bass, and honey-glazed Atlantic salmon. Ideally, accompanying your protein-packed entrees should be III Forks salad and Maker's Mark® roasted mushrooms.
It's not to mention that Silver Fork deserves the "best dessert" title in town. You're seriously missing out if you don't end your meal with the heavenly bread pudding, creme brulee, and chocolate cake.
Location: 3650 Shire Blvd, Richardson, TX 75082
Website: https://www.silverfoxcafe.com/
Phone: (972) 423-8121
While the pandemic is not a favorable time to launch a business, TLC Vegan still thrives and transforms from a ghost kitchen to a buzzy brick-and-mortar establishment. The restaurant is led by the genius chef Troy Gardner, who has under his belt over 2 decades of experience in vegan cuisine.
Why should you visit this restaurant?
There's a good reason why the owner proudly calls his dishes a "gateway drug to veganism". Even for flexitarians, "reducetarians", or solid meat lovers, TLC Vegan Cafe's signature mushrooms that taste like chicken or the award-winning plant-based chili will surely win their hearts.
An array of salads, wraps, sandwiches, and desserts mean that even the pickiest eater won't leave the place hungry. If you have any special diet, note that the kitchen also accommodates gluten, soy, and nut-free requests; be sure to ask the server!
What to eat?
In addition to the hugely popular chili and chicken fried steak, it's always irresistible to thrill my palates with a plate of Impossible cheesy lasagna. The kitchen is also famed for its well-cooked oyster mushrooms – a killer addition to dishes like Sesame TLC Dinner or Crispy TLC Dinner.
Meanwhile, the crispy Brussels sprouts & pineapples, the nacho World and mac and cheese are all perfect side dishes to share with your crew. Remember to save some room for their decadent banana foster pudding, too.
Location: 1930 N Coit Rd #140, Richardson, TX 75080
Website: https://www.tlcvegankitchen.com/
Phone: (469) 562-4001
Located in the heart of Canyon Creek, this favorite neighborhood hangout spot has what it takes for a memorable evening with your folks: perfectly crafted New American bites topped with great cocktails and fine wine.
Why should you visit this restaurant?
With a stunning fireside patio, The Fifth is a hard-to-beat destination when it comes to outdoor dining. The heat lamps and fireplace also create a romantic setting, especially on those chilly nights. Plus, if you come to a party, their outdoor area is spacious enough to accommodate a large party.
For the best night at the Fifth, it's also worth splurging on their house's tasty cocktails, beers, or wines from their full-service bar. If you take weekend brunch seriously, rest assured that The Fifth's Saturday and Sunday Brunch menu will please all your cravings with their brunch cocktails.
What to eat?
Get your dinner rolling with incredible appetizers like blue cheese fondue, calamari, and deviled eggs. For the main events, their Texas shrimp & grits, Rosewood Wagyu short ribs, and chicken fried chicken.
If there's any seafood hankering to satiate, their seared ahi tuna and pan-seared salmon are always fabulous choices. Whenever you come for something unexpected (but still finger-licking good), simply ask your server about their catch of the day (available at market prices).
Location: 2701 Custer Pkwy Ste 700, Richardson, TX 75080
Website: https://thefifthtx.com/
Phone: (214) 758-0777
When it comes to Dallas' most authentic pho, Phở Trương always tops the list of the essential restaurants in the area. Everything in the decor is no-frills, from the shrubbery, wall-mirrors, to wood tables, which humbly set the stage for the best brothy noodle bowls for you to savor.
Why should you visit this restaurant?
What I highly appreciate about the eatery is that they never skimp on the toppings. Whether it's the egg rolls vermicelli bowl or chicken curry pho, you can expect a bowl laden with meat toppings.
The next best thing is their options for different soup sizes, which means there's always a good option (and price) whether you come with a big or small appetite.
This local staple also puts aside a dedicated section for vegan items like fried rice with tofu or noodle soup with tofu, which is always a huge plus if you want to hang out with your vegan friends.
What to eat?
For first-time diners, their house specialties like chicken stir-fried, lemongrass beef on vermicelli, chicken curry stew, and spicy beef noodle soup with shank and pork roll (Bún Bò Huế) are all good places to start.
Yet, if you come solely for pho, why not go all out for their Phở Đặc Biệt, which is loaded with toppings like brisket, flank, tendon, and triple? The delightful egg rolls and spring rolls also make for satisfied appetizers, while their grilled pork banh mi is a perfect on-the-go meal.
Location: 516 W Arapaho Rd, Richardson, TX 75080
Website: https://photruong.net/
Phone: (972) 803-8498
85C Bakery Cafe is long-established as Richardson's top place to get freshly baked bread and cakes at fair prices. This Taiwan-rooted brand boasts a strong presence in the north Dallas suburbs, with its outlets sitting in Richardson, Plano, and Carrollton.
Why should you visit this restaurant?
Sitting in the heart of Richardson's Chinatown neighborhood, this Asian bakery serves a menu of up to 60 different varieties of bread that the kitchen dishes out every hour.
Beyond Taiwan influences, their baked goodies are also inspired by different cuisines like Danish and European, offering the diners a wonderful global culinary ride. 85C also crafts a great selection of drinks, running the gamuts from boba, smoothies, cold teas, and coffee.
The number in the restaurant's name is the perfect temperature at which coffee can achieve the best flavors. So, 85C Bakery Cafe is an ideal place for coffee snobs to take a coffee break.
What to eat?
If you're looking for some recommendations, let's go for the top-selling items like brioche, marble taro, Berrytale, and egg tarts. Their tropically inspired items like Mangotale and mango custard bun also perform well on the menu.
85C Bakery Cafe also excels in many savory offerings for those who don't come with sweet tooths. If that's your case, there are also cheese dogs, Hawaiian chicken, and Potato Croquette to keep your belly happy.
The Sea Salt Latte is among the signature drinks of the place that easily convinces any coffee lover. Yet, there are also crowd-pleasers like boba tea, grapefruit green tea, and sea salt jasmine green tea if you're more of a tea person!
Location: 400 N Greenville Ave #9, Richardson, TX 75081
Website: https://www.85cbakerycafe.com/
Phone: (214) 377-7818
Dog Haus is a successful concept combining a hot dog stand and Biergarten. With the tagline "The Absolute Wurst", it's no surprise that this eatery is among the hot spots in Richardson for gourmet hotdogs and sausages.
Why should you visit this restaurant?
First and foremost, Dog Haus is known for their 100% humanely raised beef from Creekstone Farms in Kansas.
Their beef is also free from antibiotics and hormones, whereas the pork doesn't contain a trace of nitrate and hormones. While their burgers cannot be considered health-minded food, their quality is better than many fast food chains.
Yet, you can also expect separate menus of burritos, chicken, and burgers. Best of all, part of the menu, which includes items like Beyond The Hot Chick or Impossible chicken nuggets, also makes vegan/vegetarian dieters feel right at home, too!
Known as a Biergarten, this Richardson outlet also has a full bar showcasing the brand's signature cocktails (crafted by celebrity mixologist Phil Wills), shakes, and local beers.
Whether you're a solo diner or coming with your crew, don't forget to grab amazing deals on draft beer, cocktails, and sliders during their happy hour.
What to eat?
Many Dog Haus fanatics usually stick to palatable hot dogs like Sooo Cali, Cowboy, and Chili Idols. Their huge corn dog, which is made from their from-scratch root beer batter, is also stunningly crunchy and juicy.
As for the sausages, the T-Mex and Das Brat are solid choices, while their Beyond brat really kills the vegan game. Yet, my best bet is always the show-stopping Holy Aioli burger, with the garlic aioli sauce just perfectly pulling everything together.
Location: 744 S Central Expy Suite 210, Richardson, TX 75080
Website: https://doghaus.com/
Phone: (214) 935-9121
With a catchphrase that reads "Local, Sustainable, Good", this popular BBQ spot aims to delight Richardson residents with a true Texas BBQ experience.
With a laid-back ambiance and airy patio in the CityLine Complex, this meat-centric restaurant is a perfect spot for family meals or hanging out with your crew.
Why should you visit this restaurant?
Besides standard smoked meats (offered by the pound), the eater's a la carte menu also carries salads, tacos, sandwiches, and burgers to accommodate more cravings. If you're a taco lover, note that their breakfast tacos are available every morning.
Their happy hour is offered from 3-7 PM Monday through Friday, where you can savor tacos, nachos, or sliders at a wallet-friendly price.
Good Union Urban BBQ also sources their drinks from trusted local breweries, which means what's poured into your glass is as tastiest and freshest as possible.
This eater's patio is also the top spot to catch live music in Richardson if you swing by on either Friday or Saturday. Yet, if you can make it, their patio is also a lovely place to satisfy your al fresco dining whims any other day.
What to eat?
Many avid meat lovers flock to this BBQ spot for their melt-in-the-mouth prime brisket, pulled pork, and burnt ends.
Their green chili cornbread (which comes with the meat) and mac & cheese work perfectly as side dishes, whereas the house's banana pudding will melt pleasingly upon your first bite.
Location: 1150 State St #150, Richardson, TX 75082
Website: https://www.goodunionbbq.com/
Phone: (469) 913-4890
Touted as the best poke place in the DFW area, Hoki Poki is where you can relish a killer selection of tasty sauces, toppings, fresh raw fish, and veggies.
Sitting in proximity to The University of Texas at Dallas (UTD), Hoki Poki is a favorite lunch stop for college students with its budget-friendly prices and generous portions.
Why should you visit this restaurant?
Sitting in a quiet plaza, this hole-in-the-wall eatery first strikes me with the meticulously clean space, prompt service, and patient staff willing to explain and suggest to those new to poking.
The next bonus is their vegetarian–friendliness, as the eatery also offers cooked and raw tofu as a protein choice, along with their incredible seaweed salad. If you want to leave out the meat, the restaurant also happily offers you avocado or side dishes in its place.
What to eat?
Depending on your appetite, you can go solely for their Poke burrito or add 1 or 2 side dishes to your order. Alternatively, there are also different combos, in mini, regular, and large sizes, along with the option of including side dishes.
Here are some nice suggestions: braised ribs, spicy tuna, seaweed salad, and of course, the Spam Musubi. The house milk tea with boba is also a nice addition to your lunch.
Location: 581 W Campbell Rd #105, Richardson, TX 75080
Website: https://www.orderhokipoki.com/
Phone: (972) 589-9204
Sueño Modern Mex-Tex was founded by the father-son team Aureliano and Julio Pineda, who shared a lifelong passion for opening a restaurant and 20 years of experience in the business. Julio Pineda is also a part owner of the popular Pineda's Mexican Cuisine mentioned above.
Why should you visit this restaurant?
Sueño Modern Mex-Tex exudes a family-friendly vibe with its warm lighting and Mexican decor that makes you feel like you are having a feast in a Mexico house. The atmosphere and amazing music are great whether you sit in the spacious dining room, heated patio, or small, cozy bar.
This Mexican restaurant is also the 2022's champion of margarita festivals in both Dallas and Irving, so it's reasonable to expect killer margaritas there.
Margaritas are not a boring game here, as the drinks are crafted in various ways, from being over the rocks, frozen, or paired with tropical fruits. If you're into drinking, it's best to come with your friends to taste a bit of everything!
What to eat?
For tacos, you can start with trustworthy choices like birria tacos, carne Asada, and tacos de briskets.
Another highly recommended dish is the birria stacked enchiladas, with perfectly braised short ribs layered in soft tortillas and topped with a sunny side egg. For a perfect finale to your meal, you should opt for churro de Cajeta.
Location: 800 W Arapaho Rd, Richardson, TX 75080
Website: https://www.suenomextex.com/
Phone: (469) 372-6739
Olive Burger is a genuine gathering spot where burger aficionados and foodie families come for a taste of gourmet Mediterranean burgers. Diners looking for the greatest halal eats around DFW will also find some nice options there!
This original Richardson eatery was brought down by a fire in the past. Yet, it's true that there's always a silver lining; as soon after its comeback, Olive Burger was also so well received that it grew to the top place to eat in Plano, Texas with two new locations in the city.
Why should you visit this restaurant?
Olive Burger takes their fast food up a notch, but the prices are still reasonable. It is a no-frills kind of place, where you are greeted by the two Miraki brothers behind the counter and treated to their attentive service.
The food does all the talking, however. It's pleasantly surprising to see all the burgers coming with olives, an exciting addition you should try. While Olive Burger is on the smaller side, the eatery also has a patio next to the car park if you want to enjoy the nice weather.
What to eat?
Here are a few cult favorites at this burger joint: gyro on pita, chicken shawarma, mushroom cheeseburger, and jalapeno cheeseburger.
There are also tasty Beyond burgers for vegan dieters and gluten-free buns for those with gluten tolerance. Their tater tots are finger-licking good that's more than worthy of a spot on your order.
Location: 451 W Arapaho Rd #100, Richardson, TX 75080
Website: https://www.oliveburger.com/
Phone: (972) 231-5842
Previously known as Frankie's Mexican Cuisine, this popular restaurant is known for the richest and most satisfying Tex-Mex brunch in town. Dos Arroyos Comida Casera is also a great pick for group gatherings (you can easily spot a party of more than 5), with ample indoor and outdoor seating.
Dos Arroyos's low-lit dining room makes it feel cozy and warm, while their heated patio is also a prime spot for people-watching and sometimes catching some great tunes from the nearby bar.
Why should you visit this restaurant?
There's a lot going on at this eater that earns it a rapid cult following, from free chips & salsa and the housemade moles to the generous portion size.
While you can be easily put off by the shabby salty mix from other Mexican eateries, rest assured that your taste buds will be thrilled with joy once you taste the house's freshly made margaritas.
The drinks are also marked down considerably during their happy hour (11 AM – 6 PM), so you may want to stop by for their killer margaritas worth more than you're paying!
What to eat?
Everyone's talking a lot about their signature Mexican lasagna, brisket enchiladas, and chimichanga, but you'll love their pork tamales, shrimp tacos, and carne asada & eggs just as much. Since the house has a list of tasty margaritas to brag about, you should get yourself a drink, too.
Location: 2701 Custer Pkwy, Richardson, TX 75080
Website: https://www.dosarroyoscomidacasera.com/
Phone: (972) 231-8667
Located next to a 7-Eleven, this eatery is where you can come any time of the day for a satisfying breakfast and lunch feast. Stick to their special offerings, and you'll be in for one of the most affordable breakfasts in the area.
Why should you visit this restaurant?
At this Richardson hidden gem, service is always top-notch, and the food is served briskly to your table (you won't likely have to wait longer than 10 minutes for a meal).
Coffee snobs will also delight at their tasty coffee (both regular and decaf are available), especially when there are unlimited refills until you get enough caffeine dose to get your morning going. One important note: Hot Pancakes is on the smaller side, so come early to avoid the wait.
What to eat?
For regulars, their to-go morning meal is typically a hot pancake platter, egg benedict plate with fruit cup, and chicken fried chicken and eggs plate. Yet, their sausage patties, strawberry banana waffle, and cowboy club sandwiches with fries also keep many coming back time and again.
Location: 3601 N Jupiter Rd Suite 200, Richardson, TX 75082
Website: https://hotpancakestx.com/
Phone: (972) 423-1603
The people of Richardson have frequented this quaint, family-owned cafe for their steadfast Italian fares offered at an incredibly low price.
With a setting that makes diners feel at home, and a menu that encompasses anything from pasta plates, and appetizers to steaks, Cafe Amore is the answer to an unfussy yet over-the-top dinner.
Why should you visit this restaurant?
While each table at Cafe Amore is covered by white tablecloths and topped with fresh flowers, the place exudes a very homey vibe that makes it feel like a cozy house rather than a restaurant.
You might also see Vanji, the owner of the place and also a true Italian, greeting her new and old customers. Cafe Amore is also among the best BYOB spots in the DFW neighborhood. Diners can bring their favorite bottle without paying any corkage fee.
This is good news if you have some good vino gathering dust on the shelf. Best of all, wine glasses and bottle openers are also available, and again, without extra costs.
What to eat?
The authentic taste of fettuccine alfredo, lobster ravioli, and eggplant Florentine can easily convince any savvy pasta fanatics. Meanwhile, your best bet for pizza should be the classic margarita. Chicken marsala and chicken murphy are highly recommended for those into meatier dishes.
If you don't want to stick strictly to the menu, feel free to customize your own pasta by choosing from 6 pasta varieties and 7 classic sauces.
Gluten-free and whole wheat alternatives are on offer at a small price. Top off your meal with the decidedly tempting Crème Brule that you'll be dreaming about for the next few weeks.
Location: 600 N Coit Rd #2050, Richardson, TX 75080
Website: https://www.cafeamoredfw.com/
Phone: (972) 699-8322
If you want to hunt down solid sushi and Japanese fares that won't dig a hole in your budget, then Masami is the destination.
While you can order your meal from the menu, check out the board that writes down the freshest of the day! If you're a sushi lover, come early and snag one of the coveted spots at the sushi bar, where you can enjoy the skillful presentation of the food by the chefs behind it.
Why should you visit this restaurant?
Like Sushi Sake, this neighborhood gem also has a Japanese-style dining space, where patrons will take off their shoes, sit on cushions and enjoy the meal at a large table.
Tucked into the corner of a drab strip mall, Masami has a laid-back vibe, where diners can feel at ease while indulging in the rolls on the wooden tables or booths with benches.
Besides being superb and fresh, the sushi there comes in a variety that will crush any seafood cravings. There are several unusual offerings (that you rarely come across elsewhere), like the surf clam or mackerel.
The eatery also doesn't disappoint with its beverage selection. An array of hot and cold sakes are available at bargain prices, accompanied by Japanese beers and premium liquors.
What to eat?
Darvish, Heart Attack, Rainbow, and House Special rolls will leave your taste buds awestruck at the first bite. For lunchtime, it's best to kick off your meal with Agedashi tofu or shrimp tempura before moving to the hearty Bento Box that stars grilled chicken and salmon teriyaki.
Location: 501 W Belt Line Rd # 116, Richardson, TX 75080
Website: https://www.masamirestaurant.net/
Phone: (972) 783-6800
Freshii is among the top eateries that push the boundaries of healthy eating, with a menu dominated by salads, bowls, and wraps. The best thing is many items can be customized to be more keto and vegetarian friendlier.
Why should you visit this restaurant?
Freshii's emphasis on serving environmentally sustainable products reflects in its use of 100% organic and fresh ingredients. On the drink side, healthy options are also abundant, with freshly-pressed juices, smoothies, and frozen yogurt for you to go healthy.
I also appreciate Freshii's small gesture of separating the toppings over the grain bowls. This lets me enjoy them individually, but if you want to eat your food the other way around, simply give it a good mix.
This is not to mention that there is a decent kid menu, with quesadilla, salad, and bowl if you dine with your little ones.
What to eat?
Mediterranean bowls steal the major spotlight there, but no less phenomenal are their Buddha's Satay bowls, Oaxaca bowls Teriyaki bowls. If you're after a lighter lunch, they also dish out delectable Market and Cob salads.
To complete your healthful meal, don't skip the order of a good–for–you Freshii smoothie (banana, kale, avocado, pineapple, almond milk). The final note: It's hard to find anywhere else in Richardson that whips up chia pudding as impressively as Freshii.
Location: 930 E Campbell Rd, Richardson, TX 75081
Website: https://www.freshii.com/
Phone: (972) 497-2268
This Japanese restaurant is rightfully lauded for its seriously good sushi bar and especially the robata bar. The word "robata" (short for "robatayaki") means "around the fire" in Japanese, representing the ancient Japanese style, where food is cooked over a charcoal fire.
Edoko apparently nails this cooking tradition, as not only in Richarson, the brand has garnered a huge reputation as a must-visit eatery in Frisco, Texas.
Why should you visit this restaurant?
With its contemporary architecture, plush seating, and splashy chandeliers, it's apparent that Edoko can easily attract the upper-end clientele or diners who seek a fine-dining experience on special occasions.
If you're searching for something a bit more casual, there's also a laidback sports bar where exceptionally crafted cocktails are meticulously presented by their talented bartenders. Edoko is also among the rare Japanese establishments with happy hour deals.
Within the time slot spans 5 – 6:30 PM from Monday to Friday, their very inexpensive sakes, Japanese beers, cocktails, and delicious rolls can be the reason alone for you to swing by!
What to eat?
Edoko is where you can randomly pick an item and still be happy with your choice. Yet, if you want to catch up with the crowd, you might want to try some biggest hits there, such as French kiss rolls, Temptation rolls, Speechless rolls, and Palm Spring rolls.
If you don't want to have rice in your rolls, consider Butterfly Kiss – a palatable plate of crab meat wrapped in salmon – always 100% fresh and drool-worthy. In addition, adventurous sushi enthusiasts will be thrilled by the unexpected offerings from the chef's selection (5 or 7 pieces of sushi).
Location: 1250 State St, Richardson, TX 75082
Website: https://edokosushi.com/
Phone: (972) 479-9656
Thai Noodle Wave Richardson was the first venture of the husband-and-wife duo Rosie Keopaseut and Pete Keopaseut before expanding their business to four other outlets in Dallas, Frisco, Carrollton, Garland, and McKinney.
Why should you visit this restaurant?
Thai Noodle Wave is on the smaller side, but their service is fast and attentive enough to get their diners seated promptly.
Once you settle down, you can be overwhelmed by their extensive menu, filled with stir-fried dishes, soups, salads, and noodles, with traditional and fusion flavors. On top of that, their lunch specials also come with complimentary ice cream to refresh your palate.
Vegetarian and vegan entrees are also available. It's also pleasantly surprised to know that this Thai-inspired eatery also delivers halal meat, so come and savor a Muslim-approved meal there.
What to eat?
Their flavor-packed Pad Kee Mow, Pad See Ew, and Pad Thai chicken will transport you to bustling streets in Thailand. All come in huge portion sizes with the perfect kick of spices. If you come on a chilly day, don't deny yourself the pleasure of a comforting bowl of roti curry or green curry.
For something meaty for the main course, their Mongolian beef/chicken, almond sriracha chicken, and sesame chicken will hit all the right spots. The crab cream cheese Rangoon and soft shell crab Woonsen will be all culinary indulgences for seafood lovers to dive into.
Location: 1490 W Spring Valley Rd, Richardson, TX 75080
Website: https://www.noodlewave.com/
Phone: (972) 690-3637
While the DFW area is full of ice cream shops, only a few can rival Bigdash Ice Cream Pastries. The Richardson eatery has built rapid success for its Arabic ice cream, Middle Eastern sweets, and, notably, Halawet El-jibn – a heavenly Syrian dessert made of cheese dough and semolina.
Why should you visit this restaurant?
Bigdash Ice Cream Pastries has some of the most diverse selections of baklavas in town, with options running from classic baklava and flower baklava to triangle baklava. None of them are outrageously sweet.
The eatery is also known for its tasty Arabic and Turkish coffee, which offers a perfect palate cleanser between bites.
Best of all, diners can feel the hospitality and high energy of the people of the place, who will greet you warmly, have some nice suggestions, and occasionally offer samples of ice cream for you to try.
What to eat?
While everyone raves about the red Kinafa (a perfect combination of fried vermicelli and cheesy phyllo dough), you should consider their lotus and triple chocolate crepes (which deserve some more spotlight) as well.
Among an array of their sketchy ice creams, the most outstanding flavors should be rose water and pistachio. Yet, feel free to rejoice in your taste buds with whatever catches your eye.
Location: 888 S Greenville Ave Suite 140, Richardson, TX 75081
Website: https://bigdash.com/
Phone: (972) 979-4098
Tucked away in the Richardson strip shopping center, this Asian eatery still surprisingly attracts a solid fan base of new and old customers daily. The menu takes influences from the Isaan style of cooking in the northeastern region of Thailand – where the owner grew up!
Why should you visit this restaurant?
Bambu Asian Cuisine is an ideal stop for quick, casual lunch, and diners can also easily feel the homey vibe whether they sit in the dining room or outdoor patio. Accompanying the Isaan-style plates is also a full-service bar with craft cocktails, Thailand beers, and numerous wine labels for diners.
Everything from the sticky rice to the marbled beef is cooked in home style – Esan cooking. The kitchen serves the sticky rice in a small bamboo steamer (to keep the heat for longer), just like a home cook in Esan traditionally does.
Representing the Esan cooking, Bambu Asian Cuisine has rice as the menu's highlights. Whether you opt for sticky rice or Jasmine rice, the best (and most authentic way) to enjoy your food is by rolling them into bite sizes and eating them with your hands.
What to eat?
The eatery has all the right to brag about its papaya salad, whose bold flavors and preserved crab reflect the authentic way of making Thai salad.
Another star is the Crying Tiger, the favorite dish of both the owners and regulars. Pad Kee Mao, Pad See Ew, red curry, and green curry also receive tons of praise.
One more important note: Don't skip their Khao Niew Dahm – the crave-worthy black sticky rice topped with coconut milk that takes up to two days for the kitchen to prepare. Otherwise, the sticky mango rice will be equally memorable.
Location: 1930 N Coit Rd #100, Richardson, TX 75080
Website: https://www.bambuasiancuisine.com/
Phone: (972) 480-8880
Also known as PIFL, this hip noodle soup prides itself on the most authentic pho you can enjoy in the neighborhood. Their umami-packed broth is cooked according to the recipes handed down for generations for up to 12 hours.
Why should you visit this restaurant?
PIFL keeps the menu straight and simple, with four varieties of pho (beef, seafood, chicken, and tofu), 5 options for banh mi, noodles/rice plates, and sides. This means the kitchen can ensure all the ingredients they buy are as fresh as possible.
Despite the tight menu, the restaurant strives to accommodate special diets with vegan soup, vegetarian pho, and vegetarian spring rolls.
What to eat?
In addition to their mainstay – beef pho, you may want to try their seriously good seafood pho, rice plate, and shaken beef (Bò Lúc Lắc). Their KBBQ Banh Mi, with Korean marinated beef, kimchi, spicy mayo, etc., will also be a comfort food you don't want to miss out on.
Location: 1551 E Renner Rd #820, Richardson, TX 75082
Website: http://www.phoisforlovers.com/
Phone: (469) 620-3910
From Casual to Fine Dining: Finding Your Perfect Meal in Richardson!
From the widely-known spots to the hidden gems, Richardson is jam-packed with must-visit places to eat and drink! This only means locals and tourists can easily figure out amazing spots to satisfy all their dining whims, whether casual fares, upscale cuisine, or ethnic eats.
With the ever-changing pulse of the food scene there, it's not surprising to see new restaurants cropping up here and there. So, if this list still does not cover your favorite restaurants, please keep me informed in the section below. Before leaving, do me a favor and hit the like and share button!