If you need the best restaurants in Plano, TX, for your upcoming trip, this list has your back! Plano is a popular tourist destination located in the North of the Lone Star State.
There are many things to do and see there, from the Shops at Legacy, Heritage Farmstead Museum, and interurban Railway Museum to downtown Plano. Yet, after a long day of sightseeing, all you'll need is somewhere to settle down and gorge on some good food.
The good news is that this small city has several great dining spots to accommodate both locals and tourists. This list showcases Plano's must-visit destinations for the best dining and drinking experience.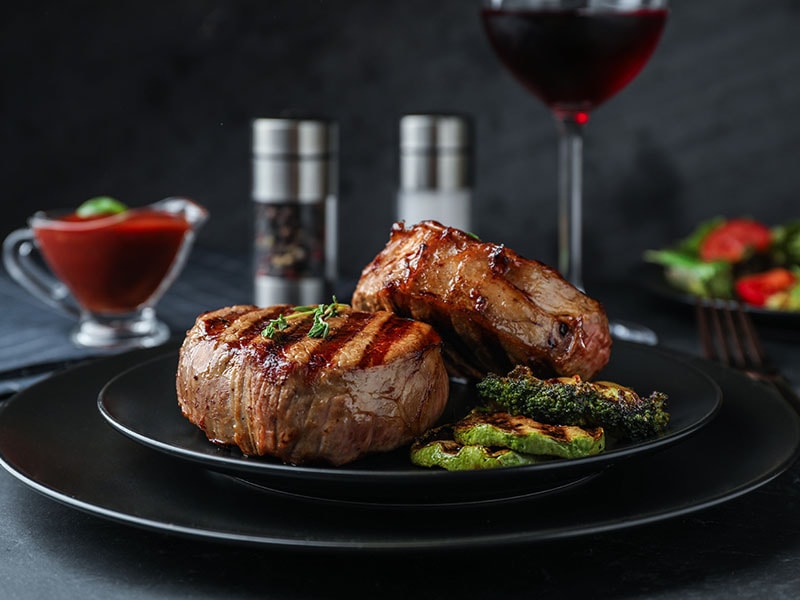 13 Outstanding Dining Spots In Plano, TX, To Explore Right Now!
This little historic city has its own appeal regarding food and drinks. Many eateries here will let you immerse yourself in different varieties of cuisines, from American, Cuban, and Italian, to Mexican.
So, if you're bound for a trip to this neighborhood, be sure to add these best dining spots to your traveling list!
The team behind Urban Crust – Gisellu and the Sheas – spent up to six months working out the right blend of dough. And their transcendent crust is a good payoff.
Urban Crust's wood-fired oven also adds some magic to their pizzas. It has two separate sections for the pizzas and entrees, which Gisellu affectionately calls his "Ferrari with two doors".
In the pizza realm, the Urban Amore (with prosciutto di parma and goat cheese) is unbeatable. The Shea's Eastside, topped with fire-roasted chicken and mozzarella, is also a safe bet.
Pair your pizzas or other mains with a delightful side of Heart of Plano salad, and cap off your meal with their Gelato Affogato (hazelnut gelato).
Bonus: Urban Crust's regulars also love the restaurant's rooftop view. It's arguably one of the best rooftop views in historic downtown Plano.
Price Range: $$
Food Styles: Italian, Pizza, Bar
Location: 1006 E 15th Street, Plano, TX 75074
Website: https://www.urbancrust.com/
Phone: 972-509-1400
Order Online:
Table Reservation (Not available)
Visit the pizzeria – Urban Crust – one of Plano's mainstays for Italian foods.
This humble strip-mall cafe is a hidden gem in Plano for awe-inspiring Cuban fares. Founded in 2012, this family-owned and operated eatery starts with one only mission: Serve the best Cuban foods in the state.
The menu features food with Cuban fusion, influenced by Native Latin American Indian and Caribbean cuisine. The restaurant's staple – Ropa Vieja – never gets old despite countless times you have ordered it.
The Palomilla with Cuban thinly sliced beef steak is another hit, especially for meat lovers. The chefs definitely have something up in their sleeves to transform a mediocre cut into a mouthwatering steak.
The restaurant is currently on the West side of Custer road, in the Kroger parking lot. Besides great Cuban foods, you can be easily struck by the retro decor from the 1950s, Old Havana, there.
Price Range: $$
Food Styles: Cuban, Havanan, Puerto Rican
Location: 3131 Custer Rd #165, Plano, TX 75075
Website: http://www.thelatinpig.com/
Phone: 972-985-9760
Order Online:
Table Reservation (Not available)
Whiskey Cake Kitchen & Bar has been a successful farm-to-kitchen concept since 2010. This brand currently has 7 locations across Texas, 2 more in Oklahoma City and Tampa. The upcoming location is Round Rock, Texas.
This eatery takes locals seriously. The staff try to establish a good partnership with neighborhood food vendors so they can buy ingredients straight from the farms.
Among their eclectic menu, OG OMG burger, chicken and cheese melt sandwich, and ribeye steak are trustworthy choices.
You'll regret leaving Whiskey Cake Kitchen without ordering their signature namesake dessert. The sticky toffee cake, with bourbon anglaise and spiced pecans, completely won me over!
Whiskey Cake Kitchen & Bar also has two meal kits and different cocktails for a convenient to-go meal. The Plano outpost also offers different choices regarding group parties and events, from private rooms to a beer garden and patio.
Price Range: $$
Food Styles: American (New)
Location: 3601 Dallas Parkway, Plano, TX 75093
Website: https://whiskeycake.com/
Phone: 972-993-2253
Order Online:
Table Reservation; or contact the restaurant through the website
Founded by a family with deep roots in Texas, Lockhart Smokehouse BBQ takes pride in amazing Texas classics like brisket, ribs, sausages, and other smoked dishes.
This restaurant can even rival the top-rated BBQ joints in San Antonio Texas. They smoke all kinds of meat with Texas post oak for the best flavor. Popular sides such as smokey baked beans or mac and cheese are a welcome addition to your meat-heavy meal.
Texas BBQ smoked meats go hand in hand with Texas beers. You're spoiled by various alcohol choices at Lockhart Smokehouse BBQ. Plus, their full bar also offers various specialty cocktails to please any palate.
Best of all, this BBQ eatery also ships its foods throughout the country. This is perfect if you want a Texas-style BBQ at home with much less hassle.
Price Range: $$
Food Styles: BBQ, Smokehouse
Location: 1026 E 15th Street, Plano, TX 75074
Website: http://www.lockhartsmokehouse.com/
Phone: 972-516-8900
Order Online; or call 972-516-8900 for takeout
Table Reservation (Not available)
Here's a review about Lockhart Smokehouse BBQ in Plano that you'll need.
Conveniently situated at the Shops at Legacy, Mexican Sugar is among the favorite stops for locals and visitors during brunch, lunch, and dinner.
The menu takes inspiration from modern, Sultry Latin cuisine and focuses on local ingredients.
Mexican Sugar's foods have flair, high standards, and beautiful presentation. Their best-sellers are Queso Blanco (Mexican creamy and cheesy dip), shrimp tacos, and seafood paella (saffron rice with scallops, mussels, and shrimp).
Mexican Sugar is also Texas's first cocktail-on-tap bar, with up to 130 tequilas. Latin spirits and small-batch cocktails are also well-liked choices to wash down the food: Pa la Playa (Bacardi light rum cocktail) or El Mero Mero (Teremana Anejo cocktail made for two).
Price Range: $$
Food Styles: Mexican, Latin American
Location: 7501 Lone Star Drive Suite B150, Plano, TX 75024
Website: http://www.mexicansugarcocina.com/
Phone: 972-943-0984
Order Online:
Table Reservation; contact the restaurant through the website
Let's see how amazing Mexican-inspired foods are at Mexican Sugar, Plano.
Sea Breeze Fish Market & Grill is a trusty supply of fresh catch in the neighborhood. Yet, it is also a casual, relaxed restaurant.
When at Sea Breeze Fish Market & Grill, don't miss out on their biggest hit – lobster rolls. Also, include baked crabmeat-stuffed shrimp, butternut squash, blackened snapper, and seared Alaska halibut in your order.
Their seafood dishes use daily fresh fish. Then, the chefs can make filets on the spot from the whole fish if you want. Chef Oruch and his team also thoroughly built a collection of wine and craft beers that perfectly complement their seafood.
Price Range: $$
Food Styles: Seafood, Cocktail Bars
Location: 4017 Preston Rd Ste 530, Plano, TX 75093
Website: http://seabreezefish.com/
Phone: 972-473-2722
Order Online:
Table Reservation; or call 972-473-2722 to book a table
Opening in 1993, this steakhouse has become a go-to eating destination in Downtown Dallas and Plano to track down a supreme, no-frills cut of steaks.
All steaks are made from the top two percent of USDA prime beef. As a result, the chefs here don't need an elaborate cooking approach; they just let the quality of the cut speak for itself.
The chef only uses kosher salt and black pepper to season the meat before broiling it at high temperatures. This is followed by a 5-minute rest time to retain the juiciness and buttery flavors of the steak before the chefs will hard sear the flat top of the steak.
The giant glazed carrot that arrives with every steak is not only to impress; it tastes amazing, too. The carrot is cooked according to the Sambol family's recipe to get a unique flavor. The generous size accompanies the juicy steak to the very last bit.
Their signature cocktails and award-winning wine selection are meant to elevate the dining experience. There are over 300-500 wines, with both local and global labels. Bob's stores its wines in climate-controlled cellars to ensure the best taste.
Each Bob's outpost doesn't stick to only the core drink menu, and there are extra choices that make them special. The restaurant also features regional liquor, beer, and wine in its collection, so diners can always get a familiar taste whenever they want.
Bonus: Alcoholic drinks and wines are also available for curbside delivery.
Price Range: $$$
Food Styles: Steakhouse, Seafood, American
Location: 5760 Legacy Drive, Suite B-1, Plano, TX 75024
Website: https://bobs-steakandchop.com/
Phone: 972-608-2627
Order Online: Not available
Table Reservation:
Here's how Bob's Steak & Chop House bring their juicy steak to life.
The three-story Haywire restaurant in Plano serves up delicious Texas-sized dishes. Southern-inspired American faves include lamb burgers, fried Gulf oysters, chicken fried steak, and more.
Their Wagyu Tomahawk ribeye is also incredible and comes with a Texas portion of 33 oz. The menu might look familiar if you've dined at The Ranch at Las Colinas, a famous dining house in Irving, Texas. It is because Haywire is another brainchild of the same team.
Yet, Haywire is known for not just food. Rustic leather bar stools, the use of metal and steel in the decor, and the brick wall lend the place a modern, chic look.
Every floor has its full-service bar, and outdoor seating is available on the two lower floors. In addition, Haywire's rooftop patio overlooks the Legacy Hall Box garden (it's cigar-friendly, too).
Haywire now opens for lunch, brunch, and dinner. The restaurant also offers daily curbside pickup options for those looking for a to-go meal.
Price Range: $$
Food Styles: American (New And Traditional)
Location: 5901 Winthrop Street, Suite 110, Plano, TX 75024
Website: http://haywirerestaurant.com/
Phone: 972-781-9473
Order Online:
Table Reservation:
The impressive wine list and awesome food at Haywire are things you shouldn't miss out on!
Brasão Brazilian Steakhouse is a Plano newcomer which opened its doors in the Shops at Legacy in 2021. The restaurant serves fresh and delicious Brazilian dishes in an all-you-can-eat buffet style.
Start with their gourmet salad bar, teeming with up to 50 global items. Then, dive into the main attraction of 16 prime cuts and grilled pineapple. Accompanying all the meats are satisfying sides such as black beans, polenta fries, and flavorful seasoned rice.
Their full bars serve a variety of Brazilian cocktails made from fresh ingredients. Their take on a caipirinha (Brazilian national cocktail), with lime, sugar, and Cachaça rum, is cold and refreshing – perfect for washing down the meaty dishes.
Come and join Brasão Brazilian Steakhouse on their Caipirinha Thursday, when you can enjoy the drink for a much lower-than-usual price all day.
Price Range: $$ – $$$
Food Styles: Brazilian, Steakhouse
Location: 5741 Legacy Drive, Suite #100, Plano, TX 75024
Website: https://www.brasaousa.com/
Phone: 469-209-6335
Order Online:
Table Reservation:
Here's a brief tour of Brasão Brazilian Steakhouse you'll need before visiting the restaurant.
Located in Lakeside Market, Craftway Kitchen features an interesting setting with leather bar stools, bistro tables, and outdoor seating.
The foods are consistently on-point with a pocket-friendly price. You can find many comfort foods here, from candied bacon, baby back ribs, and grilled Verlasso salmon to hearty sandwiches.
Their French onion soup, served with puff pastry, is also a must to try. There are also a variety of cocktails, wine, and beers to pair with your savory foods.
Crafty Kitchen is a local favorite spot for brunch in Plano, Texas. Plus, according to an Open Table poll, the restaurant proudly presents among the top 100 brunch restaurants in the country.
Price Range: $$
Food Styles: American (New)
Location: 5809 Preston Road, Suite 578, Plano, TX 75093
Website: http://craftwaykitchen.com/
Phone: 972-403-0555
Order Online:
Table Reservation; or call 972-403-0555 to book a table
Sixty Vines takes their wine selection seriously. With 60 wines on tap, you can't find any dining spots in Houston's Rice Village or Plano with a better collection than this place. Some of their wines, such as Fuedo Macari and Lobetia, are sustainable, organic, and/or biodynamic.
Their amazing foods pair perfectly with the extensive wide selection, too. Inspired by the seasonal cuisine of wine country, their pasta, pizzas, and other dishes pair perfectly with the drink.
If you come with your group, their cheese or salumi board, served with chef-procured accouterments, is a perfect choice. There are also shared plates and shared extras. Besides, delicious mains such as Chicken a la plancha if you're not in the mood for sharing.
Sixty Vines' interior decor makes a good impression, too. Exposed wooden beams on the high ceiling, a cobber-domed pizza oven, and an open kitchen with fresh ribbons of pasta hanging all add a nice touch to the space.
The restaurant also has a spacious, air-conditioned patio if you prefer to dine outside.
Price Range: $$
Food Styles: American (New), Wine Bars
Location: 3701 Dallas Parkway, Plano, TX 75093
Website: https://sixtyvines.com/
Phone: 469-620-8463
Order Online:
Table Reservation; or contact the restaurant by phone to book a table
The ambiance and awesome Italian food make Sixty Vines a great place for a date night.
Locally sourced ingredients and a rich collection of craft beer are the cornerstones of Taverna Rossa's menu. You can't go wrong with any pie on their short yet focused menu. My favorites are the classic Rossa and the local goat and fig version.
This pizzeria also has gluten-free, vegan cauliflower crust for those with dietary restrictions. If you're not a big pizza fan, Taverna Rossa also cooks some impressive sandwiches and pasta.
Join their Friday & Saturday nights when live bands come and play some really good music of various genres.
Price Range: $$
Food Styles: Italian, Pizza, Cocktail Bars
Location: 4005 Preston Road, Suite 512, Plano, TX 75093
Website: https://www.tavernarossa.com/
Phone: 972-403-3321
Order Online:
Table Reservation (Not available)
Let's check out artisan pizzas and some dishes to see if Taverna Rossa can live up to the hype.
Opening from Tuesday to Sunday (for lunch and dinner), Bella Italian Ristorante is a trustworthy destination for Italian fare in Plano. The restaurant conveniently sits in Legacy Coit Village and is just within short walking distance from Sprouts Farmer Market.
You'll see many Italian faves on their menu, from rigatoni with meatballs and baked ziti (ziti pasta in a creamy pink sauce) to cannelloni (stuffed with beef, mozzarella, ricotta, and spinach).
You can choose from several pizza offerings (with gluten-free crust upon request). Protein from land (chicken and veal) and sea (clams, mussels, salmon, etc.) are also available to better accommodate diners' needs.
Diners can also enjoy Bella Italia Ristorante's well-curated wine list. Yet, you can still bring your bottle (for a small corkage fee). But don't miss out on their wine tasting Wednesday; it only happens once a month.
Price Range: $$
Food Styles: Italian, Pizza, Pasta
Location: 3948 Legacy Drive Ste 105 Plano, TX 75023
Website: https://www.bellaitaliaristorante.com/
Phone: 469-969-0998
Order Online:
Table Reservation:
Dine And Drink Like A Local In Plano!
I hope this list will help you know the best places to eat (and what to order) in Plano. Plano is not only rich in culture and history but has many eateries to welcome its visitors. There's a lot on offer regarding cuisine from Brazilian, Mexican, Cuban, and more.
Discovered a favorite spot that I missed on this list? Let me know with your comments below! Plus, share this article with those planning to visit Plano! I hope you will have a wonderful trip to the city!