It's common for these best restaurants in Mesquite, Texas, to impress anyone at first sight. Known not only for their popularity, but these dining venues also bring exquisite dishes to the table to make your meal a one-of-a-kind experience.
So buckle your seatbelt and grab your note to jot down these destinations. There's no better time to uncover the eating scenery of Mesquite than right now, so keep reading to discover places that will have a special spot in your heart.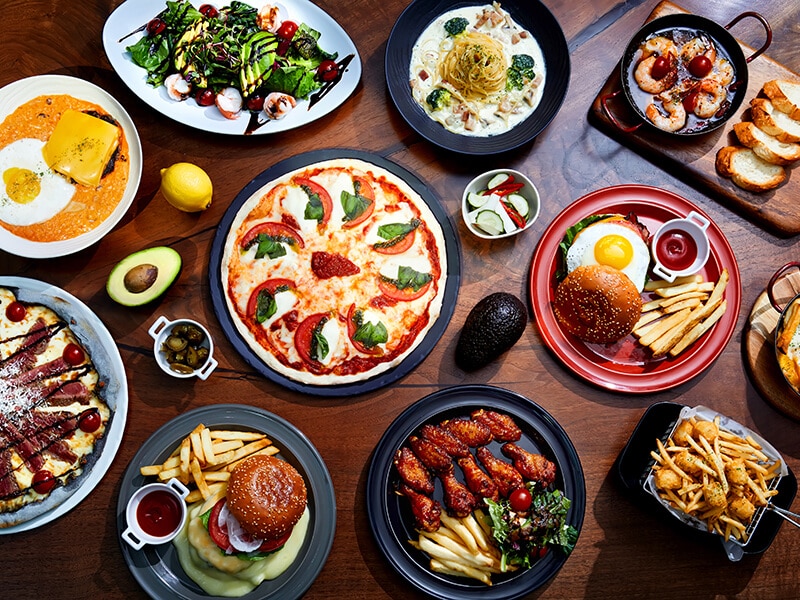 Let Mesquite Satisfy Your Hunger With These Restaurants
Jump into the incredible cuisine of Mesquite with these establishments. Here's a short list of restaurants you can expect to visit for top-notch meals and service.
Atheneos Greek Village Cafe
Texas Roadhouse
Yia Yia's House Of Gyros Mesquite
Joe's Pizza & Pasta
Posados Cafe-Mesquite
Saltgrass Steak House
Razzoo's Cajun Cafe
Cafe Del Rio
Bubba's 33
Mesquite BBQ Since 1959
Cheddar's Scratch Kitchen
El Fenix
Tucker's Grill & Taqueria
Kaze Sushi & Hibachi
Martinez Restaurant
Genghis Grill
Olive Garden Italian Restaurant
Energize Yourself With Mesquite's Finest Dining Venues
Dining is an important time after having an adventure in an energetic city like Mesquite. Therefore, you should briefly look through these eating venues to know what's waiting ahead of your visit.
Residing in a modern layout, Atheneos is your safe bet to savor simple Greek dishes. Furthermore, the South Mesquite Creek nearby is a great spot to experience a windy night in Mesquite.
Why you should come to this restaurant:
The main attraction of Atheneos lies in its simplicity, including the dishes' presentation. Also, the BYO policy means you can carry any of your favorite alcoholic picks to the restaurant to have a great time eating Greek items.
What to eat:
The gyro at Atheneos is a great start to your meal, along with the creamy hummus. Commonly, it's best to ask for a few pitas (flatbreads) to accompany your order at Atheneos.
Visitors can also order wraps completed with various fillings for any necessary customizations at the cafe. Interestingly, Tex-Mex items are available with starters like stuffed quesadillas and jalapeno peppers.
Price range: $$
Food style: Mediterranean, Greek, Breakfast & Brunch
Location: 1425 Gross Rd #100, Mesquite, TX 75149
Website: http://www.atheneoscafe.com/
Phone: (972) 279-4733
Texas Roadhouse is no stranger to BBQ lovers as their steak quality is second to none. This notorious steakhouse offers an irresistible Southwestern style of cooking meat to the Mesquire's neighborhood.
Why you should come to this restaurant:
Founded in 2003, the restaurant chain gradually spread nationwide, now boasting 627 locations. Thanks to the Texas-themed decoration, the restaurant embodies a lively Texan spirit to keep customers excited throughout the time.
What to eat:
Typically, Cowboy roast beef is a priority at any Texas Roadhouse for its iconic tenderness and juiciness. However, I suggest getting the Texas cowboy dip to jumpstart your appetite.
As for combo options, you can pair the sirloin or ribeye with either grilled shrimp or ribs. Finally, wrap up your feast with a cold glass of margarita featuring various fruity flavors.
Price range: $$
Food style: Steakhouse, American
Location: 1420 North Peachtree Rd, Mesquite, TX 75149
Website: https://www.texasroadhouse.com/
Phone: (972) 289-4473
Yia Yia is another destination to satisfy your craving for Mediterranean fares. The establishment stands out from other businesses for putting extra love into its service while maintaining a phenomenally tasty food experience.
Why you should come to this restaurant:
The eatery is the most down-to-earth in Mesquite, with a countertop service to deliver simple meals. Plus, the BYOB policy is a nice touch to encourage customers to bring their favorite alcohol to accompany the ordered items.
What to eat:
Usually, people coming to Yia Yia prefer Greek dishes like chicken gyro paired with sliced pitas and feta cheese for extra flavor. However, my favorite is the moussaka, a layered dish with ground beef filling, eggplant, and creamy béchamel sauce.
Price range: $$
Food style: Greek
Location: 904 East Davis St, Suite #400, Mesquite, TX 75149
Facebook page: https://www.facebook.com/
Phone: (469) 802-9797
Joe's Pizza & Pasta is a solid choice with brick-oven pizza if you want to enjoy a quick yet delicious pizza in Mesquite. Additionally, the outpost even offers classic Italian fares to diversify your options for the night.
Why you should come to this restaurant:
The pizza venue is a familiar face in Mesquite, as it's been operating for over 10 years. Aside from common pizza layouts, customizing your own pizza at Joe's is a fun experience with the ingredients provided.
Don't forget, the lunch hour is when customers can partake in the special program at Joe's Pizza, allowing anyone to get a 12 – 18 inches pizza for a lower price than usual.
What to eat:
For a quick meal, I prefer the meat pizza featuring 4 different meat varieties for an explosion of flavor in every bite. To taste the true pizza flavor at Joe's, you need to get its specialty pizza which comprises various topping options like the Alfredo, Margarita, or simply plant-based.
Price range: $$
Food style: Italian
Location: 308 South Galloway Ave, Mesquite, TX 75149
Website: http://www.joespizzamesquite.com/
Phone: (214) 664-9990
In case you want a place to sit back and take in the atmosphere of Mesquite, then Posados Cafe offers a unique Mexican experience. The cafe's casual vibe is perfect for recharging your energy after a long day.
Why you should come to this restaurant:
The interior of Posados is layered with wooden panels and many rustic ornaments to maintain the casual ambiance. Typically, Posados is a great destination for informal gatherings with your close ones.
What to eat:
On Mondays, customers coming with their kids get a free meal for their child. Otherwise, Tuesdays are ideal for enjoying tacos, while Wednesdays are known for chicken fajitas. However, Thursday is the best day to visit with Posados' quesadillas going at a lower price.
Don't forget about the happy hour program, which runs from Monday to Thursday any time of the day, offering refreshing margaritas and craft beer at a low price.
Price range: $$
Food style: Tex-Mex, Bars, Mexican
Location: 4000 Towne Crossing Blvd, Mesquite, TX 75150
Website: http://www.posados.com/
Phone: (972) 682-0688
Steak is undoubtedly an addicting dish, especially when you visit Saltgrass Steak House, an informal dining venue near the Town Center Village of Mesquite. Once you enter the venue, the aromatic grilled steak will instantly mesmerize you.
Why you should come to this restaurant:
The establishment is a big name in the steakhouse business with its popular family-style meal revolving around juicy chargrilled beef. In addition, the steak is renowned for possessing a signature campfire flavor.
Remember, Saltgrass has a bar to materialize any favorite refreshments. For a casual setting, drop by the No Bull Lounge of Saltgrass for a peaceful experience while sipping on tap beers.
What to eat:
Newcomers at Saltgrass can dig in with signature options like chicken fried steak, country fried steak, and double bone pork chop. Note that each portion from the steak, seafood, and favorites section usually comes with a side to accompany the flavor.
For a hearty combo, my top pick is the urban cowboy and gulf coast steak & shrimp, which combine steak with shrimp cooked in various ways. In addition, the No Bull Lounge also hosts a happy hour program offering 50% off for appetizers during weekdays (3 PM – 7 PM).
Price range: $$
Food style: Steakhouse, American, Seafood
Location: 18680 I-635, Mesquite, TX 75150
Website: https://www.saltgrass.com/
Phone: (972) 270-5200
Mesquite BBQ is a family-owned business with a passion for grilled dishes of brisket, ribs, and pulled pork. The site takes pride in being one of the most solid choices for BBQ-related dishes in Mesquite.
Why you should come to this restaurant:
Opened in 1959, the BBQ venue is among Mesquite's oldest yet still operating restaurants. Possessing a homey atmosphere, dining at Mesquite BBQ is a relaxing experience for locals and visitors alike.
What to eat:
This BBQ outpost is renowned for offering impeccably grilled items with plate options for having one, two, or three types of grilled meat in one serving. In addition, you may combine the grilled proteins in a bowl of frito pies or mac' n cheese for an unforgettable meal.
Price range: $$
Food style: Barbeque, American
Location: 145 East Davis St, Mesquite, TX 75149
Website: http://mbbq1959.com/
Phone: (972) 285-6573
Look through the service offered at Mesquite BBQ to prepare for your next trip.
Razzoo is a casual restaurant centered around New Orlean cuisine and bayou-inspired fare. This Dallas-originated dining venue in Texas takes pride in introducing Louisiana cooking style nationwide.
Why you should come to this restaurant:
Since its establishment in 1991, Razzoo has been boasting an excellent cooking method influenced by cajun tradition and bold bayou flavor. Set in a festive environment, the restaurant provides an unmistakable dining experience.
What to eat:
To get the best out of cajun cooking, you should get a plate of gator tail served with jambalaya rice. Alternatively, the Tchoupitoulas portion makes for a hearty combination of ham, chicken breast, and tender bean with refreshing lemon butter.
Whatever you order, don't miss their specialties like the cajun fried steak or chicken, served with mashed potatoes and creamy andouille gravy. Another option is the Cajun 2 ways, allowing customers to pick shrimps or crawfish tails to enjoy with rice.
Price range: $$
Food style: American, Seafood, Cajun/creole
Location: 3712 Towne Crossing Blvd, Mesquite, TX 75150
Website: http://www.razzoos.com/
Phone: (972) 686-9100
Mexican food is the main highlight at Cafe Del Rio, a local restaurant with various iconic Mexican and Tex-Mex dishes. Plus, the cafe's festive setting is a lovely touch to attract customers coming to the place.
Why you should come to this restaurant:
Del Rio exudes a classic Mexican spirit with a wooden interior, rustic stools, and booth seating. Aside from the Mesquite venue, the cafe makes its presence felt with branches in Lufkin, Beaumont, and Spanish Fort.
Mesquite's 9,000-foot establishment allows Cafe Del Rio to accommodate a large crowd. Furthermore, it boasts a fascinating horseshoe-shaped bar and a bustling happy hour program on weekdays from 4 – 7 PM.
What to eat:
Quesadilla should be your top pick at Del Rio as the place lets customers decide their own sauce with different levels of spiciness. Seafood lovers mustn't overlook the Shrimp Brochette featuring a mixture of cheese, jalapeno, and meaty bacon, all stuffed inside jumbo-sized shrimps.
For refreshment, you may go off the road with uncommon choices, such as imported beer, to experience the unique Mexican alcohol. Otherwise, you may try a quirky midori margarita offering a unique sweet flavor of honeydew melon.
Price range: $$
Food style: Tex-Mex, Mexico
Location: 1530 North Peachtree Rd, Mesquite, TX 75149
Website: https://www.cafedelrio.net/
Phone: (972) 329-9560
Let's face it; comfort food is hard to resist for its addictive nature. Therefore, I'd like to introduce Cheddar's Scratch Kitchen as a solution to satisfy your craving. The restaurant is a friendly venue to savor items with a Texas twist.
Why you should come to this restaurant:
Thanks to the made-from-scratch items, Cheddar's Scratch Kitchen is able to control the quality of the final dishes. Thanks to the quality, the restaurant chain has now appeared in over 28 states since it opened in 1979.
Another attraction of Cheddar's Mesquite venue is its location near Mesquite Memorial Stadium, allowing customers to uncover the exciting ground before dropping by for a meal.
What to eat:
To live up to Mesquite's spirit, Cheddar's offers cheesy spinach dip or cheese fries for a light start. If you're coming as a group, items from the combination section should fit the bill with options allowing guests to bring together fried chicken, ribs, and steak on one plate.
Don't miss out on the drink section, which provides excellent items like the frozen margarita or coconut pineapple mule. One small note, the alcoholic mix drinks are only available for dine-in service.
Price range: $$
Food style: American, Southern
Location: 1320 North Peachtree Rd, Mesquite, TX 75149
Website: https://www.cheddars.com/
Phone: (972) 329-7082
For a reliable spot to get simple soul food and beer, Bubba's 33 is your top-tier pick and is also a spot where locals often gather. Bubba is also a favorite dining site in El Paso, Texas, offering an extensive menu beyond common burgers and pizzas.
Why you should come to this restaurant:
Bubba is set up with a sports bar theme, explaining why you can see many TVs scattered across the interior. Helmed by the same owner of Texas Roadhouse, Bubba carries the same energetic atmosphere making the venue a match for informal meetings.
Plus, the garage bar is a nice touch to supply visitors with craft beers and any mixed drink you desire. Don't forget; the bar is also a spot to partake in the happy hour program.
What to eat:
Aside from burgers and pizzas, Bubba has mouthwatering wings, including a boneless option. Dinner is also available, featuring tender steaks served with fried or green broccoli. I highly recommend the Southern-style fried chicken paired with a creamy gravy for a bit of the Southern spirit.
Price range: $$
Food style: American
Location: 19089 Lyndon B Johnson Fwy, I-635, Mesquite, TX 75150
Website: https://www.bubbas33.com/
Phone: (972) 698-0133
How about enjoying a classic Latin American meal in the heart of Mesquite? That's what Tucker's Grill & Taqueria offers inside a compact space. The outpost also comes with a few Mexican and American delicacies to adapt to any kind of order.
Why you should come to this restaurant:
Despite its compact size, the countertop service of Tucker is relatively fast. The knowledgeable staff is another plus for Tucker, as you can ask for suggestions about the menu items. Don't let the worn-out exterior fool you, for its food is top-notch compared to other fast food chains.
What to eat:
Chicken wings are a beloved option at Tucket for their impeccable sauce covering a tender meat texture. As for the gyro, it is delicious when paired with a creamy white sauce and a side of fries. For tacos, you may even get ones filled with shredded barbacoa meat.
Price range: $
Food style: American, Mexican
Location: 2604 Towne Centre Dr, Mesquite, TX 75150
Website: https://www.facebook.com/
Phone: (972) 686-5522
El Fenix should be a part of your bucket list when visiting Mesquite for its incredible Mexican offerings and tasty Tex-Mex cuisine. Also, the hacienda-style setting of El Fenix attracts visitors for an authentic Mexican dining experience.
Why you should come to this restaurant:
Initially, Martinez Cafe was the first name of the restaurant before it changed to El Fenix based on the name of the owner, Miguel Martinez, first child. The place gradually incorporated the style of American and Mexican dishes to create what's known as Tex-Mex cuisine.
What to eat:
If you're familiar with Mexican restaurants, then enchilada is a must-have for its soft crust and smothered in savory sauces. However, El Fenix offers fantastic Fajita with a protein choice of either steak or chicken.
Better yet, the venue lets customers create their own lunch menu served with rice and refried beans. For some classic Tex-Mex fares, my favorite picks go to the soft tamales and lightly crunchy flautas.
Price range: $$
Food style: Mexican, Tex-Mex
Location: 3904 Towne Crossing Blvd #10, Mesquite, TX 75150
Website: https://www.elfenix.com/
Phone: (972) 279-8900
Let's head to Kaze Sushi & Hibachi, a renowned Dallas restaurant in Texas, for a memorable night filled with iconic sushi offerings and bento boxes. Unlike other sushi restaurants, Kaze introduces a little Korean cooking style to its service to adapt to the American palate.
Why you should come to this restaurant:
Situated in a family-oriented environment, the restaurant aims to satisfy any family dining event with its fine sushi surrounded by a casual ambiance. In addition, the modest price of Kaze makes it an appealing choice over luxurious venues.
The Hibachi table at Kaze is another attraction, as guests can talk and watch professional Japanese whipping up their orders. Followed by a seasonal menu, Kaze ensures your night is memorable with quality food and service.
What to eat:
Sushi is undoubtedly the favorite pick of many, ranging from salmon and scallops to exotic items like eels. You may even go for special rolls with a chef-made option offering various fish pieces paired with crab sticks and wrapped with tobiko caviar.
To enjoy a cooking show at your table, I suggest ordering a few Hibachi selections revolving around steak and seafood.
Price range: $$
Food style: Sushi Bars, Japanese
Location: 3919 Pavillion Ct, Mesquite, TX 75150
Website: http://kazemesquite.net/
Phone: (972) 686-5505
Martinez is another popular Tex-Mex restaurant in the heart of the Mesquite neighborhood. Thanks to the spacious layout, Martinez is an establishment for a cheerful time with your friends and families.
Why you should come to this restaurant:
Operated in 1989, Martinez is a familiar face that has served two or even three generations of Mesquite residents with tasty Tex-Mex delicacies. The place offers booth seating for maximum comfort while chowing down Mexican orders.
What to eat:
The establishment introduces customers to a long list of Mexican classics with up to 14 house specials to uncover. My favorite has to be Eddie's special, featuring a pork chop with a club steak to pair with rice, beans, and guacamole.
Once you're at Martinez Restaurant, grab some fajita with protein choices varying from chicken to steak or shrimp is wise. Refreshment at Martinez is yet another appealing feature allowing guests to have a free refill with the price of one drink only.
Price range: $$
Food style: Mexican, Tex-Mex
Location: 901 Gross Rd, Mesquite, TX 75149
Website: https://martinezrestaurant.com/
Phone: (972) 288-7772
Explore the wonderful world of Mongolian cuisine at Genghis Grill, a fantastic San Antonio eating site in Texas, featuring colorful decorating and offering delicious food with a countertop service. This fun restaurant has been a staple of Mesquite for Asian food for over 20 years.
Why you should come to this restaurant:
What sets Genghis Grill apart from other Mesquite establishments lies in the customizability of your bowl order. Pick your favorite ingredients from a list of 80 vegetables, meat, and spices at the Fresh Market Bar Buffet.
Once done, simply let Genghis' chefs handle the rest of the cooking process to materialize your bowl of deliciousness. You may even ask for Japanese-style dishes or stir-fried Chinese at this casual Mongolian site.
What to eat:
If you can't decide what ingredients to mix and match, Genghis also supplies fixed options like the Dragonfire shrimp or the smoked pulled pork. Typically, dishes can pair with either regular or smoky fried rice.
Don't forget about the desserts, as the peanut chocolate butter bomb is a fantastic sweet touch to your meal.
Price range: $$
Food style: Mongolia, Asian, Chinese
Location: 1765 North Town East Blvd #109, Mesquite, TX 75150
Website: https://locations.genghisgrill.com/
Phone: (972) 270-5426
Set in a lively and family-friendly ambiance, Olive Garden is your destination for a heartwarming dinner. This classic Italian accommodates all sorts of Italian fare to make sure your night lives up to perfection.
Why you should come to this restaurant:
The generous food portion and fairly priced items keep customers returning to Olive Garden. Customers coming to this Italian dining dig will always receive a portion of salad and breadsticks at their table.
What to eat:
The place is popular for its breadsticks which are always served warm along with the refreshing salad mix. For a classic Italian start, I recommend pasta dishes like the alfredo served with chicken or shrimp and an addicting lasagna portion.
Alternatively, you may go for the Tour of Italy, featuring three dishes of chicken Parmigiana, lasagna, and alfredo served on the same plate. Make sure to accompany your order with a homemade soup order full of surprises from 4 different flavors.
Price range: $$
Food style: Italian
Location: 3816 Towne Crossing Blvd, Mesquite, TX 75150
Website: https://www.olivegarden.com/
Phone: (972) 270-1582
Travel Around Mesquite Confidently With This List Of Restaurants
What do you think of the compilation? Mesquite always has hidden gems waiting for you to unearth and immerse in its spectacular cuisine. All you need is a little bit of research before making your next trip a memorable one.
If you have experience traversing the ground of Mesquite, share your tips in the comment sections. Share this article with others so people can know how amazing Mesquite is when it comes to dining.