Dining at the best restaurants in Las Colinas, Texas, will always amaze you with its creative cuisine or outstanding setup of the eateries. This article will navigate you through the eating scenery at Las Colinas so your next meal can be a blast.
Known as an area of upscale quality, restaurants in Las Colinas adapt to the community's expectations. Therefore, you can always come to these eateries for a memorable moment with your family or close ones.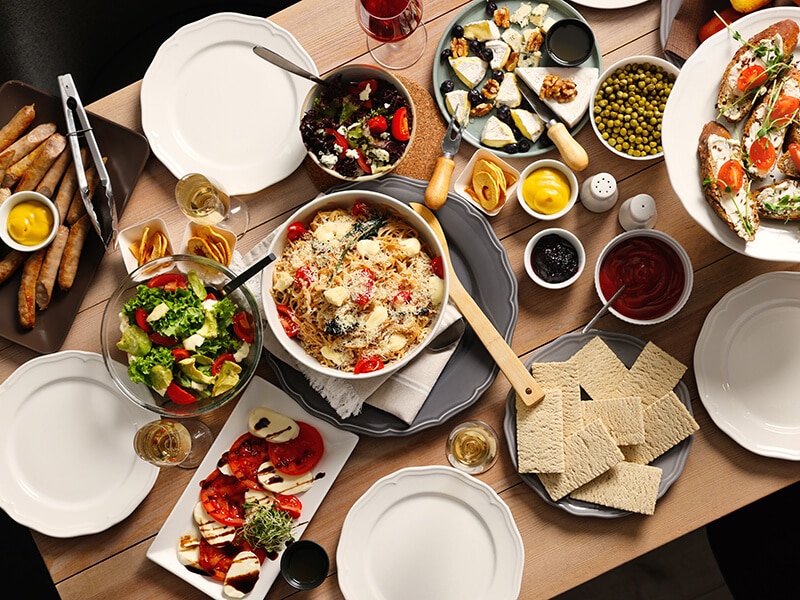 Eateries No One Should Ever Miss In Las Colinas
Las Colinas always welcomes everyone with the highest quality in any service aspect, including the restaurants. Here's a sneak peek into the locations you need to know for your upcoming visit.
Pacific Table
Italian Café
Yard House
Blaze Brazilian Steakhouse
Le Peep
Grimaldi's Pizzeria
Hugo's Invitados
Cork & Pig Tavern Las Colinas
Benihana
Fuzzy's Taco Shop
In-N-Out Burger
Andalous Mediterranean Grill
Hyderabad House
Desi District
The Ranch at Las Colinas
Madeleine
Dimassi's Mediterranean Buffet
Enjoy Your Staying In Las Colinas With These Eateries
Set out to the luxurious atmosphere of Las Colinas with these eateries. You will leave these places with a memorable experience no matter your travel destination. So strap on and let the journey to uncover Las Colinas begin.
Pacific Tabe is an eclectic destination embodying the cooking style of Pacific Northwest cuisine, residing in a modern environment. The place should be on top of your list for quality seafood fare.
Why you should come to this restaurant:
Located in the heart of Los Colinas, Pacific Table offers a warm setting while providing a water view at the front of the Mandley canal. The spot also offers a weekday happy hour program between 4 and 6 PM.
What to eat:
Typically, sushi rolls and oysters are prime candidates at Pacific Table. However, you may order some tender ribs, like baby back ribs and short ribs, as starters. A salad should fill the bill with steak, crabcake, and Ahi tuna mix for a light order.
As for the happy hour, you may find yourself at the bar for some alcoholic refreshments accompanied by light chicken lettuce wraps or miso salmon skewers.
Price range: $$
Food style: American, Seafood
Location: 5238 North O'Connor Blvd #136, Irving, TX 75039
Website: http://pacifictable.com/
Phone: (972) 957-7620
Enjoy your day at Italian Café, a classic Italian establishment that provides traditional fares like pizza and pasta. Furthermore, the pizza also receives a breeze of American influence by incorporating New York-style pizza into the menu.
Why you should come to this restaurant:
Residing near Lake Carolyn, the cafe is a great vantage point for admiring the water view while having a great meal. Plus, the cafe has several TVs, so you never miss out on a single sports match.
The destination features a patio for guests looking to immerse in Las Colinas' atmosphere or simply admire the brick-lined exterior of the restaurant. Drop by the full-service bar to grab any of your favorite refreshments.
What to eat:
For the pizza, you can be creative with the fillings to materialize your own pizza. Pasta fans can rejoice at the site for the menu's sheer number of pasta-based items. However, my suggestions revolve around Alfredo pasta, Gnocchi ala Rustica, and Tortellini Pesto.
Chicken also deserves a spot on your table with classic Italians like chicken Florentine Madeira, chicken Marsala, and carb-free Chicken Caprese. In addition, the happy hour is the ideal time to rehydrate with various refreshments.
Price range: $$
Food style: Italian
Location: 387 East Las Colinas Blvd #120, Irving, TX 75039
Website: https://www.italianitaliancafe.com/
Phone: (972) 401-0000 / (972) 401-0216
Whenever you want to experience the bustling ambiance of Las Colinas, Yard House, one of Houston's top dining venues in Texas, is always a top pick for its extensive list of draft beers. Make yourself comfortable at Yard House with its New American cuisine featuring innovative dishes.
Why you should come to this restaurant:
The outpost takes the theme of a sports bar with numerous TVs distributed so you can always watch your favorite game. Located in the Toyota Music Factory, the site brings to the community over 100 dishes.
Follow that up with draft beer from 130 taps to make your game night more exciting. Aside from the regular happy hour (3 – 6 PM), Yard House adds an extra late-night happy hour at 9:30 PM, lasting until 11 PM.
What to eat:
To relieve your hunger, the main items at Yard House are relatively heavy, with steak or chicken-related fares cooked in both Asian and American methods. While at it, you may even opt for a ½ pound burger to energize you through the night.
Healthy diets at Yard House are possible, thanks to the under 700 menu providing meat and veggie options while keeping the calorie count under 700. Aside from beers, there are some zero-proof refreshments to keep you hydrated after a meal.
Price range: $$
Food style: American, Bars
Location: 320 West Las Colinas Blvd., Irving, TX 75039
Website: https://www.yardhouse.com/
Phone: (214) 496-0151
Turn up the heat while you're in Las Colinas by coming to Blaze Brazilian Steakhouse for juicy cuts of meat in a classy environment. Plus, the spot is near the Toyota Music Factory, making it a charming place to enjoy a meal after the show.
Why you should come to this restaurant:
The steakhouse revolves around nailing the authentic Brazilian flavors of roasted steak by skewering the cut meat and cooking them over an open fire. Better yet, the huge salad bar at Blaze can accommodate any items that help take your steak to another notch.
Commonly, Blaze features DJs playing some beats at night to keep diners entertained. The fun vibe at Blaze will captivate any soul after stepping foot into the place.
What to eat:
There are many cuts of meat, but my priorities are the top sirloin (Picancha), filet mignon, and ribeye. Alternatively, Blaze also roasts other proteins like pork and chicken legs.
To accompany your meaty plate, a side like the soup of the day is a must-have pick. The soup changes daily, so you will never have the same experience. Surprisingly, the Brazilian steakhouse offers cigars on its menu.
Price range: $$$
Food style: Brazilian, Steakhouse
Location: 310 West Las Colinas Blvd., Irving, TX 75039
Website: https://blazebraziliansteakhouse.com/
Phone: (469) 208-7977
Start your day perfectly by stopping by Le Peep, a lovely dining outpost in Plano, Texas, and Irving providing breakfast and brunch. Nothing is better than engaging your morning with a cup of coffee in a relaxing ambiance at this breakfast restaurant.
Why you should come to this restaurant:
Sit on the 1st floor of O'Connor Ridge, Le Peep can energize you before beginning your adventure in this shopping mall area. With more than 45 years of service, the eatery takes pride in providing customers with a friendly and warm atmosphere.
What to eat:
Newcomers at Le Peep can go for solid breakfast choices like the fluffy Oreo pancakes served with sweet syrups. However, my favorite is the egg benedict featuring runny egg yolk that pairs well with either salmon or pork.
The site also has a kid's menu with an option to draw faces on the pancakes. What's more, kids coming to Le Peep on Wednesday receive an entree for free as long as the adult purchases an entree at the restaurant.
Price range: $$
Food style: Breakfast & Brunch
Location: 4835 North O'Connor Rd, Irving, TX 75062
Website: http://www.lepeeptexas.com/
Phone: (972) 717-0422
Everyone loves pizza no matter what styles or fillings the pie possesses. Therefore, you need to give Grimaldi's Pizzeria a shot to enjoy the flavor of pizzas in Las Colinas. Furthermore, the casual setting at Grimaldi is ideal for munching on pizza slices.
Why you should come to this restaurant:
What sets Grimaldi's different from other pizza avenues lies in its water when it's imported directly from New York to make the dough. Alcoholic refreshments at Grimaldi's are also second to none when it offers 12 types of draft beer, 11 bottle beer varieties, and 46 wine options.
The spacious dining room at Grimaldi's is another plus when it can hold over 100 individuals, not to mention its airy patio with a capacity of 50 seats. At night, the outdoor patio is lit with lighting, suitable for taking in the Las Colinas breezes.
What to eat:
Once you are at the location, it's best not to overlook the coal brick-oven pizzas, a signature item at Grimaldo with pesto, cheese, and even garlic as toppings. Of course, you can assemble your own pizza with options like meatballs, bacon, mushrooms, and Italian sausages.
As for the calzone, it's usually stuffed with ricotta cheese, oregano, fresh parsley, and romano cheese. For starters, I suggest a basic plate of antipasto, caprese, or a bowl of salad before digging into the pizzas.
Price range: $$
Food style: Pizza
Location: 310 West Las Colinas Blvd. Ste 100, Irving, TX 75039
Website: https://www.grimaldispizzeria.com/
Phone: (214) 496-0337
Benihana is undoubtedly your go-to spot for an exquisite night beside the Hibachi (traditional Japanese grill device) table. If you can't handle raw fish, don't worry because Benihana also has grilled fares to accommodate any dining style.
Why you should come to this restaurant:
The Hibachi grill table sets the restaurant apart from other common dining spots. While customers sit at the table, enjoy the impressive Teppanyaki, a Japanese professional cooking technique included with entertainment.
The venue offers 18 Teppanyaki tables for anyone to gaze at the dazzling chef's skills. If you can't get a seat at the table, Benihana also comes with a lovely sushi bar that accommodates five private booths.
What to eat:
Whenever you come to Benihana, get ready to taste their signature hot sake. Alternatively, the refreshing Benihana punch brings a tropical touch to the heart of Las Colinas. If you love Mojito, Benihana will impress you by infusing passion fruit, mango, or strawberry into the drink.
Some of the Hibachi items you can get at Benihana include scallops, chicken, and shrimp. Meat lovers can even relish juicy cuts of steak at the table while admiring the chef's skills.
Price range: $$
Food style: Japanese, Sushi Bars
Location: 5400 White Hall St, Irving, TX 75038
Website: http://www.benihana.com/
Phone: (972) 550-0060
Switch your focus to Mexican dining with a quick bite of tacos offered by Fuzzy's Taco Shop. The venue is a local favorite for churning fabulous tacos in all shapes and sizes. After finishing your taco, don't be shy to grab a pint of beer at the place to wash it down.
Why you should come to this restaurant:
Operated in 2003, Fuzzy has been a great stop for fun vibes. Through the years of development, the restaurant has more than 150 locations nationwide. The dining outpost even encourages people to bring their furry companions to enjoy a great day under their patio.
What to eat:
Aside from regular taco orders, the outpost even comes with Baja-style tacos featuring various protein fillings like beef, chicken, or shrimp. For a hearty meal, sit down at their table to cherish a hearty burrito bowl filled with veggies and meat.
Furthermore, Fuzzy also has a kid's menu for little diners coming along. Note that the dessert items can be more diverse than what you see on the menu, so ask the waiter for extra options.
Price range: $
Food style: Mexican
Location: 1100 West John Carpenter Fwy, Irving, TX 75039
Website: https://restaurants.fuzzystacoshop.com/
Phone: (972) 550-8226
To enjoy an easy-going atmosphere of a tavern, Cork & Pig is where you need to head for a relaxing meal. The outpost offers outstanding wood-fired pizza and numerous wine options to upscale your experience.
Why you should come to this restaurant:
Cork & Pig's contemporary environment makes it a great choice for informal gatherings with friends and family. Aside from the extensive wine list, the tavern also incorporates cocktails and craft beers into the menu for more diverse ways to have fun at the restaurant.
What to eat:
Commonly, the items at Cork & Pig are relatively light, with options including salad and artisan sandwiches. However, the juicy wood-grilled meat with the double-cut pork chop served with creamy sauce and green veggies make for a solid choice for many.
On weekdays, come to the tavern between 2 – 5 PM for the happy hour program. It's when you can cherish wonderful pizza and specialty cocktails for a lower price, like the retro old-fashioned cocktail.
Price range: $$
Food style: American
Location: 5224 North O'Connor Blvd, Irving, TX 75039
Website: http://corkandpig.com/
Phone: (972) 364-7412
When burgers are your favorite soul food, you need to head to In-N-Out Burger to enjoy the ultimate burger bite in Las Colinas. The restaurant chain is famous for offering tasty Californian-style burgers.
Why you should come to this restaurant:
Once you're at In-N-Out, you will soon adore its customizable patties allowing customers to alter their burgers freely. Furthermore, the fountain drink is also a nice feature of the place, as guests can refill their soda by paying only a small initial charge.
What to eat:
Give the signature double-double, featuring 2 patties, a try. In addition, the Not so secret menu accommodates a burger with 4 stacks of patties. Another option lies in the animal-style burger allowing you to pick your own patties to mix and match with the veggies.
Price range: $
Food style: American, Burger
Location: 6501 North MacArthur Blvd, Irving, TX 75039
Website: https://locations.in-n-out.com/
Phone: (800) 786-1000
Stir up your appetite for the night with Andalous Mediterranean Grill, a beloved Dallas-originated restaurant in Texas owned by twin chefs. The spot is also a relaxing venue for anyone to enjoy their meal. Plus, Andalous even provides special diets for low-calorie, carb, or vegetarian meals.
Why you should come to this restaurant:
The twin chefs at Andalous introduce the Las Colinas neighborhood with innovative interpretations of Mediterranean fares. By including handmade bread, charcoal-cooked kebab, and tasty dips, the chefs allow endless combinations to their food.
What to eat:
One of the specials you can't miss at Andalous is the falafel, a vegan deep-fried meatball of ground chickpeas and spices. For a true Mediterranean, you may enjoy their platter offerings with an array of vegetables to accommodate the meat.
A buffet is also an option at Andalous, allowing you to sample all the delicious fare the restaurant has in store.
Price range: $$
Food style: Mediterranean, Lebanese, Greek
Location: 6450 North MacArthur Blvd, Irving, TX 75039
Website: http://www.andalousgrill.com/
Phone: (972) 401-8900
Moving on from Mediterranean cuisine, I'd love to include Hyderabad House on this list for anyone who loves Indian food with an intense seasoning profile. Residing near Hackberry Creek, the establishment provides an airy atmosphere to diners.
Why you should come to this restaurant:
Hyderabad House has a modern vibe with a spacious patio for people to enjoy the street view of Las Colinas. Along with serving classic Indian fares, Hyderabad hosts a wonderful juice bar to keep you hydrated.
What to eat:
As for what you should order, the biryani should be your top pick that goes well with naan bread. Since there are numerous biryani combinations, I suggest scanning the menu closely before ordering. Some notable biryani usually comes with chicken, fish, or only veggies.
Also, South Indian dishes are a favorite for many with their bold profile. For that, the curry should be your main dish with either chicken or goat meat options. In addition, you should find the tandoori skewered and cooked inside a clay oven, an irresistible choice in Hyderabad.
Price range: $$
Food style: Indian
Location: 949 West Royal Ln Suite # 108, Irving, TX 75039
Website: http://hhirving.com/
Phone: (214) 525-6777
To enjoy exotic dishes in Las Colinas, you need to come to Hugo's Invitados, a Nuevo Latino eatery with elevated Mexican cuisine. The outpost is devoted to serving an organic and gluten-free menu to accommodate any healthy diet.
Why you should come to this restaurant:
Residing in a modern setting, the eatery churns out scratch-made dishes to ensure the highest quality. The venue offers an outdoor seating area to enjoy the Las Colinas environment.
Interestingly, the restaurant never fries their dishes to maintain the healthy aspect. In addition, Hugo's Invitados brings forward an intimate dining room service for any private event.
What to eat:
At Hugo's Invitados, you can expect a meal to begin with classic Mexican appetizers, with prime candidates being pork belly Chicharrón or Mexican avocado toasts. I recommend giving the items from the Chef's cut section a go, especially the juicy filet mignon and cowboy al pastor.
Don't call off your meal without washing down some iconic Mexican tequila. The restaurant even has numerous variations of mezcal, a Mexican alcoholic drink possessing a signature smoky flavor.
Price range: $$
Food style: Seafood, Mexican
Location: 5240 North O'Connor Blvd #160, Irving, TX 75039
Website: http://hugosinvitados.com/
Phone: (214) 496-0590
Another popular Indian destination in Las Colinas is Desi District, a compact restaurant that offers casual meals and makes a name for itself as one of Frisco's finest eateries in Texas. Plus, Desi's modern and urban touches make it more accessible for informal events.
Why you should come to this restaurant:
Interestingly, the place doubles as a market where guests can uncover unique Indian spices. Instead of focusing on traditional cuisine, Desi introduces diners to the Indian street with many iconic street-based items that you never know exist.
What to eat:
To uncover the secret at Desi, you want to come between 2:30 and 4:30 PM to indulge in its limited menu featuring dishes like kati rolls, biryanis, chats, and Desi burgers. Vegan eaters can opt for momos (a dumpling), filled with veggies cooked in many ways.
Price range: $
Food style: Indian
Location: 6451 Riverside Dr #100, Irving, TX 75039
Website: http://thedesidistrict.com/
Phone: (972) 913-4730
Enjoy American cuisine like never before at The Ranch, a venue that introduces guests to iconic Southwestern cuisine. Plus, it also brings a bit of Texan cooking style into dishes for a memorable touch.
Why you should come to this restaurant:
The Ranch is a lively destination completed with a bar that whips up incredible alcoholic mixes. While at it, enjoy the Texan spirits with the live music event featuring Texas-originated artists.
The site also has a porch, so any event can occur in the bustling atmosphere of Las Colinas. Moreover, the ranch-like interior also makes it stand out from other restaurants by featuring a burning Texan spirit at every corner of the place.
What to eat:
To enjoy the local's flavor, I suggest munching on a board of local meat & cheese, which comes with sausages made from hunted meat. Otherwise, the chef's choice should be a great way to get to know the restaurant's flavor profile with elk tacos, onion rings, and queso blanco.
Ideally, a plate of meat and seafood will do the job wonderfully for an authentic Texas meal. You can pick any protein, from pork chops or chicken to catfish or steak.
Price range: $$$
Food style: Steakhouse, American
Location: 857 West John Carpenter Fwy, Irving, TX 75039
Website: http://theranchlc.com/
Phone: (972) 506-7262
Undoubtedly, the elegant ambiance of a French restaurant can satisfy anyone's need for a classy meal. Therefore, Madeleine is a favorite spot for locals to relax in a rustic country environment.
Why you should come to this restaurant:
Madeleine offers a wrap-around patio for people to sip coffee while immersing in the surrounding neighborhood. However, the restaurant also has a few fireplaces inside to enjoy a cozy night.
Surprisingly, the cafe also has a lovely bakery where you can get calzone or small baguettes to accompany your warm cup of coffee. Don't forget Madeleine boasts a private room service for any events you have in mind.
What to eat:
One of the must-have items at Madeleine is the tomato soup basil, a viscous bowl of vibrant soup that will mesmerize anyone with its creamy profile. Furthermore, the venue has several seasonal soup options to fully use quality ingredients.
You can dive into an authentic French breakfast experience with a combo of eggs cooked to order and a butter croissant. Besides coffee, I suggest giving the mimosa a shot with refreshing orange juice and a J.Roget champagne bottle.
Price range: $$
Food style: American, Breakfast & Brunch
Location: 6430 North MacArthur Blvd, Irving, TX 75039
Website: https://lamadeleine.com/
Phone: (469) 385-1700
Established in 1992, Dimassi's is a restaurant specializing in Lebanese cuisine and serving a diverse range of Mediterranean dishes. All you need is to come to this family-owned restaurant to enjoy its casual, down-to-earth atmosphere.
Why you should come to this restaurant:
The buffet is a big hit at Dimassi, giving customers a choice to go through numerous dishes. Whether you're having a party or simply an intimate meal, the venue is ready to meet all demands.
What to eat:
Although the diverse menu may seem overwhelming initially, I suggest ordering a portion of the Makloube (chicken with rice and veggies), Mansaf (rice served with lamb), or Dimassi's chicken pasta. In addition, you should get some veggies or dips to pair with your orders.
Price range: $$
Food style: Mediterranean, Middle Eastern, Buffet
Location: 825 West Royal Ln, Irving, TX 75039
Website: http://www.dimassis.com/
Phone: (972) 925-9390
Have A Nice Trip At Las Colinas With These Eateries
Whenever you can stop by these eateries, don't hesitate to discover their wonderful cuisines since you already have this article pocketed. Explore this wonderful city and immerse yourself in its beautiful restaurants.
Share this article with people planning to visit Las Colinas. Let me know what you think about these recommendations. Have you ever had a meal at these locations? I'd love to hear from everyone in the comment section.