Here is your ticket to discovering the best restaurants in Rockwall, TX, perfect for your culinary adventures to Rockwall, a true foodie's paradise.
The eatery options with a diverse culinary scene will satisfy everyone, even the most discerning diners. Whether you're craving succulent BBQ joints or fancy upscale seafood eateries, you'll always have some places to go.
Thus, if you're ready to get on a culinary odyssey, sit back, relax, and join us to indulge yourself in the finest restaurants in the city.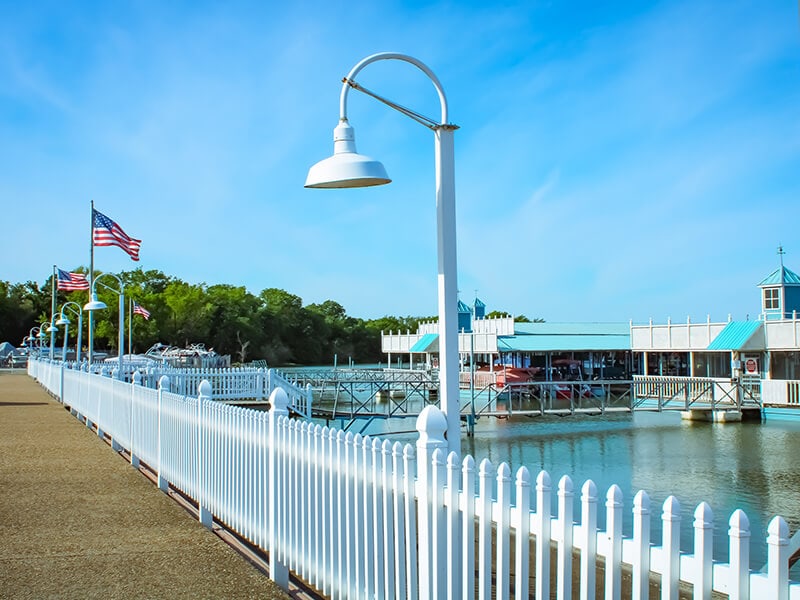 The Best Of The Best: Rockwall's Top-Rated Restaurants
Below is the exclusive list of Rockwall's restaurant scene. The quality service and food of these places are proved through the rating on the internet. Therefore, you will never go wrong with your choices in having the most fantastic meal in the city.
The Oar House
Kyoto Japanese Steakhouse
Zanata
Bin 303
Gloria's Latin Cuisine
Rodeo Goat
Pier 101
Culpepper Steak House
Luigi's Italian Cafe
Snuffer's Restaurant & Bar
Charlie's Burgers And Street Tacos
Joe Willy's
Chiloso Mexican Bistro
Book Club Cafe
SIDEWAYS
Samee's Pizza Getti Restaurant
The Roundabout – Rockwall
Ramen Head
Wells Cattle Co. Burgers & Pies
Onassis Greek Taphouse + Kitchen
Dodie's Cajun Restaurant At The Harbor
Where To Dine In Rockwall – Worthy Recommendations Only!
From casual to high-end restaurants, Rockwall city provides a vibrant scene to your culinary journey. So read on to pick the most suitable name to uncover the charms of cuisine.
The Oar House, a renowned Italian fine-dining establishment, has delighted patrons for over two decades in the heart of historic downtown Rockwall.
Situated near The Harbor Rockwall and Harbor Lights Cruises, this culinary gem offers the effortless combination of luxury with intimacy.
Stepping into The Oar House, you will immediately indulge in its elegant and romantic atmosphere. The ambiance is spot-on with dim lighting, stained glass, and original wood floors adorned with brick and cobblestone accents.
The rowing scull and oars suspended from the ceiling, along with crisp white tablecloths, evoke the feeling of a vintage, luxurious cruise ship.
Moreover, the Oar House's outdoor garden seating provides a private space beneath mature trees and a charming small pergola, perfect for special occasions or a quiet evening out.
In terms of their food items, featuring a northern Italian-inspired menu, you'll find various tempting options, from seafood and salads to specialty Italian dishes. Savor the rich flavors of their lobster bisque, Chilean sea bass, or crab claws, and discover the allure of The Oar House.
A selection from the extensive wine list, including champagne, chardonnay, and Italian reds, is noteworthy for a romantic dinner. Plus, the Oar House also boasts a full bar, party menu, Happy Hour specials, and live acoustic music.
Overall, while the prices reflect the exceptional quality of their dishes, you'll find them reasonable considering the impeccable dining experience.
Location: 305 E Interstate 30, Rockwall, TX 75087
Website: http://www.theoarhouserestaurant.com/
Phone: (972) 771-9687
Originating in Rowlett, Texas, in 2003, Kyoto Japanese Steakhouse has since expanded their business to Rockwall.
Since 2008, Rockwall's Kyoto Japanese Steakhouse has attracted diners with its impressive options of sushi rolls and hibachi-grilled dishes.
Recognized as the Best Asian Restaurant in Rockwall by Living Magazine's Best of Readers' Choice for several years, Kyoto has built a reputation for excellence.
The entertaining atmosphere combines Japanese culinary tradition and modern flair is one of the reasons that retain customers. Its cozy dining space provides welcoming ambiance, featuring a hibachi section and communal and private tables.
The hibachi itself offers additional entertainment as highly skilled chefs perform live culinary feats while preparing your meal. And I'm sure your kids would be thrilled to watch how their dishes are prepared.
There are various delectable menu options, such as cooked and raw sushi rolls, fried rice, and udon made from carefully-selected and fresh ingredients with the highest-grade sushi rice to ensure a top-notch meal.
Besides serving traditional Japanese cuisine, many menu items are infused with contemporary Asian twists, served with stylish presentation. Try the Rowlett Rolls, Crispy Shrimp Rolls, and Chicken Fried Rice to taste Kyoto Japanese Steakhouse's exceptional cuisine.
For those looking for a place to refresh their mind with good drinks, check out their full bar with a special selection of sake, wines, and cocktails! If you want to enjoy a meal like the Japanese, sake is the best one.
Location: 1599 Laguna Dr, Rockwall, TX 75087
Website: http://kyotorockwall.com/
Phone: (214) 771-0688
Founded in 2007, Zanata is an exquisite blend of Italian and Mediterranean cuisine in the heart of Historic Rockwall Square. This vibrant hub is ideal for assembling with loved ones and for a great dining rendezvous.
As you enter Zanata, the tantalizing aroma from the wood-fired pizza ovens will envelop you, setting the stage for an outstanding meal.
The restaurant's interior features exposed brick walls and charming half-barrel decorations, with the wood-burning ovens serving as an eye-catching focal point.
Zanata's Italian-Mediterranean menu is extensive, including mouthwatering pizzas and expertly-crafted entrees, all cooked to perfection in the wood ovens. Additionally, the majority of the menu items are gluten-free, which is suitable for people with celiac disease.
If you are a first-time comer, try the Zanata's house specialties, such as the duck crostini, churrasco steak, roasted swordfish, or blue crab dip. And for a sweet finish, treat yourself to their delicious banana fosters dessert.
To elevate your dining, pair your food with a choice from their wide collection of fine wines, beers, and spirits. They also have daily specials, like "Sauced" Tuesdays, or enjoy 50% off wine bottles on Sundays.
Location: 202 E Rusk St, Rockwall, TX 75087
Website: https://www.zanatas.com/
Phone: (972) 722-2822
Bin 303 is the creation of a husband and wife team Chef Mat Nugent and his spouse. The owners' shared passion for wines and Texas cuisine inspired the birth of this charming farm-to-table eatery, which aims to bring people together over delicious meals.
Situated in a historic location in downtown Rockwall, the restaurant occupies a charming craftsman-style cottage that once housed the SEARS catalog, which dates back to the 1920s.
The warm and romantic atmosphere of Bin 303 is enhanced by repurposed wood tables crafted from the original building.
You can choose to sit indoors with access to a full bar and a pool table or dine al fresco to savor the pleasant Texas weather. Bin 303 is also well-suited for large groups, making it ideal for gatherings with family and friends.
Next to showcasing a seasonal Texan cuisine menu emphasizing local produce, there is a superb selection of burgers, sandwiches, wood-fired steaks, seafood, and mesquite grill options.
For burger lovers, "Together Tuesdays" is the best time to visit this place with several delicious choices. The extensive artisanal beer and wine list, like four rotating wines on tap, is what you should check as well.
My suggestions for indulging in the best dishes at Bin 303 are the flavorful Texican burgers, short-smoked pork tenderloin, or iron skillet crab dip. Finally, satisfy your sweet tooth with their decadent Grand Marnier Crème Brûlée dessert – a fitting finale to an exceptional dinner.
Location: 105 Olive St, Rockwall, TX 75087
Website: https://bin303.com/
Phone: (972) 771-5303
Gloria's Latin Cuisine, which opened in Dallas in 1986, is renowned for its genuine Salvadoran and Tex-Mex gastronomy. With more than 20 locations spanning Dallas-Fort Worth, Austin, Houston, and San Antonio, it is a premier destination for brunch, lunch, and dinner.
Located at The Harbor Rockwall, it is a lovely spot with a stylish, cozy setting. Moreover, it is also an entertaining spot as you can dance at Gloria's® Nightlife with Latin tunes and salsa moves on Saturday nights.
Guests can pick indoor or outdoor seats, with the outside area covered in winter, while taking in stunning Lake Ray Hubbard views. The eatery is dog-friendly and handles both small and big groups. And bring your kiddos here as this place is also kid-friendly.
Gloria's Latin Cuisine is proud of mixing top-notch ingredients and inventive recipes to create a fantastic meal. Make your evening special with their winning margaritas and signature drinks. So be sure to request the Spicy Pineapple Margaritas if you are looking for something unique.
Don't forget their half-off wine bottles deal from Sunday to Thursday, or sample the tasty salmon chimichurri salad, chicken enchiladas, or chimichangas to fill up your tummy with surprises and pleasures.
Location: 2079 Summer Lee Dr, Rockwall, TX 75032
Website: https://gloriascuisine.com/
Phone: (972) 772-4088
Rodeo Goat is a family-friendly chain with multiple branches across Texas (e.g., Frisco, Fort Worth, Houston, and more), delivering a fantastic meal with breathtaking sunset views at the Harbor Rockwall.
In Rockwall, this branch is nestled within a bustling entertainment complex, surrounded by other restaurants and a movie theater. So it is clear to see that Rodeo Goat is perfect for a fun outing.
The restaurant also features a relaxed vibe in both indoor and covered outdoor seating areas, which you can overlook Lake Ray Hubbard. Dog lovers can bring their furry friends to the patio and even enjoy sitting on the unique swing set.
About the food, Rodeo Goat's menu boasts many creative burgers and fresh sides, with house-ground meat and hand-punched fries prepared daily. Vegan and vegetarian options are also available for different requests.
From my experience, I guarantee you will love their Ray Hubbard burgers, Cheese Fries Surprise, chips and queso, or The Brad Sham, from the first bite.
In order to quench your thirst, make sure to check out their full bar to uncover a wide selection of local craft beers and their signature cocktails.
Plus, don't miss out on Moontang Mondays and Worthy Wednesdays specials, or enjoy Happy Hour on weekdays from 4 to 7 PM for discounted beers, wine, and well drinks.
Overall, Rodeo Goat's generous portions ensure a fulfilling meal. Finally, after your visit, don't forget to vote for your favorite burger on their website.
Location: 2095 Summer Lee Dr. Suite 105, Rockwall, TX 75032
Website: https://www.rodeogoat.com/
Phone: (469) 769-4628
Pier 101 has been a favorite spot of a penchant for seafood since 2016. The establishment sits right outside the square in downtown Rockwall, making it a convenient dining place in the city.
This is a paradise for seafood connoisseurs cooked in Cajun and Creole styles. It is also noteworthy that Pier 101 is open daily for lunch and dinner, providing a consistent and reliable spot to dine.
At first, you'll see the rustic setting, with wood wall panels and large windows in a cozy atmosphere. With its diverse items on the menu, from fried baskets and Cajun boils to po' boys, the eatery's offerings can always satisfy your taste buds. Plus, plant-based meals are also available.
Here, the restaurant invites you to savor their juicy oysters on the ½ shell, coconut shrimp, crab fingers, or Dirty rice. These dishes are expertly prepared that will leave you with a lasting impression.
To add more surprises, Pier 101's weekly chef specialties showcase unique items not found on the regular menu. Of course, no meal is complete without a drink. So visit their full bar and sip on some beers, red/white wines, or specialty cocktails while dining.
Remember to take advantage of their Happy Hour specials for more affordable dishes.
Pier 101 is also family-friendly, providing children's meals for kids aged 12 and under. Please note that the last seating is available 15 minutes before closing.
Location: 101 S Fannin St, Rockwall, TX 75087
Website: https://www.pier101seafood.com/
Phone: (469) 382-4559
Just a short drive from downtown Dallas, Culpepper Steak House has been a beloved destination for over 40 years. Known for its upscale American fare infused with Texas charm, Culpepper Steak House has earned a prestigious AAA Diamond rating.
They possess a romantic and classy atmosphere in a two-story rustic lodge. The downstairs area presents a formal stone-walled room adorned with eclectic memorabilia, such as an airplane wing and taxidermied animals.
Upstairs, you'll find a unique round table imported from Liverpool, England. For enjoying the fresh air and the Texas sunshine, requesting a table on their inviting backyard patio is also a good idea.
The menu here is chef-driven, showcasing farm-to-table ingredients sourced from local suppliers. There are many selections of tasty prime steaks, fresh seafood, and seasonal specialties. And all of them are skillfully crafted to tantalize diners' taste buds.
The highlights on their menu are Diver scallops, calamari, petit filet, or fried lobster. Guests can even elevate their dining experience by choosing from the award-winning wine list or indulging in a hand-crafted cocktail.
As there is a music venue here, Culpepper Steak House occasionally hosts live performances, providing an entertaining backdrop to make your dinner more pleasant. Overall, if you need a place to savor great dishes in a unique setting with music, don't overlook this place.
Location: 309 I-30 Frontage Rd, Rockwall, TX 75087
Website: https://culpeppercattleco.com/
Phone: (972) 771-1001
Luigi's Italian Cafe is a family-operated chain famed for its authentic Italian fare and a welcoming atmosphere. With three locations in Texas, including Rockwall, Royse City, and Quinlan, this charming cafe is a perfect spot for a family meal or an intimate date.
The restaurant exudes casual yet classy vibes with old-world charm. The spacious and open dining room has a full bar, while a private room in the back is available for meetings and events.
In general, Luigi's Italian Cafe is large-crowd friendly as they provide different table sizes to accommodate various group sizes.
The Italian-focused menu highlights homemade baked Italian pasta and hand-stretched Italian pizza. In addition, plant-based and gluten-free items are available and can be modified to suit vegan diets.
Some ideal dishes to try here are spaghetti, lobster ravioli special, and cheese pizzas. With moderate prices and generous portions perfect for sharing, this place ensures exceptional value without compromising on quality.
On the other hand, ample parking is another plus for a hassle-free visit. So let's discover the warmth and authenticity of Luigi's Italian Cafe as soon as you can!
Location: 2002 S Goliad St, Rockwall, TX 75087
Website: http://www.luigisitaliancafe.com/
Phone: (972) 722-0233
Since its inception in 1978, Snuffer's Restaurant & Bar has been acclaimed for its delectable American classics. And most notable ones are its signature burgers and original cheddar fries.
With several locations peppered throughout Texas, namely Addison, Highland Village, and Richardson, Snuffer's boasts a rich history that includes ghostly encounters at its original location on Lower Greenville Avenue in Dallas.
The Rockwall branch is easily accessible from the interstate. With old-school space providing a stunning view of Lake Ray Hubbard, so don't forget to bring your camera to capture the breathtaking sunset view.
The bar area has numerous TVs, while the homey interior is complete with some simple wood-stained booths. Diners can also enjoy enclosed patio seating with hanging bulb lights overhead. There is also live music on select evenings.
Regarding the menu, you'll find tons of options, such as chicken, sandwiches, wraps, and more. They are all handmade items, from cooked-to-order burgers, and hand-cut fries, to hand-battered chicken.
The restaurant uses 100% ground meat for its burgers and avoids frozen products. Their famous cheddar fries are made with freshly grated aged Wisconsin cheddar cheese and Idaho potato fries.
Each month, Snuffer's introduces distinctive new burger creations to ensure their diners will never get bored with their food.
For the drink, they have a full beverage menu, including signature cocktails and innovative libations. Moreover, come here during their Happy Hour to enjoy discounted drinks and appetizers.
Highly recommended delights at Snuffer's Restaurant & Bar are cheddar fries, Nashville hot chicken strips, chicken fried steak, and sample their out-of-this-world ranch dressing. Lastly, frozen margaritas are the best refreshment to make your meal become the best one ever!
Location: 2901 Village Dr, Rockwall, TX 75087
Website: https://snuffers.com/
Phone: (972) 722-9811
Charlie's Burgers And Street Tacos, tucked in Rockwall's historic downtown square, is another local hit that you should know. This cool, rustic spot is famous for yummy burgers and street-style tacos, made and served by local folks.
You'll adore the warm and inviting vibe, with a fun setting that encourages you to unwind and savor your food. On lovely days, enjoy outdoor seating with sidewalk stools for prime people-watching.
They make hand-rolled tortillas, grind meat daily, and create homemade corn chips for ultimate flavor. As a result, each dish highlights the restaurant's dedication to quality and flavor. Some menu stars, for example, are smoked brisket tacos, short rib tacos, elotes, or shroom burgers.
What's more, kids 12 and under have an exclusive menu, while grown-ups can enjoy local beers and margaritas. For a sweet deal, come to Happy Hour on Tuesdays and Thursdays (4 to 7 PM) or get all-day drink discounts on Wednesdays and Sundays.
Don't skip Taco Tuesday with budget-friendly prices on margaritas, tacos, and chips & salsa. Prices are a bit high, but the big food portions are worth it.
Pro tips: look for coupons on Google to save more.
Location: 213 E Rusk St, Rockwall, TX 75087
Website: https://www.charliesbst.com/
Phone: (469) 338-5084
Debuted in 1981, Joe Willy's has been impressing locals with their classic favorites like burgers, salads, baskets of fries, and milkshakes.
This hometown gem is open daily, and the large menu is conveniently displayed behind the counter, making ordering a breeze.
Stepping into Joe Willy's, you'll be enveloped by a nostalgic atmosphere. With other art touches like mini arcades, walls adorned with posters and framed photos of locals and sports teams, the overall ambiance is so nice, let alone their food.
In fact, Joe Willy's is more than just a quick-service restaurant. This is a locals' favorite restaurant as being an active supporter of the local community, occasionally hosting fundraising events.
That's why it's an ideal spot for community meetings, family gatherings, and friendly get-togethers, as the ample seating at booths and tables accommodates large groups with ease.
As for the menu, patrons can't go wrong with the chicken fried steak sandwiches, beef taco salads, or fried mushrooms. One unique feature of Joe Willy's is the condiment bar, featuring a variety of toppings to customize your meal.
Also, parents will appreciate the kids' meals for children 10 and under. For dessert lovers, this place never fails them with hand-dipped shakes made from locally-sourced ice cream and scrumptious bakery goods.
Location: 2006 S Goliad St #200, Rockwall, TX 75087
Website: http://www.joewillys.com/
Phone: (972) 772-9432
Chiloso Mexican Bistro, situated in the Ridge Road Town Center, is another Mexican restaurant adding its modern take on the classics.
With additional locations in Texas cities such as Wylie, Southlake, and Denton, this stylish chain is the perfect stop for breakfast, lunch, and dinner every day. FYI, their Austin-style breakfast tacos won "Best breakfast for $5 or less" from D Magazine.
Chiloso Mexican Bistro's fun atmosphere has indoor and outdoor seating for an enjoyable meal. However, the inside can be a little bit cool, so bring a jacket for extra warmth.
Their big menu contains burritos, salads, nachos, and more, which are also available for vegan and vegetarian choices.
There are also many sauces to choose from, and you can help yourself to as much as you want. During your visit, try grilled avocado plates, breakfast tacos, tortilla soups, and tamales, or check out daily specials. Each dish highlights creative flavors that make this restaurant a must-see.
A quick tip: For a smoother visit, call ahead to order and cut down on wait time.
Location: 2455 Ridge Rd, Rockwall, TX 75087
Website: https://chilosomexicanbistro.com/
Phone: (972) 722-8226
Book Club Cafe lies in the enchanting and historic Downtown Square. Here, you can immerse yourself in the unique blend of American cafe fare, freshly brewed coffee, and mouthwatering baked goods.
This trendy, cultural-themed cafe boasts hipster vibes in both enjoyable indoor and outdoor dining areas. The versatile seating includes large tables, lounge chairs, and cozy couches, creating a welcoming atmosphere for everyone.
The culinary approach of this dining spot showcases the combination of modern Americana with old-world techniques. For the health-conscious, you can be assured that their 100% scratch-made, hand-crafted food is free from additives, stabilizers, and fillers.
Some must-order items at Book Club Cafe are Sweet Emotion Sandwiches, Eyed Willie, and Big Cat Burgers. Moreover, the bakery products are prepared and baked fresh each morning with heirloom recipes.
Apparently, with a commitment to using simple and organic ingredients, this cafe sources the finest coffee from around the world and employs hand-crafted techniques to ensure the highest quality. This place also has a kid-friendly environment, which is ideal for families.
Location: 107 E Kaufman St, Rockwall, TX 75087
Website: https://www.bookclubtx.com/
Phone: (469) 314-1737
SIDEWAYS is a high-end BBQ eatery in The Harbor Rockwall that started in 2018. And this place is a staple for meat and beer lovers.
SIDEWAYS has received multiple nominations for its outstanding performance, such as Best BBQ in North Texas, Top Emerging Business, and Best Destination in Rockwall, solidifying its reputation as a top-tier destination.
Set in rustic-industrial surroundings, SIDEWAYS features a light-filled, airy dining room with plenty of seating. The three garage doors open up to an outdoor seating area, where you can sit under a covered patio and enjoy the picturesque view of Lake Ray Hubbard.
This lively spot also includes a staging area for live music on the patio, hosting live performances throughout the week, including karaoke nights and live bands or solo artists. Plus, SIDEWAYS is dog-friendly!
At SIDEWAYS, guests can relish a diverse selection of shareable plates from the regular menu. They also have an after-hour menu with an assortment of sandwiches, fries, and other delicious treats so you can have more options to consider.
When deciding what to eat at SIDEWAYS, try the fried pork ribs, Cowboy caboodle, or Burnt Ends (available only on Wednesdays, Saturdays, and Sundays).
The establishment's impressive beverage list is diverse as well, which ranges from non-alcoholic drinks to wine, tequila, and domestic drafts.
Be sure to make the most of the Happy Hour specials, but remember that the venue can get quite crowded by 7 PM on Friday evenings.
Location: 2067 Summer Lee Dr Suite 105, Rockwall, TX 75032
Website: https://sidewaysbbq.com/
Phone: (469) 769-1551
If you visit the Plaza at Rockwall, let's come and enjoy the culinary goodness at Samee's Pizza Getti Restaurant. This charming neighborhood bar and eatery honors its rich family heritage, serving up traditional Italian cuisine with a modern and innovative twist.
Not only has Samee's Pizza Getti been recognized as the Best Pizza in Rockwall, Texas. Its vibrant atmosphere and moderately noisy background also are some of many reasons that turn it into a local's well-loved destination.
The restaurant has an intriguing layout, separating the bar area from the dining section. It is a great place to hang out and watch sports with friends, thanks to numerous TVs mounted on the wall that broadcast every NFL Sunday Ticket game.
On the other hand, the menu features an exquisite fusion of Italian and French culinary styles, including award-winning cracker crust pizzas, pasta, hearty salads, and delicious soups. For a better experience, check out daily happy hour specials.
Open seven days a week from 11 AM to 10 Pm, so whenever you're in the mood for mouthwatering Italian cuisine, come here and order the Meat Lovers pizza, chicken Angelica, or fettuccine alfredo at Samee's Pizza Getti.
With a family-friendly environment, Samee's Pizza Getti also caters to children with special kids' meals and various to-die-for desserts.
Location: 561 E Interstate 30, Rockwall, TX 75087
Website: https://sameespizzagetti.com/
Phone: (972) 722-5835
Residing in the Downtown Historic District of Rockwall, The Roundabout – Rockwall is a neighborhood pub boasting a delightful fusion of traditional English cuisine with an American touch.
Open daily from 10/11 AM until late at night, this charming spot is perfect for a girls' night out or catching up with friends.
As a Texas-take-on-a-British pub, the vibe is hip and funky with country-inspired settings from wooden tables. The interior is ideal for several entertainments, such as darts, a pool, and TVs for live sports.
Meanwhile, the spacious patio and beer garden provide plenty of picnic tables, heaters, and a large stone fireplace. Feel free to bring your dogs along to enjoy the patio. Plus, they also have live music on certain days.
The diverse menu at The Roundabout includes everything from soups and sandwiches to tacos. And on weekends, you can indulge in chef-driven seasonal dishes made with the freshest produce.
When deciding what to eat and drink, go for some signature feasts, such as fish and chips, Scotch eggs, bangers, Mash, Guinness, or Bloody Mary.
In reality, their top-tier bar also has various beer options, signature cocktails, exclusive Highland Single Malt Scotch, and various aged distilleries. Lastly, remember to take advantage of daily happy hours, which are from 3 to 6 PM, for better-price dishes.
Location: 308 N Fannin St, Rockwall, TX 75087
Website: https://roundaboutpub.com/
Phone: (469) 314-1126
Ramen Head is the go-to spot for classic ramen and Asian street food in the Downtown Historic District of Rockwall; more specifically, this place is just across from the Historic Courthouse.
This hip and modern eatery is where you can dig for comfort meals for lunch, dinner, and weekend brunch.
The trendy ambiance at Ramen Head is accentuated by cool wall mural art, stained floors, origami cranes, and Edison bulbs. Thanks to the modern dance music playing in the background, it enhances the lively and fun atmosphere.
How about the menu, is there any special from other places? Obviously, this place is for Asian food fans as they offer a variety of Asian cuisine that blends locally sourced ingredients with bold flavors.
The ramen broth is the main star in their signature delicacy, which is boiled for an extended time with special seasoning. The menu also includes vegan and gluten-free options, such as GF ramen.
So when you're ready to dive into their Japanese fare, some recommendations are the Signature Tonkotsu Ramen, Japanese Deviled Eggs, or Black Garlic Ramen. For those looking to enjoy an alcoholic beverage, beer, wine, and sake-based cocktails are available.
In addition, you can test your appetite with the RH Challenger Bowl, where you'll aim to finish a 4-in-1 ramen bowl in just 45 minutes.
A quick tip: To minimize your wait time, sign up for Ramen Head's waitlist.
Location: 112 N San Jacinto St, Rockwall, TX 75087
Website: https://www.ramenheadrockwall.com/
Phone: (469) 314-1657
Opened in 1987, Wells Cattle Co. Burgers & Pies is a rancher-owned and farm-to-table restaurant close to downtown Rockwall. Inspired by the owner's experiences and his dad, this spot serves distinctive burgers, hot dogs, and sides that you can hardly find in other places.
The casual yet stylish setting has old ranch house decorations, and the roomy dining area fits big groups. Big windows let in sunlight, making a bright and friendly vibe.
They really emphasize the quality of ingredients. That's why Wells Cattle Co. stands out with premium, local ranch-raised, grass-fed, and grass-finished whole-ground beef.
Besides hand-cut fries, they also offer homemade pies and cobblers. For health-focused eaters, this is a great place to enjoy keto, low-sugar, and gluten-free food. What's better, all delicacies are made to order, and there are kids' meals and drinks that are designed for children 12 and under.
If you wonder what to eat here, keto burgers, Wells chicken burgers, or Wells beef burgers are the most popular treats among diners. For dessert, peach cobbler or chocolate pie are top choices.
Location: 206 N Fannin St, Rockwall, TX 75087
Website: https://wellscattleco.com/
Phone: (469) 745-1625
Located in the Steger Towne Crossing, Onassis Greek Taphouse + Kitchen is a place to explore another cuisine. Led by the skilled Chef Kostas Lazanas, this warm and inviting restaurant welcomes guests seven days a week to savor the flavors of Greece.
Upon arrival, the restaurant's stunning appearance outside and within is what impresses your first. It features a chic layout with brick walls, wooden tables, vibrant cushioned chairs, and elegant hanging lights.
The well-lit dining room houses a bar area with multiple TVs, perfect for catching up on your favorite shows while enjoying a meal. For an alfresco dining, the beautiful covered outdoor seating area is a delightful option.
To have a truly unforgettable meal, you should order Tzatziki, Greek salad, and lamb souvlaki platter, paired with Baklava Latte, signature cocktails, local draft beers, or carefully-curated wines. And make sure to leave room for dessert, like one-of-a-kind Baklava cheesecake.
Finally, it'd be a pity to miss out on the Happy Hour specials. During this time, you can enjoy more affordable food items and drinks.
Location: 760 W Ralph Hall Pkwy Ste 120, Rockwall, TX 75032
Website: https://www.onassisrockwall.com/
Phone: (469) 769-1251
If you have a chance to travel to the eastern shore of Lake Ray Hubbard, save Dodie's Cajun Restaurant at The Harbor on your list.
Generally, this beloved eatery has enchanted patrons with its authentic New Orlean fare and flavorful Cajun/Creole creations. Regarding their opening time, you can stop by any day between 11 AM to late night, or for weekend brunch (11 AM to 2 PM).
The bar stays open late, and the restaurant accommodates semi-private dining, full private buyouts, and catering with a personalized menu.
Additionally, Dodie's is not only renowned for its cuisine but also for the captivating atmosphere it creates. You'll feel the romance of the French Quarter amidst stunning sunset and sailboat views.
The covered enclosed patio is where to relish a spectacular vista of the Harbor Amphitheater and lighthouse, and dogs are welcome to join you there. Don't miss live music events like Rockwall's free Concert by the Lake Series on Thursday evenings in the summer!
As a winner of the Rockwall Herald Banner's Readers Choice Contest for Favorite Restaurant and Best Seafood, Dodie and its made-from-scratch recipes are so good to be true.
Try some of the top dishes with crab cake benedict, A Taste of New Orlean, or stuffed mushrooms. Seafood, pasta, and other dishes are also elevated with a secret glaze of molasses, Dijon mustard, cayenne pepper, and brown sugar, complemented with Cajun slaw or a side salad.
FYI, their Happy Hour is available from 2 to 7 PM on Mondays through Fridays, or drink specials from Sundays to Thursdays. If you come here with family, they also offer family-packed deals for hassle-free orders.
Location: 2067 Summer Lee Dr Suite 115, Rockwall, TX 75032
Website: https://dodiesattheharbor.com/
Phone: (972) 771-0004
Are You Ready For The Food Tour In Rockwall, Texas?
Rockwall, Texas, is a paradise for those passionate about food, providing a rich tapestry of flavors and culinary adventures. As you've explored the famous eateries in Rockwall, it's clear that each restaurant brings its unique style, exceptional cuisine, and incomparable atmosphere.
It's time to plan your visit to these unique culinary offerings. Don't forget to share your encounters with others and publicize the luscious cuisine you've enjoyed savoring.
If you stumble upon a hidden eatery that strikes a chord, do not hesitate to share it in the comments below. I am always excited to uncover novel and exhilarating gastronomic experiences so I can add more options to my list.
So go ahead, allow your taste buds to lead you on this extraordinary journey, and taste the flavors of Rockwall, Texas.