This is a detailed list of the best restaurants in Uptown Dallas, Texas. Even if you want to feed your belly with seafood, steaks, pizzas, or anything, you can easily find them in Uptown Dallas. I bet the post can save you time and even money on your next trip to this place.
As an upscale neighborhood in Dallas, this area is home to office buildings, antique stores, apartment complexes, hotels, etc. However, you'll regret it later if you pass by the town without realizing it is a heaven of food with plenty of fabulous restaurants.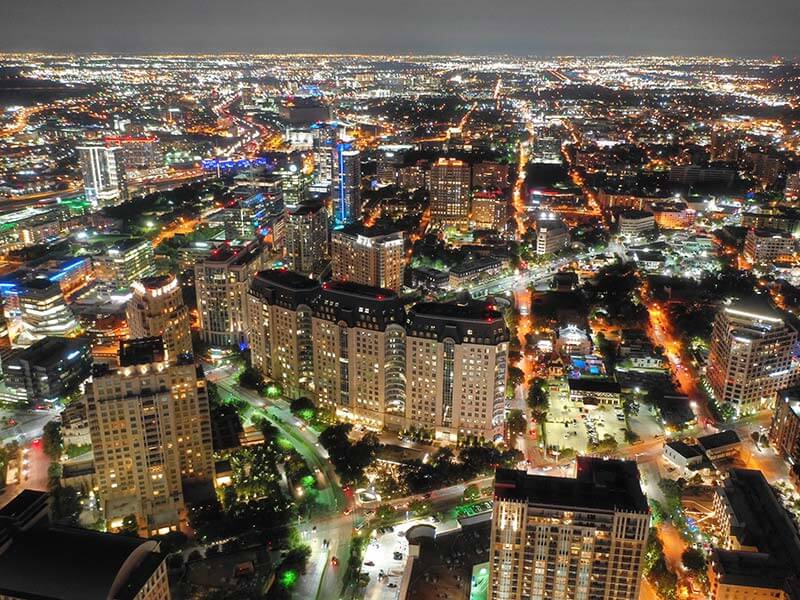 Top-Notch Restaurants In Uptown Dallas That Worth A Try
Why is Uptown Dallas a heaven of food? That's because there are various relaxed eateries providing cuisines ranging from American to Asian. Not only is the food excellent, but the customer service and atmosphere are above standard.
Truluck's is one of the exceptional waterfront eating establishments in Texas' Houston and Dallas. It's a prime seafood and crab chain serving upscale dishes from the best-quality ingredients.
If it's the first time you visit Truluck's, you shouldn't pass up their world-renowned fresh crab claws. Their Florida Stone crab claws are a seasonal staple and arrive directly from the traps to the customer plate in less than 24 hours. It's always fresh and never frozen.
Truluck's does require an upscale dress code for all patrons. Beachwear, gym attire, athletic apparel, or oversized clothing is strictly prohibited. Be sure to check the dress code policy on their website first to avoid unforeseen circumstances.
Price Range: $$$$
Food Styles: Seafood, American
Location: 2401 McKinney Ave, Dallas, TX 75201
Website: https://trulucks.com/
Phone: (214) 220-2401
Table Reservation:
Order Online: Not Available
Truluck's Ocean's Finest Seafood & Crab will bring you the impeccable dining experience.
Situated in a convenient location, on the ground floor of One Uptown, Fogo De Chao Steakhouse is always an attractive dining destination. The establishment serves appetizing dishes rooted in Brazilian traditions, craft cocktails, and award-winning wines.
Beholding a long history of development, the first Fogo De Chao was built in 1979 in the countryside of Porto Alegre, Brazil. Until 1997, they decided Dallas, Texas, was the location for the debut of Fogo in the United States.
Fraldinha (bottom sirloin) is one of the finest cuts at this steakhouse. Prepared carefully by gaucho chefs, the steaks are not only tender and bold in flavors but also high-marbling. The savory dish can go excellently with garlic mashed potatoes or any choice of your favorite sides.
Price Range: $$$
Food Styles: Brazilian, Steakhouses, Latin
Location: 2619 McKinney Ave #150, Dallas, TX 75204
Website: https://fogodechao.com/
Phone: (214) 720-2777
Table Reservation:
Order Online:
Come to Fogo De Chao Steakhouse and experience special steaks.
Where to savor wonderful oyster dishes in Uptown Dallas? I'll go to S & D Oyster Co. Located between Boll Street and McKinney Avenue, S & D Oyster Co. has been a favorite eatery of locals and tourists since 1976.
Upon entering, this family-owned eatery offers a cozy ambiance with a relaxed and romantic outdoor patio. It'll make you feel like taking a trip to New Orleans. Even if you're here for lunch or dinner, you'll get the greatest experience at S & D Oyster Co.
Though the establishment is old-fashioned, they have reconstructed it with a full bar, two fully equipped kitchens, and a toilet with a baby-changing station. The establishment doesn't take reservations, but the service is impeccable and meets all your needs.
Price Range: $$
Food Styles: Seafood, American, New Orleans
Location: 2701 McKinney Ave, Dallas, TX 75204
Website: http://sdoyster.com/
Phone: (214) 880-0111
Table Reservation: Not Available
Order Online: Not Available
Uchi is an interesting tourist destination for fans of Japanese cuisine. Unlike most Japanese restaurants only focusing on traditional dishes, Uchi takes on modern-style cuisine, including hot and cold tastings, seafood, and sushi.
Chef and Owner Tyson Cole is an American sushi master trained for years in Tokyo, New York, and Austin. One of his biggest accolades is Best Chef Southwest by James Beard Foundation 2011.
You can try out Hama chili, one of the specialties at Uchi. It's a slice of yellowtail paired with Thai chili, orange supreme, and ponzu (a Japanese citrus-based sauce). Pork belly, spicy crunchy tuna, or soft shell crab are also amazing.
Price Range: $$$
Food Styles: Japanese, Sushi, Seafood
Location: 2817 Maple Ave, Dallas, TX 75201
Website: https://www.uchidallas.com/
Phone: (214) 855-5454
Table Reservation or call to make a reservation
Order Online:
Let's take a quick glance at some specialties at Uchi in Uptown Dallas.
Fearing's Restaurant is a splashy venue providing excellent American cuisine for locals, visitors, celebrities, sports stars, and even heads of state.
The dining joint offers an extensive menu representing evaluated dishes for breakfast, lunch, and dinner. Plus, there are plenty of vegetarian-friendly options such as tortilla soup, chili-braised jackfruit street tacos, vegan roasted cauliflower makhani curry, etc.
Consisting of eight indoor and outdoor settings, each is different in style, size, and purpose. This place is perfect for celebrating unforgettable celebrations, events, social gatherings, etc.
Note: The restaurant highly suggests all guests make a reservation before coming.
Price Range: $$$$
Food Styles: American, Steakhouses, Bar
Location: 2121 McKinney Ave, Dallas, TX 75201
Website: https://fearingsrestaurant.com/
Phone: (214) 922-4848
Table Reservation or call to make a reservation
Order Online: Not Available
It'll blow your mind if you know that the beginning of this premium steakhouse was a modest butcher shop. Accompanied by a great deal of effort, Perry's quickly garnered national attention and became an award-winning steakhouse across America.
At Perry's Steakhouse, you'll get a chance to try USDA prime steaks rubbed with secret seasonings. The famous pork chop is one of the signature dishes here. Its ideal smokey and caramelized flavor will keep you coming back for more.
Besides meat lovers, this Dallas dining establishment is also famous among vegans. That's because they serve incredible vegan dishes, including spaghetti squash primavera and vegan skillet chopped steak.
Price Range: $$$
Food Styles: Steakhouses, Seafood, American
Location: 2100 Olive Street Suite #100, Dallas, TX 75201
Website: https://perryssteakhouse.com/
Phone: (214) 855-5151
Table Reservation:
Order Online or call for a pickup order
Discover the notable 7-finger high pork chop carved tableside at Perry's Steakhouse & Grille.
Malai Kitchen is a nice dining place in Dallas to find Indian, Thai, Vietnamese, and other delightful Southeast Asian dishes. They offer a menu of made-to-order dishes to accommodate a variety of dietary preferences, like gluten-free, vegetarian, or vegan.
In January of 2011, Malai Kitchen opened its first location in Uptown Dallas and quickly became an attractive spot for foodies nationwide. Designed with wood wallpaper and light fixtures, Malai Kitchen Uptown creates a warm and welcoming ambiance for diners.
The drink selection is various, especially the six house-brewed beers on tap consisting of Vietnamese lager, IPA (Indian pale ale), peach tea wheat, etc. Some recommended dishes at Malai Kitchen are shrimp pad Thai, lemongrass chicken, or pineapple fried rice.
Price Range: $$
Food Styles: Thai, Vietnamese, Asian
Location: 3699 McKinney Ave #319, Dallas, TX 75204
Website: https://www.malaikitchen.com/
Phone: (214) 599-7857
Table Reservation:
Order Online:
Malai Kitchen will please your taste buds with delicious Asian dishes.
As one of the top-rated Italian venues in Dallas Texas, Grimaldi's Pizzeria won't disappoint your expectations for coal-fired and brick-oven pizzas, following over 100 years of traditions.
Surrounded by various towering living complexes and shops, Grimaldi's Pizzeria is on the corner of Noble Street and City Place West Drive. Also, behind the restaurant, there's a three-level parking garage, so guests can easily access the pizza restaurant.
Grimaldi's Pizzeria has ample outdoor seating that can accommodate 50 people and over 100 seats inside. The interior design is old-school style and creates an inviting atmosphere. All the staff is courteous and friendly. You'll never regret spending your time at Grimaldi's.
Price Range: $$
Food Styles: Pizza, Italian
Location: 3636 McKinney Ave Ste. 190, Dallas, TX 75204
Website: https://www.grimaldispizzeria.com/
Phone: (214) 559-4611
Table Reservation:
Order Online:
This is how Grimaldi's Pizzeria produces high-quality and authentic pizzas.
The Rustic is a nightlife destination serving homestyle fare and authentic local beer, wines, and cocktails. Have a seat at their award-winning patio under the stars and listen to live music from artists. It's fabulous.
If you visit the bar at their happy hour from 3:00 P.M-6:00P.M every day, you get exceptional drinks at a bargain price. The only downside is that it may take time for your order to be ready to serve. Nevertheless, the food gets no complaints.
The Rustic is also an ideal location to celebrate private parties such as birthdays, rehearsal dinners, fundraisers, etc. They offer attractive packages for parties of 20 or more guests. To book the service, you can visit their website and make an inquiry.
Price Range: $$
Food Styles: American, Bar
Location: 3656 Howell Street, Dallas, TX 75204
Website: https://therustic.com/
Phone: (214) 730-0596
Table Reservation: Not Available
Order Online:
Uptown Dallas is well-known as one of the most pedestrian-friendly neighborhoods in Texas. And if you're planning to discover the sheer beauty of Dallas' Katy Trail, you can stop by Katy Trail Ice House to sip a cold beer and enjoy yummy bar food items.
This casual-style joint has one of the greatest patios in town that can accommodate large gatherings of visitors. Whether customers are elderly, kids, or dogs, they will all have a fun and enjoyable experience at Katy Trail Ice House.
The wide beer collection will amaze you with more than 50 types of beer on tap. Reputable Texas beers, cocktails, or liquors, you can find all on the long beverage menu of the establishment.
Price Range: $$
Food Styles: Bar, Traditional American, Barbecue, Austin
Location: 3127 Routh Street, Dallas, TX 75201
Website: https://katyicehouse.com/
Phone: (214) 468-0600
Table Reservation: Unavailable on weekends, only for parties of 15 or more
Order Online:
Coming to Nick & Sam's, you will be bound to love their crafted menu with fine dining dishes from seafood to steak and sushi. If you want to try a variety of American and Japanese cuisines, Nick & Sam's should be on your must-visit list in Uptown Dallas.
They are famous for delectable seafood appetizers like crab cake, tempura shrimp, or savory main dishes such as West Australian lobster tail, sushi rolls, and sashimi.
Furthermore, 7-layer cakes are an unbeatable signature, which gives the guest a great dining experience. They provide various versions of the cakes, such as carrot cakes, red velvet, German chocolate, or rainbow.
The restaurant's hours of operation are 5:00 P.M- 10:00 P.M Sunday through Wednesday. It's closed 1 hour later on Thursday and Saturday. Note that a business casual dress code is required at Nick & Sam's.
Price Range: $$$$
Food Styles: American, Steakhouse
Location: 3008 Maple Ave, Dallas, TX 75201
Website: https://www.nick-sams.com/
Phone: (214) 871-7444
Table Reservation:
Order Online:
Nick & Sam's is worth a visit for its high-quality food and excellent service.
Crushcraft Thai Eats should be on the list of the finest restaurants to eat Thai food in Dallas Texas. It's a casual hangout serving superb Thai dishes made from high-quality ingredients.
Even though the bill of fare isn't extensive, each dish is irresistible. One of my favorites of all time is Khao Soi. It's a Thai noodle soup with marinated chicken, half-boiled egg, shallots, mustard greens, and herbs. This treat is a must-try for your first time here.
Crushcraft Thai Eats in Uptown Dallas also has a catering service for parties of 10 or more guests. You can call for catering orders one day in advance. Plus, delivery for catering orders is available.
Price Range: $$
Food Styles: Thai, Asian
Location: 2688 Laclede Street #100, Dallas, TX 75201
Website: https://www.crushcraftthai.com/
Phone: (972) 677-7038
Table Reservation: Not Available
Order Online; or call for take-out orders and curbside delivery
Crushcraft Thai Eats can please every customer from the delectable meals to excellent service.
If you're searching for an impressive brunch spot in Uptown Dallas, Bread Winners Cafe is my first recommendation. With rustic and New Orleans-style decorations, you'll love its casual yet chill and lively ambiance in this bakery.
Their brunch menu is impressive, with delicious items such as breakfast tacos, French ham benedict, smoked salmon bagel, and fried chicken and waffles. I'm not lying to you, but they serve the best chicken and waffles in town.
This dish is the perfect combination of crispy chicken, cream gravy, and bacon cheddar waffles. You should come in person and experience the food.
Price Range: $$
Food Styles: American, Cafe, Bakeries
Location: 3301 McKinney Ave, Dallas, TX 75204
Website: https://www.breadwinnerscafe.com/
Phone: (214) 754-4940
Table Reservation: Not Available
Order Online:
Uptown Dallas Is Never Lacking In Excellent Eating Destinations
No matter if you're a local, a newcomer, or a tourist, one thing is certain: your stomach never gets empty in Uptown Dallas. This area is packed with numerous laid-back places where you can savor the food and get a memorable experience with your beloved.
You can share this list to inform more people about these wonderful eating places in Uptown, Dallas. Also, leave a comment to express your thoughts. I'm always happy to read your feedback. Last but not least, I'm so grateful for all your support. Thank you, and see you soon!