When finding the best Indian restaurants in Dallas, Texas to eat, it can be overwhelming as there are too many places with countless reviews. That is why I have compiled a list of places in Dallas that serve the tastiest and most flavorful Indian food for you to try.
Dallas is an exciting metropolis in the northern region of Texas. When coming to this county, you will come across many thrilling activities to do, like shopping, visiting tourist attractions, and enjoying local cuisine. Trying different diners is also a fun thing to do in Dallas.
These Indian restaurants are perfect if you're looking for a change from your daily meals. You will get some of the most exotic dishes with colorful flavors and an enjoyable atmosphere. Read through right now to see which places to visit!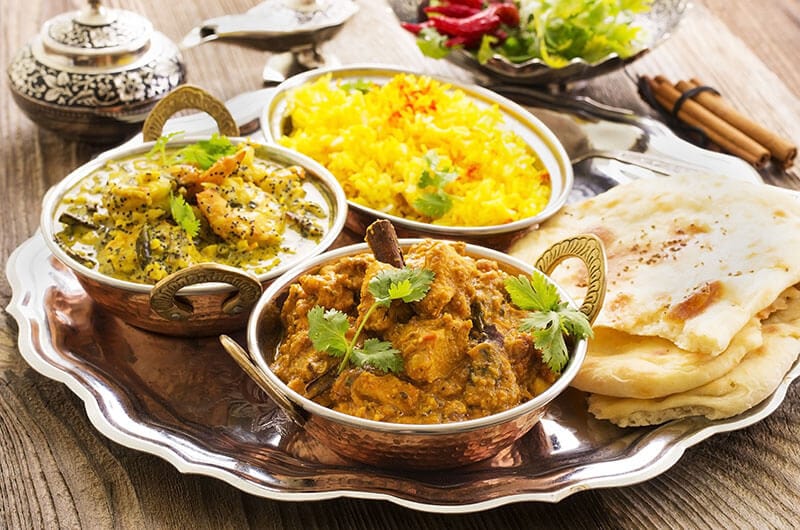 Excellent Indian Restaurants To Have A Meal At In Dallas
There are many factors to consider while choosing a place to eat, like pricing, atmosphere, taste, etc. That's why you should visit the places I'm about to introduce because they all satisfy these criteria.
First on the list is Bawarchi Biryanis, a simple-looking yet sophisticated and well-loved restaurant in Irving (Texas) serving genuine Indian food. What's special about the place and its food is that the chefs always try to put their traditions into the food in the most delicious way possible.
The menu consists of a wide array of dishes like soups, appetizers, and Tandoori dishes. There are also many dessert menu items to choose from. There's a special weekend menu, so you can get different specialties each day.
With many types of services like takeouts, delivery, dine-in, and catering, you can enjoy Bawarchi Biryanis' food in any way you prefer. Just make sure to contact the restaurant and inform them in advance should you have any special request.
Price range: $$
Food style: Indian, soup
Location: 7750 N MacArthur Blvd Suite 195, Irving, TX 75063
Website: https://www.bawarchiirving.com/
Phone: +19724440000
Order Online:
Table Reservation:
Roti Grill is a nice eating place in the Oak Lawn area for an intimate dinner meal with your family or friends. The restaurant offers fresh and healthy food with a hearty flavor for everyone. You can get every classic Indian menu like samosa, wraps, curry, and drinks like tea and lassi.
This place is great for group dinners as it offers a wide range of dishes on the menu. On top of that, you can choose from vegetables-based or meat-based foods in which you can choose from 6 levels of spiciness.
This is one of those restaurants where you can always rely on the food's consistent quality. The dishes here are always seasoned and spiced perfectly to the local's taste; the portion is moderate as it fills your stomach to the fullest.
Price range: $$
Food style: Indian
Location: 4438 McKinney Ave, Dallas, TX 75205
Website: https://freshindianfood.com/dallas/
Phone: +12145213655
Order Online:
Table Reservation: Not available
I guarantee that Urban Tadka is an excellent place to visit if you happen to love Northern Indian food. This place, in my opinion, serves some of the tastiest North Indian dishes I can find.
With lamb dishes as their featured menu, Urban Tadka does an excellent job at bringing out the flavors in the ingredients they use. From lamb curry to lamb with Basmati rice, these dishes will please even the strictest food critiques.
In addition to that, I suggest ordering the chicken Tandoori, Kashmiri chicken, and naan. The chicken here is tender and full of flavor, while the naan is always hot, fresh, and fragrant. You also should not miss out on the drinks, especially the refreshing mango lassi.
Price range: $$
Food style: Indian
Location: 1800 Market Pl Blvd #190, Irving, TX 75063
Website: http://www.urbantadkadallas.com/
Phone: +14694209920
Order Online:
Table Reservation: Contact the restaurant for more information
The next Indian restaurant in Dallas I have to talk about is Kalachandji's. This is a place serving vegetarian Indian food that has been around in Dallas for 40 years. I bet it would be interesting to learn that Kalachandji's is the longest-serving vegetarian Indian restaurant here in Dallas.
Since Kalachandji's serve vegetarian food, they use no meat-based ingredients in making their food. Dishes here suit all the diners as the menu items are quite diverse. Each of them comes with a clear description of the ingredients.
Serving the food as a buffet, you and your loved ones will enjoy your dining experience here. While savoring the food, you can sit at the table overlooking the breezy and pleasant courtyard. But make sure to visit Kalachandji's only from Tuesday to Sunday as it closes on Mondays.
Price range: $
Food style: Vegetarian, Indian buffet
Location: 5430 Gurley Ave, Dallas, TX 75223
Website: http://www.kalachandjis.com/
Phone: +12148211048
Order Online:
Table Reservation: Contact the restaurant for more information
5. Spice Village Indian Restaurant
The last restaurant is among some of the best eateries to have a meal in Dallas, especially when it comes to Indian food: the Spice Village Indian restaurant. It's a hidden gem for many people craving top-notch Southern Indian food here in Dallas.
It's usually not the easiest to find Southern Indian restaurants with an authentic flavor. However, Spice Village Indian Restaurant proves otherwise with its excellent spice and taste. You can expect exceptional Indian menus here that people make from scratch.
Much like a few other Indian restaurants, you will be served a generous serving of food here. This place is also unique in that they season their food the authentic way, without making changes to fit the local appetite.
In addition to the a-la-carte menu, you can go for buffet meals at Spice Village Indian Restaurant on the weekends. This offers an opportunity for you to try out more dishes in smaller portions, making it easier to savor all the exotic flavors of Indian cuisine.
Price range: $$
Food style: South Indian
Location: 5332 Lakeview Pkwy, Rowlett, TX 75088
Business site: https://spice-village-indian-restaurant-restaurant.business.site/
Phone: +14698671448
Order Online:
Table Reservation:
Offering a wide variety of dishes, Mumbai Grill is famous for its lunch buffet and a-la-carte dinner menu. It's a place you must try if you happen to be an Indian food lover and a curry enthusiast.
If you have a chance to try the lunch buffet here, you will be pleased with the dishes they offer, ranging from curries and biryani to desserts. The food here is delicious as they do the seasoning very well. You can also find both vegetarian and non-vegetarian food to try when visiting Mumbai Grill.
But that's not everything you can find at Mumbai Grill. This place is also ideal if you want to try out grilled menus directly from the clay Tandoor oven. These dishes offer the most authentic Indian flavors you can find.
One of the must-try items on the menu has to be the tender and flavor-packed chicken tikka masala. You can order a serving of this chicken with some naan bread or steamed rice for the most delicious meal.
Price range: $
Food style: Indian
Location: 17370 Preston Rd #490, Dallas, TX 75252
Website: http://www.mumbaigrilldallas.com/
Phone: +14695471654
Order Online:
Table Reservation:
This is a place specializing in Indian food, especially sandwiches and egg dishes. At first, you might think about simple and familiar egg dishes like omelets or boiled eggs. However, be prepared to try some of the most flavorful and interesting egg dishes with an Indian touch from EggHolic.
Aside from curries and rice-based dishes, you can find much more at EggHolic. Some of the most famous must-try dishes at Eggholic have to be their signature egg appetizers or sandwiches infused with exotic Indian spices.
EggHolic provides a neat and modern space with bright decorations, which gives you a welcoming feeling when you dine here. The staff here are also friendly with top-notch service, so you are guaranteed a good time enjoying your food at EggHolic.
Price range: $
Food style: Indian, Wrap, Sandwiches
Location: 7750 N MacArthur Blvd Suite 135, Irving, TX 75063
Website: http://theeggholic.com/
Phone: +19726857999
Order Online:
Table Reservation: Not available
Shivas Bar and Grill is a terrific restaurant situated in bustling downtown Dallas serving food from northern and southern India. Aside from the hearty food, you can visit the bar for some exciting drinks.
Not many Indian places in Dallas have a full bar with many options like hard liquor, cocktails, and other alcoholic drinks like Shivas does. This makes it the perfect place to go for both a drink and a meal in a large, nicely decorated space.
One more reason why Shivas is one of my top-favorite places is how the portions are generous. Unlike many places where people serve servings for one, Shivas offers large portions that you can easily share with others when eating.
Price range: $$
Food style: Indian, Bars
Location: 1001 Ross Ave #132, Dallas, TX 75202
Website: https://www.shivasbarandgrill.com/
Phone: +14692501429
Order Online:
Table Reservation:
This restaurant is a place with everything you're looking for. Mughlai Fine Indian Cuisine offers quality service and the tastiest food. Although the price can be a bit high for some, it is worth every penny as the dishes here like chicken or goat curry are excellent.
Mughlai is famous as a must-come restaurant in the US with its buffet service for lunch. It provides a wide selection of foods.
Some of the best items are garlic Naan and chicken tikka masala (roasted chicken chunks in a spiced sauce). Not only is the food delectable, but the environment and atmosphere here are also pleasant.
Another excellent aspect that I have to mention is the top-notch service here at Mughlai. The waiters and waitresses always greet you with a smile and are passionate about what they do. They know very well what to suggest to each customer.
If you have a chance to drop by the county of Dallas and crave some Indian food, I highly recommend visiting this restaurant. You won't be disappointed.
Price range: $$
Food style: Indian
Location: 5301 Alpha Rd UNIT 14, Dallas, TX 75240
Website: https://mughlaidfw.com/
Phone: +19723927786
Order Online:
Table Reservation: Contact the restaurant for more information
Despite the modest space and atmosphere, this place has some of the best Indian signature dishes you can find in Dallas.
A1 Indian Grill is a favorite for many locals in Dallas as they serve hot and fresh food in a short amount of time. Most people prefer going here for some hearty and flavorful takeout Indian food.
When visiting this place, you should try some popular Indian specialties like lamb Biryani and garlic Naan. The portions you get are usually very large and filling. In terms of flavors, you will see that it almost resembles the authentic taste you would get right in India.
Price range: $
Food style: Indian
Location: 3628 Frankford Rd Suite 265, Dallas, TX 75287
Website: https://dallasa1indiangrill.com/
Phone: +19728100222
Order Online:
Table Reservation:
Hyderabad is a city in India that has many tasty dishes. And Hyderabadi Biryani and BBQ has done an excellent job recreating such delicious dishes and bringing them back here to Dallas.
At Hyderabadi Biryani and BBQ, they serve the most traditional Indian dishes like mutton Biryani, Dal Tadka, etc. The best part about this place is that the cooks use only the authentic herbs and spices straight from Hyderabadi, making the food taste just like the original version.
Since Hyderabadi food is still a foreign concept for a few, you can always ask for suggestions from the staff standing at the counter. They will give you some of the best and most authentic tasting dishes.
Price range: $
Food style: Indian, Pakistani, Halal
Location: 11276 Harry Hines Blvd #103, Dallas, TX 75229
Website: https://hyderabadibiryaniandbbq.com/
Phone: +19722435407
Order Online:
Table Reservation:
Indian Palace is another must-try place with a sophisticated atmosphere and meal quality. It has many branches, so besides Dallas, this place is one of the top-rated Indian restaurants in San Antonio.
Offering both lunch buffet and a-la-carte meals, you can choose from many versatile dishes from Indian cuisine here. The food here is always palatable as the restaurant uses only the freshest produce.
When having a lunch buffet here at India Palace, you don't have to worry about having the same meal every day. If you're looking for a good lunch, the menu will offer you more choices than you can try in a single week (or month).
To make your experience here even better, it's worth adding that your food is in good hands. The staff here will look after you and take care of your allergy and seasoning requests.
Price range: $$
Food style: Indian, restaurant, and bar
Location: 12817 Preston Rd Suite # 105, Dallas, TX 75230
Website: https://indiapalacedallas.com/
Phone: +19723920190
Table Reservation:
Order Online:
When coming to Vindu Indian Cuisine, you can find food at many spice levels ranging from mild to very spicy. It's one of the famous features that this place is known for.
In addition, this family-owned restaurant cooks the most authentic and hearty Indian dishes that you can have for a meal. They always make sure their Samosas stay crispy when it's served to you. This restaurant also offers a variety of side dishes and dipping sauces to go with your food.
There's no need to worry about the quality of the food here. The owner makes sure to use new ingredients every day from the best local source. This makes their food stand out from most places.
One of the things other customers and I appreciate about this restaurant is how thoughtful and caring they are with the customer service. Whenever there's a slight problem with your food, they will do their best to provide you with better service and fix the problem right away.
Price range: $$
Food style: Indian, Buffet
Location: 4701 Frankford Rd #237, Dallas, TX 75287
Website: https://www.vindudallas.com/
Phone: +19729315999
Order Online:
Table Reservation:
Which Indian Restaurant Will You Try First?
I bet it's a little challenging for you now to pick out your first destination for Indian food. But I'm sure it will be a fun food adventure for you to make a list and try out as many places from the list above as possible.
I hope this guide to eating Indian food in Dallas can make your stay easier. It will be such an amazing time indulging yourself in these mouth-watering foods.
If your friends and loved ones are also looking for some Indian food spots, lend them a helping hand by sharing this post with them. Also, feel free to share your thoughts with me and what other readers must order when visiting these places. Thank you, and enjoy your meal!