Look no further than these best restaurants in Oak Lawn, Dallas, if you need a dining guide in this neighborhood.
Just more than two miles to the Northwest of Downtown, Oak Lawn is among these places with the trendiest eating places in Dallas. Many nightclubs, restaurants, and bars keep appearing to keep up with the nightlife march here.
Regarding dining, there are many options for visitors in this LGBT-friendly neighborhood. Steak or seafood? American, Japanese or Italian? Casual eateries for quick bites or elegant restaurants (where you want to linger a bit longer with your company)? Check out this list!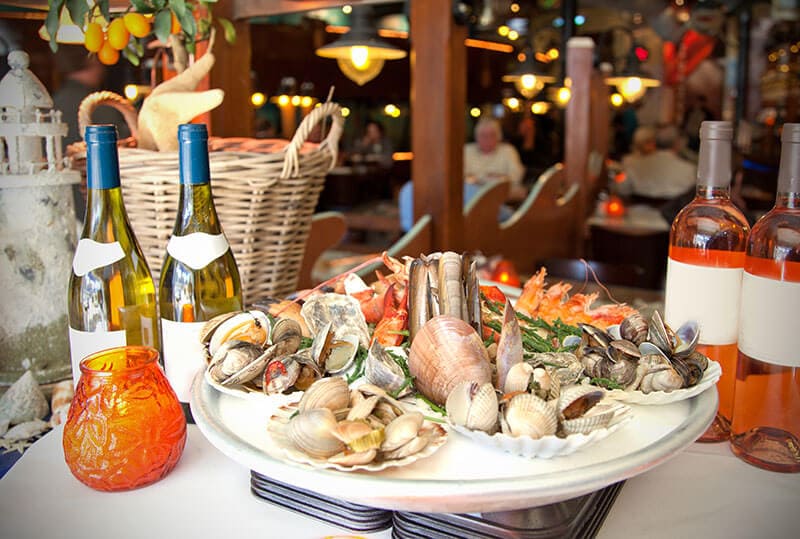 Top 9 Dining Spots In Oak Lawn Dallas To Cross Off While You're In Town
For those in the mood for familiar flavors, there are good old-fashioned burgers or Southern-inspired chicken dishes to try.
Italian and Japanese restaurants also have their fair share, with their classic dishes hitting all the right notes. And if you want to go far beyond casual, there are fine dining steakhouses with their best cuts on offer.
Al Biernat's is arguably the most famous steakhouse in Dallas. This fine dining restaurant has been serving the finest steak to Oak Lawn since 1998.
Whether from local or national providers, Al Biernat only uses premier cuts that guarantee the best quality and taste. The Allen Brothers of Chicago tomahawk ribeye or TX Wagyu New York Strip are all good examples.
Their seafood, from scallops, and oysters, to sea bass, is flown in fresh from many corners of the globe. Also, don't skip Al Biernat's signature dessert – coconut cream pie.
Al Biernat's is more than just a steakhouse. Their buzzy bars, which show off their award-winning wine list, help to round out the dining experience.
Al Biernat's elegant space is ideal for an important business meeting, yet the celebratory vibe is also suitable for a family's special occasion.
Price Range: $$$
Food Styles: Steakhouse, Seafood, American (Traditional)
Location: 4217 Oak Lawn Ave, Dallas, TX 75219
Website: http://www.albiernats.com/
Phone: 214-219-2201
Order Online:
Table Reservation:
Since its opening in 1992, Truluck Ocean's Seafood & Crab has treated Dallasites with the freshest Florida Stone crab. The restaurant also established its team of crabbers for a reliable supply of crab claws.
Truluck's Ocean's Finest Seafood & Crab is undoubtedly one of the most popular waterfront restaurants in Houston and Dallas right now! On a side note, dress up to dine here, as the restaurant has a strict, upscale dress code!
The chefs execute the fresh seafood skillfully and serve them with classy presentations on customers' plates. Besides their signature crab, I highly recommend prime king crab and sea bass. The chefs also excel at steaks, so you can't go wrong with any steak you choose here.
It's worth noting that Florida Stone crab is only available from October 15 through May 1. Unlike many seafood restaurants, you'll never see the claws at Truluck's out of season. The restaurant gives a big no to serving frozen crab to their customers.
Price Range: $$$$
Food Styles: American, Seafood
Location: 2401 McKinney Ave, Dallas, TX 75201
Website: https://trulucks.com/
Phone: 214-220-2401
Order Online (Not available)
Table Reservation: or contact their Guest Services Ambassador
See how Truluck's Ocean's Finest Seafood & Crab can provide the best dining experience for their patrons.
Eatzi's Market & Bakery is where you can embrace a variety of foods. The options there range from main courses, sushi, salads, and sides to too many house-baked pastries.
With such an extensive menu, this eatery might leave any first-time guest struggling with what to choose.
The number of dishes amounts to hundreds daily. This European-style eatery welcomes lines of diners at high noon every day. Sandwiches, salmon, fried chicken, and pasta are big hits in this restaurant.
Their salads are the best options for those who want a quick, light lunch on the go. Yet, when you decide to hang out there, Eatzi's Market & Bakery also has a covered open-air patio for you.
If there's some room left, don't miss out on their daily desserts. Creme brulee and almond croissants are all decadent and tasty choices.
Price Range: $$
Food Styles: American, Breakfast And Brunch
Location: 3403 Oak Lawn Ave, Dallas, TX 75219
Website: http://www.eatzis.com/
Phone: 214-526-1515
Order Online:
Table Reservation (Not available)
The incredible wood-fired pizzas and housemade pasta help Nonna become one of the finest Italian dining places in Dallas.
Besides these two favorites, you can easily fall for their rotating seasonal menu. This means you can anticipate new seasonal offerings made with the freshest produce, meats, and seafood now and then.
Indulge your taste buds with their tortellini di ricotta, white clam pizzas, or ravioli of Maine lobster – some of the best sellers there.
You can easily notice the restaurant's focal point – the wood-burning oven. But it's not just for the show! The oven churns out some of the best dishes there, including the lamb chops, quail in porchetta, and quail in porchetta.
On a side note, you can size up all pasta dishes into the entree for an extra $9. Yet, I highly recommend saving some room for the meaty course from the wood fire oven.
Price Range: $$$
Food Styles: Italian
Location: 4115 Lomo Alto Dr, Dallas, TX 75219
Website: https://www.nonna-dallas.com/
Phone: 214-521-1800
Order Online (Not available)
Table Reservation:
Uchi has been a well-received restaurant in the Uptown Dallas area since its debut. Its reservations have never been easy to obtain. Try the fresh sashimi selection, and you'll know where this Japanese eatery gets its hype.
Uchi's sushi bars, led by sushi chef Paul Ko, do stellar jobs at preparing the dishes. Thus, there's no going wrong with anything raw at the restaurant.
Shag tempura roll with salmon and avocado is also bound to impress. Yet, if you're a curious first-time diner here, consider the cold or hot tasting menu, which offers a little bit of everything.
In addition, you can choose from various dishes here, from tempura, makimono, sushi, sashimi, and more. For this Dallas outpost, Chef de Cuisine Rhonda Mccullar also celebrates seasonal ingredients by changing up the menu four times a year.
Bonus: Uchi's happy hour is from 4 P.M to 6.30 P.M daily!
Price Range: $$$
Food Styles: Japanese, Seafood, Sushi Bars
Location: 2817 Maple Ave, Dallas, TX 75201
Website: https://www.uchidallas.com/
Phone: 214-855-5454
Order Online:
Table Reservation; or call 214-855-5454 to book a table
Take a look at Uchi's beautifully crafted foods before hitting the restaurant.
The space formerly housed the Old Black-eyed Pea has now become Street's Fine Chicken. At this chicken-themed restaurant, the owners take a new approach to preparing the birds.
Their chicken-centric menu has everything, from the regular stuff you eat daily to more imaginative dishes that are bound to amaze. Fried chicken, buttermilk chicken fried steak, or chicken pot pie present the familiar Southern flavors everyone loves.
On the other hand, the Sin Killer Peri Pier belongs to the innovative league. The cooks marinate the birds for up to 24 hours in a blend of around 30 ingredients to bring out flavorfully seasoned meat.
While Street's Fine Chicken heavily focuses on chicken, they also try accommodating vegetarian guests. Options include Beyond meatloaf, tenders, and chicken fried steak. The restaurant also features a bar that serves refreshing beverages to accompany their food.
Price Range: $$
Food Styles: American, Southern
Location: 3857 Cedar Springs Rd, Dallas, TX 75219
Website: https://www.streetsfinechicken.com/
Phone: 469-917-7140
Order Online:
Table Reservation (Not available)
TJ's Seafood Market & Grill HP is located in Plaza On Oak Lawn. This restaurant was founded in 1989 when it started as a market and supplied the freshest seafood to the neighborhood.
Yet, TJ's Seafood Market & Grill HP also doubles as an eatery, and their hot Connecticut lobster roll earns substantial acclaim wide and far.
The lobster claw and tail are delightfully buttery, with hints of thyme and garlic. The Chilean sea bass enchiladas are the way to go for anyone craving Mexican dishes!
There's a lot more on the menu you choose from. From starters, sandwiches, and burgers to fresh grilled fish, all made with fresh seafood straight from their market selections. This Oaklawn outpost also has a lovely patio for those who prefer outdoor dining.
Price Range: $$
Food Styles: Seafood
Location: 4212 Oak Lawn Ave, Dallas, TX 75219
Website: http://www.tjsseafood.com/
Phone: 214-219-3474
Order Online:
Table Reservation; or book a table through the restaurant's website
When done right, old-fashioned foods can be a huge comfort. And that's also why this almost 40-year-old burger joint has become one of the most well-loved dining spots in Dallas' Bishop Arts District and other areas besides Oak Lawn.
Cheeseburgers with ground Angus chuck, your cheese of choice, pickles, and other fixings are a must here. The bacon cheeseburgers are studded with the same ingredients, plus the savory bacon that everyone loves.
For a heartier meal, consider the colossal Bear Burger, which has three slices of cheese and patties. Their homemade onion rings are also super addicting and stand above other restaurants.
Price Range: $$
Food Styles: American
Location: 3930 Cedar Springs Rd, Dallas, TX 75219
Website: http://www.hunkys.com/
Phone: 214-522-1212
Order Online:
Table Reservation (Not available)
Here's a review of some dishes at Hunky's Old Fashioned Hamburgers.
The Meddlesome Moth features an eclectic menu ranging from guacamole, beef bone marrow, and Belgian mussels to roasted chicken. Whether you enjoy the shareable plates with your folks or enjoy your own entree, there are many choices.
For brunch, stop by this remarkable eatery around Design District, Dallas on weekends, from 10 A.M to 3 P.M. Also, take advantage of their social hour (3 P.M – 9 P.M) to enjoy a range of beers at reasonable prices.
Moth's full bar boasts a huge collection of beers – the best beer menu in the neighborhood, to be exact. There are up to 42 draught beers and around 85 bottles/cans on offer.
If you are in the mood for something different, they also have a lot of craft cocktails and wines (both by glass or bottle).
Meddlesome Moth also boasts a beer garden and covered patio that can accommodate up to 100 people. If you're hosting an event, the restaurant is an ideal destination for a true al fresco dining experience.
Price Range: $$
Food Styles: American, Bars
Location: 1621 Oak Lawn Ave, Dallas, TX 75207
Website: http://www.mothinthe.net/
Phone: 214-628-7900
Order Online; or contact the restaurant by phone (for pickup only)
Table Reservation; or call 214-628-7900 to book a table
Here's Your Food Bucket List To Oak Lawn Right Now!
These spots are the best places for your night out right now at Oak Lawn. Yet, with the dining scene that moves fast here, you should expect more dining spots to show up in the area.
In the meantime, grab some cheeseburgers at Hunky's, enjoy the finest seafood at Truluck's, or immerse in a bunch of choices at Eatzi's.
If you discover any other place, feel free to share it with me in the comment section! Please click the share button to introduce this dining guide to more people!