These best breakfast restaurants in Dallas, Texas, are the best reasons you shouldn't skip the most important meal of the day! Whether you're craving chicken fried steak, gravy goodness, or a Tex-Mex-inspired feast, this complete guide to the best breakfast in Dallas will get you covered!
The best things about these Dallas breakfast spots are the Texas-sized portions with budget-friendly prices. Many on the list also offer phenomenal coffee to get your morning flowing!
Some are downright casual, but others have a slightly more luxurious dining experience, so you can pinpoint a perfect place to dine no matter the occasion! So, let's take an online tour of Dallas' best breakfast restaurants before setting the alarm to check them out the next morning timely.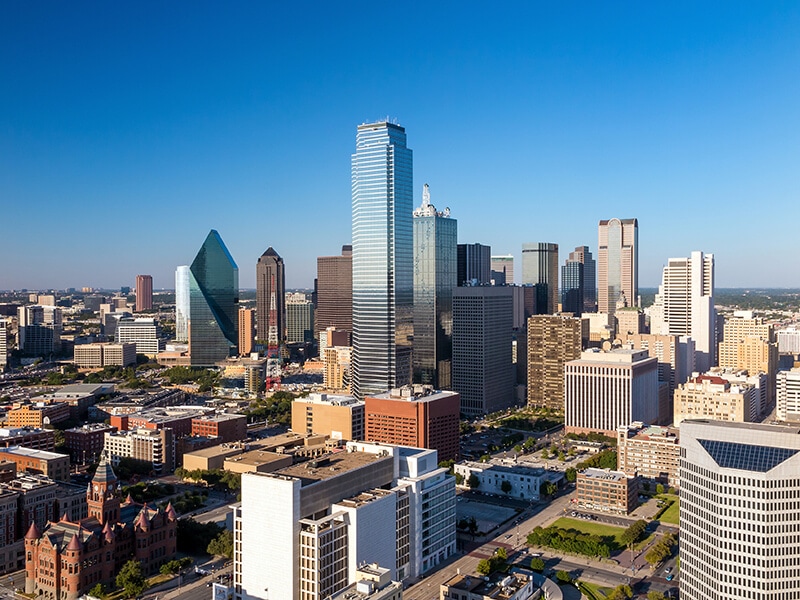 Jumpstart Your Day With 35 Best Breakfast Spots In Dallas
To round up the best of the best breakfast destinations in Dallas, I've looked through a long list of no-frills cafes, hotel restaurants, old-school diners, and more to make the best decision. Here's the final verdict of where to savor the best morning meal in the neighborhood!
Original Market Diner
The Henry
Maple Leaf Diner
AllGood Cafe
Ellen's
Snooze, an A.M. Eatery
Norma's Cafe
Bread Winners Cafe & Bakery
Lucky's Cafe
Crickles and Co.
City Hall Bistro
Jonathon's Diner
Tribal All Day Cafe
Kuby's Sausage House
Whisk Crepes Cafe
Yolk – One Arts Plaza
Benedict's Restaurant
Dream Cafe
John's Cafe
The Market at Bonton Farms
Shug's Bagels
Deli News
Bubba's Cooks Country
San Martin Bakery and Restaurant
Oddfellows
El Jordan Cafe
Texas Spice
Mama's Daughter's Diner
CBD Provisions
Cindi's NY Deli & Restaurant
Goodfriend Package
La Victoria
Honey Berry Pancakes And Cafe
BuzzBrews Kitchen
Ascension Coffee
35 Best Breakfast Spots In Dallas To Start Your Day!
Roll out of bed and into one of these restaurants for the best pancakes, fried chicken, enchiladas, egg benedicts, and many other soul-satisfying breakfast dishes. There's a lot of tasty coffee on this compilation to get your first dose of caffeine of the day, too!
Starting as a drive-in, this hot spot has served the locals huge portions of breakfast dishes since 1954. With multiple awards, such as the Best Diner and Top Breakfast & Brunch Restaurant, Original Market Diner boasts a line around the block during weekends.
Why should you visit this restaurant?
Original Market Diner has an old-fashioned 50s diner vibe, with hot sauce, jellies, and creamers sitting on the table, a rotating pie case, and hot coffee served in their branded cup. If you're not into coffee, wine, beer, and mimosa are also available.
The eatery is best known for its huge portions, without compromising the quality. Yet, if you prefer smaller servings, there is also an EFL with fewer offerings and lower prices. Their in-house desserts will do the trick if you want to feed your sweet tooth.
What to eat?
Chicken fried steak, original French toast, and chocolate hazelnut banana bread French toast are the shining stars. In addition, easy skillet, egg benedicts, chicken & waffles are great classics that never get old at this diner.
Fans of omelets shouldn't overlook the Market Diner omelet, which comes with stellar hash browns and grits. It's also worth lingering to get a slice of pie; whether it's Meringue pies or cream pies, you won't disappoint.
Location: 4434 Harry Hines Blvd, Dallas, TX 75219
Website: https://www.originalmarketdiner.com/
Phone: (214) 521-0992
Proudly claimed as the greatest restaurant in Dallas, Texas, The Henry is where you can take your folks to a hearty breakfast, a boozy weekend brunch, or a stellar cocktail with a rooftop view.
With a menu encompassing vegetarian, vegan, and gluten-free options, people with special diets feel right at home.
Why should you visit this restaurant?
Charming and energetic, The Henry's dining space offers patios upstairs and downstairs (with fire pits), making it perfect for your daily breakfast or brunch. Diners can also get a taste of coffee and juice from their bar or take home some fresh pastries to work.
The rooftop bar is also a big draw at this upscale restaurant. Swing by during their Happy Hours (weekdays from 4-6 PM) or anytime on weekends to enjoy some great cocktails there.
In addition, if you have something to celebrate, let The Henry take care of the rest by booking the private area (applied for 12 people and above).
What to eat?
Quinoa breakfast burrito, egg white turkey omelet, and simple avocado toast are solid orders at this Dallas staple. Yet, if you come on weekends, I also highly recommend the popular pretzels & provolone fondue, and short rib potstickers.
Location: 2301 N Akard St, Dallas, TX 75201
Website: https://www.thehenryrestaurant.com/
Phone: (972) 677-9560
Along with numerous classic diner delights, Maple Leaf Diner introduces many Canadian dishes that celebrate Mike Delaurier's upbringing in Southern Ontario. All come with Texas-sized portions and unbeatable prices.
Why should you visit this restaurant?
Not just in the name, this eatery also gives off a Canadian vibe with the wall adorned by Canadian-themed platters and plates here and there. Since it also doubles as a bakery, expect a wide range of pastries at the counter.
Maple Leaf Diner also boasts a full dairy bar where you can sip on amazing boozy milkshakes and sundaes. There are plenty of drinks, from Canadian beers and cocktails to coke, to accompany the food.
What to eat?
You're seriously missing out if you haven't tried their poutine (Fresh cut fries smothered). Chicken fried steak poutine, pot roast poutine, or Southern poutine are all authentic and beyond expectations.
Other standouts include chicken parmigiana (breaded chicken breast smothered in mozzarella cheese), chicken fried chicken, and English pot roast in a bonnet. If you're partial to waffles, then the diner also cooks perfect chicken, bacon & waffles, steak waffles, or country sausage waffles.
Fresh-baked pies are also a big deal there, with options ranging from almond joy, coconut cream, and apple crumble to chocolate cream.
Location: 12817 Preston Rd #129, Dallas, TX 75230
Website: http://www.mldiner.com/
Phone: (214) 434-1626
With a big billboard at the facade highlighting "World's Best!" chicken fried steak and "Best breakfast", this funky cafe is expected to deliver something spectacular! This top restaurant in Deep Ellum, Dallas serves all-day breakfast (from 8 AM – 3 PM), so don't worry about waking up early!
Why should you visit this restaurant?
AllGood Cafe is an Austin-inspired hanging spot in Dallas where you can see artists, musicians, and business people stop in for breakfast or lunch. The cafe also did its best for the decor, as shown in framed concert posters from yesteryear and origami birds hanging from the ceiling.
Their full bar is also great for meeting and talking while enjoying a specially crafted cocktail. AllGood Cafe is also known far and wide for its live music from Thursdays to Sundays nights, so you can plan accordingly if you come for dinner.
What to eat?
The chicken-fried steak & eggs are among the solid orders by loyal neighborhood customers. The big fluffy buttermilk pancakes, 3 egg omelet, or Texas omelet are well-executed, making you return for more. South Austin migas and huevos rancheros also make the headlines.
Location: 2934 Main St, Dallas, TX 75226
Website: https://www.allgoodcafe.com/
Phone: (214) 742-5362
Founded in 2012, Ellen's is where West End Dallasites frequent for breakfast and brunch any time of the day, whenever their cravings hit! As one of the finest eateries downtown Dallas, Ellen's is known for home cook Southern cuisine and freshly brewed drinks.
Why should you visit this restaurant?
Beyond a hot breakfast spot, Ellen's also extended their hours to lunch and dinner, accompanied by a vibrant happy hour.
They also have a full bar for alcoholic drinks and a barista/coffee bar for brews in the eatery. You can enjoy your meal in their dining room or patio, either of which is also kid-friendly.
What to eat?
The top-tier breakfast choices include pancake pot pie, steak & eggs, Big Ol breakfast, and mushroom garlic scramble. This Southern diner also serves stellar brunch, so note these fan favorites: chicken fried chicken, shrimp & grits, Ellen's prime meatloaf, and Texas catfish.
Location: 1790 N Record St, Dallas, TX 75202
Website: https://www.ellens.com/
Phone: (469) 206-3339
6. Snooze, an A.M. Eatery
This popular chain aims to deliver "Breakfast, but different", explicitly shown in their upside-down pineapple pancakes and many other creative dishes.
Founded in Denver, Snooze is a big name for breakfast and brunch lovers, with over 50 locations spreading from Colorado, California, and Kansa to Arizona and beyond.
Why should you visit this restaurant?
Either of the two Snooze's locations in Dallas boasts a full bar where diners can get anything from craft beers, bloody marys, and margaritas to many other creative boozy drinks.
Both also offer dog-friendly outdoor dining if you want to enjoy the nice weather. At the Walnut Hill location, the nice patio in the back with a rustic courtyard view is always a coveted spot.
It's the kind of place you can take anyone to, as the menu encompasses plenty of items for gluten-free, dairy-free vegetarians and vegans. This is not to mention there's also a solid kid menu for your little ones.
What to eat?
Many regulars ritually start their morning with upside-down pineapple pancakes, French toast, and egg benedicts.
Huge fans of pancakes will also love Snooze's signature pancake flights, which come overloaded with three delicious types – blueberry danish, sweet potato, and pineapple upside down.
Website: https://www.snoozeeatery.com/
Location 1: 3211 Oak Lawn Ave Suite A, Dallas, TX 75219
Phone: (469) 480-7250
Location 2: 8041 Walnut Hill Ln Suite 846, Dallas, TX 75231
Phone: (972) 972-8730
7. Norma's Cafe
Norma's Cafe has been around since 1956, constantly recognized among the essential Mexican restaurants in Dallas, Texas.
This cafe staple serves classic homestyle comforts, with a touch of Southern cuisine, that has earned it numerous awards and accolades, notably the "Best Hangover Cure" title by Dallas Observer!
Why should you visit this restaurant?
Norma's Cafe boasts a 50s diner theme, with a space full of vinyl booths, stools, and pop-culture hanging sculptures. At this cozy eatery, breakfast is served all day, so late risers can always stop by to savor breakfast dishes.
Beyond solid Texas dishes, there are also Mexican fares that come with hashbrowns, tortillas, and refried beans, just as in any authentic Mexican restaurant. Getting Mile-High Pies is a ritual to wrap up your meal at Norma's Cafe; their heavenly pie proves the motto "Pie Fixes Everything".
What to eat?
Their efficient kitchen churns up delicious country breakfast, Ol' Number 7 (scrambled eggs, biscuits, bacon, and hashbrowns), all cooked with homestyle and well-loved by the crowd.
Blue Plate Specials is also a huge draw on the menu, and you never go wrong with either the award-winning chicken & dressing or chicken fried steak. For some protein-packed offerings, consider their Southern-fried catfish, pot roast, and sirloin chopped steak.
Website: https://www.normascafe.com/
Location 1 (Oak Cliff): 1123 W Davis St, Dallas, TX 75208
Phone: (214) 946-4711
Location 2 (North Dallas): 17721 Dallas Pkwy #130, Dallas, TX 75287
Phone: (972) 380-8646
Location 3 (Park Lane): 9100 N Central Expy #151, Dallas, TX 75231
Phone: (214) 361-8646
8. Bread Winners Cafe & Bakery
While Bread Winners appears as an upscale dining spot, any of its four branches boast a super casual vibe that makes diners feel at ease while enjoying their meal. In addition to breakfast and brunch staples, this quaint spot also has a wide range of pastries, bread, and desserts.
Why should you visit this restaurant?
There's a lot going on throughout the weeks at this cafe, so diners can always score some good deals. For a boozy breakfast/brunch, stop in well-priced mimosa on Monday or half-priced wine on Wednesday. Come on Thursday to get the best bang for your buck on their chicken and waffles.
What to eat?
My first choice is always their petite fried chicken and waffles. Yet, it would be a shame to pass on many crowd-pleasers there, including Croque Madame, BW Benedict, banana bread French toast, and breakfast tacos.
Consider grabbing some items from their bakery for your lunch snacks, too. It's hard to try all of the items on their extensive menu, but some of the best-sellers, like signature cupcakes, will make your day.
Website: https://breadwinnerscafe.com/
Location 1 (Inwood Village): 5560 W Lovers Ln, Dallas, TX 75209
Phone: (214) 351-3339
Location 2 (Northpark Center): 8687 N Central Expy, Dallas, TX 75225
Phone: (469) 232-9798
Location 3 (Uptown Dallas): 3301 McKinney Ave, Dallas, TX 75204
Phone: (214) 754-4940
Location 4 (Bread Winners Catering): 7205 Envoy Ct, Dallas, TX 75247
Phone: (214) 754-0099
Lucky's Cafe is another 50s-style diner that serves old American comfort dishes for breakfast and weekend brunch. Ranked as the must-visit eatery in Oak Lawn Dallas, it has been around for three decades, famed for its farm-to-table dishes at affordable prices.
Why should you visit this restaurant?
The area Lucky's Cafe shines brightest is the prompt service. Even when weekend breakfast diners pack the booths, the orders still come in a timely fashion thanks to the quick-thinking staff.
The cafe also treats its diners with complimentary biscuits and cornbread, which are freshly made and 100% crave-worthy.
Many people also love flopping at their full bar, where they can enjoy a drink and catch up on their favorite games. Their bar also has many tempting discounts on draft beers, house wines, spirits, and martinis from Monday to Friday.
What to eat?
Be sure to get a taste of Lucky's Cafe chicken fried steak and chicken fried chicken, as this Oak Lawn cafe incredibly excels at these deep-fried dishes. Migas, meatloaf, and huevos rancheros are also crave-worthy, which will have you hankering for more.
Location: 3531 Oak Lawn Ave, Dallas, TX 75219
Website: https://www.facebook.com/
Phone: (214) 522-3500
Whether you're looking for a weekend hangout for breakfast/brunch items, great morning drinks, or sweet treats, Crickles And Co. is the place! Swing by for a true family morning meal at this quaint restaurant, where food is prepped with locally-sourced ingredients without any artificials used.
Why should you visit this restaurant?
Using the freshest produce in the season means the menu might change regularly, but diners can enjoy the best the season offers. Plus, 100% of the food is made in-house, so you can enjoy jams, salsa, and salad dressing that is freshly made daily.
Their full bar is also an amazing place to jumpstart your day, where you can grab freshly brewed coffee, a specialty cocktail, or other boozy delights after the meal.
What to eat?
It's always a nice idea to start your day with the delicious chef's favorite omelet and spicy bacon ciabatta. The gourmet grilled cheese served with housemade Pullman bread and grandpa's biscuit sandwich also shouldn't be overlooked.
Add their signature chicken salad side to the order if you want a heartier morning meal. Plant-based eaters also highly approve of the restaurant's chef's vegan street tacos, veggies panini, and vegan wrap.
Location: 4000 Cedar Springs Road, Throckmorton St, Suite E, Dallas, TX 75219
Website: http://www.cricklesandco.com/
Phone: (214) 306-9568
City Hall Bistro is the ultimate destination for those wishing to enjoy an indulgent hotel breakfast. Situated downtown in The Adolphus Hotel, this bright and airy bistro dishes out Southern European-influenced dishes and offers a well-curated beverage program to boot.
Why should you visit this restaurant?
Sitting in the far back corner of the lobby, City Hall Bistro is not jam-packed with breakfast diners like many other downtown eateries. This is where you can grab a seat at a saffron-colored booth to enjoy a fuss-free and serene morning meal.
It also has a casually playful vibe, where you can see many folks, even in shorts and a polo, chitchat there while enjoying the meal. City Hall Bistro shines through with its wide selection of wine (with a focus on southern European flavors), and the price is highly approachable, too.
What to eat?
You can choose from many delicious offerings, like avocado toast, egg benedicts, short ribs & potato hash, and vanilla custard brick toast. Give their spicy bloody mary a shot if you're in the mood for a boozy breakfast/brunch.
Location: 1321 Commerce St, Dallas, TX 75202
Website: https://www.adolphus.com/
Phone: (214) 651-3686
This quaint eatery is always famed for its breakfast fares, waffles, and burgers, all cooked in home style. With a full bar that offers anything from mimosas, Bloody Marys, and other signature cocktails, Jonathon is the hot spot for locals to fulfill any boozy breakfast/brunch desires.
Why should you visit this restaurant?
Jonathan is well-loved for its huge portions of food, especially their burgers. It's a quaint little burger shop with a rustic New Orleans vibe shown in wrought iron and wood interior and interior courtyard. Mimosa is also a highlight at this diner that you don't want to miss out on!
What to eat?
Your best bets for breakfast are fried chicken & waffles, the most popular dish in the eatery. Chef Jon's peppered gravy is also to die for, whether served in toast and gravy or biscuits and gravy. Migas, chicken fried steak, and Country Benedict are also perfectly cooked.
Location: 1619 N Beckley Ave, Dallas, TX 75203
Website: http://www.jonathonsoakcliff.com/
Phone: (214) 782-9273
With an assortment of healthy dishes, Tribal All Day Cafe is a favorite spot for health-conscious diners for all-day breakfast. There are many tasty options to accommodate vegetarians, vegans, and gluten-free diners.
Why should you visit this restaurant?
Located in the walkable neighborhood, this Bishop Arts District staple boasts a nice downtown LA vibe and cool outdoor seating. The eatery also offers many on-the-go breakfast items, like housemade almond butter and local vegan yogurts, if you don't have time for breakfast.
Tribal All Day Cafe started as a supplier of cold-pressed juices to Texas, Arkansas, and Oklahoma before turning into a brick-and-mortar eatery. That's why they have some of the tastiest and freshest juices and smoothies in town.
What to eat?
It's hard to pin down the hottest dish there. Whether with the nourish bowl, egg sandwich, black bean bowl, or migas, it's equally big on flavors and portions. My pick is the Love You lox, Norwegian Atlantic salmon served with pickled onions and cream cheese.
The cafe's vegan queso is the most impressive starter to try, which even meat-loving folks will give a thumbs up to. To round out your healthy meal, it's best to pair your food with a glass of Pool Side or Pink Paradise smoothie.
Location: 263 N Bishop Ave, Dallas, TX 75208
Website: https://www.livetribal.com/
Phone: (469) 776-8003
This long-running Dallas restaurant honors the family tradition of sausage-making since the 18th century, long prior to its opening in 1961. It proudly serves the best brats, schnitzels, and German food in town.
Why should you visit this restaurant?
Kuby's also boasts an attached deli & meat market, where diners can bring home the finest and freshest cuts of meat, cheeses, and of course, their iconic sausages. On Sovereign Row, there're Wild Game Processing Plant hours for more entertainment.
What to eat?
It's criminal to give Kuby's sausage a pass. After all, it's what gives this legendary restaurant a huge reputation. So, it's best to go with a sausage plate, which is loaded with red cabbage, potatoes, and sauerkraut.
Other must-try dishes include Oma's potato pancakes, Reuben Sandwiches, and chicken schnitzel sandwiches. On a side note, the menu changes daily, so you can expect to find something new on each visit.
Location: 6601 Snider Plaza, Dallas, TX 75205
Website: https://kubys.com/
Phone: (214) 363-2231
Whisk is where your "French crepes in Dallas" dream will come true! This restaurant nails both sweet and savory crêpes, making it one of the best restaurants in not just Dallas but Plano, Nashville, and Houston, Texas.
Why should you visit this restaurant?
Thanks to the inspiration of Julien Eelsen and his chefs, many items on the menu rotate with the season, which means you can usually find something new to try. Everything is served in a bright and cozy 647-square-foot space.
At Whisk, you can choose from many pre-fixed combinations of crepes, but there are also build-your-own options (with chocolate sauce, Nutella, fruit, jams, etc.) to customize your breakfast.
What to eat?
If you want to start your day with something sweet, go for their Nutella Notre Dame, butter sugar Jourdain, and the Citron (with lemon curd & strawberry sauce). The savory section, on the other hand, stars
On the drink menu, you can also find many tasty items like espresso and homemade hot chocolate to fuel your morning.
Location: 1888 Sylvan Ave Suite F-120, Dallas, TX 75208
Website: https://www.whiskdallas.com/
Phone: (469) 407-1899
16. Yolk
Yolk is another big name in the breakfast and brunch business and has been crowned as the best spot for breakfast in Fort Worth, Texas, Chicago, and Indianapolis. Come with a growling stomach and a good camera, as many dishes at this eatery are incredibly Instagram-worthy, like the red velvet French toast and Nutella crepes.
Why should you visit this restaurant?
Yolk is known for a vast array of creative breakfast items. However, the restaurant also offers a separate lunch menu featuring burgers, salads, and wraps for lunch lovers. Many also stick around for a cup of Yolk's tasty coffee, which is only made with quality beans from local roasters.
Yet, Yolk also has a full bar for those into drinking; the options run from local beers, wines, and bubblies to many brunch cocktails. For such a buzzing downtown area, it's nice to have valet parking validated by the restaurant.
What to eat?
Nothing can beat Yolk's Red Velvet French toast, chilaquiles verdes, and South Beach (half pineapple filled with housemade walnuts, almond granola, etc.).
Alternatively, you may want to start your day in the sweetest way with Nutella crepes, cinnamon roll French toast, banana nut bread, French toast, etc.
Don't forget to order a drink since few eateries can put out well-crafted drinks as well as Yolk. Some highlights include Bloody Marys (made with their signature Bloody Mary mix) and strawberry mimosa (made with freshly squeezed strawberry OJ).
Website: https://eatyolk.com/
Location 1: 1722 Routh St #132, Dallas, TX 75201
Phone: (214) 855-9655
Location 2: 8315 Westchester Dr, Dallas, TX 75225
Phone: (469) 351-0344
At this breakfast spot, diners can indulge in up to 8 varieties of eggs Benedict, from a Brooklyn pastrami to a cold-smoked salmon benedict and more. This Addison location has been around since 1986, long before the breakfast-themed eateries, such as Yolk and First Watch, became a hit.
Why should you visit this restaurant?
Come and dine in a retro dining space, as shown in a peach color scheme, along with the plastic ivy and vinyl tablecloths found throughout the eatery.
As for the food, the restaurant boasts a diverse menu for breakfast, brunch, and lunch, with many gluten-free items. While the drink menu is not really expansive, this old-school eatery does a stellar job at making fresh and tasty smoothies to fuel up your morning.
What to eat?
You can always expect something sumptuous in the form of benedict, from eggs benedict, California Benedict, Baconberry Benedict, to Brooklyn Benedict.
NEW Stuffed French Toast, Pecan Pancakes, Huevos Rancheros, and Belgian Waffle are also highly rated for something other than benedicts.
Location: 4800 Belt Line Rd, Dallas, TX 75254
Website: https://www.benedicts-restaurant.com/
Phone: (972) 490-0500
Since its debut in 1988, Dream Cafe has consistently offered Dallasites healthy fares (which was long before healthy eating became a fad).
Their commitment to using local input, organic, hormone-free ingredients results in healthy yet sumptuous dishes that please any health-conscious diner.
Why should you visit this restaurant?
At Dream Cafe, you can always expect to find something great to satisfy your taste buds (and dietary preferences). It's where your breakfast can be cheddar and bacon; yet, if you are vegan, the kitchen can substitute them with plant-based cheese and sausage.
Dream Cafe boasts an artsy dining room with an eclectic vibe and dominantly bright colors. The space is a beautiful blend of bohemian Los Angeles and a down-to-earth ambiance that uplifts the dining experience.
Yet, for anyone wanting to enjoy the weather, there's a front patio and a back courtyard to please their desires. Live jazz, a lovely playground, and a 2-hour valet further sweeten the deal here at Dream Cafe.
What to eat?
Dream Cafe has drawn clientele from all walks of life with delicious offerings like the Popover, Austin tacos, Ode to Roscoe's chicken and waffles, and Dream egg benedicts.
The restaurant also churns out delectable Cloud cakes (ricotta pancakes with fresh strawberries and crème fraiche on top) and Monte Cristo (grilled French toast with turkey and ham) from their griddle.
You may want to get a cup of Dream Blend Coffee for your caffeine fix or simply refreshing lemonade to wash down the food.
Location: 2811 McKinney Ave, Dallas, TX 75204
Website: https://www.dreamcafedallas.com/
Phone: (214) 954-0486
With a long business history since 1972 and stellar comfort classics like chicken fried steak, John's Cafe is, hands down, among the legendary restaurants in Greenville, Dallas to visit.
This greasy spoon diner excels in delicious farm-to-table dishes, highlighting American cuisine and a Greek flair that pays homage to the owner, John Spyropoulos's heritage.
Why should you visit this restaurant?
All the elements, from retro booths and a readerboard menu above the counter to the vintage newspaper on the walls, add to a nostalgic feel for John's Cafe – the place many regulars call home.
A look at the photographs throughout the space will also give you a look into 5 decades of the heritage of the restaurant. Besides delicious home-cooked food, breakfast diners are treated with unlimited coffee refills at John's Cafe.
What to eat?
What keeps John's regulars returning is their breakfast special – a combo of eggs, bacon, hash browns, and biscuits. The chicken fried steak, migas, and biscuits & gravy are other decades-long staples to try.
If you want something different from the classics, go for the gyro omelet with gyro meat, onions, peppers, and cheese. For something lighter, Greek salad is also a crave-worthy option, made with produce straight from John's backyard garden.
Location: 1733 Greenville Ave, Dallas, TX 75206
Website: https://www.facebook.com/
Phone: (214) 874-0800
Attached to the Bonton Farm, the Market Cafe uses fresh produce straight from the land out back for breakfast and lunch items.
Only a short drive from downtown, this sunny and airy restaurant offers a break from the hustle and bustle, so you might want to linger all morning to savor their Southern, seasonal dishes.
Why should you visit this restaurant?
What strikes me most about this South Dallas hidden gem is the peaceful atmosphere. Diners can grab a seat and enjoy their favorite dishes around the garden with herbs and lavender. You might also spot some butterflies buzzing around the blooms.
This 3-in-one destination allows diners to bring home some farm-fresh produce, eggs, meat, and pantry staples once they finish their meal at the cafe. You can also pick and purchase whatever's ripe there.
What to eat?
While the all-day break menu is still limited, it's well-received with popular items like chicken & waffles, Brioche French toast, breakfast sandwiches, and cornmeal pancakes.
You can also customize your morning meal by building your own breakfast tacos. Don't forget to get a cup of tasty coffee there, too.
Location: 6911 Bexar St, Dallas, TX 75215
Website: https://bontonfarms.shop/
Phone: (214) 777-7703
Despite being a newcomer to the Dallas food scene, Shug's Bagels made big headlines for its authentic New York–style bagels. You should expect a long line in front of this small shop, which is always a good indicator of how delish their bagels are!
Why should you visit this restaurant?
The numbers don't lie about how promising the business at Shug's Bagels is. This popular shop serves its regulars 1,200 bagels on weekdays and even double that amount on weekends. Diners are spoiled by choice with up to over 15 bagel varieties, along with many cream cheese options.
To guarantee the best quality for their bagels, cheeses, and meats are delivered from Jimmy's Food Store. Besides, diners can also take home items like deli-cut meats, pimento cheese, and lox (available in small tubs) at Shug's Bagels deli case.
What to eat?
Their Everything bagel is downright delicious, with fluffy cream cheese and thick bacon. If you're into the heat, you can't also go wrong with the classic Shug or the Spicy version. Other nice recommendations you can trust are the Ridgewood and Grilled Cheese (with pepper jack and cheddar).
Location: 3020 Mockingbird Ln, Dallas, TX 75205
Website: https://shugsbagels.com/
Phone: (469) 526-5050
Deli News is where you can find the best New York-style dishes in the heart of Dallas. From kugels, latkes, and matzo ball soup to triple-decker sandwiches, everything carries the flavors as close to what you've tasted in New York as possible!
Why should you visit this restaurant?
Deli News serves as a deli and baker, so diners can indulge in freshly baked bread, bagels, and onion loaves daily. This long-standing deli makes an effort to deliver New York's authenticity to its patrons by getting its specialty meats, salami, and pastrami transported from New York.
Their dedication to made-from-scratch food (including the pickles) helps ensure the best quality can reach the diners' plates.
What to eat?
At Deli News, sandwiches always attract a lot of attention, so don't hesitate to try the popular offerings like the pastrami Rueben, turkey Rueben, and "The" Rueben.
The bagels taste incredibly fresh and authentic, whether it's the nova lox spread or cream cheese. For something comforting, the eatery's matzo ball soup will hit all the right spots.
Location: 17062 Preston Rd #100, Dallas, TX 75248
Website: https://www.delinewsdallas.com/
Phone: (972) 733-3354
Bubba's is the answer to the best-fried chicken and chicken-fried steak in the Big D. The best part is that everyone can savor a hearty breakfast/lunch at an unbeatable price point. It's the true family destination you can ask for in Dallas!
Why should you visit this restaurant?
Sitting on the same site as the previous Texaco Service Station, Bubba's Cooks Country has served locals tasty comfort foods since 1929.
The menu is based on Mary Beth's recipes, passed down via generations, whereas the chicken dishes rely solely on fresh meat for the best flavors.
If you want to enjoy an on-the-go morning meal, you'll also appreciate Bubba's thrive-though option (which is a thing that many eateries can afford in the Park Cities neighborhood).
What to eat?
The two biscuits & gravy and cinnamon roll are impressive dishes to savor on the breakfast menu. The Two Eggs served with fresh sausage/bacon, gravy, and biscuits, are also a great way to fuel up yourself, too.
The best word to describe Bubba's fried chicken is "phenomenal", so if you come a bit late, consider their lunch menu.
Chicken fried steak and fried chicken livers should earn second place, as they are always fresh and equally tasty. Seafood fans also want to add the yummy fried catfish to their plate.
Location: 6617 Hillcrest Ave, Dallas, TX 75205
Website: https://bubbasdallas.com/
Phone: (214) 373-6527
Set in a spacious warehouse, this bustling cafe offers a variety of all-day breakfast dishes inspired by Guatemalan, Tex-Mex, and Salvadorian. San Martin itself is a big name in the world of bakeries, with up to 60 branches spreading throughout Guatemala and El Salvador.
Why should you visit this restaurant?
San Martin's specialty coffee, which showcases authentic Guatemalan flavors and comes with a complimentary basket of miniature bread, is also the most memorable thing when you leave this cafe. If you want to bake your own bread, remember to take home some San Martin's quality dough.
What to eat?
Specialty breakfast items like Chilaquiles Divorciados, Huevos Divorciados, and Eggs Benedict are your best bets at this bistro. Yet, most people would agree that San Martin's Pan de Muerto French Toast and Migas deserves more spotlight, too!
Location: 3120 McKinney Ave, Dallas, TX 75204
Website: https://sanmartinbakery.us/
Phone: (469) 802-6652
Known for its specialty coffee program and creative, chef-driven dishes, Oddfellows constantly tops the list of must-visit eateries in Bishop Arts District, Dallas.
Why should you visit this restaurant?
Oddfellows has a farmhouse-chic vibe from the simple yet sophisticated wood-driven decor and a little outdoor area that's great for hanging out.
The focal point, however, is the splashy La Marzocco Strada espresso machine that Oddfellows is very proud of using for its premium coffee. The cafe-and-restaurant concept also enhances its coffee program by sourcing from Cuvée Coffee – a popular supplier in Austin.
Besides breakfast, this cafe also offers weekend brunch for brunch enthusiasts. If you come during these hours, take note of their superb cocktail program, along with craft brews and wines. Oddfellows' Happy Hour runs 5 – 7 PM on weekdays is also a huge bonus.
What to eat?
The best breakfast spot always nails fried chicken & waffles, and Oddfellows is no exception! Yet, there are also many bright stars on the menu that you shouldn't miss, from Oddfellows benedicts, buffalo Mac, and brisket hash, to huevos rancheros.
Location: 316 W Seventh St, Dallas, TX 75208
Website: https://www.oddfellowsdallas.com/
Phone: (214) 944-5958
This little cafe in the heart of Bishop Arts is where you can get fat and thick enchiladas and the on-point chicken fried steak. More than just a local staple, El Jordan Cafe is also a true reflection of the pre-chic days of the town when it was still the Arts District.
Why should you visit this restaurant?
Step into El Jordan Cafe, and you can feel a great Tex-Mex ambiance of the place: the tables are covered with flower oilcloth, murals on the wall, and the floor is a patchwork of concrete, tile, wood, etc. In this small and cozy eatery, diners are treated to homestyle-cooked Mexican food, along with free fresh salsa and warm chips.
Don't be surprised if you don't see margaritas on the menu! Instead, there are plenty of great coffees to accompany the warm tortillas.
What to eat?
At El Jordan Cafe, Menudo is a massive hit that you can come back to every day. The runner-ups should be their migas à la Mexicana, breakfast tacos, breakfast burritos, and huevos rancheros – all will leave you more than full and content.
Location: 416 N Bishop Ave, Dallas, TX 75208
Website: https://www.facebook.com/
Phone: (214) 941-4451
Located in Omni Dallas Hotel in downtown Dallas, Texas, Spice is another successful farm-to-table concept highlighting Southern breakfast cuisine in a rustic dining space.
Why should you visit this restaurant?
Any minor details at Texas Spice, from garage-style doors, red brick walls, wood floors, and barrels sitting here and there, contribute to a casual and rustic ambiance that makes you feel right at home.
In addition to the main dining hall, there are private rooms for groups and a patio for alfresco dining. Plus, this eatery also offers freshly squeezed juice or hot coffee sourced from the nearby local farm Westrock.
What to eat?
If you want to kickstart your week in a big way, head to Texas Spice for their breakfast buffet, which is on offer on Saturdays and Sundays. There's something for everyone at this all-you-can-eat meal, from the waffle, omelet station, and hot items to cold cereals.
The steel-cut oats are a real eye-opener, as is the avocado toast. Their cornflake-encrusted French toast and three-egg omelets also come in hearty servings, which will keep you fueled until noon. Keto/low-carb eaters can dive into the three scrambled egg bowls.
Location: 555 S Lamar St, Dallas, TX 75202
Website: https://www.omnihotels.com/
Phone: (214) 652-4810
28. Mama's Daughter's Diner
Since 1958, this long-standing diner has welcomed long lines of hungry folks at its door for delicious dishes cooked in a very Deep South way.
With 6 decades of experience under its belt, Mama's has perfected not only their breakfast dishes but also rolls, cornbread, and baked pies, to round out your morning meal.
Why should you visit this restaurant?
At Mama's, every morning is special as diners can always enjoy different daily specials at a fixed price. The atmosphere is always great; you can catch a person or two laughing at Mama's hilarious saying hanging on the walls.
Besides quintessentially Southern morning fare, the house also bakes various decadent pies every day. As one of the most kid-friendly diners in Dallas, Mama's treats your little ones to a free meal all day, every Tuesday.
What to eat?
The killer chicken fried steak and chicken fried chicken at Mama's can be the reason for getting out of bed early.
There are also many fan-favorite combos, like the Mama's Favorite Breakfast, Mama's Daughter Special, and Mama's Granddaughter Special, all of which make the eatery one of the finest eateries in Design District, Dallas.
If your server suggests getting a slice of pie, you shouldn't say no. Whether you go for chocolate cream pies, fried pies, or coconut cream pies, it's all the best decision that morning.
Website: https://mamasdaughtersdiner.com/
Location 1: 2014 Irving Blvd, Dallas, TX 75207
Phone: (214) 742-8646
Location 2: 2610 Royal Ln, Dallas, TX 75229
Phone: (972) 241-8646
Next to The Joule, CBD Provisions is where you want to treat yourself to a luxurious morning meal. This chic and upscale restaurant promises its diners a good time there with its well-executed pig head carnitas, a great bar, and a cocktail program.
Why should you visit this restaurant?
CBD Provisions boasts an upscale and dazzling space where historic brick walls, leather banquettes, and salvaged wood floors exude a vibe of luxuriousness.
You can sit at their four-sided bar in the center. There's also an area right at the open kitchen concept to allow guests to see their dishes prepared by the chefs.
Expect culinary delights when you dine there, as anything simple as pork loin takes up to 18 hours to achieve that big flavor.
The experience is also elevated by their beverage selection, from Texas, California, and France wine labels, to seasonal cocktails and well-selected brews from the Dallas-Fort Worth area.
What to eat?
Sourdough French toast, chilaquiles, and CBD omelets are the two stars on the breakfast menu. There are also many tasty a la carte options, including sausage, braised greens, bacon, and breakfast potatoes to add to your plate.
If you come on weekends, you may also take note of the brunch menu, with highlights like Cubano sandwiches, TX chili, and Pimento cheese toast.
Location: 1530 Main St STE 100, Dallas, TX 75201
Website: https://www.thejouledallas.com/
Phone: (214) 261-4500
30. Cindi's NY Deli & Restaurant
Being the Reader's Choices winner for "Best Breakfast Restaurant", "Best Sandwich", and "Best Comfort Food", Cindi is no doubt where you can have a satisfying morning meal. Cindi's now boasts up to 5 locations spreading across the Dallas–Fort Worth metroplex, so find the nearest to you.
Why should you visit this restaurant?
Cindi's is just like a small deli in New York City. Its wide-ranging menu includes knishes, cheese blintzes, migas, pancakes, and many other egg-based dishes – all with New York flavors. The bakery deli on site also adds to the New York vibes of this Dallas eatery.
Adorned by splendid murals by Vietnamese artist Tri Minh Nguyen, the dining space is cheery with vibrant colors but also feels cozy and homey at the same time.
Stop in for the meal, and don't forget to swing by their small bakery, where the team whips up fresh cakes, bagels, cookies, challahs, and more for your to-go snacks.
What to eat?
Among various delish options, you might want to take note of the crowd-pleasing New York Reuben sandwich, eggs benedict with Nova, and hot pastrami sandwich. Cindi's matzo ball soup also gets the guests talking, so remember to add it to your order.
Website: https://cindisnydeli.com/
Location 1 (Central): 11111 N. Central Expwy Suite G, Dallas, TX 75243
Phone: (214) 739-0918
Location 2 (Campbell): 7522 Campbell Rd, #117, Dallas, TX 75248
Phone: (972) 248-0608
Location 3: 3565 Forest Ln, Dallas, TX 75234
Phone: (972) 241-9204
Location 4: 306 S Houston St, Dallas, TX 75202
Phone: (214) 744-4745
Do you love the idea of having a gourmet sandwich with some grab-and-go beer for the first meal of the day? Then, you have found it with the Goodfriend Package – one of the top eateries in East Dallas, Texas.
Tucked in a strip mall just across from Goodfriend Beer Garden and Burger House, the local store serves breakfast and lunch from open to close, with many solid options for vegetarian folks.
Why should you visit this restaurant?
Goodfriend is praised for its approach to fresh and housemade ingredients. At this eatery, meats are cured/smoked in-house, while the biscuits are also made from scratch. If you choose to dine in, there's great outdoor seating with tables that happens to be dog-friendly, too.
Another highlight of Goodfriend is its beer selection, with up to 600 beer varieties and plenty of whites and reds. Yet, if you want to settle for a non-alcoholic drink, check out the on-site coffee bar.
What to eat?
You can't go wrong with hot items like roast beef, corned beef & potato hash, Big Boy, and housemade biscuit & gravy.
My favorite is Ol' Dirty, with cheese sausage and a killer gravy. Equally impressive is their farm egg biscuit sandwich – the harmonious combination of moist biscuit, salty scrambled egg delights, and savory sausage.
It's also nice to dive into a vegetarian breakfast at Goodfriend Package, with standouts like veggie sandwiches, mushroom pastrami & rye, and grilled sandwiches.
Location: 1155 Peavy Rd, Dallas, TX 75218
Website: https://www.goodfrienddallas.com/
Phone: (972) 807-2899
This Dallas hidden gem serves insanely good breakfast burritos, tortas, and many other morning Mexican fares with unbeatable prices in the area.
Why should you visit this restaurant?
La Victoria is a no-frills establishment with quick service; the kitchen is very efficient for putting the food on your table in no time. That's why even when there's a typical line on weekend mornings, no one leaves disgruntled about their service.
Besides, La Victoria's dedication to its food quality earns it a cult following of breakfast lovers and the award of best-in-class breakfast burritos from the Dallas Observer. Note that La Victoria only accepts cash payments, so prepare your wallet.
What to eat?
The prime light, of course, goes to the award-winning breakfast burritos, notably the Zach Attack (beans, jalapeno, potatoes, and bacon).
If you have a growling stomach, don't hesitate to go for their massive super breakfast burritos (with fillings rolled up in up to 15-inch tortillas). Their gorditas and tamales also share the spotlights, so it's worth your money to add these dishes to your meal.
Location: 1605 N Haskell Ave., Dallas, TX 75204
Website: https://www.facebook.com/
Phone: (214) 827-0101
As the name suggests, exceptional pancakes are what put Honey Berry Pancakes And Cafe on the map. With locations spreading from Chicago, Milwaukee, to Dallas, this quaint coffee serves up its patrons with generous portions of food that is 100% made in-house.
Why should you visit this restaurant?
Honey Berry Pancakes boasts a bright and airy dining room, but the most coveted spot is their lovely outdoor patio, where you can get a little sunshine while chowing down the breakfast.
For those who want to get a little tipsy, it's best to check out Honey Berry Pancakes' full bar, where they serve some good vodka, Bloody Marys, and even Irish coffee.
Vegan diners can also delight with an entire section dedicated to their diets. If you want to enjoy breakfast in bed, the cafe also offers a 20% discount on online orders on weekdays, too.
What to eat?
The namesake Honey Berry Pancakes are a big hit there, which is also why many early risers keep coming back. Yet, you shouldn't pass on other decadent varieties, including cinnamon rolls, chocolate chip bananas, banana coconut cream pie, and creamy Nutella pancakes.
Location: 4520 Frankford Rd, Dallas, TX 75287
Website: https://honeyberrycafe.com/
Phone: (972) 645-0333
34. BuzzBrews Kitchen
This urban diner is where to savor Latin-inspired breakfast dishes around the clock and drink freshly brewed coffee to your heart's content.
Why should you visit this restaurant?
BuzzBrews's fun and spunky ambiance and retro-diner vibe draw a wonderful setting for people to dine in. It's the kind of place you can expect to see and to be seen, with many people from all walks of life, including the hipster, the coffee connoisseur, and the scenester.
The all-you-can-drink coffee service allows you to load up enough caffeine for the day. For non-coffee drinkers, mimosas, bloody marys, and many other libations at BuzzBrews' full bar promise not to leave you thirsty.
Not just for breakfast delights, Buzzebrews also entertain late-night hangout seekers with regular Monday & Tuesday Mic Nights and Wednesday Trivia Nights. On top of that, the Drag Brunch hosted by Daphne Rio is also a highlight at the Lakewood location you shouldn't miss.
What to eat?
Trust me when I say that the specialty stuffed egg is the best way to start your day. The regulars also rave about their savory crepes, like the French Connection, Bluto, and Hippie Piggie. Southern-border items such as migas and chicken San Miguel are also must-try, too.
Website: https://www.buzzbrews.com/
Location 1: 4154 N Central Expy, Dallas, TX 75204
Phone: (214) 826-7100
Location 2: 5815 Live Oak St #102, Dallas, TX 75214
Phone: (214) 370-5815
Location 3: 2801 Commerce St, Dallas, TX 75226
Phone: (214) 741-2801
35. Ascension Coffee
With a sizable menu for all-day dining and a bunch of premium slow-roasted coffee options, Ascension Coffee is a favorite spot for coffee and breakfast lovers alike.
Why should you visit this restaurant?
Ascension's fun, upscale indoor space is a perfect spot for gathering or getting some work done while enjoying a tasty breakfast. Walking into the cafe, you can instantly scent the aromatic roasted coffee swirling up in the soaring ceilings.
The coffee shop takes coffee seriously, as the staff slowly roast the beans in-house to guarantee unmatched quality and freshness. Several coffee varieties also highlight women-led farms, which Ascension sourced from the Super Mujeres auction.
Not just a destination for breakfast, Ascension also offers its Golden Hour in two locations at While Rock and Design District. Shareables, cocktails, desserts, and wines are on special deals during this time.
What to eat?
The original avocado toast, French toast, and poached eggs are all cooked to perfection. The pane aria benedict and migas are also tempting.
Yet, if I were to name my most beloved breakfast there, it would be the bar n wagyu pastrami hash, which stars a bed of sweet and gold potatoes under a sunny side egg.
Website: https://ascension.coffee/
Location 1 (Design District): 1621 Oak Lawn Ave, Dallas, TX 75207
Phone: (214) 741-3211
Location 2 (Crescent Court): 200 Crescent Ct #40, Dallas, TX 75201
Phone: (469) 941-4542
Location 3 (White Rock): 9353 Garland Rd, Dallas, TX 75218
Phone: (214) 778-1443
Here's Your Breakfast Bucket List In Dallas, Texas!
Lay off the snooze button and head to any of these essential breakfast spots in Dallas – it's the best way to start your morning!
Whether you're looking for stacks of pancakes, New York-style bagels, and eggs in many ways, you can also find something to satisfy your taste buds at these amazing spots. Since Dallasites take breakfast seriously, I believe you might have some other recommendations in mind, too.
If yes, don't hesitate to drop a comment; I promise to check them out and keep this restaurant guide updated further. Please do me a favor and hit the like and share button! See you in my next post!