Do you often fantasize about the best French restaurants in Dallas, Texas? It's time to stop daydreaming and start acting! Dive into this post to explore the most highly-rated destinations where you can enjoy fabulous French food in a pleasant setting.
French cuisine has always been associated with luxury and sophistication, so many places of my choice are high-end eateries. But also included in this article are casual bistros with huge servings and good value for money. Both have their own beauty, so let's discover them all!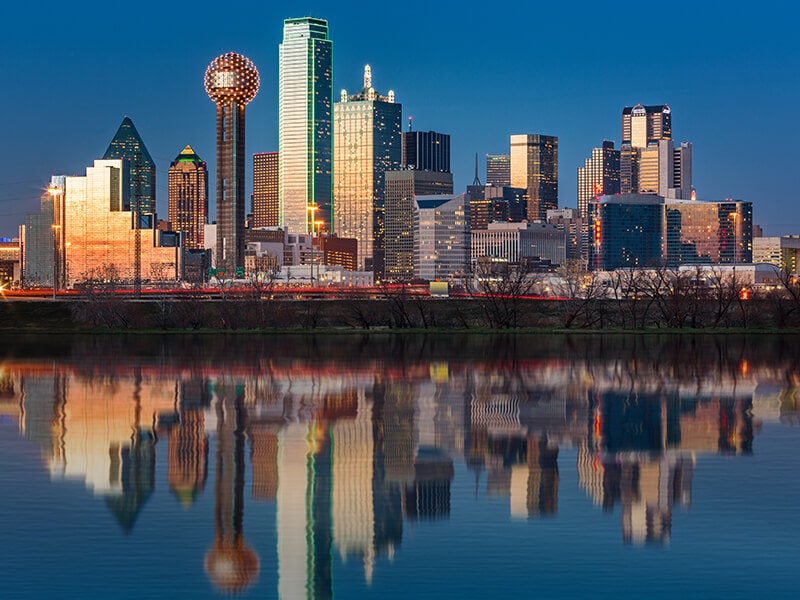 Fantastic French Restaurants And Where To Find Them In Dallas
You can look at this outline to have a quick grasp of the best places for a romantic meal with French vibes in Dallas.
Lavendou Bistro Provencial
Cafe de France
St Martin's Wine Bistro
la Madeleine
Boulevardier
Rise nº1 – Dallas
Bistro 31
Knox Bistro
Mercat Bistro
Cadot Restaurant
Toulouse Cafe and Bar – Dallas
Whisk Crepes Cafe – Dallas
Dalla's Top French Restaurants To Make You Say "Ooh La La!"
Do your favorite dishes include escargots, onion soups, coq au vin, or soufflés? If so, you're in luck because the following destinations are experts at preparing them and countless other French eats.
Specializing in Southern French cuisine, this no-frills restaurant blends delicate bites with a casual ambiance to a spectacular effect.
Why choose this restaurant:
Since 1996, Lavendou Bistro Provencial has been a preferred getaway destination. Step into its sun-drenched patio with lush greenery, and you will travel from dazzling Dallas to the French countryside, with the herbal aromas of stews and aged wine to complete the experience.
In the charming setting with rustic decor, you can dig into delicious French dishes for lunch and dinner. The restaurant week (in August and September) and Easter brunch are other inviting features not to miss.
What to eat:
My top recommendations are gratinée à l'oignon (French onion soup), escargots à la bourguignonne ( snails with butter and spices), côtes d'agneau grillées (grilled lamb chops with vegetables and fries), and poulet rôti aux olives niçoise (roast chicken with olive sauce).
Location: 19009 Preston Rd Suite 200, Dallas, TX 75252
Website: https://www.lavendou.com/
Phone: +19722481911
This casual French-American cafe has served breakfast staples all day and various dishes for lunch and dinner since 1982.
Why choose this restaurant:
If you want to find a terrific breakfast restaurant in Dallas, Cafe de France is your dream come true. It delivers finger-licking crepes, croissants, soups, sandwiches, and so on, all with a French balance of flavors and food presentation.
However, this place also bears a strong American identity: you can find multiple classic comfort food items, such as steak and burgers. The same thing goes for the ambiance: it is a mix of Texas hospitality and European romantic vibes, made better by courteous and smiling servers.
What to eat:
Crepes and croissants are the bread and butter of the breakfast menu. They can go with a wide variety of fillings, so choose your favorite: Swiss cheese and bacon; ham and cheese; sausage and cheese; mushrooms; spinach, scrambled eggs, and cheese; etc.
Regarding lunch and dinner, you can ask for veal marsala (featuring mushrooms and marsala wine glazing), spicy blackened soles, and racks of lamb with Bordeaux wine sauce, among other things.
Location: 17370 Preston Rd, Dallas, TX 75252
Website: https://www.cafedefrancebistro.com/
Phone: +19727333400
If you're looking for a nice place to have an intimate meal with your loved ones, this French food fixture is among the best choices in Dallas.
Why choose this restaurant:
The dark and cozy building on Lower Greenville Avenue has been home to a superb restaurant since 1977. The team behind it prefers to see this place as a bistro with an informal ambiance, a relaxing dress code, and reasonably priced fare and beverages.
But locals and food reviews refer to it as one of the most romantic restaurants in Dallas, and it's easy to see why. Besides the chic European decor, St Martin's Wine Bistro also features live piano music every night and Sunday brunch, which guests rate as worthy of a sell-out concert.
In addition, the extensive wine list of hundreds of varieties, both American or Europe-imported, provides just the right catalyst for bold actions during special occasions. In fact, marriage proposals happen here every week.
If you're more concerned about food, you will be thrilled to know that this is one of the few places in Dallas that still serves classic French cuisine with little change.
What to eat:
St Martin's Wine Bistro's best-loved dish is the champagne brie soup, but lobster thermidor (Australian lobster meat and crab meat cooked in a rich sauce) and pan-seared Chilean sea basses don't fall far behind.
Location: 3020 Greenville Ave, Dallas, TX 75206
Website: http://www.stmartinswinebistro.com/
Phone: +12148260940
4. la Madeleine
la Madeleine is a Dallas-based chain of over 80 French restaurants spread all over America. It also encompasses markets, bakeries, cafes, etc.
Why choose this restaurant:
As Dallas is the headquarters of la Madeleine, you will never be far from this restaurant chain wherever you travel in this exciting Texas city.
There can be some disparities in the pricing and opening hours between the locations (some serve breakfast, but others don't), so check the website beforehand.
Despite these differences, one thing is for sure: la Madeleine offers fantastic French eats in a casual and soothing setting. Its timeless recipes have an emphasis on sandwiches, soups, and salads.
What to eat:
The signature chicken la Madeleine (consisting of balsamic marinade and creamy wild mushroom sauce) is indeed the go-to dish for first-timers. Next, you can refresh your palate with buttery ham-stuffed quiche lorraine and salade samplers (featuring three salad varieties).
Location 1:
Location 2:
Location 3:
Location 4:
Location 5:
Location 6:
Location 7:
Location 8:
Opened in 2012, Boulevardier is one of Dallas' best places for dinner with fantastic French food, especially for someone searching for must-try dining venues in Bishop Arts District.
Why choose this restaurant:
Though small in size, this trendy bistro isn't lacking in delish French bites, American and French wines (there are 150 bottles of them), or upscale vibes. On weekdays, it is open only for dinner, but you can have a fun weekend brunch or lunch here.
While the charming patio is another nice touch, I bet you're more interested in the special dishes and drinks that Boulevardier offers at bargain prices on Tuesday and Friday.
What to eat:
In terms of dinner, I strongly suggest wood-grilled oysters with spicy casino sauce, grilled octopus with pickled raisins and popped sorghum, and braised pork shank risotto. Meanwhile, the combo of crisp duck leg confit and sunny eggs is a fantastic brunch option.
Location: 408 N Bishop Ave #108, Dallas, TX 75208
Website: https://dallasboulevardier.com/
Phone: +12149421828
Known for its world-famous soufflés and undeniably French vibes, Rise nº1 is an unbeatable venue for date nights or special parties. It has another location in Fort Worth.
Why choose this restaurant:
While the superb menu items at Rise nº1 may make a not-so-small dent in your wallet, its unrivaled quality is worth every cent. Besides, they are all very filling, their portions generous enough to split among friends.
And coming with friends is the right thing to do because the eye-catching decor of this cute spot is too adorable to enjoy alone. While the space seems very casual, there is something very stylish about the colorful ornamentations and botanicals that you can't take your eyes off.
What to eat:
When it comes to soufflés, you can choose from a long list of sweet and savory stuffings: jambon & Gruyère, smoked salmon, raspberries, or grand marnier. As for entrees, the marshmallow soup and large Rise salad with chicken or smoked salmon won't let you down.
Location: 5360 W Lovers Ln #220, Dallas, TX 75209
Website: https://risesoufflé.com/
Phone: +12143669900
As a European bistro, Bistro 31 delivers flawless food from Spanish and Italian cuisines, but its special focus is French dishes.
Why choose this restaurant:
While Highland Park Village has the impression of a trendy shopping destination, it doesn't lack fantastic restaurants. The upscale Bistro 31 is one such location to end your shopping frenzy on a high note.
The airy eatery follows the Art Deco style, with custom chandeliers, upholstered settees, and white oak herringbone floors. While the menu incorporates inspiration from other Mediterranean countries, it packs enough elegance to trick your mind into thinking that you're at a Parisien cafe.
For an even higher-end experience, head upstairs to Lounge 31, a spacious room featuring rich decor and plentiful natural light.
What to eat:
My top picks are big eye tuna tartares, escargot persillade (snails served with butter and toasted baguettes), Bistro salads, and filet au poivre (prime beef tenderloin with house-made fries). I also like Bistro 31 burgers (with prime beef and cheddar cheese) for fast food.
Location: 87 Highland Park Village Suite 200 / 1st Floor, Dallas, TX 75205
Website: https://www.bistro31dallas.com/
Phone: +12144203900
Formerly known as Up on Knox, Knox Bistro is still a local destination for enjoying French-American food in a non-fussy setting. It is located by the famous Katy Trail and is very convenient to visit after a walk.
Why choose this restaurant:
This popular bistro ranks high on the list of top-notch eateries in Dallas' Knox-Henderson area. Its food, evocative of the most refined French fare, is so spectacular that the complimentary basket of bread you receive at the beginning of the meal to go with soups and other dishes will run out in a flash.
Don't be fooled by its laid-back atmosphere. While the ambiance is sufficiently low-key for a quick lunch, the airy room decorated with wicker-backed chairs and illuminated by floor-to-ceiling windows is highly suitable for formal occasions.
Complementing a seasonal menu with many tasty eats is the large selection of wine by the glass. For a relatively small fee, you can browse through various red wines and a few white or sparkling wine varieties.
What to eat:
Coconut chia seed puddings for weekend brunch, steak frites (hanger steak with butter and french fries) or grilled salmon with roasted mushrooms for lunch, and moules marinières (mussels in savory sauce and french fries) are the winning combo that you can't go wrong with.
Location: 3230 Knox St #140, Dallas, TX 75205
Website: https://knoxbistro.com/
Phone: +14692504007
You can find French grab-and-go grub, traditional entrees, and beautifully made small plates here.
Why choose this restaurant:
As this romantic French bistro is located near the American Airlines Center, many people see it as a perfect stop after a game or concert. Others, however, come here solely because of its flavorful air and inviting atmosphere.
Mercat Bistro can provide anyone in Harwood District with the best eats for breakfast, lunch, dinner, and weekend brunch. While it's a terrific idea to sit in the vintage-style interior, in which the lovely ambiance is palpable, you should ask for a place in the artsy outdoor gazebo.
This eatery provides complimentary valet parking, which is a godsend because it can get very crowded, especially during brunch on Saturday and Sunday.
What to eat:
The quiche lorraine (with bacon lardons and gruyere) and quiche florentine (featuring spinach, gruyere, and fines herbes) will greatly whet your appetite.
Also, you will do well to order croque monsieur sandwiches (sourdough bread, sauce mornay, gruyere, and ham) and signature Mercat burgers (brioches stuffed with brisket short rib,, gruyère, aioli, and french fries).
Location: 2501 N Harwood St, Suite 225, Dallas, TX 75201
Website: https://www.mercatbistro.com/
Phone: +12149530917
Offering a blend of classic French food and several familiar American menu items, this elegant restaurant can accommodate both modern eaters and foodies in love with real French dining.
Why choose this restaurant:
Cadot Restaurant is the brainchild of chef Jean-Marie Cadot, who comes from a family with a long baking tradition spanning centuries. The culinary finesse in his DNA, as well as his own experiences at various Michelin-starred restaurants, ensures you will savor a fantastic meal here.
But the nostalgia for authentic French food isn't the only hook. The convivial atmosphere, seamless service, and occasional live music will make your time as enjoyable as possible.
What to eat:
Chef-driven appetizers are Cadot Restaurant's specialty. You can try two types of escargots: stewed with butter and garlic sauce or sauteed in a garlic cream sauce with anise liqueur.
Next, I recommend sea basses crusted with pecans, butternut squash, and chardonnay sauce for the main course and various flavors of soufflés for desserts.
Location: 18111 Preston Rd Ste. 120, Dallas, TX 75252
Website: https://cadotrestaurant.com/
Phone: +19722675700
Serving a modern take on traditional French-influenced Belgian cuisine, Toulouse Cafe and Bar won't disappoint devoted foodies. Its two other locations are must-visit eateries in Plano and Houston.
Why choose this restaurant:
The dog-friendly open patio with Paris-imported woven bentwood chairs of this beautiful dining venue is often the most sought-after feature.
Take a cozy seat, and you can enjoy a lunch, dinner, or weekend brunch of peerless quality while watching folks traveling along the Katy Trail, which runs next to the restaurant.
However, the delightful atmosphere in the attractive dining room is no less appealing. You can walk on the floors covered with black and white hexagonal tiles, watch your reflections on the antique mirrors on walls, and sit in an ornate leather-dressed chair adorned with brass nailhead trim.
While the website describes the restaurant as serving Belgian food with French inspiration, even die-hard French foodies will hardly find fault with its pleasing fare.
What to eat:
Classic dishes such as lobster bisque, mussel mariniere, and French onion soup are definitely worth your attention. For more diversity, you can order oysters maison toulouse (fried oysters with creamed salad and bacon), steak frites, or poulet roti (roast chicken with fries and other sides).
Location: 3314 Knox St, Dallas, TX 75205
Website: https://www.toulousecafeandbar.com/
Phone: +12145208999
For its original location in Dallas, which opened its door in 2015, Whisk Crepes Cafe expanded its business to Houston, Plano, and Nashville. It is a local favorite French spot for a light meal.
Why choose this restaurant:
As you can guess, crepes are the name of the game at this cafe-restaurant. You'll be spoiled for choices, from nutrient-packed savory crepes to sweet ones with fruity fillings. They can make for a quick yet enjoyable breakfast, brunch, lunch, or dinner (the eater is open at 8 AM daily).
Besides the fixed items, Whisk Crepes Cafe offers the option to build your own crepes. With various fillings and toppings to consider, you can exponentially increase your meal's value by customizing your bites to your liking.
While many people like to order to-go crepes to enjoy on the go or in the comforts of their home/ office, I find its tiny dining room with lovely decor a perfect place to enjoy my crepes. In addition, doing so allows you to enjoy house-special coffee, wine, and fruit juices.
What to eat:
Here are my recommendations: Notre Dame crepes with Nutella, strawberries, and vanilla ice cream; Cookies and Cream crepes featuring the namesake ingredients, plus strawberries and chocolate sauce; and Hens of the Wood crepes with turkey, creamed mushrooms, and cheese.
Location: 1888 Sylvan Ave Suite F-120, Dallas, TX 75208
Website: https://www.whiskdallas.com/
Phone: +14694071899
It's So Easy To Enjoy A Feast Of French Flavors In Dallas
Whether classic French dishes or modern creations with American inspiration are your things, wonderful French restaurants in Dallas can effortlessly satisfy your cravings. Of course, fancy decor, a friendly atmosphere, and visually stunning food presentation are their calling cards, too.
So buckle up and plan a trip to those eateries to treat yourself to a memorable dining experience. If you travel with a special someone, it will be even better. Feel free to tell me about our meal in the comments section. And don't forget to share this post with your friends!