On the hunt for the best vegan restaurants in Houston, TX? These great vegan choices prove that Houston is not just a steakhouse town!
If there's one thing that most out-of-towners know about Houston, it should be that Houstonians are meat-lovers. Finding quality vegan restaurants can be a struggle, yet, it should not.
Houston's dining landscape is ever-evolving. Many vegan restaurants have popped up throughout the neighborhood to cook amazing plant-based dishes. Below are the best places in Houston to go vegan!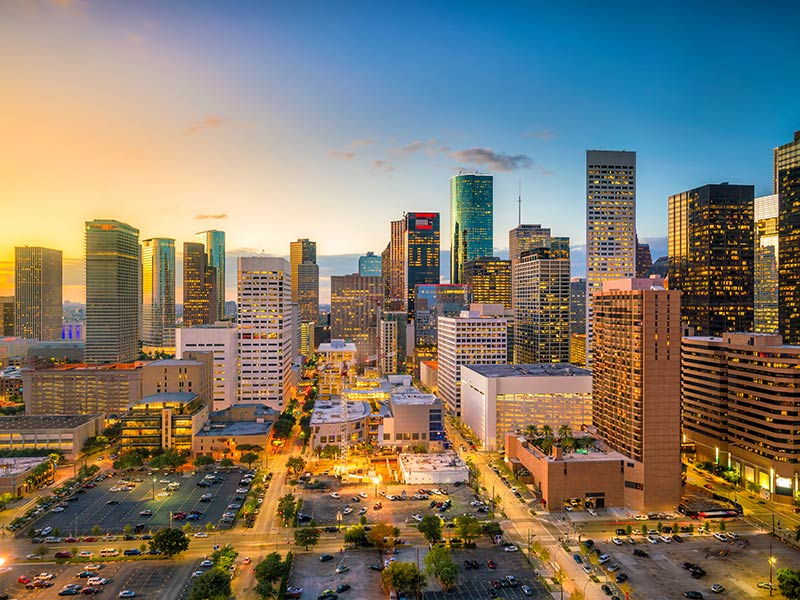 12 Best Vegan Restaurants Houston TX To Go Vegan!
Houston is trying to be more vegan-friendly than ever. There's a growing number of vegan restaurants popping up from one end of the town to the other.
This article rounds out the best options, where vegans and non-vegans can leave with a happy stomach! Scroll down for the must-visit stops for a wholesome plant-based meal!
Green Seed Vegan started as a food truck, but now it has settled in a brick-and-mortar store not far from Houston's Museum District. Coming along with the new location is not only the signature dishes from the food truck but also many more items and extra serving hours.
The menu offers many vegetarian takes on American comfort foods. Their fresh-pressed paninis are always a local favorite.
Try the pb&p with caramelized plantains, spinach, and peanut butter spread. Or go for tosh, which is maple jerk garbanzo tempeh, jerk aioli, spinach, and grilled plantains. All paninis are served with French bread, but there are three other alternatives for gluten-free folks.
Regarding side dishes, sweet potato dill fries and cauliflower nuggets might steal the show. Either of them will make a great accompaniment to whatever main you have. Order a juice or fruit smoothie to complete your healthy meal.
Price Range: $$
Food Styles: Vegan, Juice Bars & Smoothies
Location: 4320 Almeda Rd, Houston, TX 77004
Website: http://greenseedvegan.com/
Phone: 844-365-8346
Order Pickup:
Order Delivery:
Table Reservation (Not available)
Green Seed Vegan has some of the best raw vegan options in town.
Doshi House is among the trustworthy stops if you want to grab a vegan drink in town. This coffeehouse is a converted historical building with rustic furniture and floral decor. It's a great place where coffee and tea lovers can grab a delicious bite.
They have a robust vegan drink menu, which features locally roasted coffee beans and plant-based milk.
Doshi House is more than just a coffeehouse, though. Snag a seat at their lovely patio, order a drink from their selection of teas, tonics, and fusions, and chill out.
This cozy, homey spot also offers many vegan and vegetarian dishes for breakfast, lunch, and dinner.
Mumbai street paninis with peas, hummus, potatoes, vegan chutney, and onions are outstanding. Yet, my favorite (and many patrons') is the lip-smacking curry every Thursday. The seasoned shiitake protein and paratha bread are perfect with the curry sauce.
Price Range: $
Food Styles: Vegan, Vegetarian
Location: 3419 Emancipation Ave, Houston, TX 77004
Website: https://www.doshihouse.com/
Phone: 713-814-5085
Order Online:
Table Reservation (Not available)
If you're in the mood for Asian foods, Trendy Vegan is among the top-rated spots in Houston, Texas for plant-based items.
Diners can indulge in popular Asian vegan dishes such as General Tso Tofu, DanDan noodles, spicy dumplings, and vegetable sushi rolls. Plus, the menu also has brown rice options if you're seeking a healthier alternative to white rice.
The menu reflects the influence of East Asian cuisine, with plenty of spicy dishes to choose from. If you want to try a little bit of everything, choose the Bento box option. It comes with your choice of dumplings, rice, DanDan noodles, and salad.
Price Range: $$
Food Styles: Vegan, Asian
Location: 3821 Richmond Ave., Houston, TX 77027
Website: https://www.trendyveganhouston.com/
Phone: 713-621-9488
Order Online:
Table Reservation:
If you're craving Beyond burgers, Burganic Hub is among the finest uptown Houston restaurants you can trust. The vegan burgers here are phenomenal, and I bet that even a serious carnivore won't miss the meat.
All that's missing is a side that can complement your delicious burgers. You can't beat the classics – fries. The good news is that it is something that Burganic Hub also excels at. Whether you choose typical potato fries or sweet potato versions, you won't be disappointed.
Burgan Hub also has meat-based burgers, with organic grass-fed Halal beef and chicken as their fillings. This means that there's always something for everyone in your family in one order.
Price Range: $$
Food Styles: Vegan, Halal
Location: 2721 Chimney Rock Rd, Houston, TX 77056
Website: http://www.burganichub.com/
Phone: 832-834-4930
Order Pickup:
Order Delivery:
Table Reservation (Not available)
Are you bound for a visit to ISKCON Hare Krishna Temple and Cultural Center? If yes, stop by Govinda's Vegetarian Cuisine for some vegan Indian specialties.
Paneer Tikka Masala (paneer cheese, bell peppers, tomatoes, and butter) and Tofu Curry (chickpea flour and coconut milk) are the must-tries. Note that Paneer Tikka Masala is not a vegan option!
This top-rated Indian eating house in Houston, Texas starts as a vegetarian restaurant. However, they serve completely vegan options on three days of the week: Sunday, Wednesday, and Friday.
The restaurant serves all-vegan foods for special occasions such as New Year's, Cinco de Mayo, or Thanksgiving day.
Moreover, this eatery in the US serves a must-try buffet, with around 20 offerings that rotate daily throughout the week. Best of all, thanks to their to-go menu, you can order the buffet-style meal to your doorstep.
Price Range: $$
Food Styles: Vegan, Vegetarian, Indian
Location: 1320 W 34th St, Houston, TX 77018
Website: http://govindashou.com/
Phone: 832-831-9951
Order Online:
Table Reservation (Not available)
Located just in Houston's Westchase neighborhood, Veegos boasts a mural-clad space with colorful images. There is both indoor and outdoor seating to accommodate their patrons.
Come for authentic tacos, enchiladas, quesadillas, and more that are cooked fresh and served hot at this vegan Mexican restaurant. Veggos aims to prove that plant-based eats can be just as flavorful and satisfying as meat-based dishes.
Their nachos, which come with chili and beans, are among the best sellers. The dish is well spiced and full of flavors that will get you craved on your next visit.
Quesadilla is impressive, too. It comes with flour tortillas studded with vegan cheese, your chosen protein, and other fixings (tomatoes, sour cream, and lettuce). I've tried many vegan versions of Quesadilla, but the melty vegan cheese here ultimately wins my heart.
Are you a fan of pozole (Mexican stew with hominy and baby Bella mushroom)? Then, stop by from Friday to Sunday. The restaurant reserves this special dish for the weekends.
Price Range: $$
Food Styles: Vegan, Mexican
Location: 10932 Westheimer Rd #A, Houston, TX 77042
Website: http://www.veegoshouston.com/
Phone: 281-888-5030
Order Online:
Table Reservation (Not available)
Cascabel is a neighborhood's favorite for its delicious vegan Mexican fare. The restaurant has a welcoming atmosphere and a garden courtyard where diners can enjoy a chilly glass of margaritas while waiting for the entrees.
There are a variety of classic Mexican dishes on offer. Cascabel quite excels at making tacos with their handmade, gluten-free tortillas. Besides, don't exclude yourself from other delicious dishes, such as burritos, quesadillas, tostada plates, and more.
If you're hosting a party here, Cascabel's party size sampler and empanadas will make perfect choices. Happy hours are from 11 A.M – 10 P.M on weekdays, 10 A.M – 10 P.M on Saturdays, and 10 A.M – 3 P.M on Sundays.
Price Range: $$
Food Styles: Vegan, Vegetarian, Mexican
Location: 1415 Murray Bay St, Houston, TX 77080
Website: https://www.facebook.com/cascabelvegan/
Phone: 713-999-9551
Order Online:
Table Reservation (Not available)
Cascabel is a formidable contender in the neighborhood for vegan Mexican fare.
This international vegan food chain has grown significantly in recent years, with its presence spreading across America, Africa, European, and more. They currently run over 200 locations in 35 countries.
This Houston eatery features vegan dishes with an Asian twist. However, the restaurant also gives the chefs freedom of creativity to create dishes that speak to the locals' palates.
At this Houston outpost, a wide range of Asian-focused dishes are on the menu, from Vietnamese to Thai to Japanese. Crowd-favorite dishes include Spicy Pad Thai, Golden BBQ Vermicelli, BBQ rolls, Fabulous Pho, and more.
Yet, American eats such as Loving Hut burgers, Texas BBQ burgers, or Beyond burgers are also present. Leave room for their vegan cheesecake, which tastes heavenly and even better than dairy-based.
Price Range: $$
Food Styles: Vegan, Vegetarian, Asian Fusion
Location: 2825 S Kirkwood Rd #100, Houston, TX 77082
Website: http://lovinghut.us/houston/
Phone: 281-531-8882
Order Online:
Table Reservation (Not available)
9. Local Foods
You'll spot this casual restaurant in Rice Village, Upper Kirby, and other regions. Local Foods serve healthy salad, sandwiches, and many other local food options.
By partnering with local farms, and artisanal purveyors, the restaurant ensures they can only use fresh, seasonal, and locally sourced ingredients for their foods. Note that the menu changes with seasons, and so do the vegan options you have at this restaurant.
When dining here, the shareable cashew-based queso is a must to order. This vegan dish includes pico de gallo, house-made tortilla chips, and vegan taco meat. Quinoa burgers, power bowls, and vegan taco salad are other options that stand out.
Local Foods also strive to give back to the community. This brand donates food, money, and time to nonprofits and organizations in the surrounding neighborhood.
Currently, Local Foods have up to four locations across Houston's neighborhood. So, check out the closest easter near you.
Price Range: $$
Food Styles: Vegan, American
Location (Rice Village): 2424 Dunstan Rd #125, Houston, TX 77005
Phone (Rice Village): 713-521-7800
Location (Upper Kirby District): 2555 Kirby Dr, Houston, TX 77019
Phone (Upper Kirby District): 713-255-4440
Location (Tanglewood): 5740 San Felipe St, Houston, TX 77057
Phone (Tanglewood): 713-789-0642
Location (The Heights): 714 Yale St, Houston, TX 77007
Phone (The Heights): 713-360-6133
Website: http://www.localfoodstexas.com/
Order Online:
Table Reservation (Not available)
Pat Greer's Kitchen is the brainchild of the environmentalist and experienced raw vegan chef – Pat Greer. Her foods are entirely plant-based, dairy-free, and gluten-free, which promote a vegetable-forward lifestyle.
Choose from various creative, raw foods at this restaurant, from alkaline alchemy salad, meatball sub, spicy buffalo cauliflower, to Brussels Dijon salad.
Don't miss out on their crackers and cookies, either. Geez It, which is dehydrated bell peppers, onions, cashews, etc., is the best seller. If you crave extra heat, go for the Spicy Geez It that comes with a lot more cayenne.
Pat Greer's Kitchen also makes its kombucha, and there are a lot of flavors you can choose from. It's worth noting that the restaurant doesn't provide dine-in service. You simply order the food over the counter, grab it, and go.
Price Range: $$
Food Styles: Vegan, Desserts
Location: 412 W Clay St, Houston, TX 77019
Website: http://www.patgreerskitchen.com/
Phone: 713-807-0101
Order Online:
Table Reservation (Not available)
Korny Vibes is a great plant-based destination for Houston's brunchers. From pancakes, Beyond burgers, and crispy chicken sandwiches to breakfast Tacos, Korny Vibe is a brunch haven.
Yet, there are many other incredible vegan comfort foods to try out. Their vegan boneless wings are good, especially when paired with one of Korny Vibes's four sauces. Vegan fried shrimp basket and VFC (vegan fried chicken) are also a must here.
Don't forget to get yourself a glass of Korny Shake (oat-based soft with almond milk, ice cream, and coconut whipped cream on top). To many patrons, it's the top-notch drink of Korny Vibes.
Price Range: $$
Food Styles: Vegan, American (Traditional), Comfort Food
Location: 403 Westheimer Rd, Houston, TX 77006
Website: https://www.kornyvibeshtx.com/
Phone: 713-485-4609
Order Pickup:
Order Delivery:
Table Reservation (Not available)
As the name suggests, the chef-driven kitchen at Kenny's serves tasty Asian vegan cuisine with 100% plant-based ingredients. The menu also showcases vegan sushi and bento. Their seafood alternatives are made of soy protein.
This Houston eatery is just past the beltway on Wilcrest Drive. The convenient location and budget-friendly prices add to the appeal of this restaurant.
Chef Kenny's Asian Vegan Cuisine has an extensive menu, which means there's something for every palate. Indulge in Asian-inspired eats like vegan spicy Kung Pao chicken, Korean BBQ beef, or sushi rolls.
Price Range: $$
Food Styles: Chinese, Asian Fusion, Sushi Bars
Location: 6128 Wilcrest Dr, Houston, TX 77072
Website: http://www.vegck.com/
Phone: 281-617-7983
Order Pickup:
Order Online:
Table Reservation (Not available)
Visit These Houston Restaurants For Outstanding Vegan Foods!
The fast-growing Houston food scene has seen amazing vegetarian and vegan restaurants appear. Above are the great spots where you can enjoy plant-based eats in the neighborhoods.
Some wholeheartedly devote themselves to vegan foods, whereas a few others also try to accommodate those who are not following a plant-based diet. Whatever you choose, you're bound for an amazing vegan meal.
I hope that these options are enough for you while exploring Houston. If you have any comments about them, I would love to read them (drop them in the below section). Share this list with your vegan friends or those who enjoy plant-based foods. Thanks for reading!