Finding the best breakfast restaurant in San Antonio, Texas, may be complicated, but it will become easier with the support of this beautiful article. San Antonio has many breakfast restaurants with many fantastic options like classic recipes or Tex-Mex dishes.
Walking around downtown, you may encounter several breakfast eating destinations for dining and drinking. Let's follow the collection in this article to enjoy the best food and drinks with exceptional services in San Antonio.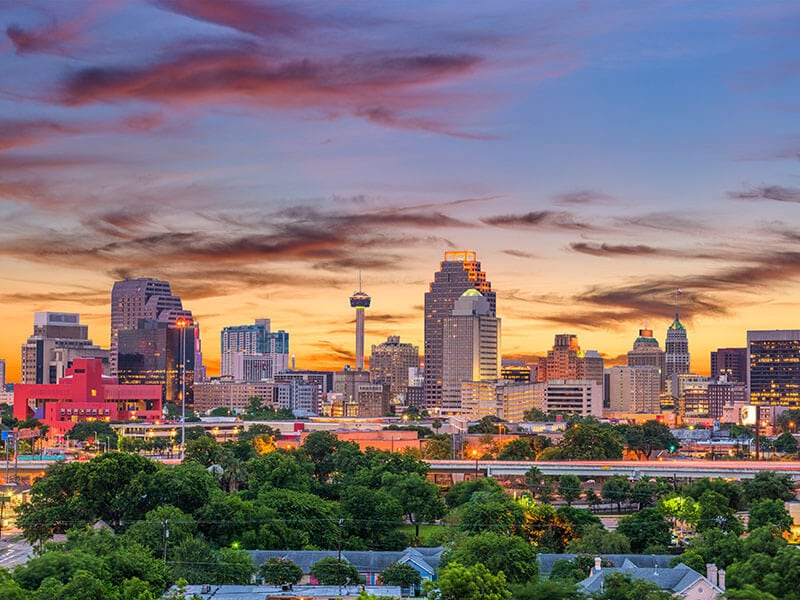 Top Notch Breakfast Restaurants In San Antonio You Must Visit
San Antonio is always on the prioritized destinations list of foodies when they come to Texas. The rich culture and cuisine allow you to find San Antonio's best restaurant in Texas. Let's check where you can have breakfast in San Antonio right now.
1. Bakery Lorraine
When coming to San Antonio, locals and tourists want to visit Bakery Lorraine once to enjoy their best-loved breakfast sandwiches and pastries here. Even better, you can go here with your kids since it has a separate menu for kids.
Make sure you do not miss the signature macarons when you come to the Bakery Lorraine. There are quite a few options for you with different flavors like caramel apple, strawberry, or champagne.
In addition, Turkish eggs, French toasts, Quiche Lorraine (French tart) breakfast, and Croque Madame (French sandwiches) are the bestsellers of this casual eatery. In particular, I love the wine shop service in this restaurant with various wines for multiple events.
Price range: $$ – $$$
Food styles: American, French, coffee
Location 1: 306 Pearl Pkwy #110 San Antonio, Texas 78215
Location 2: 7338 Louis Pasteur Dr. Ste 201 San Antonio, Texas 78229
Location 3: 17503 La Cantera Pkwy Unit 108 San Antonio, Texas 78257
Website: https://www.bakerylorraine.com/
Phone:
Table reservation: Unavailable
Order Online:
2. The Magnolia Pancake Haus
Magnolia Pancake Haus is the first place I want you to start your new day when you arrive in San Antonio. This restaurant's bustling and casual atmosphere will wake you up for an energetically long working day.
This famous restaurant was established and started operating in 2000. Today, the owners have expanded the restaurant with 2 large branches located at Huebner Road and Embassy Oaks.
The launch of the event center Magnolia Halle in 2016 made it possible for the restaurant to serve more guests and offer great culinary options.
Various pancakes are the signature feature of this restaurant. The softness and fragrance of these pancakes can captivate you instantly.
When you come here, you have the opportunity to enjoy great breakfast dishes like omelets, egg benedict, and crunchy French toast. If you want extra protein, let's choose signature breakfast meat with ham or Canadian bacon.
"First come, first served" is one of the typical rules of this restaurant. You'll get your seat and food first if you get to the restaurant first.
You must be good at catching the opportunity since you must be seated within 5 minutes of the seating notification. Otherwise, you'll have to wait for the next turn if you miss the notification.
Price range: $$ – $$$
Food styles: American, Vegetarian
Location 1: 606 Embassy Oaks, San Antonio, TX 78216
Location 2: 10333 Huebner Rd, San Antonio, TX 78240
Website: https://www.magnoliapancakehaus.com/
Phone: (210) 496 0828
Table reservation:
Order online:
Take a trip to the Magnolia Pancake Haus to taste the food.
Pete's Tako House is one of the best restaurants in San Antonio with delicious Mexican dishes. Moreover, this place is famous for serving the freshest Tex-Mex food in San Antonio. You can choose it for dining with your friends or family or hosting special events.
The restaurant is always confident about the quality and freshness of the ingredients used in the dishes. This restaurant will satisfy you with friendly, cheerful, and professional staff.
In addition to breakfast, lunch and dinners are available at this eating place. The tasty drinks are always ready to make your meal even better. Bud light, Budweiser, or Pacifico are remarkable liquids you can consider.
Cold drinks like ice-cold margaritas are the popular choice of diners. They are the most effective way to cool down when consuming typical spicy foods. Hence, feel free to enjoy spicy food as the restaurant's drinks can help you relieve the heat quickly.
Price range: $$ – $$$
Food styles: Mexican, Southwestern, Latin
Location: 502 Brooklyn Avenue, San Antonio, Texas 78215
Website: https://petestakohouse.com/
Phone: (210) 224 2911
Table reservation: Unavailable
Order online:
Take a closer look at the food and drinks at Pete's Tako House right now.
Domingo is an ideal restaurant on the San Antonio River Walk to enjoy the peaceful and pleasant feeling of a meal. It has a fantastic location right at the river with a gorgeous view and calm, relaxing atmosphere. It is a top-notch place to relax your mind amid the busy and hustling River Walk.
The service quality of the restaurant is above excellent. The staff always expresses their joy and politeness when diners enter. Their attitude and service are highly professional.
What more? There are many other services that you can refer to. The restaurant accepts office parties, engagement celebrations, and birthday dinners. The restaurant's team members will bring memorable moments to those events.
It's hard to resist the allure of the food here. The presentation is eye-catching and neat, and the flavor can captivate you in no time. In addition, you cannot miss the great cocktails when choosing this location to fill your hungry stomach.
Price range: $$ – $$$
Food styles: American, Mexican, vegetarian
Location: 123 North Saint Marys St, San Antonio, Texas 78205
Website: https://www.domingorestaurant.com/
Phone: (210) 404 7516
Table reservation: Not available now
Order online: Unavailable now
If you are looking for high-quality New Orleans breakfast in San Antonio, Texas, the NOLA Brunch & Beignets is the ideal place you must visit. Its menu provides many delicious, savory, and sweet choices for your day's first meal.
The executive chef, Pieter Sypesteyn, brings a classic and relaxed twist to diners. New Orleans is the intersection of many different cultures, such as Italian, French, and Caribbean, so Pieter's dishes have been influenced by these culinary styles since he was born and raised here.
Green egg & ham, chicken & beignets, avocado tostada, and garden district omelet are the must-tried dishes at the restaurant. Refresh your taste buds with many beverages, wine, and bubble options like a mimosa, sweet wine, hot coffee, or soda.
Furthermore, sweet and delectable beignets are the pride of this famous restaurant. The menu ranges from classic recipes with powdered sugar to lemon beignets stuffed with lemon curd. You can try the mixed version with classic, lemon, and seasonal beignets on a plate.
If you are near the restaurant, walking is best as you need to use the surrounding park or streets to park the vehicle. 11 am to 1:30 pm is the peak time, the customers can wait more than 1 hour and 30 minutes for a table.
Price range: $$ – $$$
Food styles: New Orlean, American food
Location: 720 E Mistletoe, San Antonio, Texas 78212
Website: https://www.eatatnola.com/
Phone: (210) 957 1086
Table reservation: Unavailable
Order online: Not available on Saturdays and Sundays
6. Pancake Joe's
Donaldson Ave and Ingram Road are 2 places where you can see Pancake Joe's signs. It is time to come and relieve your hunger with these delectable breakfast dishes. Plus, it is the ideal location for great lunchtimes with your family.
A light breakfast in the warm and modern atmosphere of Pancake Joe's is an unforgettable experience.
Most of the delicacies on the menu of Pancake Joe's are American traditional breakfast dishes with a Hispanic breeze. Your choices are diverse, with delicious pancakes, frittatas, omelets, waffles, or salads. Remember to mix them with chocolate milk or apple juice.
Price ranges: $$ – $$$
Food styles: American, cafe, and vegetarian
Location 1: 1011 Donaldson Ave, San Antonio, Texas 78228
Location 2: 6703 Ingram Road, San Antonio, Texas 78238
Website: https://www.pancakejoes-sa.com/
Phone:
Table reservation: Not available
Order online:
The Guenther House is a prominent dining place in San Antonio. Apart from being a restaurant, this place is also known for many other roles such as banquet facility, museum, and gift shop.
The appearance and decor deliver a nostalgic and classic vibe. This is an integrated design with an original kitchen, tea room, dining room, and outdoor arbor areas. When entering the restaurant, diners seem to return to the old days with the architecture in the style of the 20th century.
Stained glass, plant motifs, and symmetrical lines create distinctive and memorable accents in this simple and rustic place. You should take a tour around the Guenther House to experience the subtleties of its interior.
It is better to come to San Antonio from Wednesday to Sunday as the services at the restaurant are not available on Monday and Tuesday. What can you opt for breakfast in this casual eating place?
I highly recommend going for buttermilk biscuit and sausage gravy, strawberry sweet cream waffle, or breakfast tacos, and some drinks like coffee, iced tea, or hot tea.
Price range: $$ – $$$
Food styles: American, Vegetarian
Location: 205 East Guenther Street San Antonio, Texas 78204
Website: https://www.guentherhouse.com/
Phone: (210) 227 1061
Table reservation: Not available
Order online: Unavailable
Let's get into The Guenther House to experience its space and atmosphere.
8. La Panaderia Bakery Cafe
If you want to enjoy delectable handmade bread and pan dulce, you cannot miss La Panaderia Bakery Cafe. You can find American, French, and Italian cuisine on this lovely restaurant's menu in San Antonio.
You will have the opportunity to taste artisan baked goods created from the restaurant's 48-hour fermentation process. Many diners are surprised at the welcoming atmosphere the staff and cashiers bring to them.
Not only famous for bread, but this place also has tasty and rich bean soup, Cesar salad, and house salad. The creamy avocado dressing of house salad can tickle your taste buds instantly. Restaurants often add greens, pickled onions, and cheese to salads.
You can choose from many drinks such as zero sugar cola, pineapple cream soda, ice tea, and herbal tea. Even better, you do not have to wait to get your food, the cashier will give you a number, and the staff will find you to serve your food.
Price range: $$ – $$$
Food styles: Bakery, cafe, vegetarian, Mexican, Italian, French, and American
Location 1: 301 E Houston St, San Antonio, Texas 78205
Location 2: 8305 Broadway, San Antonio, Texas 78209
Location 3: 17030 Fiesta Texas Dr. Suite 105, San Antonio, Texas 78256
Website: https://lapanaderia.com/
Phone:
Table reservation: Not available
Order online: (The restaurant offers take-out order delivery)
9. Snooze, An A.M. Eatery
With a team of experienced and enthusiastic chefs, diners can be assured of the quality and flavor of the dishes on the menu of the Snooze, An A.M. Eatery. Authentic and responsibly sourced ingredients are a feature that makes many customers put their trust in the restaurant.
I went there and quite liked the clean environment at this eating place. Tables, chairs, and floors are always mopped and swept regularly.
You may be overwhelmed with the choices that you can have for breakfast here. Benedict, plant power, sandwiches, tacos, or burritos deserve 10 points. I ate shrimp and grits and fell in love with the rich flavor.
Price range: $$ – $$$
Food styles: American, cafe, vegetarian
Location 1: 225 E. Basse Road San Antonio, Texas 78209
Location 2: 11255 Huebner Rd Suite 100, San Antonio, Texas 78230
Location 3: 1305 N Loop 1604 W Acc Rd, San Antonio, Texas 78258
Website: https://www.snoozeeatery.com/
Phone:
Table reservation: Contact the restaurant by phone for more information
Order online:
Are you looking for the finest Tex-Mex location in downtown San Antonio? If yes, please take a trip to Mi Tierra Cafe & Bakery immediately. It is a long-standing eating place in downtown Texas.
Initially, the predecessor of this world-well-known landmark was a cafe with 3 small tables. It was born in 1941 and was a favorite spot for early rising workers and farmers in this downtown. It took 80 years to reach its current success.
There are many reasons for choosing this place for breakfast, such as superb location, outstanding service, and exceptional cuisine style. Also, its ambiance with art and music makes you want to return to this eating place again and again.
If you crave Tex-Mex food, you can come here anytime you want since it is a 24-hour eating place. You can find yummy candies and pastries inside the restaurant's signature Mexican bread. Don't forget to head to the bar for tequila, margaritas, and hand-crafted cocktails.
Price range: $$ – $$$
Food styles: Mexican, Latin, Southwestern
Location: 218 Produce Row, San Antonio, Texas 78207
Website: https://www.mitierracafe.com/
Phone: (210) 225 1262
Table reservation: Contact (210) 212 4302 for table reservation (Non-refundable deposit required, guaranteed attendance required 2 days in advance)
Order online:
Blow your mind with a tour to San Antonio to enjoy the food and atmosphere at Mi Tierra Cafe & Bakery.
Colonial Room Restaurant was born in 1859, and chefs Mary Menger and William Menger are the owners of this dining place. The diner has excellent dining experiences with old-fashioned cuisine, ragtime and early jazz in the background, and romantic lighting.
When you enjoy breakfast or lunch here, there will be no discount for senior customers. On the other hand, you do not need to pay for children 5 years old and under to eat at this restaurant.
Note that the restaurant only accepts parties of 10 or more when receiving a confirmed reservation with a credit card. For a creepy experience, you can participate in a ghost tour of the restaurant. It brings a unique and mysterious feeling when you listen to a ghost story while eating.
Price range: $$ – $$$
Food styles: American, Vegetarian
Location: 204 Alamo Plaza, San Antonio, Texas 78205
Website: https://www.mengerhotel.com/
Phone: (201) 223 4361, (210) 225 6169
Table reservation: (Table reservation is also available on the restaurant's website, or you can contact the restaurant by phone)
Order online:
Suppose you would like to enjoy mouthwatering European, German, or Deli foods in the morning in San Antonio, Schilo's restaurant is the place you should not skip. This is the oldest eating place in San Antonio at 100 years old.
Its menu is designed for breakfast, lunch, drinks, desserts, and kid's meals so diners can easily pick their best-loved food. Papa grits breakfast, potato pancake, breakfast tacos, or building your own omelet are options you should try for breakfast.
Spiked root beer is a traditional drink in this restaurant. Alternatively, you can warm up with mimosa, white, or red wine. Fruit juice, milk, and coffee are other great things you can see on the menu.
Price range: $$ – $$$
Food styles: American, European, Deli, German
Location: 424 E Commerce St, San Antonio, Texas 78205
Website: https://schilos.com/
Phone: (210) 223 6692
Table reservation: Contact the events team by phone (210 686 5670) for more information
Order online:
Let's go to Schilo's Deli to enjoy the excellent food of this eatery.
Supper American Eatery delivers the best and savory American foods and fascinating service whenever you need it. Supper's decor and design look harmonious with the modernity and historical vibe of Hotel Emma.
This restaurant is located along the extension on the north side of the San Antonio riverwalk, so it is possible to enjoy beautiful views of the river while having meals at this restaurant. The stellar staff also makes you feel comfortable and enjoyable at your breakfast.
Aside from delectable food, the relaxed spirits cocktails are another restaurant highlight.
Price range: $$ – $$$
Food styles: American, Vegetarian
Location: 136 E Grayson St, San Antonio, TX 78215, Hoa Kỳ
Website: https://www.supperatemma.com/
Phone: +12104488351
Table reservation: (Or make your reservation via phone or website)
Order online: Visit olo.com to make an online order
Fill Your Belly With The Excellent Eating Places In San Antonio
Many notable and finest drinking and eating destinations are waiting for you to discover in San Antonio. And you need the best instructor to bring you to the correct location. I have just left a list of the excellent places in this article, so it is possible to get your best food for breakfast.
Sharing these words is the most effective way to introduce the outstanding breakfast restaurant to other visitors. This way allows them to taste the succulent food and drinks in beautiful San Antonio in the morning.
Do you love the food in the restaurants? How is your tour to the destinations? Do not hesitate to tell me about your experiences when stepping into the places I have recommended in the comment section. Thanks a lot!