Read this article for the best restaurants in Stone Oak, San Antonio, that you should check out when visiting the neighborhood.
Stone Oak is the northern San Antonio neighbor that is famous for visual appeal, shopping centers, safety, and convenient access to downtown San Antonio. Yet, its dining landscape, with many great restaurants across the area, is also worth discussing.
From splurge-worthy, luxurious steakhouses and pizza restaurants to Mexican dining spots, Stone Oak locals and visitors alike would find it a bit hard to choose where to go for dinner.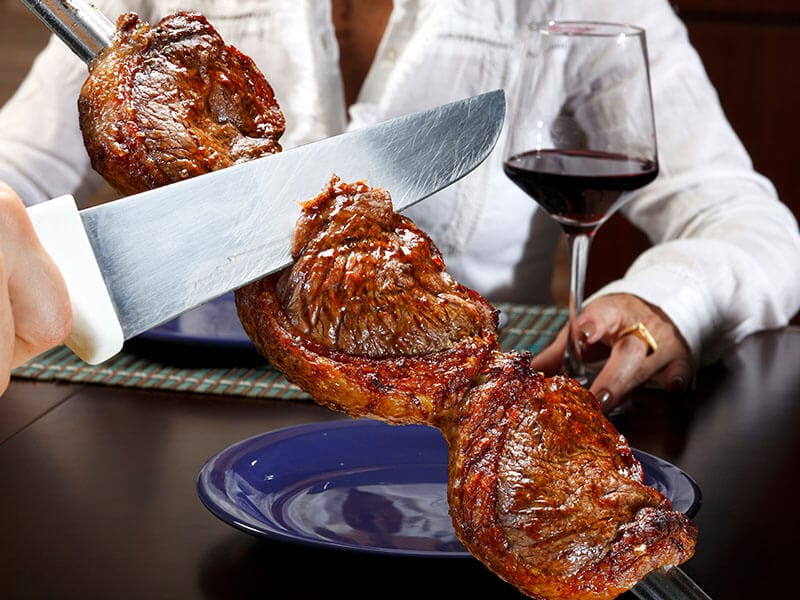 Are you bound for a visit to Stone Oak? Unwind and sit down for good food and drinks in any of these restaurants.
Do you like long-standing steakhouses that dish up the most gourmet steak? How about eateries in San Antonio (Texas) serving Thai foods, or Mexican, Japanese, or Italian cuisines? You're sure to have an amazing experience dining here.
It takes just a short drive from Homewood Suites by Hilton to this neighborhood's favorite dining spot. Chama Gaucha Brazilian Steakhouse specializes in Southern Brazil cuisine, and they are most known for their generous servings of BBQ meats.
This Brazilian steakhouse is a must-try for steak lovers who want to experience something a little bit different.
Come for their juicy and tender steak that is served on a large skewer and sliced by a specially-trained gaucho chef. You'll use the card to signal your demand and provide tongs to grab the meat.
Among Chama Gaucha's 12 meat types, Picanha (a prime sirloin cut) is its signature. Beef-lovers can enjoy other beef options, including Praldinha (bottom sirloin), filet mignon, and ribeye.
Other BBQ meats, such as pork, lamb, or chicken, are also featured on the menu to ensure their guests have plenty of options. Their impressive salad bar, which boasts up to 30 different items, is also a well-loved place for vegetarians.
Price Range: $$$
Food Styles: Brazilian, Steakhouse
Location: 18318 Sonterra Place, San Antonio, TX 78258
Website: https://www.chamagaucha.com/
Phone: 210-564-9400
Order Online: (Not available)
Table Reservation:
Here's a brief tour of Chama Gaucha Brazilian Steakhouse, where steak is served in a very Brazilian fashion.
Founded in 2011, Sushi Express adds an Asian touch to the neighborhood's dining scene. The menu features Japanese and Korean fusion, with classic dishes such as pork/beef Bulgogi, an array of rolls, sashimi, and Kimchi.
Sushi is the obvious star in this casual and welcoming eater. It's freshly made and phenomenal.
That's why many patrons rank Sushi Express among the finest restaurants in San Antonio, Texas as far as sushi is concerned.
House Boat or Stone Oak Boat, which includes sushi, sashimi, and rolls, is highly recommended if you're a sushi lover. Either option comes with a miso soup, which is perfect to complement the seafood.
Price Range: $$
Food Styles: Korean, Japanese, Sushi Bar
Location: 19903 Stone Oak Parkway, Ste. 208, San Antonio, TX 78258
Website: http://sushiexpresssa.com/
Phone: ​​210-499-0840
Order Pickup:
Order Delivery:
Table Reservation:
Embers Wood Fire Kitchen & Tap is a locally owned restaurant with a beautiful patio and a great view. The restaurant has an oak fire grill and oven, where most dishes are cooked.
Embers Wood Fire Kitchen & Tap serves classic American dishes such as burgers, pizza, wings, and fries. Many wood-grilled options are worth a try.
They are best known for wood-fired pizzas, and the Pepperoni Extreme is among the must-try here. Pizza and beers are one of the best combinations around, and this casual restaurant knows it well.
There are up to 50 plus types of beer on tap. Also, join their "Unwine Wednesday" when you can get a bottle of wine for just half or three-quarters of the usual price.
Price Range: $$
Food Styles: American (Traditional), Pizza, Beer Bar
Location: 819 N Loop 1604 E, San Antonio, TX 78232
Website: https://www.emberstap.com/
Phone: 210-888-1083
Order Online:
Table Reservation:
Kirby's Steakhouse is a long-standing upscale restaurant that offers its patrons a fine dining experience. Opened in 1954 in Dallas as one of the first specialty steakhouses in the area, Kirby's Steakhouse knows one thing or two to cook up a steak that's bound to please.
Kirby's uses certified Angus steak and Midwestern prime-graded beef to ensure the best steak. Every cut of meat reaching your plate should be consistently tender, juicy, and flavorful.
Apart from steak, the menu also serves up a variety of seafood options and delicious daily chef specials. Plus, the impressively long wine list is also something this restaurant can boast about. Up to 3500 bottles of New and Old wines are kept in a temperature-controlled cellar.
For a luxurious dining experience that you'll want for a date or special celebration, Kirby Steakhouse is a trustworthy option.
Price Range: $$$
Food Styles: American, Steakhouse
Location: 123 N Loop 1604 E, San Antonio, TX 78232
Website: https://kirbyssteakhouse.com/
Phone: 210-404-2221
Order Pickup:
Order Delivery:
Table Reservation:
Aldaco's Mexican Cusine boasts a spacious patio and a scenic view, making it a great spot for alfresco dining.
But there's more than that to justify the frequent visits of many Stone Oak's locals. The restaurant dishes up delicious Mexican fare. Try their classic Tex-Mex cheese enchiladas – enchiladas de queso or fajitas (with grilled beef, shrimp, or chicken).
Their tacos are also well-received by diners. Tacos Al Pastor, for example, comes with marinated pork sirloin and corn tortillas, and their salsa is highly suggested.
Alternatively, if you love seafood, go for Tacos Del Mar, where the flavors of fresh tilapia shine on the corn tortillas. Aldaco's Mexican Cuisine also has a full bar, and their avocado margarita is a special offer.
Price Range: $$
Food Styles: Mexican
Location: 20079 Stone Oak Parkway, San Antonio, TX 78258
Website: https://aldacosrestaurants.com/
Phone: 210-494-0561
Order Pickup:
Order Delivery:
Table Reservation (Not available)
Salata has nearly 90 locations across 5 states in the country. This restaurant is a great place for a fresh and nutritious meal for lunch.
If you're a salad lover, you'll definitely love their hearty, fresh salads. Plus, you can build your dish from a wide selection of ingredients (over 50 fresh toppings). In case you want to wrap all your chosen vegetables in tortillas, just ask the staff behind the counter for this option.
Of course, the dressing is also worth attention in a salad bowl. Salata's is known for their all-natural, savory dressings. There are up to 11 types for diners to customize the flavors.
The protein options are also diverse here. Salata doesn't settle on traditional meats such as salmon filets or chicken breast. They also offer spicy Chiptole chicken, pesto chicken, and three other seafood options for you to choose from.
Price Range: $$
Food Styles: Soup, Salad, Wraps
Location: 700 E Sonterra Boulevard, Ste. 1107, San Antonio, TX 78258
Website: https://www.salata.com/
Phone: 210-272-0424
Order Pickup:
Order Delivery:
Table Reservation (Not available)
At J Prime Steakhouse, only supreme cuts, like Japanese A5 steaks, Akaushi ribeye, and New York strips, go to the patrons' plates. Anything inferior to these cuts will not qualify in this restaurant.
The Japanese steak, in particular, is famed for its exquisite marble, rich flavor, and superior juiciness. There's no particular recommendation for the steak, as they're all amazing. Be prepared to indulge in filet mignon, porterhouse, or Tomahawk.
If anyone in your crew doesn't want red meat, J Prime Steakhouse is also a great seafood eating spot in San Antonio. It has various seafood options, from Chilean sea bass and King crab to salmon, to keep your friends happy.
With exceptional steak, excellent service, and a high-end dining space, J Prime is a great choice for a romantic date or special celebration. Of course, accompanying this upscale package is the high price tag.
Price Range: $$$$
Food Styles: Steakhouse, Seafood
Location: 1401 North Loop 1604 W Acc Rd, San Antonio, TX 78258
Website: https://jprimesteakhouse.com/
Phone: 210-764-1604
Order Online:
Table Reservation:
Trilogy Pizza Bistro, situated in the Stone Oak Crossing shopping center, is a go-to spot for pizza enthusiasts in the town.
There are two types of pizza you can make yourself: New-York style and Chicago deep dish, with a variety of toppings (meat, cheese, and veggies). There is also a gluten-free crust option, which is made of cauliflower for gluten-free folks.
Most Trilogy Pizza Bistro's patrons are content with their brick oven-baked pizzas, yet their pasta is also a success.
My personal favorite is pasta Bolognese which comes with properly cooked noodles in a marinara sauce, Italian sausage, and ground beef. It's simple but hits all the right notes. There's also a long list of beers and wines for diners to pair with their delicious foods.
Price Range: $$
Food Styles: Pizza
Location: 19141 Stone Oak Parkway #113, San Antonio, TX 78258
Website: https://www.trilogypizza.com/
Phone: 210-404-1818
Order Online:
Table Reservation (Not available)
Here's a sneak peek into Trilogy Pizza Bistro in San Antonio.
Dog Haus is known for their hand-crafted Haus sausages and antibiotic- and hormone-free Angus beef. Plus, all of their proteins are served on soft and tasty King's Hawaiian Rolls.
The Soo Cali, topped with arugula, tomato, avocado, onions, and spicy basil aioli, is definitely the most popular dish.
However, if it's not your cup of tea, Dog Haus' wide-ranging menu, including dogs, burgers, sausages, and sliders, will make sure you leave with a happy stomach. Pick your favorite, and then wash it down with their signature all-beer Dog Haus or cocktails.
Price Range: $$
Food Styles: American (New), Burgers
Location: 20907 Stone Oak Parkway, San Antonio, TX 78258
Website: https://stoneoak.doghaus.com/
Phone: 210-257-8809
Order Online:
Table Reservation (Not available)
If you want a quick bite, but burgers or fast food is not on your mind, consider this casual Indian restaurant. As far as Indian food is concerned, Tarka Indian Kitchen will always make it to the top Indian dining spots from San Antonio in Texas.
Curries and samosas are among the best sellers of this restaurant. For curries, try the crowd-favorite Tikka Masala, which is a creamy tomato curry infused with spices and herbs.
There is also a list of good drinks to pair with flavorful foods, such as mango lemonade or freshly whipped lassis.
The latter is ripe pureed strawberry or mango paired with coconut milk or yogurt. I highly recommend this refreshing drink which helps tame the heat from your spicy foods.
Tarka Indian Kitchen also tries to accommodate special dining needs by including vegan and gluten-free options on its menu.
Price Range: $$
Food Styles: Indian
Location: 427 TX-1604 Loop Ste 101, San Antonio, TX 78232
Website: http://www.tarkaindiankitchen.com/
Phone: 210-499-0982
Order Online:
Table Reservation (Not available)
Toto Kitchen & Bar is founded by Gerardo and his sister Vanessa with a Spanish dream in American land. The restaurant showcases authentic Spanish cuisine right within the neighborhood of Stone Oak.
Toro Paella is a must-try, with mussels, shrimp, chicken, and pork belly, which is every bit delicious. This Spanish classic is made to order and normally takes at least half an hour from the kitchen to your plate.
The waiting time is perfect for kicking back and enjoying some good tapas or drinks. For tapas, Spanish tortilla, a specialty made from eggs, potatoes, and onions, stand out.
While the dish is amazing on its own, you should pair it with its classically, Sangria (Toro's signature wine and soda). Occasional live music performances and flamenco make diners feel like they're dining in Spain.
Price Range: $$
Food Styles: Spanish, Mediterranean, Bar
Location: 115 N Loop 1604 E #1105, San Antonio, TX 78232
Website: https://www.torokitchenandbar.com/
Phone: 210-592-1075
Order Pickup:
Table Reservation:
Milano's Italian-inspired menu sets a standard for every classic Italian dining place in San Antonio. Their kitchen is led by the same chefs and uses the long-standing recipes of over two decades. Everything is made from scratch in the kitchen with fresh farm ingredients.
Pasta is a solid choice in this restaurant. Whether you choose lasagna (layered noodles baked with tomato, cheese, and meat sauce) or fettuccine Alfredo (fettuccine tossed in creamy Parmesan sauce), you're bound to indulge in authentic Italian flavors.
In addition to classic Italian pasta, Milano Italian Grill offers plenty of options, from chicken, pork sausage, prime cut beef, to seafood, to round out the diners' experience.
Price Range: $$
Food Styles: Italian
Location: 19239 Stone Oak Parkway, San Antonio, TX 78258
Website: https://www.milanoitaliangrillsa.com/
Phone: 210-495-3663
Order Online:
Table Reservation: contact the restaurant by phone to book a table
At the corner of Evans road and Stone Oak Parkway, Smokey Mo's BBQ is a convenient place in North San Antonio where you can get some good old barbequed classics. It's one of the top-rated Texas barbecue restaurants in San Antonio.
The restaurant's pits work daily to smoke fresh meats low and slow. This ensures that any smoked cuts reaching your plate are at their finest.
Texas BBQ essentials such as ribs and briskets are the strong points of Smokey Mo's BBQ. Yet, their signature jalapenos sausage and savory turkey are worthy of the spotlight, too.
Any meal can be complete without the right sides. Don't forget to order some of their award-winning pinto beans with special sauce. Spend less time grilling and more time celebrating with your friends in this neighborhood's favorite BBQ spot.
Price Range: $$
Food Styles: BBQ, Sandwiches, American
Location: 20210 Stone Oak Parkway Ste 306, San Antonio, TX 78258
Website: https://smokeymosbbq.com/
Phone: 210-481-3835
Order Online:
Table Reservation (Not available)
Explore Many Dining Options In This Sprawling Neighborhood!
Among all San Antonio neighborhoods, Stone Oak has shown robust growth. This also means that dining spots, bars, and nightlife keeps popping up to serve the expanding population.
Therefore, visitors won't struggle to find a great restaurant, but they will have difficulties deciding which one among these restaurants to go for their night out.
I hope this list has rounded up the ideal spots for dining and drinking in Stone Oak. If there's any restaurant that you visited on this list, I'm glad to hear about your experience. Give this article a thumbs-up and share it if you think it's a good guide for dining in this area.