This list of the best kid-friendly restaurants in San Antonio will be a complete guide to helping your family have a memorable vacation. These eating places will not only comfort your cravings with delectable food but also provide many entertaining activities.
San Antonio is a tourist destination filled with an array of worth-visiting attractions. On top of that, this city is also known for being home to amusement parks and eateries that surely deliver the most enjoyable experiences to kiddos and their parents.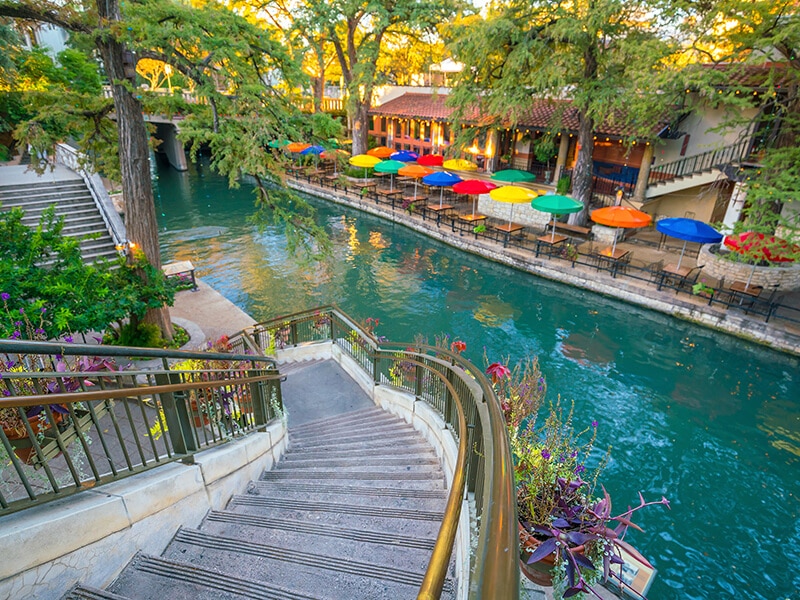 San Antonio's Kid-Approved Eateries To Try This Vacation
These critically acclaimed restaurants in San Antonio are notable for creating pleasant environments for children, grown-ups, and even pets. They receive various accolades and awards for superb cuisine and well-decorated dining spaces.
Blanco BBQ
The Cove
Schilo's German-Texan Restaurant
Iron Cactus Mexican Restaurant and Margarita Bar
Tycoon Flats
Two Bros. BBQ Market
Hard Rock Cafe
The Friendly Spot Ice House
Big'z Burger Joint
Alamo Cafe
Burleson Yard Beer Garden
Chuck E. Cheese
Willie's Grill & Icehouse
Elsewhere Garden Bar & Kitchen
Magic Time Machine
Dave & Buster's Balcones Heights
La Hacienda de Los Barrios
Chicken N Pickle- San Antonio
Viola's Ventanas
Kids Will Love These Restaurants In San Antonio
Besides giving recommendations about go-to places to eat, I also include the time of their special offers or Happy Hours in the post. This information will help you create a perfect plan for a fun-filled yet worth-every-penny trip in San Antonio.
Blanco BBQ is a cozy, rustic destination for families to visit and get a taste of its smoky meats, homemade sides, and weekday breakfast platters. It has ample indoor and outdoor spaces, plus a private room for parties.
Why Visit The Restaurant
The barbecue restaurant is housed under oak trees next to Hardberger Park, with a spacious patio and a shaded playground for kiddos outback. It also provides live acoustic music featured by local artists from Friday to Sunday.
As for the food, you won't get disappointed with Blanco BBQ's juicy brisket made from 100% Black Angus beef and smoked for 14 hours. The kitchen brines meats for 8 hours and uses Texas oaks and pecan woods for smoking to produce perfect barbecues.
What To Eat
Delicious specialty brisket tacos at the joint are ideal for breakfast. For lunch or dinner, go for the house special BBQ plates (including brisket, ham, sausage, and rib). Remember to order the popular cream corn and charro beans for side dishes.
Kiddo options include chopped BBQ, chicken tenders, sausage, brisket, grilled cheese, and more.
Location: 13259 Blanco Road, San Antonio, TX 78216
Website: https://blancobbq.com/
Phone: (210) 251-2602
The Cove offers organic American dishes made from sustainably and locally sourced ingredients. The place gained recognition nationwide thanks to being featured on The Food Network and named Best Food in the state by Texas Monthly.
Why Visit The Restaurant
The organic restaurant showcases indoor and outdoor spaces with a cute playscape area that is friendly for children and dogs. There are tables next to the playground, so parents can relish wholesome fares and enjoy frequent live music while supervising their juniors.
The Cove uses grass-fed and hormone-free meats and organically grown produce (some are grown in the restaurant's garden as well). Also, the place serves nearly 60 beers on tap brewed in Texas to support the local community.
What To Eat
It's never a bad idea to begin your lunch or dinner with super nachos. Then, you can have a bacon or blue bison burger with sweet potato fries for the side dish. Kids can relish hamburgers, hot dogs, or grilled cheese with their choices of side dishes and drinks.
Location: 606 West Cypress Street, San Antonio, TX 78212
Website: https://thecove.us/
Phone: (210) 227-2683
The Schilos family founded this restaurant to serve classic German plates in 1917, and operated for 3 generations. Though the Lyons family has been involved in a takeover, they have continued the traditions by serving authentic German foods.
Why Visit The Restaurant
Opening from 8 AM, Schilo's is a famous spot for parents and children to have scrumptious breakfast or lunch dishes. It is also famous for the Schilo's family root beers served in frosty mugs with one free refill that will quench your thirst on scorching days.
The long-established deli creates a vintage atmosphere with an on-site bar and 2 excellent private spaces. More importantly, kids' all-day breakfast menu and high chairs are available to accommodate little ones.
What To Eat
Your babies will surely love Schilo's pancake breakfast, chicken strips, French toast, or grilled cheese.
Parents can't miss out on highly-rated breakfast items like chicken and biscuits or build their own omelets. Mouth-watering Reubens, split pea soup, or chicken and dumplings are also extremely satisfying for lunch.
Location: 424 East Commerce Street, San Antonio, TX 78205
Website: https://schilos.com/
Phone: (210) 223-6692
Iron Cactus is a premier restaurant in Austin and San Antonio (Texas), known for innovative Mexican fares. It was originally established in Austin in 1996, then until 2006, the San Antonio location was opened next to the Selena Bridge.
Why Visit The Restaurant
Since the Mexican restaurant is next to the San Antonio River Walk, your family can grab seats on its patio and watch boats on the river or numerous pigeons around.
Iron Cactus has a stylish bar serving fresh lime margaritas, martinis, cocktails, frozen drinks, and over 100 tequilas. The place is voted Top 10 Tequila Bar in the US, and its "El Agave" is named the Best Margarita in Town.
Did I mention this place offers great discounts for all who serve in the armed forces? With valid military ID, the veterans can buy food with 10% off and 50% off if they come in military uniform.
What To Eat
I suggest visiting during the Happy Hour from 3 PM – 6 PM on weekdays to get discounted small house margaritas and chile con queso (cheese, chili peppers). Satisfy your craving with Mexican meatloaf, Southwest paella (seafood, rice), or brisket enchiladas.
Kids can savor cheeseburgers, quesadillas, or build their own tacos with steak or chicken fajitas. All meals will come with a scoop of vanilla ice cream. Remember to get some popular Mexican donuts for desserts before leaving.
Location: 200 River Walk Suite 100, San Antonio, TX 78205
Website: https://ironcactus.com/
Phone: (210) 224-9835
Tycoon Flats will become your favorite destination if you seek a restaurant with vast open-air spaces. In 1983, two Texan brothers decided to reconstruct a historic gas station on the St. N. Mary's Strip into a charming joint serving burgers, Tex-Mex fares, and beers.
Why Visit The Restaurant
Tycoon Flats' dog-friendly patio is equipped with 30 fans and misters to make customers feel the most comfortable. Crayons are available for little ones; this place is also adjacent to many kid-friendly attractions, from the zoo to Kiddie Park and the DoSeum.
Many picky eater-approved items at Tycoon Flats are named on the Texas Bucket List and The Food Network Show. The burger eatery has a 50-foot bar offering various drinks, especially the margaritas featured in The Wall Street Journal.
What To Eat
Remember to try the applewood smoked bacon balsamic blue or the candied bacon feta cranberry burgers that appeared on many famous TV shows. Plus, ⅓ pound cheeseburgers, mini Tyke burgers, or plain hot dogs will completely please your kiddos.
Location: 2926 North St Mary's Street, San Antonio, TX 78212
Website: https://tycoonflats.net/
Phone: (210) 320-0819
Two Bros. BBQ Market has brought award-winning oak-smoked meats to San Antonians and barbecue enthusiasts nationwide since 2009. Maket-style barbecues at the venue are served 7 days a week and reflect the true Texas flavors.
Why Visit The Restaurant
Situated North of the San Antonio Airport, Two Bros. BBQ Market is a casual destination with a shaded and fenced play yard under the trees. Besides, the joint is close to Walker Ranch Park, a grassy park with a vast playground and picnic shelter.
This eating place uses special dry rubs and secret techniques to create beautifully charred, flavorful barbecues. Texas Monthly also listed it on World's Top 50 BBQ Joints in 2013 and named San Antonio's Best Barbecue by USA Today in 2017.
What To Eat
Two Bros. BBQ Market offers many family-style packs for groups of 3 to 30 guests. You can order the BBQ starter kits for a party of 4 people with brisket, pulled pork, baby back ribs, and sausage.
Creamed corn, smoked stuffed jalapeños, deep-fried strawberry pie, and Kool-Aid grape drink are other favored choices.
Location: 12656 West Avenue, San Antonio, TX 78216
Website: https://twobrosbbqmarket.com/
Phone: (210) 496-0222
Hard Rock Cafe is a rock 'n' roll-themed restaurant popular in Key West, San Antonio (Texas), and other 180 outposts worldwide. It's where locals and travelers can get satisfying burgers and traditional American fares in an energetic environment.
Why Visit The Restaurant
Opened in 1995 in the shopping mall South Bank, the San Antonio location features three floors of balconies and outdoor spaces. Patrons can eat and relax with music videos playing on TVs or look at the breathtaking view of the River Walk.
Your babies will also love the gift shop inside the cafe stocked with many amazing items. Furthermore, it provides nice spots for kids and adults to watch fabulous parades on the river.
What To Eat
Young customers from 10 years old or under can dig into Buddy Jr's cheeseburger, Razzi's chicken tenders, or salad chillin' with chicken. Meanwhile, grown-ups can have legendary steak burgers or specialty baby back ribs.
Location: 111 West Crockett Street, San Antonio, TX 78205
Website: https://www.hardrockcafe.com/
Phone: (210) 224-7625
The Friendly Spot Ice House takes pride in creating a laid-back destination where little ones can get involved in the playscape while their parents can dig into Mexican and American treats. The hangout also delivers 300 brews that can please any beer lover.
Why Visit The Restaurant
The Friendly Spot's beer garden is shaded by pecan trees with a small play yard for kids. The restaurant has 8 TVs and a huge projector screen for sports games and movies. Besides children, and adults, four-legged friends are also welcome to join this place.
What To Eat
The kid's menu offers mini nachos, Kraft mac & cheese, chicken nuggets, and grilled cheese. Adult-sized fares are extensive, from tacos to burgers and sandwiches. Above all, don't forget that the Friendly Spot provides half-priced nachos on Tuesdays.
Location: 943 South Alamo Street, San Antonio, TX 78205
Website: https://thefriendlyspot.com/
Phone: (210) 224-2337
9. Big'z Burger Joint
Big'z Burger Joint opens two locations in San Antonio with a family-oriented setting. The kitchen crafts gourmet burgers, cone fries, and scrumptious desserts that everyone loves.
Why Visit The Restaurant
Big'z burgers are expertly made with 100% Angus beef, green leaf lettuce, and ripe tomatoes. Customers can choose to top the rolls with beer-braised onions, fried eggs, grilled pineapple, or homemade slaw.
Both locations are designed with giant outdoor playground fields. If possible, you can bring a ball for your kids to play with here. Big'z Burger Joint can also accommodate large dining groups or host your parties in its elegant private rooms.
What To Eat
Little ones under 12 can have kid-sized burgers, hot dogs, or chicken strips. While watching the kids, adults can get a taste of single, double, or triple Big's famous burgers with sweet potato fries as a side.
Website: https://www.bigz-burgerjoint.com/
Location 1: 10106 TX-151, San Antonio, TX 78251
Phone 1: (210) 543-2029
Location 2: 2303 North Loop 1604 West, San Antonio, TX 78258
Phone 2: (210) 408-2029
10. Alamo Cafe
Alamo Cafe greets little ones and their parents with a wide selection of foods and drinks. The first location was introduced in 1981 on San Pedro Avenue. After 4 years, the business built the second outpost on Interstate Highway 10 to continue serving Tex-Mex delicacies.
Why Visit The Restaurant
The Tex-Mex cafe draws gourmets' attention with award-winning items, like its homemade flour tortillas and queso are voted Best of San Antonio. Moreover, for private parties celebrated at Alamo Cafe, the restaurant's people offer queso fountains upon request.
Patrons will have a chance to witness how yummy flour tortillas are made on-site when eating at 2 locations. Alamo Cafe on San Pedro Avenue also features a huge patio with a little river flowing through the establishment.
What To Eat
Chicken fried steak is a must-try option for kids and adults. Besides, freshly made tortillas with butter, chile relleno (stuffed peppers), poblano soup, and avocado enchiladas are perfect for pleasing your taste buds.
Website: https://alamocafe.com/
Location 1: 14250 San Pedro Avenue, San Antonio, TX 78232
Phone 1: (210) 495-2233
Location 2: 10060 I-10, San Antonio, TX 78230
Phone 2: (210) 691-8827
Burleson Yard Beer Garden is an easygoing spot with spacious indoor and outdoor spaces. The bar welcomes all guests to enjoy its relaxed atmosphere and delicious eats from food trucks.
Why Visit The Restaurant
The kid and dog-friendly garden provides various seating for friends and families to eat, drink, and chit-chat. The premises include a fenced playground, outdoor TVs, ping-pong, bocce ball, and a big full bar.
Plus, this place is close to the train tracks, so be prepared that the sudden choo-choo sound will surprise you and delight your dining experience. Live music entertainment also happens regularly at the place.
What To Eat
Burleson doesn't boast an extensive menu, but every item is incredible such as deluxe tots, chili cheese fries, and wings. For main dishes, burgers, grilled chicken sandwiches, Philly cheesesteaks, or chili dog plates won't disappoint you.
Location: 430 Austin Street, San Antonio, TX 78215
Website: https://burlesonyardbeergarden.com/
Phone: (210) 354-3001
12. Chuck E. Cheese
Chuck E. Cheese guarantees your little ones will get the most enjoyable moments with arcade games, mouse mascots, and delicious children's pizzas. Besides San Antonio, this chain is a top-rated restaurant in Amarillo, Rockwall, and Lewisville, Texas.
Why Visit The Restaurant
Come to Chuck E. Cheese, kids or grown-ups can immerse in a world of bowling, console games, basketball, and more. The best part is that players can collect e-tickets and exchange them for prizes at the gift shops.
This venue is ideal for hosting your babies' birthday parties, with many special packages suitable for parents' budgets. If you book the ultimate fun package, the spot will offer all-you-can-play cards, 100 bonus e-tickets, pizzas, goody bags, and many offers.
What To Eat
Customers can customize pizzas with their choices of size, crust, and toppings. Veggie lovers can't forget this place also provides a salad bar with various options. As for kids, they will be fond of featured rainbow ice dippin' dots, cotton candy, cupcakes, churros, etc.
Website: https://www.chuckecheese.com/
Location 1: 238 Southwest Military Drive, San Antonio, TX 78221
Phone 1: (210) 922-2640
Location 2: 6874 Ingram Road, San Antonio, TX 78238
Phone 2: (210) 680-3786
Location 3: 1403 North Loop 1604 East, San Antonio, TX 78232
Phone 3: (210) 495-0071
Location 4: 11735 Bandera Road, San Antonio, TX 78250
Phone 3: (210) 509-2455
13. Willie's Grill & Icehouse
Starting as a small burger shack in 1993 in Houston, this long-standing chain has developed across Texas and has 5 highly rated outposts in San Antonio. Willie's Grill & Icehouse is a convenient spot to stop by for burgers, Cajun seafood, and brews while exploring the city.
Why Visit The Restaurant
Willie's gains recognition with garage doors, beer troughs, patios, and artwork presented by local artists. There are sandboxes outdoors for sons and daughters to play while their parents can enjoy food in a friendly atmosphere and lively music.
A glance at the menu reveals Southern Cajun dishes, Tex-Mex fares, and burgers made from the finest ingredients. Sauces are prepared daily, and foods are hand-breaded and fried to customers' orders to ensure high quality.
What To Eat
Seasonally, Willie's offers live Louisiana crawfish and let customers build their own boil with new sauces and Cajun fixins. Fried catfish, hand-breaded fried pickles, smokey brisket tacos, and fried mushrooms are hard to beat at the restaurant.
Kiddo's menu presents hot dogs, mac and cheese, corn dogs, burgers, and chicken tenders. Plus, all meals will come with a fountain drink and your kid's choice of side dish.
Website: https://williesgrillandicehouse.com/
Location 1: 4051 North Loop 1604 West, San Antonio, TX 78257
Phone 1: (210) 493-4333
Location 2: 15801 San Pedro Avenue, San Antonio, TX 78232
Phone 2: (210) 490-9220
Location 3: 24200 I-10, San Antonio, TX 78257
Phone 3: (210) 698-5337
Location 4: 8739 TX-151, San Antonio, TX 78245
Phone 4: (210) 375-5521
Location 5: 7911 Interstate 35 Access Road, San Antonio, TX 78224
Phone 5: (210) 541-5253
This riverside beer garden was newly joined the restaurant industry in 2020 but quickly rose to fame for its leafy and friendly surroundings. It's an instagrammable spot that won Best Date Night, Best Selfie Spot, Best Bar and Patio, and other accolades in San Antonio.
Why Visit The Restaurant
Elsewhere invites families, friends, kids, and pets to kick back in its nice outdoor space overlooking the river. This joint is filled with plants, porch swings, hammocks, picnic tables, and fire pits to give diners the most pleasing experience.
There is also a 150-inch projector for sports lovers watching their favorite teams. Free-to-play trivia nights on Tuesdays, aerial acrobatics and fire dancers on Fridays, and frequent live music will leave you with unforgettable moments you can't find anywhere else.
What To Eat
Little ones will get satisfied with peanut butter and jelly sandwiches, grilled cheese, or tenders. Popular options for mature guests include fried chicken sandwiches, Philly cheesesteaks, and gochujang cauliflower wings.
Location: 103 East Jones Avenue, San Antonio, TX 78215
Website: https://www.elsewheretexas.com/
Phone: (210) 201-5595
Magic Time Machine was established in 1973 on Frontage Road near the San Antonio International Airport. It's also one of the iconic places to eat in Dallas, which amazes first-timers with its fun, energetic atmosphere like no other.
Why Visit The Restaurant
Once inside, you feel like stepping inside a funky, nostalgic place with staff in costumes of fictional characters and pop culture icons. What a one-of-a-kind experience when your servers can be Forrest Gump, Lady Gaga, Harley Quinn, or Captain Jack Sparrow!
Magic Time Machine showcases a game room for all-aged customers, especially face painting and entertaining activities. Your family can sit at the Sweethearts Table, the old Refrigerator, or the Thatched Hut and enjoy live music on certain days.
What To Eat
For parties of 4 or more, the Roman Orgy is a good combo, including brisket, smoked chicken, fruits, and more. Or you can create your own meal with prime ribs, top sirloin, fried shrimp, or broiled salmon.
Young adults will get obsessed with cheese pizzas, chopped steaks, or popcorn shrimp at this place. Don't forget to get complimentary items at the soup and salad bar in the modified, red 1952 MG-TD roadster.
Location: 902 Northeast Interstate 410 Loop, San Antonio, TX 78209
Website: https://www.magictimemachine.com/
Phone: (210) 828-1478
16. Dave & Buster's Balcones Heights
Dave & Buster's is where everyone can participate in exciting minigame adventures with tons of arcades. Also, with a sports bar-themed setting, it's a worth-visiting site for watching your favorite matches while indulging in American food and beverages.
Why Visit The Restaurant
Two Dave & Buster's locations in San Antonio are conveniently housed in bustling shopping malls of the city. Your dining groups can shop at the malls, then head to the eatery during the weekday Happy Hour from 4 PM – 7 PM to get low-priced drink specials.
Aside from the arcades, this chain showcases virtual reality games, air hockey, billiards tables, and bowling. You can also earn tickets from many games and bring home prizes. Don't forget that many games get half prices on Wednesdays from opening until close.
What To Eat
Get your children cheeseburgers, butter noodles, crispy chicken bites, or pretzel dogs after they burn some energy in the game rooms. Adult-sized D&B favorites you can attempt are crispy chicken cobb salad, beastmode bacon burger, or fire-grilled Atlantic salmon.
Website: https://www.daveandbusters.com/
Location 1: 440 Crossroads Boulevard, San Antonio, TX 78201
Phone 1: (210) 515-1515
Location 2: 849 East Commerce Street Suite # 740, San Antonio, TX 78205
Phone 2: (210) 951-3600
La Hacienda de Los Barrios is launched by the Barrios family, who has operated San Antonio's exceptional Mexican eatery, Los Barrios, since 1979. Continuing the family tradition, La Hacienda serves Casero-style Mexican food to food lovers nationwide.
Why Visit The Restaurant
The eating and drinking venue has a bright, vibrant setting and a fabulous patio equipped with cooler fans under oak trees. Small-aged patrons can have fun in the little playing area with a slide and swing.
You'll want to check in La Hacienda on Wednesday when house margaritas are discounted all day, and margarita night happens from 3 PM to close. The restaurant offers live music entertainment in the outdoor space as well.
What To Eat
Early birds coming between 3 PM – 5:30 PM from Tuesday to Friday can get reasonably priced bean dip and chips, small tortilla soup, fajita Caesar salad, or chicken poblano burgers.
Plus, delicious queso flameado (cheese and chorizo) and Tex-Mex enchiladas are top-notch here.
Location: 18747 Redland Road, San Antonio, TX 78259
Website: https://www.lahaciendabarrios.com/
Phone: (210) 497-8000
In addition to Texas, Chicken N Pickle is also a top-rated eatery in Glendale, Kansas City (Missouri), and Oklahoma City (Oklahoma). More than a place to eat, this American chain impresses guests with various entertaining activities.
Why Visit The Restaurant
This entertainment complex integrates a casual restaurant with a sports bar and pickleball courts in one place. Fans of sports can conveniently reserve the indoor or outdoor court online. Paddles and pickleball are always available for rent.
Besides pickleball, Chicken N Pickle features cornhole, ping pong, battleship, bocce, and Jenga. Your family can sit at the outdoor spaces friendly for dogs and relish low-carbon-footprint, tasty foods.
The place hosts fun-filled events weekly, like wine walks, pickleball tournaments, dog nights, and live music occasionally.
What To Eat
Visit the destination during the weekday Happy Hour (3 PM – 6 PM) when adults can get low-priced local drafts, bottles of wine, and mixed drinks. Meantime, little friends can dig into waffle grilled cheese, cheeseburger, or cheese quesadilla.
This place is also worth visiting on Sunday from 10 AM – 2 PM when it's open for a brunch buffet to serve chicken n waffles, graze boards, and so on.
Location: 5215 UTSA Boulevard, San Antonio, TX 78249
Website: https://chickennpickle.com/
Phone: (210) 874-2120
Viola's Ventanas, another Los Barrios' sister restaurant, greets Tex-Mex food enthusiasts to dive into an old-world ambiance with indoor and outdoor spaces. It's situated in Northwest San Antonio but earns recognition across the city for home-style fares.
Why Visit The Restaurant
Viola's Ventanas presents an ample dining room and open-air outdoor seating. Young customers can revel in their own world in the play area while their supervisors can listen to live music and have an authentic Tex-Mex meal.
Regardless of the day you visit Viola's Ventanas, this restaurant will have good offers, from weekday lunch specials to Happy Hour and weekend drink deals. There is also a giant, climate-controlled tent elegantly set up out back for private parties.
What To Eat
Poblano cream enchiladas at Viola's Ventanas are popular for their unmistakable flavors. Patrons also love the Tuesday special when they can enjoy inexpensive 2 cheese enchiladas or 2 crispy tacos served with rice and beans.
For drinks, on Thursdays, customers can get discounted micheladas (Mexican cocktails) made with their choice of beers. Alternatively, mimosas and bloody mary get an affordable price on weekends from 11 AM – 4 PM.
Location: 9660 Westover Hills Boulevard, San Antonio, TX 78251
Website: https://www.violasventanas.com/
Phone: (210) 684-9660
Get The Best Family Vacation In San Antonio
I've introduced you to San Antonio's top-rated eating destinations worth your family's visit. What can be more exciting than when your whole family can have tempting dishes and memorable moments while discovering famous tourist attractions in this city?
If you visit these listed places, comment below this post to tell me about your experience. Leave more recommendations and tips to help first-timers if you can. Last but not least, I hope you enjoy reading the post and will send it to your friends and colleagues before leaving.