In search of the best restaurants in South Padre Island, TX? Get ready for a gastronomic adventure! South Padre Island is home to various dining establishments, each providing food enthusiasts with a unique and memorable experience. In this article, I'll guide you through the island's top culinary hotspots you can't miss.
Gear up to uncover three outstanding restaurants, each boasting a distinctive ambiance, delectable dishes, and exceptional service. These dining jewels on South Padre Island cater to locals and visitors alike, promising a dining experience that will leave a lasting impression.
From freshly caught seafood delights to innovative international fare, these restaurants offer something for everyone. Continue reading to unveil the best restaurants South Padre Island has in store!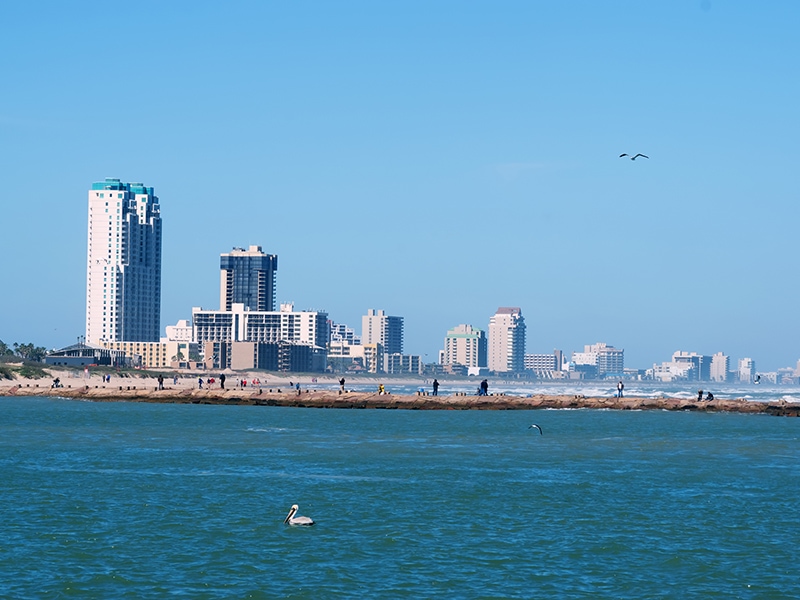 Exquisite Dining Experiences In South Padre Island, Tx
If you're planning a trip to South Padre Island, TX, you should take a look at these must-visit restaurants – each one a true gem in its own right.
Yummies Bistro
The Meatball Cafe
WannaWanna Beach Bar & Grill
Gabriella's Italian Grill & Pizzeria
Ceviche Ceviche
Cafe On The Beach
Laguna BOB
Padre Island Brewing Co
F&B
Louie's Backyard
Grapevine Cafe
Blackbeards'
Lobo Del Mar Cafe
Kellys Irish Pub
Daddy's Seafood & Cajun Kitchen
Tom and Jerry's
Liam's Steak House & Oyster Bar
LongBoard Bar and Grill
Russo's NY Italian Kitchen and Pizzeria – SPI
Tequila Sunset
Where To Dine In South Padre Island, Tx: My Top Picks For Foodies
Let's explore my carefully curated list of the best restaurants in South Padre Island, TX. From beachfront bistros to cozy cafes, these are the restaurants you won't want to miss.
Greetings and salutations to Yummies Bistro, a quaint eatery located in a strip-mall that offers delectable breakfast and lunch options. Whether you fancy eggs, pancakes, coffee, or mimosas, Yummies Bistro has an assortment of culinary delights to satiate your appetite.
The restaurant commences operation every day at 8 o'clock in the morning, providing a serene atmosphere ideal for a leisurely meal.
Yummies Bistro entices its customers with the visually captivating presentation of its dishes and beverages. The restaurant walls are adorned with artwork, evoking a tropical island vibe that can transport you to an exotic paradise.
While waiting for your meal, you can also browse the wares at Renee's of South Padre, located adjacent to the restaurant.
Yummies Bistro boasts an extensive selection of coffee variations that cater to a wide range of preferences, from the classic cup of joe to specialty coffee. Should you desire a meal in the open air, Yummies Bistro's charming patio provides an excellent ambiance.
If you are unsure of what to order, Yummies Bistro has a diverse menu that includes their signature dishes such as steak and eggs benedict, lobster Florentine benedict, and rancheros Santa Cruz, a scrumptious blend of shrimp, bacon, ham, and vegetables.
On Sundays, the restaurant features the barbacoa plate special, and pancake enthusiasts will undoubtedly appreciate the quality of Yummies Bistro's pancakes.
Yummies Bistro also has many drink options, including mimosas and Spanish macchiatos.
Address: 700 Padre Boulevard Suite K, South Padre Island, TX 78597, United States
Facebook: https://www.facebook.com/
Phone: (956) 761-2526
The Meatball Cafe, a restaurant run by a family, has been serving homemade Italian delicacies such as pastas, pizzas, steaks, and sandwiches since its inception in 2015.
The Meatball Cafe features the picturesque setting with warm ambiance inside and separate booths, low lighting. Besides, diners can play the piano, which adds a personal touch to their dining experience.
The Meatball Cafe also has a covered patio outside, which has a wooden ceiling, lattice fencing, and plants all around it. The romantic setting is created with fairy lights, flowers on every table, and tabletops displaying classic movies.
The Meatball Cafe has a full bar that serves a variety of wines if you are in the mood for a drink.
Some of the dishes that customers enjoy at The Meatball Cafe are Italian nachos, Italian wedding soup, spaghetti and meatballs, and meatball or chicken panini, which is an Italian sandwich.
Address: 2412 Padre Boulevard, South Padre Island, TX 78597
Website: http://themeatball-cafe.com/
Phone: (956) 299-4605
WannaWanna Beach Bar & Grill is a peaceful retreat where you can feast mouth-watering seafood and signature drinks while basking in the stunning beach view.
The restaurant has earned the "Best Seafood Dives" award thrice, in 2003, 2009, and 2012, from Living magazine. In 2017, it was also acknowledged as one of the "Best Seafood Dives of All Time."
The prime reason to choose WannaWanna Beach Bar & Grill is its location, which is right next to the beach and gives you an excellent opportunity to watch the sunset.
The restaurant provides a family and pet-friendly environment where you can enjoy live music on weekend afternoons. Additionally, you can observe live volleyball games while savoring your meal, and the restaurant has a tent enclosure for windy conditions.
Suppose you intend to stay in the vicinity. In that case, WannaWanna Beach Bar & Grill provides a 2-star inn with amenities such as air conditioning, WiFi, cable TV, a microwave, a mini-fridge, and a coffee maker in each room.
WannaWanna Beach Bar & Grill serves boiled or fried shrimp, fresh ceviche, and burgers. The drinks menu features their renowned turbo pina colada, cold beer, and margaritas.
Address: 5100 Gulf Boulevard, South Padre Island, TX 78597
Website: http://www.wannawanna.com/
Phone: (956) 761-7677
4. Gabriella's Italian Grill & Pizzeria
Gabriella's Italian Grill & Pizzeria, a welcoming eatery that boasts genuine Italian fare and oven-baked pizzas. It is a spot favored by both locals and visitors as well as a fine choice for families seeking a relaxed environment.
The restaurant has two locations on the island and prides itself on using top-quality cheese blends and freshly made dough for its pizzas. The menu is extensive and includes salads, calzones, and grinders to suit every discerning palate.
Catering services are also offered for those who wish to relish Gabriella's scrumptious food at home or at an event.
Gabriella's 700 Padre Boulevard location is strategically situated in proximity to the Queen Isabella Causeway, Queen Isabella Memorial Park, and South Padre Island Welcome Sign, which is highly convenient for those who want to enjoy the local attractions and simultaneously enjoy a meal at the restaurant.
The dining room is spacious and well-lit, with a candle thoughtfully placed on every table to provide a romantic Italian vibe. In addition, soft background music enhances the ambiance, and there's an outdoor patio available for diners who prefer a more alfresco experience.
Beer aficionados will find Gabriella's to be a perfect spot, as the restaurant offers a wide range of beers on tap to suit any taste. Moreover, complimentary bread and dipping sauce are also served, adding a delightful touch to the meal.
Gabriella's is renowned for its delectable brick-oven pizzas, such as Antonio's pepperoni, the Soprano (smoked provolone and mozzarella), and the Sicilian (Capicola ham and Italian sausage), which are highly recommended to try.
However, for those who are feeling creative, they can also build their own pizzas and calzones with their preferred toppings.
Website: gabriellasspi.com
Location 1: 700 Padre Boulevard, South Padre Island, TX 78597
Phone 1: (956) 761-6111
Location 2: 2600 Padre Boulevard, South Padre Island, TX 78597
Phone 2: (956) 707-7111
Ceviche Ceviche is a seafood restaurant with counter-service located in the 3-star Suites at Sunchase hotel. With multiple locations in Harlingen, Edinburg, and Port Isabel (Texas), Ceviche Ceviche specializes in fresh ceviches made with high-quality ingredients.
Ceviche Ceviche lets you personalize your ceviche with various fresh ingredients. The knowledgeable staff can also recommend based on your preferences.
The restaurant provides copious portions at a reasonable price, making it an excellent value for your money. The relaxing interior ambiance of the restaurant adds to the laid-back dining experience.
Additionally, the food is prepared right in front of you, ensuring that you witness the fresh ingredients being used in your dish.
Ceviche Ceviche also has ready-to-go food for those who are in a hurry. For those who prefer to dine-in, the restaurant provides several tables.
Ceviche Ceviche offers a variety of toppings for custom ceviche, such as mahi-mahi, poke tuna, mango, cilantro, and habanero.
Some of the well-liked ceviche dishes at Ceviche Ceviche include the classic (tomato, cilantro, red onion, avocado), the islander (mango, melon, cucumber, jicama), and the Peruvian (habanero, cilantro, tomato, onion).
Address: 1004 Padre Boulevard H1, South Padre Island, TX 78597
Facebook: https://www.facebook.com/
Phone: (956) 772-1555
Cafe On The Beach is an archetypal American cafe that has been dishing up breakfast, lunch, and dinner every day since 2007. Its location is adjacent to the South Padre beach access pathway.
The dining area of the restaurant is furnished with a sheltered deck that provides a view of the Gulf of Mexico. You can savor the ocean breeze while gazing at the sunset and stars on the beach.
Cafe On The Beach is also outfitted with a comprehensive bar that boasts an extensive wine list and exclusive drink specials every day from 2 PM to 5 PM.
For those who have an inclination towards fishing, Cafe On The Beach proposes a distinctive alternative of "cooking your catch," wherein the restaurant will prepare your freshly caught fish for you.
The restaurant caters to health-conscious consumers by offering heart-healthy dishes. Cafe On The Beach extends a warm welcome to dogs, allowing you to bring along your furry companions.
Cafe On The Beach is affiliated with The Palms Resort, thereby making it an exceptional choice for guests staying at the resort. There is also a plethora of delicious food options to choose from.
For breakfast, some of the popular dishes include the Palms malted pancakes and BLT benedict. The shrimp, red snapper, and oysters combo fried seafood basket, coconut shrimp basket, and heart-healthy red snapper sandwich are some of the local favorites.
During food happy hour, Cafe On The Beach serves Jalapeno hush puppies, peel and eat shrimp, and parmesan spinach dip from 2 PM to 6 PM on weekdays.
Address: 3616 Gulf Boulevard, South Padre Island, TX 78597
Website: https://www.palmsresortcafe.com/
Phone: (956) 761-2703
Laguna BOB is a bar situated on the waterfront of a bay that presents an assortment of seafood, burgers, cocktails, and live music each day within a vibrant shack.
The relaxed atmosphere provides a superlative retreat for individuals desiring to chill. The establishment boasts a comprehensive bar and extends a dock that affords a panoramic vista of the sun's descent and firework displays.
Laguna BOB showcases live music from different bands, and you can check their menu calendar to view the upcoming schedule.
Laguna BOB presents an incomparable house signature ceviche, and in addition, proffers celebrated comestibles such as the crispy prawn platter and maui wowie tacos, which are fish tortillas.
Address: 2401 Laguna Blvd, South Padre Island, TX 78597
Website: http://lagunabob.com/
Phone: (956) 433-5499
If you're in search of a casual and family-friendly eatery that proffers handcrafted brews, burgers, steaks, and seafood, Padre Island Brewing Co is your ideal destination. Established in 1995, this gastropub is the perfect place for a gathering with friends or a family dinner.
The primary attraction at Padre Island Brewing Co is the second-floor deck with awe-inspiring views of fireworks. Furthermore, the outdoor patio can be covered when the weather gets windy, ensuring a cozy dining experience in any climate.
Additionally, the dog-friendly patio provides water for canine companions.
However, the restaurant's distinguishing feature is not just its ambiance. Beers are brewed on-site on the second floor, employing only the best malted barley, purified water, and yeast.
Pizza enthusiasts should not miss the award-winning pies, voted Top 100 Independent Pizza by Pizza Today Magazine.
As for the menu, there are ample selections to choose from. Popular appetizers include the Ale steamed peel and shrimp, Gulf Coast crab cake, beer battered stuffed mushroom, fried calamari, and seafood baskets.
One of the award-winning pizzas with your desired toppings is always a safe bet.
Address: 3400 Padre Boulevard, South Padre Island, TX 78597
Website: http://pibrewingcompany.com/
Phone: (956) 761-9585
Greetings to F&B, a restaurant that symbolizes Food and Beverage. It presents a contemporary American gastronomy with a coastal touch, showcasing delectable steaks, seafood, and libations.
For those desiring an island ambiance, this restaurant is an impeccable choice.
Externally, the restaurant's frontage is embellished with exterior flora, providing a refreshing and hospitable atmosphere. Internally, the restaurant incorporates a wall of planters which cultivate herbs, offering fresh ingredients for their dishes.
F&B proffers private dining and exceptional event menus, rendering it an exceptional location for an array of celebrations.
At F&B, the dishes are expertly crafted by Chef and proprietor Walter Greenwood. Zagat Award has recognized him as one of the top 30 chefs under 30 in the Los Angeles region.
The restaurant affords a casual yet elegant environment, complete with a bar area that serves unique cocktails, non-alcoholic beverages, beers, and wines.
The menu exhibits an impressive range of dishes that are guaranteed to gratify every palate. Some of the recommended meals include the seafood risotto, whole salt crusted red snapper, and smoked duck breast.
For a sweet conclusion, the key lime souffle and panna cotta are trendy choices.
If you're seeking a perfect Sunday brunch spot, F&B has you covered. They offer a range of delectable brunch items such as pancakes, egg benedicts, brunch burgers, and the catch of the day.
Address: 3109 Padre Boulevard, South Padre Island, TX 78597
Website: fandbspi.com
Phone: (956) 772-8114
Allow me to acquaint you with the delightful Louie's Backyard – a casual, yet elegant establishment situated on South Padre Island, encompassing both a surf and turf spot, as well as a nightclub.
A buffet featuring delectable prime rib and seafood, offered in an all-you-can-eat format, is sure to satiate your appetite.
Louie's Backyard beckons visitors to experience its stunning decks with a magnificent view of Laguna Madre Bay while dining. In addition to the magnificent views, the restaurant regularly hosts live music so that it can be a great destination for a spring break or a vacation.
In fact, Louie's Backyard has received recognition from MTV, the Travel Channel, and the Tonight Show.
The largest sports bar area in South Texas is located in Louie's Backyard, featuring 65 HDTVs and 10 Big Screen Digital Light Processings, making it a paradise for sports enthusiasts.
The Sunset Bar provides a picturesque place to witness the setting sun while Friday and Saturday nights invite you to sing karaoke. The Local Sports Bar, on the other hand, welcomes guests to watch a game.
If you desire to dance the night away, DJs and dancing await you on the dance floor. Furthermore, Louie's Backyard boasts multiple room rentals, rides, and bungee jumping for amusement, rendering it a one-of-a-kind destination for everyone.
There are various dining options, whether you choose to dine in an air-conditioned space or on the bay-front patio. Among the highlights are the seafood buffet with snow crab legs, herb-encrusted prime rib, and sauteed shrimp scampi.
Steak, chicken, seafood, surf n' turf, and pasta entrees are also available, along with an all-you-can-eat salad bar.
Guests who intend to visit Louie's Backyard should bear in mind that they must be at least 18 years old, possessing a valid picture ID, to gain entry. Only patrons aged 21 or above are permitted to purchase or consume alcoholic beverages.
Address: 2305 Laguna Boulevard, South Padre Island, TX 78597
Website: lbyspi.com
Phone: (956) 761-6406
For those seeking a relaxed eatery that offers scrumptious Mexican and American cuisine, the Grapevine Cafe is an absolute must-visit destination. Established in 1999 and rebranded in 2006, this restaurant has been a favored spot for breakfast and lunch.
The Grapevine Cafe distinguishes itself from other establishments by utilizing locally sourced ingredients, providing an ideal spot for those in search of healthy, vegetarian, and gluten-free options.
Aside from its palatable fare, the Grapevine Cafe also features an assortment of handmade beverages, including a custom espresso bar that showcases in-house roasted coffees, teas, revitalizers, and blended drinks.
Whether one requires a place to work or relax, the Grapevine Cafe offers free WiFi and a plethora of amenities to satiate any desire.
Visitors who venture over on Thursdays are in for a delightful surprise! The Grapevine Cafe comes with a happy hour from 1 PM to 3 PM, which includes mimosas, wines, and beers.
For sustenance, one must sample the Grapevine Cafe's specialties: huevos rancheros benedictos, eggs benedict Grapevine, chicken, and waffles.
Address: 100 East Swordfish Street, South Padre Island, TX 78597
Website: https://gvcafe.com/
Phone: (956) 761-8463
If your desire is to experience an informal and amicable atmosphere while partaking in a wide range of seafood, steaks, burgers, and sandwiches, then the restaurant Blackbeard's is the ideal destination for your culinary exploration.
Established in 1978, this eatery has expanded from seating 35 patrons to accommodating 350 diners and offers a cuisine that is heavily influenced by the Gulf of Mexico.
Blackbeard's boasts of an outdoor bar and a capacious patio area, which provides an optimal environment to relish the sunny weather of Florida.
The restaurant features an impressive selection of 32 variations of domestic, IPA's, and imported beers, in addition to wines, top-shelf liquors, and liqueurs. Moreover, the restaurant presents illuminated boards exhibiting featured dinners, thereby enabling the patrons to try something new during every visit.
An exclusive feature of Blackbeard's is its "Cook Your Catch" option, allowing the guests to bring in their catch and have it cooked and served to their liking. However, it is imperative to ensure that the fish is cleaned and scaled beforehand.
Blackbeard's homemade onion rings are an extremely popular starter and a dish that you must try. Additionally, the chicken fried steak is another specialty that you should sample.
The restaurant also offers seasonal seafood, such as Atlantic snow crab legs, Gulf red snapper, flounder filets, fresh oysters on the half-shell, and mahi-mahi.
Address: 103 East Saturn Lane, South Padre Island, TX 78597
Website: https://www.blackbeardsspi.com/
Phone: (956) 761-2962
If you're searching for an American and seafood eatery that is family-owned, located by the water, and serves grilled dishes, then Lobo Del Mar Cafe is the perfect destination. This restaurant provides breakfast, fresh-caught lunch, dinner, and drinks seven days a week.
Lobo Del Mar Cafe stands out due to its unique location, situated close to the Queen Isabella Bridge on Laguna Madre Bay, just off the end of Palm Street, and offering breathtaking water views.
It's also a dog-friendly outdoor space, making it an ideal location to bring your entire family, including your furry companions.
In the evenings, patrons can experience a one-of-a-kind tribute to God and country as musicians play their bagpipes during sunset at Piper's Landing. Lobo Del Mar Cafe also regularly features live music, contributing to the celebratory atmosphere.
For beach lovers, Lobo Del Mar Cafe provides the option of ordering food for pickup, allowing you to enjoy your meal right on the sand.
Additionally, the restaurant provides the opportunity to book water activities like parasailing, banana boat rides, sunset cruises, and dolphin watching.
Lobo Del Mar Cafe caters to everyone's palate with its diverse menu. The breakfast happy hour (7 AM – 11 AM) offers mimosas, bloody marys, breakfast burritos, and Lobo biscuits. For lunch, seafood enthusiasts can savor coconut shrimp, fish, or shrimp tacos.
The evening happy hour (3 PM – 6 PM) provides draft beers, margaritas, wings, popcorn shrimp, and nachos.
Address: 204 Palm Street, South Padre Island, TX 78597
Website: https://lobodelmarcafe.com/
Phone: (956) 772-7256
Kelly's Irish Pub is a renowned bar located in Adam & Eve Stores that offers scrumptious Irish cuisine and a remarkable selection of draft beer. Founded in 1985, this pub is the perfect destination to grab a bite and enjoy drinks.
Kelly's Irish Pub stands out due to its lively atmosphere. The pub operates until 2 AM daily and features billiards, darts, and occasional DJs so that you can spend quality time with friends. Multiple TVs are also available to watch your preferred games or shows.
An amusing aspect of the pub is its walls covered in dollar bills. Patrons can pen down anything on their dollar bill and tape it on the walls, creating a unique and personalized decoration.
Kelly's Irish Pub provides a diverse range of options, including Irish specialties such as reuben, fish and chips, and the loaded Irishman potato. Favorites include Scotch eggs, Guinness battered fries shrimp, and shrimp and crab enchiladas.
Address: 101 East Morningside Drive, South Padre Island, TX 78597, United States
Facebook: https://www.facebook.com/
Phone: (956) 433-5380
Established in 2006, this low-key dining establishment presents delectable seafood inspired by the Cajun tradition, for patrons to enjoy during both lunch and dinner services, all week long.
Daddy's Seafood & Cajun Kitchen boasts a fully-stocked bar with various beverages available for the indulgence of the esteemed clientele.
In addition, the establishment provides a weekly happy hour from 3 PM to 6 PM, which showcases the establishment's finest libations, ranging from margaritas on the rocks, to domestic beers, and wine by the glass, among other drinks.
During the weekday lunch hours of 11 AM to 4 PM, guests are treated to a selection of specials that are renowned and favored by patrons, such as The Almondy, Blackened Shrimp Tacos, and The Bayou.
Furthermore, the Mondays of each week bring an added feature to the establishment, where customers can partake in a special presentation of the oyster dish, from 4 PM until closing time.
Moreover, Daddy's Seafood & Cajun Kitchen also operates a seafood market that proffers patrons with South Texas' renowned seafood, consisting of wild-caught fish, shellfish, and oysters. In this regard, customers may choose to take the seafood home with them or have the restaurant prepare it to their liking.
Among the favorites that are well-liked by customers are the fried shrimp, New Orlean shrimp, blackened fish tacos, and oyster rockefeller.
Address: 1800 Padre Boulevard, South Padre Island, TX 78597
Website: https://daddysrestaurant.com/
Phone: (956) 761-1975
Tom and Jerry's is an optimal establishment for those seeking a voluminous eatery with a nautical theme and al fresco patios that serves drafts, burgers, and basic pub fare.
The establishment, founded in 1975 in McAllen, Texas, expanded its services to South Padre Island in 1996, and has since become a well-liked destination for both locals and tourists.
What sets Tom and Jerry's apart is its ample space and beachy ambiance, making it an ideal location for families and groups to convene. The eatery also boasts outdoor patios and televisions for games, ensuring a convivial experience for all.
Tom and Jerry's presents an assortment of daily specials, including chopped steak on Mondays, Taco Tuesday, sliders on Wednesdays, and a fried fish basket on Thursdays. Therefore, you can have an excellent opportunity to explore new dishes and deviate from the customary order.
The establishment presents numerous excellent food choices. Some patron favorites include chicken fried steak, fettuccine alfredo, BBQ chicken, and Jerry's special sizzler.
Address: 3212 Padre Boulevard, South Padre Island, TX 78597
Facebook: https://www.facebook.com/
Phone: (956) 761-8999
Liam's Steak House & Oyster Bar stands as a refined establishment that caters to the discerning palate with its exquisite selection of steaks, seafood, and wine.
It represents one of the seven distinguished eateries located in South Padre Island and the valley, all belonging to the same group that oversees Dirty Al's, a lauded seafood restaurant in the Rio Grande Valley.
Liam's distinguishes itself with its carefully curated wine list, while its signature dishes benefit from the skilled craftsmanship of seasoned chefs, resulting in plates that satisfy both the eyes and taste buds.
For romantic outings, Liam's offers an alluring ambiance, featuring intimate tables illuminated by flickering candles. Meanwhile, the back deck presents picturesque views of the sunset, perfect for reveling in a romantic rendezvous.
Guests can relish in an array of exceptional fare, including the flavorful stuffed flounder, rich red snapper rockefeller, savory bacon-wrapped shrimp, and exquisite mussette snapper, among other menu specialties.
Address: 202 West Tarpon Street, South Padre Island, TX 78597, United States
Website: liamssteakhouse.com
Phone: (956) 772-4700
LongBoard Bar and Grill is an entertainment hub and waterfront restaurant owned by a local family. The restaurant offers a spacious indoor-outdoor hangout that serves bar food and tropical cocktails, making it the ideal location to unwind and have a good time.
One of the unique features of LongBoard Bar and Grill is its vast 9000 square feet open-air venue, featuring four different areas to hang out, including the Main Deck, South Bar Deck, rooftop Sky Deck, and private Upstairs Bar, all of which are available for private parties.
With fantastic views of the fireworks during the summer months, sunset, the Queen Isabella Causeway, and the Laguna Madre water, LongBoard Bar and Grill is the perfect spot to enjoy a meal or a few drinks.
Additionally, the restaurant provides a sunset dinner cruise on the Southern Wave catamaran, offering customers the chance to enjoy a delicious meal while taking in the breathtaking views.
LongBoard Bar and Grill also features two live shows daily and three on the weekends, including Country Saturday and Latin Sunday, as well as a dance floor and sports viewing at the bar.
LongBoard Bar and Grill has a plethora of excellent food options such as fried fish or shrimp po'boy and the cubano (Cuban sandwich).
The restaurant also has large beachy entrees like the family seafood platter, which includes fried fish, fried Gulf shrimp, and crispy calamari.
Address: 205 West Palm Street, South Padre Island, TX 78597
Website: https://www.longboardspi.com/
Phone: (956) 772-7022
Russo's NY Italian Kitchen and Pizzeria is a highly recommended restaurant on South Padre Island, serving authentic Italian cuisine.
The chain is well-established, with locations in Richardson, Austin, and San Antonio (Texas), as well as international locations in Dubai and Saudi, offering delicious pizzas, soups, and pastas.
What makes Russo's NY Italian Kitchen and Pizzeria's stands out is its location in the Indoor Market Community Booth Space. The restaurant, founded by Chef Anthony Russo, uses family recipes to create delectable dishes.
Additionally, the restaurant uses hand-tossed dough and imported Italian cheese blends, along with sauce made from California tomatoes, ensuring each dish is authentic and delicious.
With a casual atmosphere and generous portions, Russo's is the perfect spot for anyone looking for a great meal. Popular dishes include fettuccine alfredo, spaghetti and meatballs, and tomato basil soup.
Customers can also build their own pizzas by the slice or whole pie, with 28-inch pizzas that can feed 10-15 people.
Address: 410 Padre Boulevard Suite 101, South Padre Island, TX 78597
Website: https://nypizzeria.com/
Phone: (956) 299-4987
Tequila Sunset is a bustling open-air concert venue, catering establishment, bar, and grill nestled along The Bay. This coveted spot is a must-visit for those seeking a good time, as it offers a festive ambiance, and impressive food and beverage options.
One of the key attributes of Tequila Sunset is its lively environment, including a dance floor and plenty of live music performances and DJs.
The outdoor seating area is dog-friendly and affords stunning views of the bay, fireworks, and sunset. The establishment also features televisions for games and a heated interior bar for cooler weather.
Tequila aficionados will delight in the 56 diverse tequila options on offer, which can be paired with the restaurant's signature dishes, such as sashimi burgers, chicken wings, seafood baskets, and tacos.
Address: 200 West Pike Street, South Padre Island, TX 78597
Website: https://www.tequilasunset.com/
Phone: (956) 761-6198
Savoring The South Padre Island Experience: Your Culinary Journey Awaits
Having explored some of South Padre Island's finest restaurants, the stage is set for you to dive into the island's vibrant culinary scene and create unforgettable dining memories. Each of these restaurants provides a one-of-a-kind and delectable experience that will have you yearning to return.
Don't hesitate to share your thoughts, favorite dining spots, and cherished moments in the comments section below. Did I miss any best restaurants in south padre island tx? If Yes, feel free to let me know.
Thank you for your time and take care.