Honestly, it's hard to categorize the best restaurants in Wimberley, Texas, since the town is relatively small. Yet this list turned out way better than I expected. When the city has about 3000 residents, you'll be surprised to know that Wimberley has that many good restaurants.
The walkable city is famous for its scenic Texas Hill Country landscape, vibrant art culture, and many boutiques. Sandwiched between Austin and San Antonio, two of Texas's most thriving restaurant scenes, Wimberly's culinary side may be overlooked by many.
However, over the last few years, the town's dining scenes have become more competitive due to the emergence of new restaurants every year. Whether it's a long-running eatery or just a new face in the business, I'm sure each candidate in the list below won't disappoint you.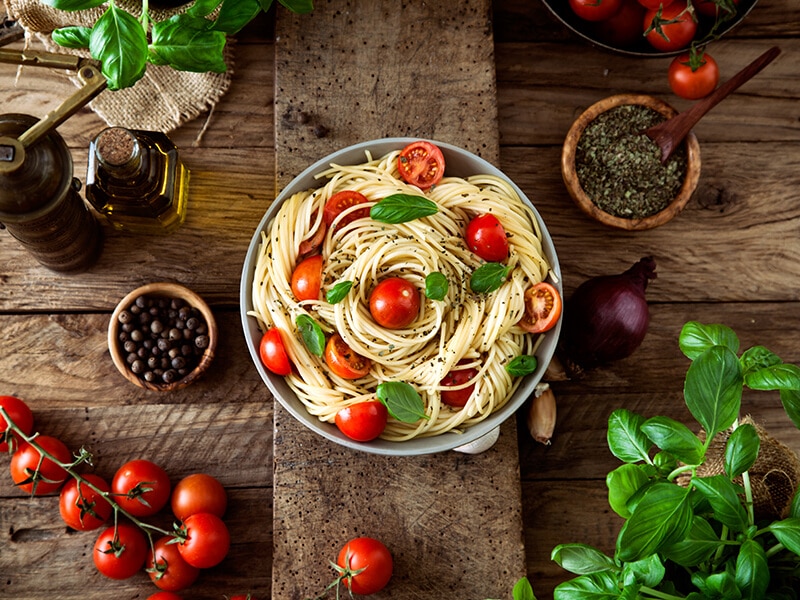 Quick Answer
As a true foodie, your mission is to try every good restaurant in the town where you live or are visiting. Understanding that mentality, I have prepared all the must-check eating places for you in Wimberley, Texas. Take a quick look at the list below.
Check Out These Restaurants With Spectacular Outdoor Seating
Hildee's Restaurant & Bar
Fish Tales
Savage's Hill Country Bar
The Shady Llama
Community Pizza & Beer Garden
Where To Dine With Impeccable River View At Wimberley
The Leaning Pear
Creekhouse Kitchen & Bar
Wimberley Cafe
Chill's On The Creek
Wimberley's Top Restaurants For A Romantic Getaway
Jobell Cafe & Bistro
Longleaf Craft Kitchen + Bar
Marco's Italian Restaurant & Pizzeria
RR12 Supper Club
Hidden Gems In Wimberley That's Worth Venturing
Blanco Brew
Durango Restaurant
Oldie's Burgers And More
Mima's Tacos
Check Out These Restaurants With Spectacular Outdoor Seating
Texas's weather, in general, and Wimberly's climate, in particular, may be unpredictable, but there is no denying that this scenic city boasts some pretty solid restaurants with gorgeous patios. When the weather is pleasantly lovely, it's a sign to visit the spots below.
Adjacent to Blue Hole Regional Park, Hildee's Restaurant & Bar opened in 2021 and is one of the latest additions to the Wimberley community. Whether it's brunch, lunch, or dinner, this restaurant will amaze you.
Though the restaurant is a new face in town, the reputation of owner Ryan Hildebrand, who happens to be a former chef at one of the best Houston restaurants, FM Kitchen and Bar, is the best guarantee of its quality.
Why You Should Choose This Restaurant
Large windows, brick walls, and a live fire table add an aesthetic look to Hildee's interior. They have a huge outdoor space on the exterior with a covered terrace and lounge seating along the creek and lawn. Besides, the playground for little kiddos is a huge plus.
You're in safe hands when they only use high-quality ingredients from local ranches and farms. Hildee's menu features seasonal Hill Country and Southern fare with a strong focus on the smokehouse. Chef Caroline's pastries are also another attraction.
Regarding beverages, their cocktail selection and a global wine list with an additional focus on Texas bottles will entertain you. Understandably, the bill at this upscale restaurant is in a higher range, but it's worth your experience.
Pro tips: Hildee's is a generous host to allow guests to use their entrance to enter Blue Hole Trail and do other activities.
What To Eat
Munch on the house's famous dishes like chicken fried venison and burnt end rangoons. Every bite of steak tostada is an explosion of flavor. Don't leave until you finish the chocolate cake and spicy strawberry jalapeño margarita.
Location: 14111 Winters Mill Pkwy, Wimberley, TX 78676
Website: https://www.hildeeswimberley.com/
Phone: (512) 222-9904
Seafood restaurants are a rarity in Wimberley, so the presence of Fish Tales in town since 1999 speaks volumes about its quality. From a local roadside place to a brick-and-mortar establishment, this restaurant is a must-visit for seafood lovers.
Many even said that the quality of Fish Tales could compete with other top-rated seafood restaurants in nearby San Antonio.
Why You Should Choose This Restaurant
Food at Fish Tales reflects Louisiana and Southeast Texas cuisine with a cajun touch. All the ingredients are fresh; for example, crawfish get delivered twice per week.
Seafood is their main game, with different approaches like boiling, frying, blackening, or grilling. The kitchen also embraces many fresh salad choices and hand-sliced ribeye steak.
A short drive from Wimberley Market Days, you will see a baby blue building near Rescued Relics. Once you arrive, pick your seat between the outdoors and indoors. While kids have fun at the playground, adults can sip on local brews and watch them from the full bar seat.
Fish Tales's two parking lots in front and at the back of the restaurant may solve your parking headaches. The weekend is the best time to visit this seafood house since they have live music.
What To Eat
Previous diners give high grades for the blackened shrimp tacos and seafood gumbo. Don't miss the hush puppies; they will leave you in awe. Besides, I can talk about their grilled catfish all day.
Location: 500 River Rd, Wimberley, TX 78676
Website: https://www.fishtaleswimberley.com/
Phone: (512) 722-3728
Take a 5-minute walk from Canyon Peaks, and you'll come across Savages Hill Country Bar. Armed with many awards like "Best of Wimberley 2022", "Best Bar & Nightclub," or "Best Bar & Nightclub," this family-run landmark is obviously a must-go destination in town.
Why You Should Choose This Restaurant
Savage's adds a unique gourmet touch to their American menu, which means you'll have sandwiches, burgers, salads, and plenty of appetizers. Thirsty? Winner of "Best Wimberley Bartender," the bar team will show off their talent with a beverage program and specialty sodas.
The indoor area will suit those who love the homey vibe. Dining in gorgeous patio views of the Wimberley Valley with your dogs (well-behaved and on leashes) will be a core memory. Better, they have three patios in the shade, so there are plenty of spaces for al-fresco diners.
With two pool tables, televised sports on 13 TVs, and many outdoor games, Savage's Hill never lacks things to do. But there's more: unwind with your friends and show your singing skills with their live music on the weekend, karaoke nights, and open mic on Thursdays.
Notes: Customers under 21 can enter inside the bar and on the patio until 9 pm when they go with adults. However, no alcohol is allowed for them on-site.
What To Eat
Whenever you come to Savage's, their signature burger salad should be the first thing to order. Follow up are the mushroom Swiss melt burgers and Philly cheesesteak sandwiches.
Location: 9595 Ranch Rd 12, Wimberley, TX 78676
Website: https://savageshillcountrybar.com/
Phone: (512) 842-3114
There are a few better places in Wimberley to dine and enjoy the wooded view than The Shady Llama, inaugurated in March 2018. Come here and spend your extra hours of daytime admiring the sunset view of Texas Hill Country around the fire pit.
Why You Should Choose This Restaurant
I love The Shady's utterly unique setup with 100% outdoor dining at their 35-acre beer garden. However, since its opening situation depends significantly on the weather, have a quick check on their social media before you come.
In a pretty, tree-shaded space, diners can sit on colorful mix-match chairs, benches, or hammocks. There is a lot of running area and a playground for kids. What surprises me the most is the llamas and mini donkeys on the property.
When hunger hits, check out two food trucks on-site with separate menus: one is in American cuisine, and the other is Tex-Mex. Quench your thirst with their great selection of wine and local draft beer and seltzers at the covered bar.
Notes: All are welcome at this family-friendly playground. But kids should be under strict parental supervision since the natural surroundings can pose a risk of injury. And if you have a leash-friendly and well-behaved pulp, bring them along too.
What To Eat
Munch on their famous ground beef taco and Hill Country salads. Living to its name, the bomb-mi with sweet Asian and pickled carrots will blow you away. Believe me or not, some say that the chicken quesadilla is the best they've ever had.
Location: 18325 Ranch Rd 12, Wimberley, TX 78676
Website: https://theshadyllama.com/
Phone: (512) 539-7407
Situated in The Lumberyard Office and Retail Center, Community Pizza & Beer Garden has been a part of Wimberley's charm since its grand opening in 2018. Owned and operated by a husband-and-wife team, this family-friendly place is a happening spot for locals and travelers.
Why You Should Choose This Restaurant
As its name suggests, Beer Garden specializes in wood-fired Neapolitan pizzas, a half-dozen salads, and a run on hearty appetizers, with food portions large enough to share. The special thing is that guests can watch their pizza come to life from the oven behind the glass.
To complement your meal is a wide range of craft cocktails, a rotating list of local and imported beers with 32 craft brews on tap, along with wine and spirits. For more bonus points, the house uses eco-friendly, reusable utensils and plastic-free packaging.
Parents can chill at the bar in a rustic-chic layout while the children will run off their energy at the colorful pirate ship playscape. The outdoor tables with misters will help you cope with the hottest hours in the summer. The best part? Beer Garden loves dogs, so take your pups here.
Pro tips: Celiac diners can ask for gluten-free pizza crust and other ingredient modifications.
What To Eat
The devilled eggs are too good to be true, whereas brisket meatballs are phenomenal. I'm also obsessed with their Illuminati pizza with confit garlic, hot honey, and mozzarella.
Location: 111 Old Kyle Rd #330, Wimberley, TX 78676
Website: https://communitybeergarden.com/
Phone: (512) 858-6756
Where To Dine With Impeccable River View At Wimberley
Another prominent feature of Wimberley is its rivers and streams, namely Cypress Creek, Jacob's Well, and more. Therefore, if you want to enjoy both delicious food and gorgeous river views, these restaurants below have the best of both worlds.
Owned and run by a husband-and-wife team, The Leaning Pear has undergone many location changes since its opening. Finally settling in Cypress Creek Valley in 2013, this popular hip restaurant has been the ultimate destination for delicious lunch, dinner, and Sunday brunch.
It's no exaggeration to say The Leaning Pear is a strong opponent to even the best dining spots in neighboring Austin. Also, it will be a great lunch stop after a morning winding at Wimberley Market Days.
Why You Should Choose This Restaurant
Perched atop a natural bluff in stunning Cypress Creek, the restaurant overlooks the lush meadow of picturesque Hill Country countryside. A work of Overland Partners, the structure has an eco-conscious, rustic layout, presenting the warmth and color of the Village of Wimberley.
The Leaning Pear opens for indoor and outdoor seating. Still, I recommend a seat on the outside, or the so-called "tree house," for a full view of the idyllic Hill Country and a romantic atmosphere. For a better experience, tag your four-legged friends along.
While the view is impeccable, their food is equally desirable, with a Hill Country-inspired cuisine centering on locally sourced, hand-picked ingredients. As a result, the menu also rotates seasonally. A bonus is that all the dishes are picture-worthy with a pay-to-detail presentation.
What To Eat
Healthy-conscious customers are always happy with the Leaning Pear house salad, chicken salad sandwiches, and Hill Country cobb. Otherwise, crab cakes are another ideal candidate. Always finish the meal with their panna cotta regardless of what you order.
Location: 111 River Rd #110, Wimberley, TX 78676
Website: https://www.leaningpear.com/
Phone: (512) 847-7327
A new kid on the square in Wimberley, Creekhouse Kitchen & Bar has charmed local folks with its modern Texas cuisine. Nestled in the hill country, this touristy restaurant attracts locals and visitors alike, so make sure to secure your table ahead of time.
Why You Should Choose This Restaurant
The moment you walk past the entrance, you'll enter a peaceful, airy space filled with natural lights thanks to a wall of windowed garage doors. Under the shadow of massive Cypress Creek trees and string lights is a large patio with picnic tables overlooking the river.
Nothing is better than having a good drink while listening to live acoustic performances on the patio when the sun is set on the weekend. So the next thing to do is check out their vast collection of Texas-brewed beers, thoughtfully crafted cocktails, and excellent wine.
Hungry? Creakhouse's menu owes a lot to classic Texas cuisine with a distinctly modern spin, a theme that perfectly matches the interior. From snacks and salads to tacos, everything is beyond expectation. Take your kids here and let them choose from the children's menu.
Pro tips: If you are on a budget, keep updated with the special offers on their official website. Normally, the Happy Hour with ridiculously cheap drinks and appetizers occurs 3 pm – 6 pm daily.
What To Eat
Get a taste of The Lone Star State with all-time hits like grilled chicken burgers or fish sandwiches. Besides, the grilled steak frites deserve to have more spotlight. If you want a little piece of Tex-Mex eats, their fish tacos got many positive reviews.
Location: 14015 Ranch Rd 12, Wimberley, TX 78676
Website: https://creekhousewtx.com/
Phone: (512) 722-3394
Winner of 2018's Business of The Year, Wimberley Cafe has won hearts with its classic American fare since 2005. Surrounded by an abundance of local boutiques downtown, this cafe is perfect for lounging after a long shopping day.
Another thing that adds to its charms is that Wimberley Cafe is the only full-breakfast restaurant in town with all-day pancakes and waffles throughout the week. But arrive at least before 10 am for a full breakfast menu.
Why You Should Choose This Restaurant
Entering this old Wimberley institution is like taking a trip back in time with a country kitchen set up in a vintage atmosphere. The retro elements are evident in old-timey quarters, red-checkered tablecloths, and vinyl leather seats in the dining room.
Anchored firmly by the square in Wimberley, the cafe has plenty of seats inside and out. The patio is dog-friendly, with fans to keep the breeze flowing. Since it faces the creek, diners can stroll along the river and sit there when the level of water drops low.
At this Texas hill country cafe, the Southern-oriented menus come with an assortment of burgers, sandwiches, and many entrees with homestyle cooking. While you wait for food, entertain with their tic-tac-toe game.
What To Eat
If you're new here, play safe with the Cafe's favorite plates like chicken fried steak, sweet hot mess burgers, or Rhubarb pie. Moreover, the pecan pancake will sweep you off your feet from the first bite.
Location: 101-A Wimberley Square, Wimberley, TX 78676
Website: https://www.wimberleycafe.com/
Phone: (512) 847-3333
Bright and airy, Chill's On The Creek, formerly Ino'z Incorporated, wrote its first chapter in 2002. In the heart of downtown Wimberley, this creekside restaurant is ideal for killing time while your companion is still shopping around the square.
Why You Should Choose This Restaurant
In the middle of the greenery, this two-story restaurant is spacious and large-group friendly, allowing both cats and dogs. Sit in the sunroom or bar and watch entertaining TV programs amidst the woodsy setting.
Otherwise, go to Chill's upstairs, a beautiful patio with glorious Cypress Creek views from the deck. Plus, the ample outdoor space has excellent picnic tables on the ground, shaded by majestic trees. Enjoy running on the lawn or strolling around the creek bank here.
While adults have a whole American-style menu ranging from light meals and country kitchen dishes to heavy smoked plates, little diners will love the specially designed menu for them. Besides, feel free to customize your burgers with tons of toppings.
Pro tips: The outdoor areas are nice and fun, but the flies may be problematic, so choose your seat wisely. On the bright side, live band performances on the weekend outside will make your experience ten times better.
What To Eat
At Chill's, you'd better order their Cajun eggs benedict and the shrimp po'boy because they are real keepers. While the buffalo chicken sandwich with fried pickles is fire, the ribeye sandwich is also a keeper.
Location: 14004 Ranch Rd 12, Wimberley, TX 78676
Website: https://chillsonthecreek.com/
Phone: (512) 847-6060
Wimberley's Top Restaurants For A Romantic Getaway
A short drive from Austin or San Antonio, Wimberley is a perfect getaway for two from the hustle and bustle of big cities. Take your loved one to one of the places below for an intimate date.
In the North of Wimberley's center lies Jobell Cafe & Bistro, operated by a married couple. Therefore, you won't be surprised that the restaurant takes its name from its beloved children. Join this lovely restaurant to level up your fine dining experience in Wimberley.
Why You Should Choose This Restaurant
Have a romantic date in the artfully renovated, intimate main dining room with polished wooden beams and modern chandeliers. When the night comes, candles on the table will set dim lighting for the whole space. Meanwhile, the spacious exterior is home to a relaxing patio deck.
The owners have spiced up the bistro fare with the charm of Texas Hill Country. The menu is devoted to chef-inspired, finely prepared takes on American classics. Accompanied by the food is a well-rounded list of wines, from white and rose to reds, with a beer & cider selection.
Pro tips: Be ready to book tables in advance for weekend dinner and Sunday brunch, especially when you go in a group of 3 or more.
What To Eat
You'll never get tired of ordering their crispy Thai chili Brussels sprouts and truffle rosemary garlic mashed potatoes. Folks also come here for steak Diane with Texas Wagyu bavette and French onion soup.
Location: 16920 Ranch Rd 12, Wimberley, TX 78676
Website: https://www.jobellcafe.com/
Phone: (512) 847-5700
Located in a historic structure just steps from the main town square, Longleaf Craft Kitchen + Bar is an upscale dining restaurant. Throwback to its history, it was constructed from Longleaf Pine – hence the name – that was demolished in 1912 and reused to build the current building.
Why You Should Choose This Restaurant
With a focus on farm-to-table cuisine, Longleaf has an unwavering commitment to sourcing high-quality ingredients from local growers and Texas Gulf Coast fishermen. As a result, the dynamic upscale Texas menu changes with the seasons.
Food aside, the outdoor seating is another of Longleaf's pride, with a beautiful sculpture garden in an oak-shaded courtyard. While the outdoors is perfect for having a toast with your friends in an airy, lively environment, the dining room inside is more calm and intimate.
Every nook and cranny inside Longleaf is covered with polished wood, from the long bar to the ceilings to the chairs, bringing a rustic and inviting feel. There is no wait, even on Sundays, meaning Longleaf is the perfect spot to have a first date with your "special" friend.
What To Eat
People won't stop talking about devilled eggs and fried oysters, so you may want to consider them. Other highlights include sauteed pork chops, bruschetta, and Rosewood ranch Wagyu beef burgers.
Location: 314 Wimberley Square, Wimberley, TX 78676
Website: https://longleafwimberley.com/
Phone: (512) 842-3044
Conveniently located on the square, Marco's has a cult following for authentic Italian cuisine at a bargain price. Open from 11 am to approximately 8.30 pm from Wednesdays – Sundays, the restaurant has a midday break from 2.30 pm to 5 pm.
Why You Should Choose This Restaurant
Checkered tableware, old-school wood counter, and warm lighting add more allure to the large dining room. The apparent European vibe here makes this place perfect for a romantic date for two. At the same time, the outdoor seating is set in a cute little garden with a few tables.
What's not to love about this no-frills space full of Italian deliciousness like pasta, pizza, spaghetti, and more? To my surprise, the chef is also the owner, and his Italian cooking skill hits the spot. Since he cooks by order, patience is a must. To reduce the wait, call ahead to order.
Besides, their BYOB policy is a huge plus; the host will supply the wine glasses. If you forget to bring your wine from home, check out the Hill Country Wine Shop across the street.
What To Eat
Praise around for spaghetti and meatballs, as well as tomato basil soup. The 10" supreme pizza gets many orders, while the beef ravioli and chicken parmesan are fantastic.
Pro tips: All entrees come with a salad, and it's more budget-friendly than ordering the salad separately. Plus, their creamy Italian dressing is to die for, so don't be afraid to ask for more.
Location: 303 Wimberley Square, Wimberley, TX 78676
Website: https://facebook.com/
Phone: (512) 847-0742
Welcome to a bygone era at RR12 Supper Club with luxurious dining. On the town square, this club just landed in 2022 but has rocked the town's food scene with top-notch gourmet food and drinks. Before you start to wonder, the name references the address.
Notes: RR12 Supper Club is a semi-exclusive restaurant welcoming both the public and members. Don't be surprised to know Tuesday nights are reversed for members only with perks like complimentary drinks and appetizers.
Why You Should Choose This Restaurant
A converted historic bungalow with wild oak trees lining the property on Ranch Road is where Supper Club calls home. The structure is beautiful in the daytime but even better when the sun sets. The flickering candlelight and live music set the space's warm yet romantic vibe.
The kitchen emphasizes classic American cuisine, focusing heavily on Hill Country tradition, running from steak to seafood. They also rotate the menus throughout the week. For example, they offer a new Asian menu on Wednesday evenings or an Italian menu on Thursday nights.
To elevate your dining experience, Supper Club's more-than-ten-page drink menu will fit the bill, with sommelier-curated bottles, classic cocktails, and aromatic liquors. Take this hint: every couple who stops by for the Italian nights will get a complimentary bottle of Chianti.
Pro tips: If you're free from 4.30 pm – 6 pm, Wednesday to Friday, hop over to take advantage of Supper Club's Happy Hour and get free samples of Bird Dog pizza.
What To Eat
I have heard endless positive reviews of their specialties, like duck confit and spring osso buco (an Italian dish with braised veal and veggies). Seafood fans will find the Parker house rolls and seared scallops exceptional.
Location: 13900 Ranch Rd 12, Wimberley, TX 78676
Website: https://supperclubstx.com/
Phone: (512) 610-1677
Hidden Gems In Wimberley That's Worth Venturing
It's clear that there are many famous restaurants in Wimberley with enormous high reviews, but let's shed some light on other lesser-known gems. Be more adventurous and give these places a try.
Debuted in 2019 in the charming town of Wimberley, Blanco Brew combines an organic coffee roaster and the skills of a French-trained chef. Thus, it's no shock that this cafe has a reputation for some of the tastiest confections in town and 100% organic coffee from around the globe.
Perfectly positioned north of Wimberley Square, Blanco is next door to the ConocoPhillips Station, just a short walk from Hotel Flora and Fauna.
Why You Should Choose This Restaurant
Its decor is consistent with eclectic local art for sale on the wall and stained glasses with a cozy vibe. In the wifi-equipped main area, folks can sit by the window at the Cypress Bar and work on their laptop. Otherwise, enjoy the Texas weather at the outdoor seating on a nice day.
Brew is famous for its large assortment of baked goods that are freshly baked on-site every day, including scones, turnovers, and danishes alike. Meanwhile, they are more serious about lunch with dozens of hearty options like salad, flatbread pizza, sandwiches, and desserts.
What patrons appreciate more than food is the rotating coffee offered from different countries, roasted by roasters at Texas Artisan Roasters. From espresso blends to freshly drip coffees, you'll always have something here.
What To Eat
The ham and cheese croissants are an absolute standout, while the jalapeño sausage one is speechless (in a good way). The sweet tooth won't want to miss their delicious muffins. Believe me, once you try their cappuccino and smoothies, you will get addicted.
Location: 14200 Ranch Rd 12, Wimberley, TX 78676
Website: http://blancobrew.com/
Phone: (512) 842-3400
Located west of H‑E‑B in Wimberley, adjacent to Market Days, Durango Restaurant is perfect for good Latin eats with incredibly low prices. "Voted Best Enchilada in Wimberley," this hole-in-the-wall restaurant is sure to impress.
Why You Should Choose This Restaurant
Durango makes tortillas, salsa, and chips on-site for its delicious standard Mexican menus, with vegetarian and meat dishes. I love that as soon as you sit down, the complimentary chips and salsa get delivered to the table immediately, and the food will come out shortly after.
It's hard to pass by Durango as its red facade stands out from afar. In the 20-table space, Durango serves indoors only with two main dining spaces amidst a simple yet humble surrounding. Come with your pups and catch up with the entertaining program on TV.
Pro tips: If you can't dine in, grab and go at their drive-through lane.
What To Eat
It's tough to say which beef fajitas with homemade tortillas and enchiladas (filling corn tortillas with savory sauce) is better, so order them both. The Huevos rancheros are pretty legit, while the breakfast tacos might make you come back here repeatedly.
Location: 401 FM2325 UNIT A, Wimberley, TX 78676
Website: https://facebook.com/
Phone: (512) 847-3473
Up the road from the square, across from the library on FM 2325, stands Oldies Burgers And More, a two-time winner of the View's best burger survey. Run by a sister duo, this women-owned eatery ticks all the boxes, from reasonable prices and big portions to cool staff.
Why You Should Choose This Restaurant
At this half-service restaurant, patrons will order at the counter, and the chefs will cook in the food truck nearby. Then the staff will bring the food to the tables or your cars. Dining inside is an option, but I suggest grabbing a seat on their dog-friendly, shade patio under a big roof.
Anything on the menu is dangerously addicting, from handed-shaped burgers and sweet fries to chicken. On the side, each burger will come with your choice of crisp veggies. Did I mention that there are free beers on Thursdays and Fridays?
What To Eat
The Dan burger and tater tots are fantastical, while the double cheeseburger is to die for. Apart from burgers, their sweet potato fries with sweet sauce are also worth a day's thrive. Don't forget to try the homemade kettle chips.
Location: 411 FM2325, Wimberley, TX 78676
Website: https://www.facebook.com/
Phone: (512) 842-3363
Back in 1994, Mima's Tacos was just a small food stall on the street, but now it has extended to two locations in Wimberley and Canyon Lake. In the middle of Wimberly, this family-owned business features authentic Tex-Mex cuisine, an all-day breakfast, and more.
Why You Should Choose This Restaurant
Though this mom-and-pop eatery is relatively small and intimate, there are dining areas inside and out for sit-down guests. Whether it's sunny or raining, the locals show up en masse. Thus, call the host and order ahead to cut down the wait time.
The downtown darling is full of old-school tastes and vibes, turning out nachos, tacos, and other Mexican staples. Loaded food portions and low prices – what not to love? Besides, they even have a salsa bar with many sauces like green tacos, pico de gallo, or jalapenos.
Notes: Since the restaurant accepts cash only, prepare extra bucks in your wallet. But fear not; they also have an ATM on-site.
What To Eat
There is one reason to go to Mima's Tacos, and it's right in the name. Accordingly, my top choices are chorizo eggs tacos and brisket tacos. Other worthy considerations are cheese enchilada and nachos with ground beef.
Location: 701 FM2325, Wimberley, TX 78676
Website: http://mimasonthelake.com/
Phone: (512) 847-1305
Tantalize Your Taste Buds In Wimberley, Texas!
Patrons can have great meals in Wimberley any time of the week. Better, since the town is quite small, you won't waste much time driving from one restaurant to another. The scenic views of Wimberly will make your food journey ten times more enjoyable.
Have you ever been to Wimberley? How do you feel about this town and its restaurant scene? Give other readers and me some heads-up in the comment section below. Please show me your support by liking this article and spreading it more on your social accounts. Thank you!