This guide to the best steakhouses in San Antonio, Texas, will lead you to the juiciest and most flavorful cuts of beef around. San Antonians' love for quality beef and exceptional dining experiences are evident in the abundance of top-rated steakhouses you can find in the city.
From long-standing restaurants serving up gourmet steaks for ages to burgeoning eateries with a modern twist, meat lovers have endless options for a satisfactory meal. No matter what type of steak you're after, these steakhouses promise an unforgettable dining experience!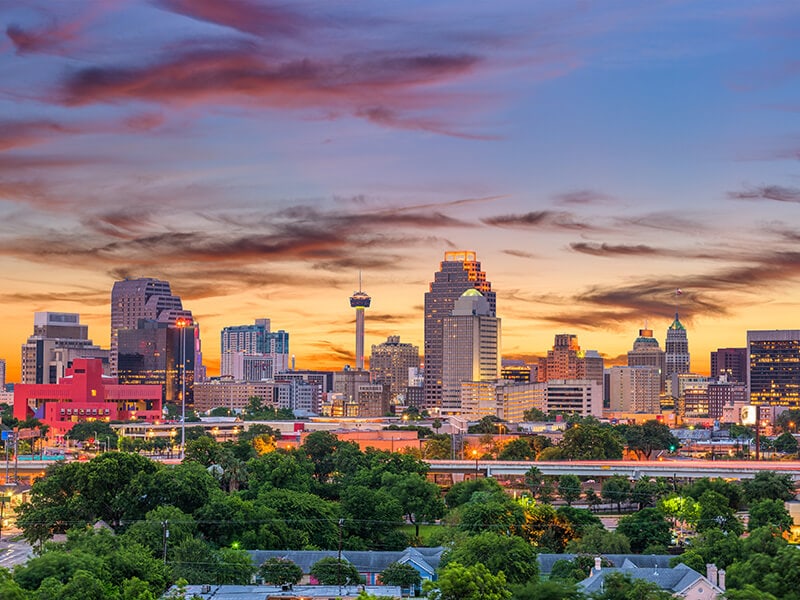 18 Best Steakhouses In San Antonio, TX, You Don't Want To Miss!
For any steak lovers looking for the ultimate dining experience in San Antonio, look no further than the city's best steakhouses. From melt-in-your-mouth filet mignon to perfectly grilled T-bones, each destination boasts gourmet, well-executed steaks that delight your taste buds.
J-Prime Steakhouse
Perry's Steakhouse & Grille
Bohanan's Prime Steaks and Seafood
Bob's Steak & Chop House
Chama Gaucha Brazilian Steakhouse
Ruth's Chris Steak House
Fleming's Prime Steakhouse & Wine Bar
Myron's Prime Steakhouse
Fogo de Chão Brazilian Steakhouse
Kirby's Steakhouse
Boiler House at the Pearl
The Barn Door Restaurant & Meat Market
Morton's The Steakhouse
Antlers Lodge Restaurant
The Palm – San Antonio
18 Oaks
Texas de Brazil – San Antonio
Josephine Street
Where To Find The Juiciest Steaks In San Antonio, Texas
Whether you're celebrating a special occasion or simply seeking a sumptuous night out, these superb steakhouses surely leave you satisfied. With top-rated chefs and warm hospitality, these steakhouses in San Antonio will guarantee a memorable dining experience!
J Prime Steakhouse is a top-tier steakhouse that offers a complete craft bar, expertly sourced ingredients, and award-winning wines.
With upscale dining and a romantic ambiance, J-Prime is the place for a night out with your special one or milestone celebrations. Not just San Antonio, this multi-location steakhouse is also ranked among the top-rated restaurants in Austin, Texas.
Why Should You Visit This Restaurant?
At J-Prime, everything is sourced from trusted suppliers to guarantee the best quality, from the Japanese A5 steaks to Alaskan King crab.
The steak is 100% USDA wet-aged Prime Black Beef Angus, while the seafood like tuna and salmon is delivered fresh from the ocean in no longer than 2 days.
Their appetizers and beverages are reasonably priced during their Social Hour. Whenever unsure about your wine choice, remember that the restaurant's experts can help you pair your meal with one of their 500 wines.
What To Eat?
My top pick is the filet mignon duo, featuring twin bacon-wrapped filets, one with au poivre sauce and the other with Oscar-style toppings. Another nice recommendation is the "surf and turf" – filet mignon with a Canadian lobster tail.
I'm also impressed with their lobster bisque, which has a deep flavor and large chunks of lobster. Their octopus ceviche, with thick cuts of octopus brightened by citrus juice, is also a must-try.
Location: 1401 N Loop 1604 W Acc Rd, San Antonio, TX 78258, United States
Website: https://jprimesteakhouse.com/
Phone: (210) 764-1604
Huge portions and competitive prices are what put Perry's on the steakhouse map state-wide. Constantly regarded among the finest restaurants in Houston, Texas, Perry's Steakhouse & Grille branched out fast with one outpost here in San Antonio.
Why Should You Visit This Restaurant?
Located in La Cantera, Perry's is perfect for a memorable business lunch, family dinner, or a romantic date night with elegant space. The restaurant's dedication has won many awards, including 2021's Wine Spectator and the top 10 diners' choice winners by OpenTable.
With the open design, diners can witness the skilled chef crafting their favorite dishes. Thanks to the floor-to-ceiling windows, the views overlooking local boutiques are also uninterrupted and amazing.
This award-winning steakhouse takes pride in its roots as a meat market and still cuts its USDA-aged Prime beef in-house. The chefs here wet-age the bone-in cuts for 24 days and boneless cuts for 32 days to guarantee only the best flavors will reach your plate.
What To Eat?
Their triple-bone-in pork chop is flavorful and comes in a Viking-sized portion. Surf & Turf signatures, whether the fried asparagus, filet beef & bleu, or prime NY strip carpaccio (paper-thin sliced raw beef), are also not-to-be-missed.
Expertly carved tableside on a warm cast iron plate, the fan-favorite Chateaubriand is elevated with sumptuous truffle merlot demi-glace, bearnaise, and a peppercorn reduction sauce. Other nice options are filet mignon, prime New York strip, and prime ribeye, all cooked to a beautiful sear.
Location: 15900 La Cantera Pkwy Suite 222000, San Antonio, TX 78256, United States
Website: http://www.perryssteakhouse.com/
Phone: (210) 558-6161
Nestled in the heart of historic Houston Street, Bohanan's is a fine steak and seafood destination with old-world charm and sophistication. With live jazz, it's the perfect setting for a memorable date night before you head to the Majestic Theater across the street.
Why Should You Visit This Restaurant?
Upstairs, the elegant dining room is where guests can savor the perfectly grilled dishes over mesquite wood. The space is classy, with wood paneling, posh chandeliers, and dark leather furniture. The Friday and Saturday live music nights also help elevate your dining experience.
Downstairs in the Bohanan's bar, diners can enjoy an impressive list of craft beers, excellent wines, and top-shelf spirits courtesy of the late, reputed bartender Sasha Petraske. There are also tempting bar bites crafted by skilled chefs brought from the kitchen upstairs.
For those who prefer to dine at home, B@Home offers a special menu that allows a romantic, candle-lit dinner in the comfort of your own home.
What To Eat?
Start your night with the unique candied jalapeno dip (complimentary) and French onion soup, followed by a filet or ribeye. The restaurant's specialties are the macadamia-encrusted gulf red snapper and jumbo lump crab cake.
The lobster creamed corn, creamy macaroni & cheese, or jumbo asparagus will also leave your stomach happy. If you come with your special someone, remember to order the signature chateaubriand for two.
Location: 219 E Houston St #275, San Antonio, TX 78205, United States
Website: http://www.bohanans.com/
Phone: (210) 472-2600
Beyond San Antonio, Bob's Steak & Chop House is highly praised as the top restaurant in Dallas, Texas for its top-quality meats and Texas-sized portions. Since 1993, this trustworthy steak house has served San Antonians with its delicious steak in its cozy, clubby atmosphere.
Why Should You Visit This Restaurant?
Bob's is where to immerse in the best cuisine with their hand-selected USDA prime beef and an extensive wine list. The space is adorned with classy artwork and antique flags, including the Civil War and 13-star American ones, reflecting the restaurant's pride in western culture.
What To Eat?
For a delectable starter, try the Maryland-style crab cake with honey mustard. As for the main course, you can't go wrong with the prime filet mignon or the prime tomahawk ribeye.
If you come with a hearty appetite, the prime Porterhouse, a 28-ounce steak fit for a king, is the ultimate indulgence. Remember to savor the iconic glazed carrot and your choice of potato to complete your meal.
Location: 5815 Rim Pass, San Antonio, TX 78257, United States
Website: https://bobs-steakandchop.com/
Phone: (210) 222-2627
With outposts in Houston and Chicago and San Antonio, it's clear that this Brazilian steakhouse knows how to impress its patrons.
At Chama Gaucha, the essence of Southern Brazilian cuisine is on full display with the all-you-can-eat rodízio. This dining concept is a parade of 12 different cuts of meat sliced hot from the skewer by trained Brazilian chefs, also known as gauchos.
Why Should You Visit This Restaurant?
Chama Guacha is synonymous with quality, as only 100% USDA Prime beef aged for at least 45 days is served at this bright and upscale steakhouse. Their salad bar is also well-stocked with 30 items, so diners can always load up on tasty accompaniments to their juicy steak.
Chama Gaucha is one of the best eateries with a vibrant happy hour in San Antonio, Texas. Happy hour specials are available all day Monday and Tuesday or Wednesday through Friday from 4:30 PM – 7 PM.
What To Eat?
The house specialties, including the succulent picanha, the prime cut of the sirloin, and the flavorful Fraldinha (the bottom sirloin), are the biggest reasons many people are there.
Don't miss out on the delicious Brazilian sides, such as the Pão de queijo (cheese bread), plantains, and cheese rolls. Meanwhile, the decadent Tres Leches is the sweetest way to cap off your meal.
To wash down your delicious food, try Carajillo – a special cocktail made right in front of you on a cart by the steakhouse's skilled bartender.
Location: 18318 Sonterra Pl, San Antonio, TX 78258
Website: http://www.chamagaucha.com/
Phone: (210) 564-9400
6. Ruth's Chris Steak House
Founded in 1965 by Ruth Fertel, who is affectionately known as the First Lady of Steak, the restaurant has become a beloved institution among meat lovers. The attention to detail is why the steakhouse has expanded to over 150 outposts and serves 45,000 steaks daily.
Why Should You Visit This Restaurant?
This steakhouse is known for its USDA Prime steaks, cooked to perfection in their trademark 1800-degree oven and served on a plate heated to 500 degrees. You can probably hear the sizzling sound across the room before the meat is on your table.
Diners can also enjoy Happy Hour specials (Monday – Sunday, 4:30 – 6:30 PM) at the large open bar, featuring hand-crafted cocktails with seasonal or classic flavors. The award-winning wine list and memorable desserts also help round out the dining experience.
Ruth's Chris boasts up to 3 outposts in San Antonio. Patio dining is available in all of them, and my favorite thing is the stunning views of the serene RiverWalk at the Grand Hyatt location.
What To Eat?
Petite filets and New York strips are the most popular choices. If you're looking for something to share, the Porterhouse, with the flavorful strip and the tender filet, is an excellent choice.
It's a shame to miss the popular tomahawk ribeye, a beautifully marbled cut of beef. Other than beef, the lamb chop or double pork chop is also an outstanding option.
Location 1 (River Walk): 600 E Market St Grand Hyatt, Suite L-101, San Antonio, TX 78205
Website: https://ruthschrissa.com/
Phone: (210) 227-8847
Location 2 (La Cantera): 17803 La Cantera Terrace Suite #8110, San Antonio, TX 78256
Website: https://ruthschrissa.com/
Phone: (210) 538-8792
Location 3 (Airport Area): 7720 Jones Maltsberger Rd, San Antonio, TX, 78216
Website: https://ruthschrissa.com/
Phone: (210) 821-5051
This locally owned and operated chophouse uses secret seasonings and a unique grilling technique to prepare its signature "Chicago Prime" beef. Its full bar and upscale ambiance make it the perfect spot for a special occasion or night out.
Why Should You Visit This Restaurant?
At Myron's Prime Steakhouse, all side dishes are generously portioned and can easily feed 2-3 diners, making it the perfect place to gather with friends or family. Their daily Wine Down hour (4-6:30 PM) features great deals on appetizers and cocktails at the bar.
What To Eat?
Many people come for the mouth-watering bone-in ribeye and bone-in filet New York strip, both expertly prepared and bursting with flavor. Fresh scallops, steakhouse wedge salad, jalapeño mac n cheese, and shrimp Myron are also highly recommended.
Location: 10003 NW Military Hwy, San Antonio, TX 78231
Website: https://myronsprime.com/
Phone: (210) 493-3031
Located in the Alamo Quarry Mall, Fleming's Prime Steakhouse boasts a luxurious dining space for a business dinner or night out. Within a short distance from downtown and the airport, this restaurant is a must-visit for top-notch aged prime beef and wine.
Why Should You Visit This Restaurant?
Choose to dine in the elegant dining room or enjoy the beautiful weather on the outdoor patio at this steakhouse. Special events such as Surf & Turf Sunday, 3-Course and 3-Course for Two, and A Taste for Twosday surely make an ordinary night an unforgettable occasion.
Head to the bar Sunday through Thursday from 4 PM to 6 PM when Fleming's Prime has the best deals for hand-crafted cocktails and bar bites in town.
What To Eat?
When dining at Fleming's, you can try their signature steaks, including their USDA Prime dry-aged ribeye, prime bone-in ribeye, and prime tomahawk. The 8-ounce petite filet mignon is also a crowd favorite, cooked to perfection with the Montague broiler at 1600 F degrees.
Location: 255 E Basse Rd Bldg E-Suite #200, San Antonio, TX 78209
Website: https://www.flemingssteakhouse.com/
Phone: (210) 824-9463
Experience the art of churrasco at Fogo de Chão, a grade-A steakhouse with 62 upscale dining locations. Founded in 1979 by brothers Arri and Jair Coser, this restaurant is known for its all-you-can-eat Brazilian-style grilled meat and expansive salad bar.
Why Should You Visit This Restaurant?
At their Market Table & Feijoada Bar, you can find over 50 items to serve with your meat, from seasonal soups to salads. The bar Fogo is where you can take advantage of Happy Hour deals on beers, wines, cocktails, and many Brazilian beverages on weekends all day.
Whether you come for a casual drink with friends or a special occasion dinner, the 250-seat chic and modern restaurant can accommodate all your needs. Among many private dining rooms, the River Room provides a breathtaking view of downtown through its 180-degree glass wall.
What To Eat?
The picanha, their signature steak, is the epitome of churrasco cooking with its robust flavor and tender texture. Whenever you're feeling adventurous, give the beef ancho – a bone-in ribeye packed with flavors – a shot.
The filet mignon is a timeless classic, perfect for those seeking a refined cut of meat. Non-beef lovers will appreciate the Cordeiro – the succulent lamb chops marinated with fresh mint, lemon white wine, and fire-roasted to perfection.
Location: 849 E Commerce St #393, San Antonio, TX 78205
Website: https://fogodechao.com/
Phone: (210) 227-1700
Since 1954, Kirby's has been synonymous with exceptional steakhouse dining. Their commitment to quality is evident in their all-natural, Midwestern, aged prime beef – the only cut of beef that makes it to your plate.
Why Should You Visit This Restaurant?
With a setting that welcomes both casual wear and bow ties, Kirby's delivers "upscale comfort" that invites you to relish every bite of the chef's daily featured menu.
You may want to let the sommelier guide you through the impressive cellar of over 3,000 bottles to find the perfect match for your dishes.
Don't miss out on the Happy Hour specials, available Tuesday to Saturday from 4:30 – 7:00 PM. Diners can also catch the game on one of the flat screens while enjoying delicious steaks in the refined yet relaxed atmosphere.
What To Eat?
For starters, the lobster cargot (tender lobster chunks in cream sauce), Maryland-style crab cake, and grilled tequila shrimp are all excellent options that will delight your taste buds. Alternatively, the lobster risotto – a perfectly balanced, rich dish – is also the way to go.
The mouth-watering center cut filet mignon also nails the perfect tenderness and juiciness. Another top pick is the grilled lamb chops, a dish that will satisfy your craving for bold and savory flavors.
Location: 123 N Loop 1604 E, San Antonio, TX 78232
Website: https://kirbyssteakhouse.com/
Phone: (210) 404-2221
With an impressive "Texas ranch-style" menu and intensive wine list, this historic steakhouse has won the hearts of San Antonians to be one of the most successful eateries in Riverwalk, San Antonio.
Why Should You Visit This Restaurant?
Broiler House invites diners to step into a bygone era as it sits within a 130-year-old former boiler house. The industrial-styled cast iron and exposed brick interior exude a perfect balance of rustic charm and refined elegance.
You can also take in the breathtaking view of the San Antonio sunset from the spacious patio overlooking the lush wine garden.
Enhancing the dining experience is a full bar and live music, along with special happy hours on any weekday from 2-6 PM. Broiler House's wine list is impressive, with 120 labels, some of which come with the most affordable prices in town.
What To Eat?
Sink your teeth into their signature steaks, including the center cut filet, New York strip, and Porterhouse. The unforgettable Moscato braised pork shank is a true culinary masterpiece that can easily win your heart.
Other standout recommendations include the barbequed bison meatballs and bacon-wrapped quail poppers. You may want to pair your meal with one of their specialty cocktails, like the BH margarita or BH sangria.
Location: 312 Pearl Pkwy Building 3, San Antonio, TX 78215
Website: https://boilerhousesa.com/
Phone: (210) 354-4644
The Barn Door is famed for nearly 7 decades of experience serving home-cooked meals. Drop by this family-owned steakhouse to enjoy a no-frills meal and southern hospitality from the staff and owners.
Why Should You Visit This Restaurant?
With Western-style decor all over the place, you'll feel transported to a different time and place once you walk through the door. Their in-house butcher shop ensures every steak is the perfect size and cut, while the full bar provides the perfect setting for a relaxed evening out.
The small patio just outside the front door is the perfect place to enjoy a drink or two with friends and enjoy the fresh air.
What To Eat?
Meat lovers won't be disappointed with perfect portions of tender Chateau Briand and a perfectly cooked New York strip. The savory bacon-wrapped chicken poppers and twice-baked potato poppers also receive big thumbs up from many diners.
Location: 8400 N New Braunfels Ave, San Antonio, TX 78209
Website: http://www.thebarndoorrestaurant.com/
Phone: (210) 824-0116
This upscale steakhouse chain was established in Chicago in 1978. It now boasts 65 locations worldwide, with some claiming the titles of the best restaurants in California, San Antonio, and Florida. The clubby atmosphere and consistent quality make it a top choice for steak lovers.
Why Should You Visit This Restaurant?
Morton's The Steakhouse is a top choice for any occasion, with three private boardrooms to host events from 10 to 100 guests. Their commitment to quality is evident in their aged beef, which is ranked "Prime" by less than 2% of the nation's beef supply.
Whiskey and wine lovers can join Morton's 1682 Whiskey Experience or Coravin Wine Flights to relish the amazing tastes of different beverages. Also, take note of the steakhouse's Power Hour to get more cocktails, beer, and wine for your bucks (only at Bar 21-12).
What To Eat?
Start your meal with a creamy, indulgent lobster bisque before diving into their signature steaks. The New York strip and prime Cajun ribeye are both outstanding choices, as is the expertly seared filet mignon.
The decadent lobster macaroni & cheese or the truffled mashed cauliflower are lovely choices to accompany your steak.
Location: 300 E Crockett St, San Antonio, TX 78205
Website: https://www.mortons.com/
Phone: (210) 228-0700
Since 1993, this steakhouse in the San Antonio Hill Country has been wowing diners with its creative take on Texas fare, from prime beef cuts to wild game and fish. Come and dine under the impressive 500-set antler chandelier, a true centerpiece of this historic Rogers-Wiseman Ranch.
Why Should You Visit This Restaurant?
The steakhouse resembles a mountain lodge, complete with stained wood tables, rustic seating, and a stunning 7-foot antler chandelier. The awesome Hill Country views also add more fun to the dining experience.
What To Eat?
Antlers Lodge Restaurant serves delicious, exotic game meats like broken arrow ranch Nilgai tenderloin and center cut elk loin. Besides, many diners praise the classic comfort food Tasso macaroni & cheese with herb panko and jumbo lump blue crab cakes.
Location: Hyatt Regency Hill Country Resort And Spa, 9800 Hyatt Resort Dr, San Antonio, TX 78251
Website: https://antlerslodge.getbento.com/
Phone: (210) 520-4001
The Palm Steakhouse has been a culinary staple since 1926, specializing in delectable Tuscan-style steaks and chops in a sophisticated yet homey atmosphere. You can stop by for a delicious meal before catching a show at the Majestic Theater just across the street.
Why Should You Visit This Restaurant?
What strikes me the most about the decor is the caricatures all over the wall, created by respected artists and illustrators. Plus, the Palm's well-curated wine list (that has won Wine Spectator many times) allows diners to choose the best label to pair with their steak.
What To Eat?
At this steakhouse, the broiled jumbo Nova Scotia lobster, a succulent and impressive dish, is the star of the show. The veal parmigiana – a classic Italian favorite – is perfect if you're in the mood for something comforting. For an appetizer that packs a punch, go for the crab cake.
Location: 233 E Houston St, Suite 100, San Antonio, TX 78205
Website: https://www.thepalm.com/
Phone: (210) 226-7256
18 Oaks is nestled in the picturesque JW Marriott San Antonio Hill Country Resort & Spa. This upscale destination boasts a menu that showcases locally sourced, organic ingredients and many gluten-free options.
Why Should You Visit This Restaurant?
18 Oaks is visually stunning, with floor-to-ceiling windows and boasts sweeping views of the TPC San Antonio's PGA Tour golf courses. Technicolor-inspired booths, leather chairs, and posh light fixtures add to the charming yet comforting ambiance.
What To Eat?
The seared gulf crab cake is a deliciously decadent way to kick off your meal. The Beeman Ranch Texas wagyu and prime rib are standout dishes contributing to 18 Oaks' reputation. If you come for lunch, keep an eye on the steakhouse's weekly featured specials.
Location: 23808 Resort Pkwy, San Antonio, TX 78261
Website: https://www.marriott.com/ (Website of the hotel)
Phone: (210) 491-5825
Since 2010, Texas de Brazil has been delighting its patrons with an upscale Brazilian space that blends the spirit of Texas and the rich flavors of Southern Brazil.
Swing by and feast on all-you-can-eat flame-grilled meat carved tableside alongside a delectable salad bar with gourmet vegetables, soups, and more.
Why Should You Visit This Restaurant?
This upscale eatery serves flame-grilled meats cooked over natural wood charcoal to get the most authentic flavors. Complementing the meat are 50-60 items from the well-stocked salad bar and decadent desserts.
The steakhouse also boasts an award-winning wine list. Best of all, the in-house wine connoisseurs can help you select the perfect pairing for your meal. Private dining allows you to host your party for any celebrations (up to 55 guests).
What To Eat?
At Texas de Brazil, meat lovers will delight in the variety of flame-grilled cuts, including the standout flank steak, filet mignon, and picanha. The bacon-wrapped chicken breast is a must-try as well.
Remember to complement your meal with the refreshing and signature Brazilian Caipirinha cocktail. Save room for crowd-favorite sweet treats like Brazilian cheesecake or creme brulee.
Location: 313 E Houston St, San Antonio, TX 78205
Website: https://texasdebrazil.com/
Phone: (210) 299-1600
Located adjacent to the Pearl Brewery in downtown San Antonio, Josephine Street is known for affordable steaks and seafood dishes. A cozy and friendly vibe with open seating makes dining at this steakhouse a satisfying experience.
Why Should You Visit This Restaurant?
The restaurant's interior boasts a 500-year-old tree, which stands gracefully in the middle of the dining room, complemented by charming uneven wooden floors and vintage decor that exudes timeless elegance.
Enjoy the daily lunch specials and happy hour deals on an extensive selection of cocktails, wine, and beer. Moreover, its complimentary ride service to and from the AT&T Center makes Josephine Street an ideal spot for a pre-game or post-game feast.
What To Eat?
Many people rave about the Texas T-bone and chicken fried steaks. House specialties like peppered bacon-wrapped filet, beef tenderloin Anticuchos, and grilled chicken salad are also impressive. Wrap up your night with the Jack Daniels Pecan Pies and sip on the popular sangria.
Location: 400 E Josephine St, San Antonio, TX 78215
Website: https://www.josephinestreet.com/
Phone: (210) 224-6169
Where Beef Reigns Supreme: San Antonio's Must-Visit Steakhouses
From Texas-style cuts to Brazilian grilled meat carved tableside, these steakhouses will please the choosiest meat lovers. Home to some of the most famous steakhouses in Texas, San Antonio is where you can get the best cuts that professional chefs execute.
I would love to hear about your experiences at these restaurants, so please comment below. Also, please keep me updated if you have any other nice recommendations. Like and share this compilation with your friends and family who love supreme steaks as much as you.