Ready to go on a culinary journey through the best restaurants in McAllen, TX? This guide is your ticket to a world of fantastic flavors, welcoming atmospheres, and outstanding service.
McAllen is indeed home to a diverse dining scene that caters to all types of food lovers. However, among many options, you might wonder which are the best ones to start with.
That's why I'm here to help you with a list of McAllen's finest restaurants, proven by high rankings and positive patron feedback. By the time you finish reading, you'll have a new bucket list of must-visit eateries in the city.
So, join me to explore the city's cuisine and uncover the perfect spots to satisfy your cravings. Let the food adventure begin!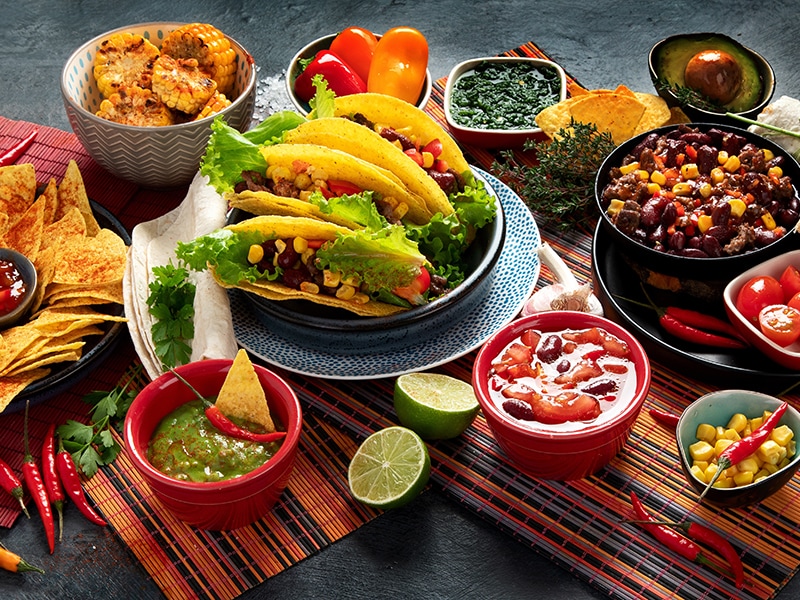 Feast Your Senses With The Top Eateries In McAllen City
Welcome to McAllen, a city known for its vibrant cuisine. And with the list below, this guide has got you covered for having one of the most unforgettable meals in your life.
Santa Fe Steakhouse and Cantina
Texas de Brazil – McAllen
Palenque Grill
Cheddar's Scratch Kitchen
The Republic of the Rio Grande
Romano's Macaroni Grill
La Costa Grill
Yasuke Japanese Sushi
Yard House
Saltgrass Steak House
Costa Messa Restaurant
Dirty Al's Bayou Grill
Golden Chick
Los Asados Mexican Restaurant
Logan's Roadhouse
Mama's Pizzeria
Dave and Buster's McAllen
Delia's Specializing in Tamales
Tabū Bistro Lounge
Cracker Barrel Old Country Store
Exploring McAllen's Most Beloved Restaurants
Why settle for just the tried-and-true favorites in McAllen? If this is your current concern, let me help you with these brief reviews of 20 McAllen's iconic restaurants.
As a result, you are able to pick the most suitable one (or more) for your future trip to this city. And if you are local, spending around 5 minutes reading them would not harm anything. Who knows, some of them will be your new favorite dining spots.
Let's begin the article with an upscale dining destination appealing to guests since 1993 – Santa Fe Steakhouse and Cantina. This high-end steakhouse is renowned for serving the finest steaks and a delectable selection of seafood dishes.
Moreover, it is an ideal spot to explore an impressive wine list featuring over 600 carefully curated options.
The Santa Fe Steakhouse and Cantina has earned its stripes, receiving The Monitor Favorite Steak Award and Wine Spectator's Best Award of Excellence. And you'll understand why when you have their signature dishes.
There are a lot of things to taste here. But from my experience, you can begin your meal with the sumptuous lobster bisque or Santa Fe crab cake, followed by favorites such as the succulent rack of lamb, savory Mesa chicken, seared ahi-tuna steak, or crispy fried shrimp.
Regarding the ambiance, the restaurant is equally enticing. If you choose to dine in the main area, you can immerse yourself in the soothing melodies of piano background music or live tunes at the bar.
Their enchanting patio offers a serene escape, thanks to the appearance of a fire fountain and a New Mexican-style chimney. The view is perfect for a memorable evening.
Santa Fe Steakhouse and Cantina provides several private spaces for special occasions or business meetings, including the Wine room, Anasazi conference room, and a private rooftop terrace.
Don't miss out on their Happy Hour, running all night on Mondays and from 5 to 7 PM, Tuesday through Saturday.
Note: Flip-flops, shorts, tank tops, and hats are prohibited. You can dine on a patio if you prefer a more casual dress code.
Location: 1918 South 10th Street, McAllen, TX 78503
Website: http://santafemcallen.com/
Phone: (956) 630-2331
Experience the authentic flavors of Brazil at Texas de Brazil – McAllen! In general, it is a top-notch Brazilian restaurant chain with locations in Tyler, Addison, and Dallas.
About the McAllen location, the restaurant is nestled in La Plaza Mall, emphasizing an all-you-can-eat grilled meat extravaganza at a fixed price.
As a guest at this upscale Brazilian eatery, you'll be treated to tableside carving food and an impressive salad bar.
Upon arrival, you'll receive a two-sided card: green to signal that you're ready for the gauchos (cowboy servers) to serve you a variety of grilled meats, and red to indicate that you're taking a break or finished with the meat course.
Regarding grilled meats, beef, lamb, pork, chicken, and Brazilian sausage are the main attractions. Texas de Brazil also features a generous seasonal salad area to complement the main course.
When it comes to convenience, La Plaza Mall provides valet service, or you can opt for self-parking. For special events, the restaurant has a semi-private space equipped with an audio and visual system for rental.
With Texas de Brazil's family-friendly policy, children aged two years and under eat for free when accompanied by a full-price meal purchase, while those aged 6-12 years dine at half price.
Finally, make sure to taste these crowd favorites: picanha, flank steak, and lamb chops. At the salad bar, you should try marinated artichoke hearts, sun-dried cherry tomatoes, and crisp cucumber salad.
For dessert, their fried bananas are to die for. All are made in-house for your dining pleasure.
Location: 2200 South 10th Street, McAllen, TX 78503
Website: https://texasdebrazil.com/
Phone: (956) 307-7977
Let's explore the bold tastes of Mexico's North Pacific Coast at Palenque Grill, an authentic Mexican eatery that first opened in 2005 in Laredo, Texas.
As a proud Latino-owned business, it has grown to include locations in San Antonio, Edinburg, and McAllen, sharing its special dining experience with more people.
Palenque Grill, a subsidiary of the popular Mexican restaurant chain Taco Palenque, generally offers a relaxed atmosphere with casual table service.
The restaurant caters to your convenience, staying open until 11 PM on Sundays and Thursdays and providing options for dine-in, pickup, or phone orders.
Prepare to be swept away by the lively atmosphere as you enjoy live mariachi band music, but keep in mind it might be too loud for casual chatting. For throwing birthday parties or events, you can rent their party room. There is an outdoor patio for dining in the open air.
Speaking of their popular dishes, the mouthwatering choriqueso (cheese and chorizo), the hearty parrilla prime, succulent fajitas, and the flavorful tacos Matamoros (chopped sirloin) are must-eats.
Don't forget to save room for dessert; specifically the out-of-this-world pastel tres leches.
Location: La Plaza Mall, 2200 South 10th Street, McAllen, TX 78503
Website: https://palenquegrill.com/
Phone: (956) 994-8181
Established in 1979, Cheddar's Scratch Kitchen first opened its doors in Irving, Texas. Today, this family-friendly chain boasts over 170 locations across 28 states, serving up tasty American comfort food infused with a Texas twist.
The McAllen location is in the bustling Palms Crossing shopping mall, welcoming guests seven days a week with many options, even for kids and gluten-free diners.
Cheddar's Scratch Kitchen is known for creating dishes from scratch, such as their smoked ribs, honey-butter croissants, and chicken pot pie, ensuring every bite is bursting with flavor.
In addition to their commitment to great taste, Cheddar's Scratch Kitchen is a socially responsible eatery, donating unused food to local food banks and employing more than 23,000 team members across their various locations.
When you dine at Cheddar's Scratch Kitchen, be sure to try some of their signature dishes like honey-butter croissants, Monte Cristo sandwiches, country-fried chicken, or chicken pot pie. For a delightful side, don't miss the broccoli cheese casserole.
To gratify your thirst, you'll be thrilled with their fantastic selection of iced teas and cocktails, including the iconic Cheddar's Painkiller.
Location: 3020 West Expressway 83, McAllen, TX 78501
Website: https://www.cheddars.com/
Phone: (956) 686-6766
Dive into a culinary journey through the harmonious blend of Mexican-American flavors at The Republic of the Rio Grande.
This local bar and grill are praised for its delectable steaks and oven-baked pizzas served in a sophisticated ambiance. Illuminated by dim lighting, the atmosphere is perfect for an enchanting date night or anniversary celebration.
Furthermore, The Republic of the Rio Grande is also available for private events, guaranteeing high satisfaction for all attendees. For al fresco dining enthusiasts, they will love the outdoor patio, featuring a majestic fountain, captivating flames, and occasional live music.
The menu contains various delicious options, but the best-sellers are avocado chicken, avocado salmon, enchiladas Del Mar (including (Gulf shrimp, rice, and black bean), chicken-fried steak, and the famous goat cheese pizza.
Their full bar, with a wide selection of tempting cocktails, beers, and wines, provides a lot of refreshments to pair with your dishes.
The establishment is open until 1 AM on Fridays and Saturdays. So whenever you search for a place for late-night hangouts on weekends, this one could be your new go-to spot.
Location: 1411 South 10th Street, McAllen, TX 78501
Website: https://www.therepublicmcallen.com/
Phone: (956) 994-8385
If you want to experience the warmth of Italian-American cuisine, visit Romano's Macaroni Grill today!
As a beloved restaurant chain that has been delighting diners since 1988, you can find this chain restaurant in 40 locations across the US, including Fort Worth, Round Rock, and Selma in Texas today.
Regarding the branch in McAllen, this eatery is also in the Palms Crossing shopping mall. It invites you to indulge in its tasty small plates, pizzas, and custom-assembled pasta, bringing friends and family together around the table.
Open seven days a week from 10 AM, Romano's Macaroni Grill offers a versatile meal for all. They are a well-loved location for a leisurely weekend brunch (from 10 AM to 4 PM) as well.
What's better, their menu encompasses items with 600 calories or lower for a healthier option. Dining here, let your culinary creativity shine by designing your pasta plate and choosing from various kinds of pasta, sauces, and toppings.
Or you can sample their popular dishes, like calamari fritti (fried calamari), signature mac and cheese bites, or chicken scaloppine (chicken breast, pasta).
Moreover, please feel free to bring your kids here as they have an exclusive menu for your little ones and paper for coloring to keep them entertained.
For adults, the onsite bar and cozy fireplace inside create a romantic and inviting atmosphere that you can't ask for a better place for date nights or intimate gatherings.
Location: 3500 West Expressway 83, McAllen, TX 78501
Website: https://www.macaronigrill.com/
Phone: (956) 687-3500
Similar to the above restaurant, La Costa Grill is another dining destination in the bustling Palms Crossing shopping mall, welcoming you to taste various delectable coastal dishes and seafood with a Mexican twist.
Thanks to its friendly, family atmosphere, La Costa Grill is perfect for all occasions. An extensive menu features a wide range of flavors, including a kid's menu for younger but also pickiest diners.
When visiting La Costa Grill, you should check some standout dishes, namely octopus fried chicharron (fried octopus) for a starter, or the shrimp/fish ceviche tostada, marinated in zesty lime juice.
Another must-try is the La Costa molcajete, referring to flamed fajita and shrimp served right at your table.
For the beverage list, the onsite bar serves national and imported beers, martinis, espresso, café, and refreshing lemon agua fresca.
For those who love the outdoors, the dog-friendly patio with fans, shade, and music is what you need to have a great meal with your furry friend. Meanwhile, sports enthusiasts can catch their favorite games on the TVs throughout the restaurant.
If you crave some late bites, remember that La Costa Grill is open late until 1 AM from Thursday to Saturday.
Location: 3300 West Expressway 83 Suite #1235, McAllen, TX 78501
Website: https://lacostagrill.com/
Phone: (956) 630-9928
Take your taste buds on a journey to the Far East at Yasuke Japanese Sushi, a restaurant renowned for its authentic Japanese and Korean cuisine.
Voted as the Best Sushi in the Valley, this gem is also heaven for those who love Korean bibimbap and ramen. And obviously, all of them are prepared with impeccable quality and attentive service.
Yasuke Japanese Sushi delivers delightful treats with its traditional decor, dim lighting, and low-key ambiance.
To fully revel in the beauty of this eatery, exploring its diverse flavors at the sushi bar is a must. With both traditional and modern sushi creations, every bite is mesmerizing. Then enhance the flavors of your chosen dishes with their selection of imported wines, sakes, beers, and spirits.
Popular items on the menu are spicy ramen, savory fried rice, or tender bulgogi (marinated sirloin). At the sushi bar, Tai spring salad (spring mix, red snapper), tuna tower, or the sushi appetizer featuring a nigiri chef selection are strongly recommended.
Besides regular indoor seating, you can opt for the restaurant's outdoor area for a more relaxed dining atmosphere.
Location: 2229 South 10th Street, McAllen, TX 78503
Website: https://yasuke-japanese-sushi.business.site/
Phone: (956) 668-1793
Yard House, a famous American sports bar chain with 80 locations, was founded in 1996 in Long Beach, California. In McAllen, you can find it in La Plaza Mall, which is also close to the McAllen International Airport.
Specializing in American fare and an impressive selection of draft beers, one of the highlights of Yard House is the glass-enclosed keg room, storing 3,000 gallons of beer. Yard House is also the world's largest draft beer selection, with 130 taps.
Furthermore, beer enthusiasts will appreciate the rotating chalkboard series with new and exciting brews. For the food, there are more than 100 American dishes made from scratch that you can't resist.
For more specific, you need to try the poke nachos or choose healthier options like the blackened ahi sashimi or steamed edamame for appetizers. Following are the main dishes – and lobster garlic noodles is one of the most popular choices.
For drinks, you can't leave this place without sipping their beers from half yards, pint glasses, 23-ounce nonic glasses, and beer samplers.
The restaurant atmosphere is another plus. With classic rock tunes filling the air and TVs for sports viewing, Yard House owns an energetic vibe, turning it into a perfect destination for catching up with friends or enjoying a night out.
Another good news is the restaurant opens until midnight and 1:20 AM on Fridays and Saturdays.
Remember to take advantage of the weekday Happy Hour (3 – 6 PM) and late-night Happy Hour from Sunday to Wednesday (9:30 – 11 PM) for discounted drinks, half-priced pizzas, and select appetizers.
Location: 2200 South 10th Street, McAllen, TX 78503
Website: https://www.yardhouse.com/
Phone: (956) 664-1878
To me, Saltgrass Steak House is one of the top-notch places to savor the true authentic flavor of the Lone Star state. FYI, the restaurant takes its name from its location on the trail where cattle herders once drove their livestock to the salt grasses of the Texas Gulf Coast.
Established in 1991 along the Katy Freeway in Houston, this is an informal Texas-themed chain that has spread into many locations, including Arlington, Round Rock, and Bee Cave.
And as a high-reputation chain, Saltgrass Steak House has earned accolades, including the 2020 Travelers' Choice Award from TripAdvisor and the 2017 Best Steak House Reader's Choice Award. So what makes it so successful?
Step into a world of rustic charm, Saltgrass Steak House is where the meaty menu and full bar are complemented by cattle kitsch decor. By the meaty menu, I mean their Certified Angus Beef steaks, tender chicken, and delectable seafood dishes.
Each steak is seasoned with its signature Saltgrass-7 steak spice and topped with gooey garlic butter. To increase the touch of homemade goodness, their bread, dressings, and desserts are 100% made from scratch.
For more entertainment, sports fans can catch the game at the "No Bull Lounge" from multiple TVs. Be sure to visit during Happy Hour from Monday to Friday (3 – 7 PM) for half-price appetizers, craft and imported beers, house margaritas, wines by the glass, and cocktails.
Finally, treat yourself to crowd favorites like chicken fried steak, original chopped steak, BBQ pork ribs, or double-bone pork chop. Then round off your meal with a tasty carrot cake and their famous grilled pineapple margarita.
Location: 3000 West Expressway 83, McAllen, TX 78501
Website: https://www.saltgrass.com/
Phone: (956) 682-4652
11. Costa Messa Restaurant
Costa Messa Restaurant stands out from the rest due to its colorful setting inside and outside. This is a family-friendly eatery and tequila bar with two convenient locations in North and South McAllen.
So what kind of cuisine can you relish here? Costa Messa Restaurant is loved for its Mexican and Tex-Mex delicacies. Guests are welcomed with complimentary salsas, tortilla chips, and fresh-baked flour tortillas.
For salsas, they can choose from red "chimichurri" (red pepper and sour cream), tomatillo (green tomatoes), or pico de gallo (tomato, cilantro, and jalapeño).
However, a huge star at Costa Messa is their pork tacos, featuring pork marinated in a secret sauce, slow-roasted, and wrapped in thick corn tortillas.
FYI, their daily Happy Hour is from 3 PM to 7 PM, with discounts on select beers, house margaritas, and half-off certain appetizers.
When ordering, consider the Botana platter, which is a generous assortment of shareable appetizers. Other top-pick items are enchiladas suizas (tortilla, chicken, and tomatillo sauce), chile relleno (stuffed peppers), and grilled chicken fajitas.
Website: https://costamessargv.com/
Location 1: 5248 North 10th St, McAllen, TX 78504
Phone 1: (956) 618-1919
Location 2: 4013 West Expressway 83, McAllen, TX 78503
Phone 2: (956) 627-4005
If you crave to taste the bold flavors of Cajun cuisine, don't overlook Dirty Al's Bayou Grill. It is a popular restaurant with locations in South Padre Island and the Rio Grande Valley.
Known for serving delectable frog legs, crawfish étouffée, and other Cajun specialties, this eatery brings the best of this cuisine to the heart of Texas in a relaxed atmosphere. Additionally, Dirty Al's Bayou Grill is proud of using fresh local seafood and ingredients.
Their signature items are red snapper filet, snapper Rockefeller, and stuffed flounder. For a larger group, opt for the restaurant's family botanas with 20 or 40 pieces of fish, shrimp, or chicken.
Check out their full bar, especially during their weekday Happy Hour from 3 PM to 6 PM, to relish house margaritas, well drinks, and domestic or imported drafts at better prices.
Moreover, don't miss their drink specials, including Margarita Mondays and Wine Down Wednesdays, where you can order half-priced selected wine bottles.
For other services, the restaurant caters to families and groups with a private room that has a capacity of 30 people. Also, this is a kid-friendly eatery as they have a kid's menu to accommodate little ones.
Location: 5712 North 10th Street #400, McAllen, TX 78504
Website: https://dirtyalsbayougrill.com/
Phone: (956) 299-4922
The delicious taste of Southern comfort food at Golden Chick has fascinated many people for decades.
The humble eatery's success began in San Marcos in 1967. And nowadays, it has become a massive fast-food chain with around 210 locations across Texas, Oklahoma, and Florida, making it more convenient to find Golden Chick in your area.
As a big chain, Golden Chick has also earned a spot in Nation's Restaurant News Top 200 Restaurant Brands, thanks to its commitment to quality and flavor.
In terms of their food, fried chicken and Southern-style sides are their specialties that keep customers returning for more.
One of their most famous signatures is the Original Golden Tender™, which is carefully marinated, hand-battered, and cooked using whole chicken tenderloin. Plus, their yeast rolls are baked daily with a light buttery taste that perfectly complements their savory dishes.
Many people assume that fast food is regularly high in calories. But Golden Chick's roasted chicken can show the opposite. They are low-calorie items prepared with their signature marinade and seasonings.
Other delights that you shouldn't miss are golden chicken tenders or fried catfish. For a satisfying family meal, try "the mixer", which comprises mixed chicken, tenders, rolls, and three family sides.
On the other hand, they also offer several healthful salads and family-style meals for more choices. Of course, if you are in a hurry, you can opt for the grab-and-go item through their convenient drive-through service.
Location: 4501 North 23rd Street, McAllen, TX 78504
Website: https://goldenchick.com/
Phone: (956) 631-2544
Opened in 1990, Los Asados Mexican Restaurant is another good deal for savoring delicious Mexican cuisine. There are two locations: one is in Harlingen, and another is in McAllen.
The McAllen restaurant is conveniently located near Westside Park and Field, a city park with a softball complex and playground. Therefore, if you are looking for a place to fulfill your empty stomach after playing sports, this place is one of the best options.
Among tons of Mexican feasts, the eatery's specialties are guisados, sizzling fajitas, and homemade tortillas. They utilize their secret family recipes to create all dishes from scratch. That's why every bite is packed with the highest quality and flavor.
When dining at Los Asados, you will never go wrong with the parrillada (barbecue) for two, beef fajitas, and queso flameado, which is a delicious combination of cheese and chorizo. To accompany your meal, the refreshing margaritas or sweet tea work excellently.
For more information, the restaurant also has an excellent venue for hosting parties and events and an affordable catering service.
Location: 620 South Ware Road, McAllen, TX 78501
Website: https://www.losasados.com/
Phone: (956) 627-2160
15. Logan's Roadhouse
Craving some American classics, like burgers, steaks, ribs, and drinks served in a casual restaurant? Logan's Roadhouse is a must-visit destination. With locations in Lubbock, Houston, and Fort Worth, it enhances the convenience of searching for one in Texas.
In McAllen, you can visit either place, including one on South 10th Street (near La Plaza Mall), or another just one block away from the north of Trenton Crossing Shopping Center. And in 2009, it ranked 75th in the top 100 companies of "America's Top Food Chains".
While their steaks are expertly grilled over mesquite wood for a unique smoky flavor, a visit to Logan's Roadhouse isn't complete without trying their famous yeast rolls.
For starters, you should order their featured appetizers like loaded potato skins, beer-battered onion rings, queso, and chips. Then immerse yourself in fall-off-the-bone ribs, "The Logan" (a signature USDA sirloin), and mesquite wood-grilled salmon among the favorites.
Plus, you'll also enjoy the lively, warm atmosphere here. Completed with the full bar that serves ice-cold beers and signature cocktails, I'm sure your dining experience at this place is satisfying.
Website: https://logansroadhouse.com/
Location 1: 2224 South 10th Street, McAllen, TX 78503
Phone 1: (956) 683-0707
Location 2: 7612 North 10th Street N, McAllen, TX 78504
Phone 2: (956) 631-7344
At Mama's Pizzeria, you'll uncover the charm of a quaint Italian kitchen while delighting in the flavors of deep-dish, Chicago-style pizzas, tasty pasta, antipasti, and even hot dogs.
With a rich history of family recipes passed down through generations, this eatery boasts a menu comprising over 50 delectable entrees and appetizers to make sure their delicacies can please any preference.
The restaurant's warm and romantic atmosphere is the first thing to appreciate. The overall ambiance invites you to relax and enjoy your meal, whether a casual night out or a special date.
In case you have a big event coming up, the restaurant is more than prepared to cater parties for 25 to 500 people.
The covered patio welcomes your furry friends, making Mama's Pizzeria an ideal destination for dog lovers. For families with young children, a dedicated menu for kids under 10 ensures everyone can savor a delicious meal.
Customize your meal by building your own pizza and selecting from a variety of toppings to create the perfect pie. Alternatively, opt for a calzone, a folded pizza filled with savory meats and vegetables and baked to perfection.
Plus, be sure to taste their delightful pasta dishes like chipotle pasta or the classic fettuccine alfredo (pasta coated in creamy butter and cheese sauce).
Mama's Pizzeria doesn't stop at great food; they also offer a selection of beverages, including tea, coffee, beers, and wines. You should try their refreshing sangria to elevate your dining escapade.
Location: 401 North 10th Street, McAllen, TX 78501
Website: https://www.mamasitaliankitchenontenth.com/
Phone: (956) 687-7492
Dave and Buster's McAllen has been a favorite place for family-friendly dining and entertainment, which has been delighting guests since it first opened in Dallas in 1982.
With 151 locations across the United States, this popular destination lets you adore delicious American food while having a blast playing arcade, tabletop, air hockey, or traditional games.
In the Shops at 29, Dave and Buster's McAllen features many arcade games and virtual reality gaming options. You can even win tickets for prizes!
For more affordable games, come here on Wednesdays for ½ price games. Or swing by during Happy Hour, which runs from Monday to Friday between 4 PM and 7 PM.
This is also an excellent spot for game day to catch your favorite sports on the numerous TVs throughout the venue. You can even plan your next party at this perfect venue.
When it's time to dine, try featured items like BBQ flatbreads, Philly cheesesteaks, boneless wings, or crispy chicken strips. For the little ones, the kids' menu is filled with tasty options like butter noodles, cheeseburgers, pizzas, pretzel dogs, and chicken bites.
The restaurant also serves a variety of cocktails, wines, hard seltzers, spirits, and alcohol-free beverages for youngers. To sum up, what you receive here is sure to have you returning for more.
Location: 2700 West Expressway 83 Suite 100, McAllen, TX 78501
Website: https://www.daveandbusters.com/
Phone: (956) 217-5800
18. Delia's Specializing in Tamales
At Delia's Specializing in Tamales, you'll be treated to a culinary journey that began in 1998 with the opening of their first location in South McAllen. Expanding their legacy, a second location was launched in North McAllen in 2020.
Dedicated to serving freshly steamed tamales and authentic Mexican cuisine, Delia's has become a favorite spot for tamale lovers, hence its name.
With over 30 years of tamale-making expertise, you can expect nothing less than perfection at Delia's. And it allows you to choose from a mouthwatering selection of 18 tamale varieties daily from 7 AM.
Prepared fresh and steamed every day, Delia's tamales are also available frozen and can be shipped nationwide, bringing their exquisite flavors right to your doorstep.
In addition to their meat options, Delia's provides vegetarian-friendly choices such as bean and cheese, cream cheese and jalapeño, and corn tamales. Their standout specialties include bean, cheese & jalapeño, chicken & cheese, and sweet cream cheese tamales.
To make your weekend extra special, savor the delicious menudo served every Saturday and Sunday only. Lastly, don't forget to complement your dishes with their tangy salsa and refreshing salad.
Website: https://deliastamales.com/
Location 1: 4800 South 23rd Street #5, McAllen, TX 78503
Phone 1: (956) 630-3502
Location 2: 3400 North 10th Street, McAllen, TX 78501
Phone 2: (956) 627-2532
Tabū Bistro Lounge introduces you to a multisensory dining adventure. Combining the exquisite flavors of Mediterranean cuisine with signature cocktails, everything can be relished in an atmosphere that truly sets it apart.
When it comes to the menu, you can dig into the juicy steaks, such as the 14 or 24 oz Ribeye or the impressive Tomahawk.
The appetizers will not disappoint either, with ceviche tabu, tacos, chicharron (fried pork belly), and queso fundido (melted cheese).
Open until 2 AM from Thursday to Saturday, it's the perfect spot for late-night food and drink. Upon your arrival, the bohemian elegance, where the decor creates an intimate vibe that encourages relaxation and enjoyment.
Entertainment is key at Tabū Bistro Lounge, with a chill DJ, live music, and captivating fire dancers adding to the ambiance. You'll find yourself in the midst of a jungle bar surrounded by trees, presenting an enchanting setting to sip plenty of sparklers, beers, and cocktails.
Plus, Tabū Bistro Lounge is more than just a restaurant; it's a destination for hosting private events and birthday celebrations. For convenience, valet parking enhances the visit and ensures a smooth process from arrival to departure.
Location: 519 South 17th Street, McAllen, TX 78501
Website: https://tabubistrotx.com/
Phone: (956) 803-0338
Cracker Barrel Old Country Store, founded in 1969, is the final option for finding the best restaurant in this city. As a beloved institution nationwide, there are 663 stores spanning 45 states, including Pearland, Benbrook, and Corpus Christi today.
This iconic eatery serves up classic American comfort food in a nostalgic setting that transports you back to simpler times.
The restaurant's appearance is reminiscent of an old-fashioned general store with a front porch lined with wooden rocking chairs and a cozy stone fireplace. Decorative artifacts from the local area add a more nostalgic touch to the atmosphere.
Open daily from 7 AM to 11 PM, Cracker Barrel delivers an all-day breakfast, lunch, and late-night dinner, ensuring that delicious meals are always within reach.
Their commitment to quality ingredients is highlighted. They use all-natural syrup, domestically grown turnip greens, Rainbow Trout filets sourced from fresh spring water, and sustainable cod to prepare their heaven food items.
Plus, their 18-hour slow-roasted beef is true proof of their dedication to great food. At Cracker Barrel, popular dishes are meatloaf, cornbread, pecan pancakes, hashbrown casserole, and chicken and dumplings.
For a custom meal, they allow you to create your own homestyle breakfast by choosing from a range of meats, eggs, sides, and drinks.
Finally, don't skip their onsite gift store, where you can find an average of 1,000 pieces of unique décors, like vintage sports equipment, farming tools, and advertising signs.
Location: 3817 West Expressway 83, McAllen, TX 78503
Website: https://www.crackerbarrel.com/
Phone: (956) 683-1874
Are You Ready To Taste The Best Flavors Of McAllen?
With this top 20 McAllen, TX, restaurants list, you're set to explore the city's delicious food scene and enjoy the city's goodness. These spots feature everything you desire for a pleasant meal, whether you visit them alone or with family (or friends).
If you found our guide helpful or have recommendations for other fantastic McAllen restaurants, please share them in the comments below. And please click like, share, and invite your food-loving friends to join you in discovering McAllen's delicious delights!