What are the best restaurants in Webster, Texas? I've received this question multiple times recently, so I've decided to curate a list of worth-visiting eateries in Webster that never let you down. These eating spots are perfect for visiting regardless of any dining occasion.
Webster is bordered by the populous city of Houston and adjacent to the famous Space Center Houston. That's why this place can't lack reputable chains or family-owned eateries to please visitors and locals with mouth-watering foods.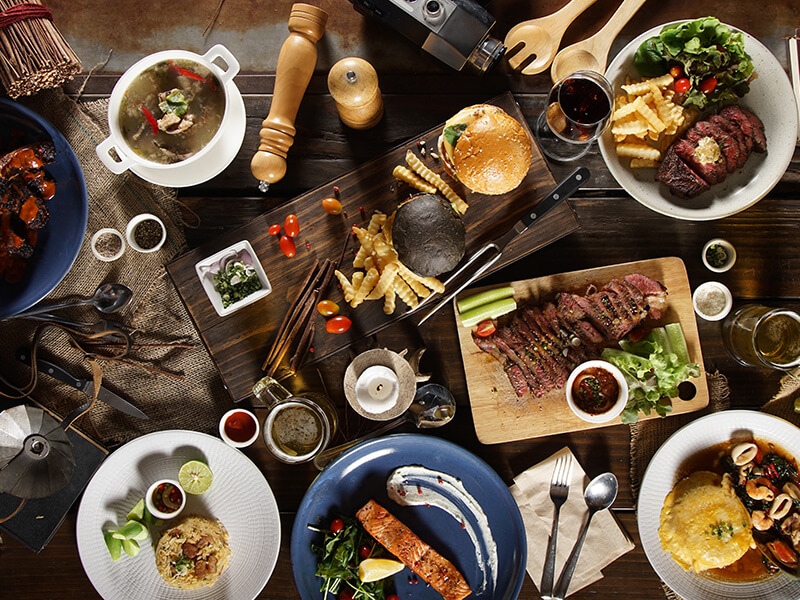 Where Do Gourmets Eat And Drink In Webster, Texas?
Even if you crave American, Mexican, or Italian food in Webster, you'll find a suitable place to eat in this list. On top of that, you can even experience Brazilian meats, Vietnamese bánh mì (sandwiches), and French treats in this city.
Pappasito's Cantina
Main Event Webster
Carrabba's Italian Grill
Pluckers Wing Bar
Chili's Grill & Bar
Saltgrass Steak House
Taqueria Chalupas
Cheddar's Scratch Kitchen
Nobi Public House
Noon Mirch
Floyd's Seafood – Webster
Avenida Brazil Churrascaria Steakhouse – Clear Lake
Chuy's
Angelo's Pizza and Pasta
Genghis Grill
Pappas Delta Blues Smokehouse
la Madeleine
Webster's Premier Restaurants You Should Visit
Most of these joints are family-friendly with laid-back casual atmospheres. Plus, some well-known eateries are located inside or near tourist attractions and shopping malls, making them ideal spots to eat after shopping or entertaining.
Pappasito's Cantina, a chain founded by the Pappas family, is one of America's biggest family-owned restaurant companies. It takes pride in satisfying food lovers nationwide with fresh, well-presented, and sizzlingTex-Mex dishes.
Why Visit The Restaurant
At Pappasito's Cantina, patrons can experience tableside guacamole dip made with high-quality avocados and tomatoes. Its tasty fajitas are marinated in secret ingredients and sizzled perfectly on mesquite-fired grills.
The Webster outpost has a banquet room and a semi-private space for all celebrations of up to 45 guests. The restaurant's handcrafted margaritas, signature sangrias, and fine wines are extensive to elevate any special party.
What To Eat
Agujas (full-rack pork ribs) will incredibly please your taste buds with smoky flavors. If you come with a party of 3-4 people, I suggest ordering family platters, including beef fajitas, shrimp brochette (shrimp skewers), ribs, and grilled chicken.
Location: 20099 Gulf Freeway, Webster, TX 77598
Website: https://pappasitos.com/
Phone: (281) 338-2885
Main Event is a Texas-based chain established in 1998 in Lewisville. Not only is Main Event a popular eating place in Fort Worth, Austin, or Webster, but it is also a fun hangout with many arcades and state-of-the-art games in a family-friendly environment.
Why Visit The Restaurant
Join the Main Event and immerse yourself in a fun-filled world of 28 bowling lanes, multi-level laser tag, mini golf, and 100-plus video games. It's also a familiar place for birthday celebrations and provides many party packages suitable to different budgets.
Besides the game rooms, it has a full-service bar where patrons can enjoy beers or cocktails and watch their favorite games on large-screen TVs.
Main Event Webster is conveniently located 30 minutes from downtown Houston and close to the Sam Houston Tollway. It's a nearly 65,000-square-foot venue with free parking on-site.
What To Eat
You can get the crowd-pleaser combo if your group has about 4-5 people. It includes family-style classic double cheeseburgers, chicken strips, chicken sandwiches, and sides. The eatery still offers cheesecake, milkshakes, donut holes, and cookies to please your sweet tooth.
Location: 1125 Magnolia Avenue, Webster, TX 77598
Website: https://www.mainevent.com/
Phone: (281) 332-4500
Carrabba's is an Italian-American chain specializing in the Italian grill style of cooking by using family recipes. The original Carrabba's was built on Kirby Drive in Houston, Texas, in 1986. Today, the chain appears across the nation, including Florida, Carolina, New York, etc.
Why Visit The Restaurant
At Carrabba's, patrons will get a unique experience by watching how the food is made in the lively exhibition kitchen. Not only is the place owned by a Sicilian family, but the restaurant chefs also travel to Italy, ensuring every dish is authentic here.
In addition to the food, Carrabba's delivers a long list of specialty cocktails, sangrias, beers, and wines. Some options on the menu are also listed with suitable wine pairings that will elevate your delicious feast.
What To Eat
Your whole family will be fond of the unbeatable bread and oil at this place. Carrabba's specialties you can't skip are chicken marsala (chicken in wine sauce) and polo rosa maria (chicken stuffed cheese).
Location: 502 Bay Area Boulevard, Webster, TX 77598
Website: https://www.carrabbas.com/
Phone: (281) 338-0574
Housed in the Bayway Village shopping mall, Pluckers Wing Bar is a sports bar and grill with many locations in San Marcos, Austin, Killeen, and more. Locals and travelers can stop by to dig into delicious chicken wings, burgers, and sandwiches.
Why Visit The Restaurant
The eatery showcases numerous sauces with different levels of spiciness for chicken wings. On top of that, there are many vegetarian items and options free from gluten, soy, and dairy products to accommodate guests with special dietary restrictions.
Night owls can come and watch games on wall-to-wall flat screens until midnight or participate in live team trivia on Wednesday after 7:30 PM. Besides, kids can eat free on Tuesdays, and teachers can get one free appetizer for two on Fridays (3 PM – 7 PM).
What To Eat
If you can adapt to extremely hot food, get the fire-in-the-hole sauce for your wings. Otherwise, try honey BBQ, goldrush, or Dr. Pepper with a sweet taste.
Meat lovers will want to join Pluckers Wing Bar on Monday to savor all-you-can-eat wings or Thursday's all-you-can-eat buffalo bites.
Location: 20821 Gulf Freeway, Webster, TX 77598
Website: https://www.pluckers.com/
Phone: (281) 316-9464
Chili's is a long-standing chain offering American and Tex-Mex dishes amid the Southwest decoration. In 1975, the founder converted a postal station into a humble eatery. Over decades, it has been a famous place to eat in El Paso, Jacksonville, Georgetown (Texas), and more.
Why Visit The Restaurant
Chili's Grill & Bar is a family-oriented spot near the famous Urban Air Trampoline and Adventure Park. So, it's ideal for heading to the place to satisfy your cravings after spending all your energy in the amusement park.
The regular Happy Hour lasts from 3 PM – 6 PM on weekdays and all day on weekends. At that time, you can get some beers, house wines, tequila trifecta, and sangria rita at happy prices.
What To Eat
Southwestern eggrolls are a highly-rated appetizer you should try at Chili's. The crispy honey-chipotle chicken crispers, Texas-size baby back ribs, or big-mouth burgers won't disappoint you with their irresistible flavors.
Location: 1150 NASA Road 1, Webster, TX 77598
Website: https://www.chilis.com/
Phone: (281) 332-6279
Saltgrass Steak House is an American chain serving steaks, seafood, and chicken. The original location is opened along the Katy Freeway (Houston), a historic trail where herders lead cattle to the Texas Gulf Coast's salt grasses. That is how the restaurant's name got its start.
Why Visit The Restaurant
To assemble campfire-style dishes, the place uses Certified Angus beef, seasons it with the Saltgrass-7 steak spice, and tops it with garlic butter. For that reason, its steaks received numerous accolades from Reader's Choice Awards, Houston Community Newspapers, etc.
Saltgrass' bread, soups, and dressings are made from scratch to ensure each item is top-notch. The steakhouse also features a No Bull Lounge offering cocktails, beer on tap, wines, and TVs for games surrounded by the cattle kitsch setting.
What To Eat
Visit the No Bull Lounge during the weekday Happy Hour (3 PM – 7 PM) to savor half-priced appetizers and discounted drafts, margaritas, cocktails, or wine by the glass. First-timers should try favorites like country-fried steak, BBQ pork ribs, or original chopped steak.
Location: 20241 Gulf Freeway, Webster, TX 77598
Website: https://www.saltgrass.com/
Phone: (281) 338-9778
Taqueria Chalupas has two popular locations in Webster and Deer Park, Texas, boasting Mexican-inspired menus. It features a down-to-earth setting while perfectly made foods are sold at a reasonable price.
Why Visit The Restaurant
The menu at Taqueria Chalupas is huge and written in Spanish and English. Whether customers come for an early breakfast, family lunch, or light dinner, this Mexican venue always has something for everyone, including kids.
The Webster location in the Clear Lake area also features a small bar and some TVs for games. Plus, live music frequently occurs to elevate customers' dining experience.
What To Eat
The spicy green sauce served with chips here is made to perfection. Moreover, guests can build their meals with their choices of enchiladas, crispy beef tacos, chalupa (fried tortilla with spicy filling), or tamale (steamed meat wrapped in dough).
Remember to get the famous aguas frescas (fruity drinks) to accompany your meal. Besides, coffee, iced tea, and sodas can be refilled for free.
Location: 17926 State Highway 3, Webster, TX 77598
Website: http://www.taqueriachalupas.com/
Phone: (281) 724-1784
Launched in 1979, Cheddar's Scratch Kitchen has risen to fame as one of the premier restaurants in Irving, Texas, then quickly expanded to over 170 locations across the country. The chain delivers American foods with a Texas spin amid a family-oriented environment.
Why Visit The Restaurant
As the name reveals, the Texas chain creates scratch-made foods, from soups to chicken tenders and smoked ribs. Excellent cocktails, margaritas, and sangrias at the place can complement very well all food items.
Every time you visit this eatery, the kitchen will greet you with pillowy honey butter croissants for free. Besides, for unused ingredients, Cheddar's also donates them to food banks to support the local community.
What To Eat
Get the Cheddar's trio sampler for appetizers since it consists of popular eats like chicken tenders, Santa Fe spinach dip, and tortilla chips. Monte cristo (sandwich with ham, cheese, turkey), chicken pot pie, and broccoli cheese casserole are satisfying with distinct flavors.
Location: 21001 Gulf Freeway, Webster, TX 77598
Website: https://www.cheddars.com/
Phone: (281) 332-3400
Nobi Public House is worth your visit if you're a fan of Vietnamese or Asian cuisine. From spring rolls to bánh mì (Vietnamese sandwiches) and vermicelli dishes, every item at the spot will make you return countless times for their deliciousness.
Why Visit The Restaurant
Nobi Public House has a vibrant dining space and a fully stocked bar providing 150-plus craft beers. There is also communal seating on the patio that is friendly for four-legged friends. The servers can feed your dogs with water and puppy treats as well.
The stylish venue offers weekly specials like Sunday "Pho"nday available from 12 PM or chargrilled pork chop on Tuesdays after 4 PM.
What To Eat
You'll want to start with an order of nachos before trying the Nobi egg sandwich or shaking beef for entrees. If you'd like to try dishes made with rice noodles, spring rolls served with peanut sauce or the vermicelli combination with shrimp, pork, and chicken will please your taste buds.
Location: 241 East NASA Parkway, Webster, TX 77598
Website: https://www.nobipub.com/
Phone: (832) 932-5111
Noon Mirch has showcased exotic Indian and Nepalese cuisine since 1989. The original eatery was first situated on Bay Area Boulevard. After several relocations, it was moved to its present location in a modern building with a pleasant and polished atmosphere.
Why Visit The Restaurant
The venue combines family recipes and distinct fusions to serve classic and innovative Indian fares. Besides well-known Tandoori clay oven items and curries, the Indian eatery offers various gluten-free and vegan choices.
Noon Mirch also attracts customers through the lunch buffet from 12 PM – 3 PM (Friday – Sunday). Its huge selection of food can completely satisfy any Indian food lover. Plus, since the eatery is close to NASA, it's great to visit the space center after having lunch here.
What To Eat
Noon Mirch's specialties include shrimp coconut curry, stuffed eggplant, lamb chop, chicken malai kebab, and Southall fish and chips. If you don't know what to try, I suggest ordering the sampler for one or two, so you can taste a great sampling of popular Indian dishes.
Location: 505 East NASA Parkway, Webster, TX 77598
Website: https://noonmirch.com/
Phone: (281) 333-4343
Besides Webster, Floyd's Seafood is one of the top-rated restaurants in Pearland, Sugar Land, and Beaumont, Texas. Floyd's menu is influenced by Cajun cuisine and ranges from seafood to steaks and other Louisiana favorites.
Why Visit The Restaurant
Floyd's utilizes unique seasonings and spices to produce unmistakable flavors for seafood platters. The Cajun eatery also offers a long weekday Happy Hour from 2 PM – 6 PM, with many drinks and appetizers discounted.
The restaurant's ambiance also gets a vibe of the Gulf Coast, making patrons feel like they are dining on a boat. Join the cozy dining room with frequent live music, or you can eat outside on its sun-drenched patio if the weather permits.
What To Eat
Try fried crab fingers or seafood fondue as starters. Continue your feast with favorite entrees such as flounder or mahi mahi with baked potatoes as a side. Don't forget Floyd's also boasts an oyster bar serving tasty oysters Rockefeller.
Location: 20760 Gulf Freeway, Webster, TX 77598
Website: https://floydsseafood.com/
Phone: (281) 332-7474
Avenida Brazil strives to bring authentic churrascaria experience to Woodlands, Southwest Houston, and Clear Lake. The steakhouse's namesake is inspired by Chef Vanderlei Bernardi, who has deep knowledge of Brazilian cuisine.
Why Visit The Restaurant
You'll start your feast at the extensive salad bar stocked with over 30 fresh items. The fine dining joint expertly grills meats in Southern Brazilian style and features attentive Gaucho service. It also offers valet parking and multiple party spaces.
Each customer will have a coaster with red and green sides. Showing the green side means Gauchos (meat servers) will delight you with juicy meats from the skewers. Otherwise, signal the servers with the red side if you want them to stop serving.
What To Eat
Signature meats and seafood at this steakhouse are filet mignon, lamb chops, 21-day aged ribeye, Chilean salmon, or chicken legs. Hot sides to accompany your meats include cheese bread, au gratin potatoes, caramelized banana, or Brazilian black beans.
Location: 201 Bay Area Boulevard, Webster, TX 77598
Website: https://www.avebrazil.com/
Phone: (281) 557-9999
Chuy's was first known as a favorite restaurant in Austin, Texas, founded in 1982. Today, it has nearly 100 locations nationwide and showcases tasty foods with flavors of New Mexico, the Rio Grande Valley, and Texas.
Why Visit The Restaurant
The eatery provides fajitas packed with South Texas flavors and burritos with a "big as yo' face" size. Customers can ask for a sample of signature sauces before deciding which ones are included in their order. Also, free tortilla chips and dips are a strong plus at the place.
Aside from the food, the kitschy decor also creates a unique identity for the chain. Every Chuy's outpost is designed with wood-carved fish and shiny hubcaps on ceilings. The Elvis-heavy settings and metal palm trees contribute to an eclectic ambiance.
What To Eat
Always ask for the creamy jalapeño sauce, and you'll know why this treat is so popular. For entrees, try the specialty Elvis Presley memorial combo (enchiladas, tacos, and chips). You can make your dining time last with a slice of tres leches, a signature cake made with three milks.
Location: 20975 Gulf Freeway, Webster, TX 77598
Website: https://www.chuys.com/
Phone: (281) 554-2489
Angelo's pays homage to Italian traditions and provides a classic menu featuring hand-tossed pizzas, pasta dishes, and traditional entrees. Since 1993, the Italian venue has built a solid reputation for authentic food with a zesty mouthfeel, cooked from the finest ingredients.
Why Visit The Restaurant
Adjacent to many stores, Angelo's is a familiar destination for foodies and shopaholics to get Italian food after shopping. With simple decoration, the place brings a comfortable, casual feel and is friendly for groups of families or friends.
What To Eat
It never goes wrong when choosing Angelo's favorites, such as fettuccine alfredo (pasta dish) or chicken marsala. Pizza lovers can miss out on specialty wood-fired pizzas topped with pepperoni, meatballs, and more. Remember to save room for gelato (Italian ice cream) for desserts.
Location: 400 Bay Area Boulevard, Webster, TX 77598
Website: https://angelospizza-pasta.com/
Phone: (281) 332-2404
Visit Genghis Grill to build your own stir-fry bowls with the freshest ingredients. It's a Mongolian casual chain founded in 1998 with over 50 locations across Arizona, Nevada, Carolina, Texas, and more.
Why Visit The Restaurant
Customers can simply pick their desired proteins, veggies, and sauces from the list of 80-plus ingredients. Alternatively, they can go for over 20 chef-crafted bowls packed with irresistible flavors.
The biggest plus at Genghis Grill is that it can accommodate any special dietary restrictions like low-carb, high-protein, gluten-free, low-calorie, and vegetarian.
What To Eat
If you want to try Asian-inspired stir-fry bowls, the teriyaki chicken or Bangkok (chicken and noodles) can be a good choice. A bowl filled with American flavors? The Lonestar (Cajun sausage, BBQ sauce) or All American (chuck beef, dill pickle relish) will please your taste buds.
Location: 510 Bay Area Boulevard, Webster, TX 77598
Website: https://www.genghisgrill.com/
Phone: (281) 332-0970
Operated by the Pappas family, Pappas Delta Blues Smokehouse is one of the greatest restaurants in Plano and Webster, Texas. This Southern eatery offers USDA Prime barbecues, home-style side dishes, cocktails, spirits, beers, and wines.
Why Visit The Restaurant
The smokehouse exceeds the patrons' expectations with a sophisticated and contemporary setting. High-quality meats are smoked in-house until it's fall-off-the-bone tender. Also, side dishes are made from scratch, following home-style cooking.
Pappas Delta Blues boasts a full-service bar with many crafted cocktails, tequilas, American whiskey, and ice-cold lagers. Its weekday Happy Hour from 3 PM to 6 PM doesn't only provide discounts for drinks but also chicken wings, nachos'n que, and more.
What To Eat
The Southern smokehouse is well-known for irresistible appetizers like Sunday's deviled eggs, house-smoked boudin (sausage with crackers), and sticky pork belly bites. I recommend trying the barbecue combos with the famous cream corn pudding.
Location: 19901 Gulf Freeway, Webster, TX 77598
Website: https://pappasdeltablues.com/
Phone: (281) 332-0024
If you plan to have a shopping day at Baybrook Gateway, remember to stop by la Madeleine to savor French-inspired delicacies. It's a quaint café and bakery boasting rustic country dishes, espresso, and handmade patisserie.
Why Visit The Restaurant
la Madeleine opens its door from 7 AM every morning and welcomes every early bird to have breakfast in the lovely decorated room or on the patio. If you come during the cold winter months, you'll get a chance to eat next to the blazing fireplace in the middle of the dining room.
The cafe showcases extensive menus with sandwiches, soups, and salads made from time-honored recipes. Besides, you can order la Madeleine's dressings, soup jars, or fruit spread online from its French market and grocery.
What To Eat
The legend tomato basil soup made daily is hard to beat at the French cafe. Also, French dip au caramelized onion sandwiches and quiche lorraine (egg, Swiss custard, pie crust) are popular at this place.
The bakery is filled with an array of top-notch pastries and sweets like croissants, cookies, parfaits, muffins, and more.
Location: 929 Bay Area Boulevard, Webster, TX 77598
Website: https://lamadeleine.com/
Phone: (281) 316-6135
Discover Diverse Cuisines In Webster, Texas
You'll have a chance to explore many different culinary cultures in this city. Everything from Italian wood-fired pizzas to Brazilian steaks and Mongolian stir-fry will incredibly satisfy you with distinct and delicious flavors.
Write a comment below the article to let me know what you think about these places. It's best to share your experience about these eateries with others and give them more tips when dining out in Webster. Remember to hit the share button to let more travelers know about these places!