These best vegan restaurants in San Antonio, Texas, are the ones I love the most out of all the places I've been to in the area. Not only do they provide excellent food, but also a pleasant atmosphere and great service.
Plant-based food, in the past, is a new and somewhat dull concept to people. Nowadays, vegan food is more diverse than just vegetables and tofu. Dishes use plant-based ingredients that would taste the same as non-vegan food.
Let me prove to you just how delicious vegan food can be with this list of amazing vegan restaurants in San Antonio, Texas.
Let's dig in!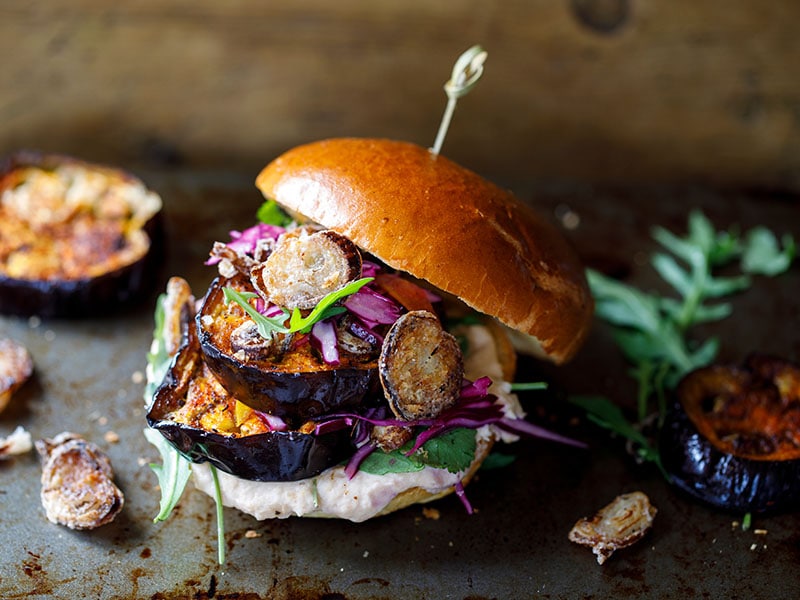 1. Project Pollo
Project Pollo is a place specializing in burgers, milkshakes, and other classic dishes like mac n cheese, chicken wings, etc. Besides San Antonio, this vegan restaurant is one of the most famous restaurants in Dallas, Texas, and everyone should try it at least once.
This plant-based eatery is the place to visit if you love classic fried foods. Some dishes can suit perfectly spicy food lovers, like Nashville hot Chik'n sandwich and spicy buffalo Chikn's sandwich, which both use vegan chicken dipped in housemade sauce.
And what fried chicken meal would be complete without some milkshake? In this case, let's make it better with a strawberry milkshake. This drink at Project Pollo is guaranteed to be a creamy and thick drink that you will get addicted to.
One thing that makes Project Pollo stand out from the other eateries is how inclusive they are toward the community. This is best illustrated through the "Pay what you can" item on the menu, where you can pay however much you want to for your food, making it a friendly establishment in the area.
Price range: $
Food style: Burgers, Vegan, Breakfast and brunch, Wraps
Website: https://www.projectpollo.com/
Location 1: 9519 San Pedro Ave, San Antonio, TX 78216
Phone: (210) 5072994
Table Reservation: Not available
Order Online:
Location 2: 11019 Culebra, Ste 122, San Antonio, TX 78253
Phone: (210) 6707200
Table Reservation: Not available
Order Online:
Location 3: 9390 Huebner Rd, San Antonio, TX 78240
Phone: (210) 2909226
Table Reservation: Not available
Order Online: Not available
You should not miss this trendy vegan dining spot, Project Pollo, in San Antonio, Texas.
---
Hash, which stands for Heal and Spread Healing, is a family-owned eatery in San Antonio providing vegan food and non-alcoholic drinks. The main focus at Hash is to create a space for people which promotes and encourages soberness.
Coming to this diner, you will be presented with many vegan and vegetarian options. And the food here is no less diverse compared to non-vegan menus. BBQ mac and cheese, hash bowl with chili, and fish tacos are most preferred by the customers here.
Hash Vegan Eats'also takes pride in the many non-alcoholic drinks like 0.0% beer that you can pair well with the food. This makes it easier for vegan customers who want to enjoy the beer flavor while enjoying the food without hassle.
Price range: $$
Food style: Vegan, Mexican, Tacos
Location: 5007 S Flores St, San Antonio, TX 78214
Facebook page: https://www.facebook.com/
Phone: (210) 3329244
Table Reservation: Not available
Order Online:
Blissful Burgers is a to-go option in that you can find vegan burgers and sandwiches with a surreal flavor, almost identical to non-vegan foods.
Like any regular burger joint, you can find different types of burgers, fries, onion rings, and cheese fries here. In addition, this place is mostly famous for its cheeseburgers, hand-cut seasoned fries, and different house-made sauces.
Blissful Burgers gives you a rewarding and pleasant experience, thanks to the vintage decoration around the place. You will feel yourself immersing in an old diner, enjoying your burger with some oldies music playing in the background.
The menus I recommend trying at Blissful Burgers have got to be cheeseburgers with crunchy bacon and vegan cheese. There is also some house-made ranch that you should pair with the burgers. These are my first orders at Blissful Burgers, which have hooked me on the place ever since.
This place is closed every Monday and Tuesday. Therefore you can visit Blissful Burgers for some good food from Wednesday through Sunday.
Price range: $$
Food style: Burgers, Vegan
Location: 5714 Evers Rd, San Antonio, TX 78238
Website: https://www.blissfulburgers.net/
Phone: (210) 2395830
Table Reservation: Not available.
Order Online:
---
Vegan, gluten-free, and fresh ingredients are the keywords when discussing Binge Kitchen. One of the prominent dishes people enjoy when coming to Binge Kitchen is the vegan southern fried chicken. This dish usually comes with 3 whopping side dishes like mac n cheese, candied yams, and mashed potatoes.
You will also enjoy the welcoming atmosphere that Binge Kitchen offers. The staff here are always friendly and attentive, making you feel at ease and satisfied with their service.
Besides food, Binge Kitchen also serves both tasty alcoholic and non-alcoholic drinks. You can order drinks like sodas and smoothies to pair with your lunch. And if you are in the mood for something boozy, you can try their cocktails with classic drinks like margarita or Shirley Temple.
Binge Kitchen, however, does have an uncommon schedule. The place is closed every Tuesday and Saturday. Therefore, plan your visits otherwise to enjoy the best vegan soul food in San Antonio.
Price range: $$
Food style: American, Breakfast, Soul Food
Location: 449 McCarty Rd, San Antonio, TX 78216
Website: http://www.eatbingekitchen.com/
Phone: (210) 4428126
Table Reservation: Not available
Order Online:
---
5. Earth Burger
Avid vegans would love to know that Earth Burger is the first vegan drive-thru burger place in the US that offers food from a sustainable source.
The co-founder and chef of Earth Burger, Mike Behrend, is a health-conscious person whose lifestyle has changed vastly since he switched to a plant-based diet. Earth Burger is living proof coming from him and his partners that you can enjoy tasty food that's good for the body.
First appeared in 2014, Earth Burger is famous for dishes like Chik'n sandwiches, fish sandwiches, Earth burgers, or Chik'n protein wraps. It's where you have fast food that's healthier yet still indulgent.
Aside from the classic side dishes like fries, you can also order less caloric sides like edamame beans. Having said that, the fries at Earth Burger are some of the fluffiest and most flavorful fries you can get.
Price range: $$
Food style: Vegan, Fast food
Website: https://www.earthburger.com/
Location 1: Park North Shopping Center NW Loop 410, Bldg. L-7, 818 I- 410 Access Rd, San Antonio, TX 78216
Phone: (210) 5241086
Table Reservation: Not available
Order Online:
Location 2: 2501 Nacogdoches Rd, San Antonio, TX 78217
Phone: (210) 4765010
Table Reservation: Not available
Order Online:
This drive-thru place called Earth Burger serves some of the best vegan burgers in San Antonio.
---
This next destination, in my opinion, serves up some of the best Indian dishes you can find in San Antonio. On top of that, Tarka Indian Kitchen is friendly for both vegetarian and vegan visitors.
Tarka started in Austin in 2009. Their main objective is to offer locals indulgent Indian food at an affordable price that's also quick to grab.
The restaurant has been recognized as a Green restaurant for using eco-friendly packaging, recycling used cooking oil, and composting food waste.
Located in the Sonterra Village shopping center, Tarka Indian Kitchen is an ideal place for you to have a mouth-watering meal of some channa masala or bean curry on top of hot biryani rice. If you, on the other hand, are looking for small bites, try their vegetable samosas.
I'm also a big fan of Lassi at Tarka Indian, mainly because I can choose between a regular Lassi from yogurt or vegan Lassi from coconut milk. It especially tastes refreshing when paired with the freshly served food at Tarka Indian Kitchen.
Price range: $$
Food style: Indian, Vegetarian, Vegan
Website: https://tarkaindiankitchen.com/
Location: 427 TX-1604 Loop Ste 101, San Antonio, TX 78232
Phone: (210) 4990982
Table Reservation: Contact the restaurant through their phone number for table reservations.
Order Online:
---
Mellow Mushroom is a pizza place that has been around ever since 1974. It has been a long-standing restaurant loved for its quality dough, flavorful pizza, and delicious drinks. This is the perfect spot to grab a slice of pizza and a refreshing drink for your meal.
Stepping into Mellow Mushroom in San Antonio, you will instantly love the colorful decoration that exudes creativity. Mellow Mushroom always aims to serve you the freshest food in an all-embracing atmosphere.
What I enjoy about the food at Mellow Mushroom is that each pizza is baked in a stone oven to order. This means you will always get the hottest and cooked-to-a-crisp pizza. And one of the best pizzas I've had at Mellow Mushroom has got to be the Holy Shiitake.
When biting into a slice of Holy Shiitake, you can tell all the ingredients apart while still having a harmonious taste note on your palate. Aside from pizzas, calzones, burgers, and other succulent dishes are waiting for you to enjoy.
Regarding the drinks, you choose to pair with your food, make sure you visit Mellow Mushroom during their happy hours for discounts. From Monday through Friday, happy hour starts at 2 PM and ends at 7 PM. However, on the weekends, happy hour usually ends 2 hours earlier, at 5 PM.
Price range: $$
Food style: Pizza, Sandwich, Bar, American
Location: 115 N Loop 1604 E #2100, San Antonio, TX 78232
Website: https://mellowmushroom.com/
Phone: (210) 3709219
Table Reservation: Not available
Order Online:
---
Green Vegetarian Cuisine is another establishment from the owners of Earth Burger. This establishment first appeared in San Antonio and Texas in 2007. It now has three different locations that you can find all around Texas.
From the name, Green Vegetarian Cuisine isn't limited to just vegan food. You can find a wide variety of kosher vegetarian and vegan dishes here. Some of their highlighted dishes you should try are the rice and veggie bowls, namely the Mediterranean bowl.
The veggie bowls at Green are famous for being flavorful and filling, which is perfect for a pleasant lunch. In addition, there are vegan dessert and pastry options like cinnamon rolls and lemon cupcakes you can try that will surely satisfy your sweet tooth.
One thing to note is the place is closed on Saturdays. Other than that, just drop by Green Vegetarian Cuisine any other day to enjoy the good food and the friendly service. You won't be disappointed.
Price range: $$
Food style: Vegan, Vegetarian, Traditional American
Website: https://www.eatatgreen.com/
Location: 255 E Basse Rd, San Antonio, TX 78209
Phone: (210) 3205865
Table Reservation: Call the restaurants for reservations.
Order Online:
---
Thai Vegan is one of the most sought-out Thai restaurants in San Antonio that offers delicious vegan versions of your favorite Thai dishes.
Thai Vegan first opened its doors in November 2017. Their primary purpose from the beginning has been ensuring the customers' satisfaction and making a memorable dining experience for customers' families and friends.
Enjoying the authentic flavors of Thai food isn't a challenge anymore with Thai Vegan. To name a few excellent dishes, there are stir-fried veggies and noodles like Pad Woon Zen or spicy eggplants.
At Thai vegan, you will have many different options for ordering your food. You can order A La Carte dishes or go with lunch and dinner combinations. There are also desserts like banana spring rolls or mango sticky rice as their signature items. You should also note that Thai Vegan will be closed every Tuesday.
Price range: $$
Food style: Vegan, Thai, Asian
Location: 15614 Huebner Rd #113, San Antonio, TX 78248
Website: http://www.thaivegantx.com/
Phone: (210) 2570090
Table Reservation: reserve a table through their website.
Order Online:
Check out how Thai Vegan is the top favorite vegan restaurant for people in San Antonio.
---
Plantyful Sweets is a local bakery in San Antonio that has been all the rage these recent years. At this bakery, they ensure that the baked goods and drinks they serve are healthy and enjoyable.
Aside from the dessert treats, there is also an occasional collaboration between Plantyful Sweets and a vegan taco spot called Plantaqueria at the store. This is perfect if you want both savory and sweet bites. The tacos variations are also wide so you will have plenty of options.
This restaurant offers weekly special treats. You will get different baked goods of sorts, whether dining at the place or making a to-go purchase. Just drop by every now and then to try out all their inviting treats that are good for the body.
Besides the weekly specials, there is also a wide array of beverages to try. From tea, coffee, and smoothies, you can rest assured that most of them are available with superfood add-ons like turmeric, matcha, cacao, etc.
This place, all in all, is a perfect place for people with a sweet tooth as it doesn't make your gut and stomach feel heavy. Plantyful Sweets will be a great spot for people with special diets like gluten-free and lactose intolerant as their goods don't contain any milk or gluten ingredients.
Price range: $$
Food style: Bakeries, Gluten-free, Vegan
Location: 1520 N Main Ave, San Antonio, TX 78212
Website: http://plantyfulsweets.com/
Phone: (210) 9571480
Table Reservation: Not available
Order Online:
---
Among all the vegan restaurants I've talked about in this list, I'm personally the most impressed with Viva Vegeria's establishment and background. It started when the owner was expelled from his culinary school since he did not eat meat.
This eatery was his way of embracing special diets like vegan, vegetarian and other diets with allergies. Thus, you will instantly feel welcomed in this restaurant with a familiar and cozy atmosphere.
By the name, you may have guessed that Viva Vegeria focuses on vegan Mexican food with authentic flavors. The tacos are reasonably priced, and the staff is more than friendly. I also have to mention that you will get free refills on your agua frescas at Viva Vegeria.
One of the must-try dishes is the vegan chicken flautas or rolled tacos which pack with flavors. Another menu item is the mushroom chicharrón which comes in a generous portion and is aromatic with spices and mushrooms.
Price range: $$
Food style: Vegan, Tex-Mex, Gluten-free
Location: 1422 Nogalitos St, San Antonio, TX 78204
Website: http://www.myvegeria.com/
Phone: (210) 4659233
Table Reservation: Call to book a table.
Order Online:
---
For our last spot on the list, I'll take you to a unique establishment called Go Vegan San Antonio. Unlike other spots, which are indoor venues, Go Vegan San Antonio is a food truck serving comfort vegan food to the locals in the area.
Providing healthy meals for everyone is what this food truck and its creators have been doing since 2017. This establishment has ever since been a frequent spot for vegan food lovers.
When visiting this food truck, you will find that their signature menu includes burgers, vegan chicken wings, and mac n cheese. Besides, some other American classics like dairy-free milkshakes and fruit smoothies.
Although their burgers were awesome, what got me hooked was the chicken and waffles. Even though the chicken is vegan, it was crunchy and nothing short of flavors. I think it's somewhat better and healthier than regular fried chicken.
Price range: $$
Food style: American, Vegan, Juice bar & smoothies.
Location: 11911 Crosswinds Way, San Antonio, TX 78233
Website: https://govegansatx.com/
Phone: (210) 9200089
Table Reservation: Not available
Order Online:
---
Vegan Avenue is the last vegan restaurant on my list for today. Despite focusing on veggie bowls, this place has everything you look for from filling breakfast menus like chicken and waffles to brunch and dinner food.
What attracts most customers is the chic and modern atmosphere and decoration inside Vegan Avenue. It will be a thrilling experience to visit and share delicious brunch dishes with your friends in a welcoming space.
And for brunch, you will be presented with a wide selection of dishes from different cuisines. You can order some filling breakfast tacos. Or if you're in the mood for some soul food, then the shroom and gritz would be perfect.
What I love the most about dining at Vegan Avenue is their cocktail menu. They have a few selected cocktails, including Half moon, a special mix of orange liqueur, infused agave with other ingredients. On top of that are some house cocktails like mojito or bloody Mary.
Vegan Avenue accepts only a limited number of reservations for groups of up to 15 people one month in advance, so you can reach out to them to plan your next dinner party.
Price range: $$
Food style: Veggie Bowls, Mexican, Breakfast, Brunch
Location: 2512 N Main Ave, San Antonio, TX 78212
Website: http://eatveganavenue.com/
Phone: (210) 3329284
Table Reservation:
Order Online:
---
To Summarize
It's no secret that veganism is likely one of the healthiest diets. But sometimes eating plain veggies and fruits can turn boring. That's why exploring some good vegan restaurants can be an exciting part of your diet, as it adds more flavor and diversity to your daily vegan meals.
I hope this list will be helpful for you in finding your favorite vegan spots in San Antonio. Leave a comment below, and let me and other readers know your favorite place and dish. I'm sure it will be a lively and fun discussion.
Please share this post if you think your friends need it too. But for now, thank you, and see you next time!