Just like in San Francisco or New York, you can find the best Chinatown restaurants in Houston. The area has now migrated to Southwest Houston from its original location near East Downtown and became "Asiatown".
Judging from the neighborhood's diversity and large area, you will find more than just Chinese food here. There are decadent meals from Vietnamese, Thai, or Japanese cuisine that you must try at least once.
But you don't know where to start? Worry not: I've got you covered. Scroll down and you will see the best collection of diners to have the best time of your life in this area. Don't hesitate and explore them at your own pace!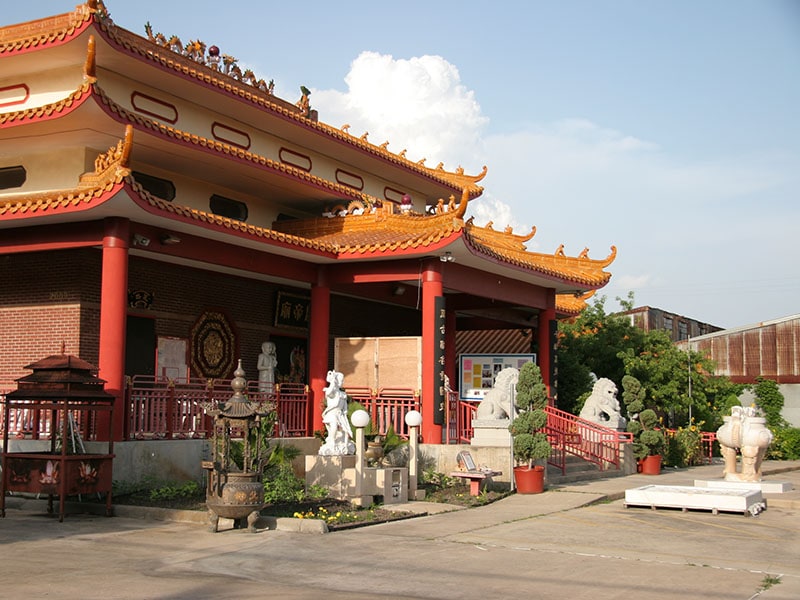 The Best Dishes In Chinatown Houston To Get To Know Asian Cuisine
Since the first shop opened in the new Houston Chinatown in 1983, many diners have followed suit. Besides going on a shopping spree or visiting attractions, why not fill your belly with some of the best meals in the city here?
It's also a great way to explore a culture. Read more to discover the best offerings from many Asian countries right in one of the most ethnically diverse regions.
Rice To Meet You is a Chinese restaurant featuring authentic clay pot cooking dishes, like hot and spicy beef clay pot rice or sizzling clay pot rice noodle rolls. Convenient location and affordable prices are the top reasons why this place is such a crowd favorite.
The parking is easy since this place shares the same space with many stores in a big plaza. The serving space is not the biggest, but the food more than makes up for it. You will find many fantastic dishes in sizable portions for a bargain price.
Most people speak fondly of the workers and how prompt they are. You are served just as quickly as you are seated. There are even instructions on the table on the best way to consume the meals.
Price range: $$
Food styles: Chinese, Cantonese, Comfort food
Location: 9888 Bellaire Blvd Ste 138 Houston, TX 77036
Website: https://rice2meetyou.com/
Phone: (713) 777-8838
Table reservation:
Order online:
Mifen Prince is easy to locate as it's in Dun Huang plaza, along with other drinks and food joints. If you have never tried Guizhou cuisine, then this is the chance to do so. Everything on the menu will be authentic as this is a chain restaurant from Guizhou, China.
In case you are wondering, Mifen is thin rice noodles consisting of rice flour and water. It is very common in Asia. The dishes at the restaurant use pickled veggies with rice vermicelli soup, adding so much depth to the overall flavor.
The spicy foods are the bomb here. Even a medium-level spicy one packs so much more heat than your average sharp meal. I recommended pairing a classic beef vermicelli bowl with some homemade yogurt drink to balance out the spiciness.
Price range: $
Food styles: Chinese, Noodles, Soup
Location: 9889 Bellaire Blvd Ste 308 Houston, TX 77036
Website: https://guizhouhuaxiwang.com/
Phone: (346) 335-7137
Table reservation:
Online order:
If you want a BYOB restaurant in Houston with savory foods, check out Mala Sichuan Bistro. The dishes are a little pricey, but the quality and tastiness are worth it. The parking lot is spacious, so you won't have difficulty finding a slot for your vehicle.
Cori Xiong and Hong Chen, her husband, opened the first branch in Chinatown in 2011. They want to share authentic Sichuan food with Houston, their hometown. Mala Sichuan has five branches across Texas, one of which is among the best diners to eat in Sugar Land.
Dan Dan noodles, soup pot with fish and lamb, and Mapo tofu are some of the reasons people keep coming back to this place. Remember to order some green veggies like sautéed water spinach to eat alongside the spicy meals.
Price range: $$
Food styles: Chinese, Asian, Szechuan
Location: 9348 Bellaire Blvd, Houston, TX 77036
Website: https://malasichuan.com/
Phone: (713) 995-1889
Table reservation: Please contact the restaurant to make a reservation
Order pickup:
Order online:
With Mala Sichuan Bistro, you don't have to go to China to explore the best dishes this country has to offer.
Coming to Ishin Udon, you get the chance to try all kinds of Japanese udon, curry, and tempura – all of which cost a fair price. The noodles are very chewy with a mouth-watering broth. The dishes are very comforting, especially when it's chilly or cold outside.
The udon is simple yet addicting. The bowls with flavorful aroma are inviting when they first sit on your table. There are even Italian-Japanese fusion udon, a must-try. If the mention of Italian dishes makes you crave for some, there's no shortage of places to eat the best Italian dishes in town.
The place is a bit small, but it's clean and gives off a relaxing atmosphere with some retro-Esque Japanese decorations. The staff is friendly and warm. Be sure to sip some hot green tea while waiting for your orders on the wooden benches.
Price range: $$
Food styles: Japanese, noodles, soup
Location: 9630 Clarewood Dr Ste A15-B Houston, TX 77036
Website: https://ishinudon.com/
Phone: (713) 239-2955
No reservations available
Order online:
Are you down for some Chinese hot pots right now? If yes, Chongqing chicken pot is the location you should opt for. A pot is enough to split between 4 people. If your group prefers seafood, there's a more expensive option with some shrimp, crab, and squid.
The way it works here is that you order and eat some meat in the pot first. Then the staff will bring the broth for you to turn the meal into a true hot pot. You can buy some more ingredients, like tofu, meat, and cabbage, to toss into the pot.
That's like having two meals in one. It's great fun consuming the same meat and rice in two different ways in one sitting. There are mild or spicy options for the dish. I highly recommend choosing the mild-spicy ones and above.
Price range: $$
Food styles: Hot pot, Chinese
Location: 9393 Bellaire Blvd Ste E Houston, TX 77036
Website: https://chongqingchickenpot.com/
Phone: (832) 582-8483
No reservations available
Order pickup:
Order delivery:
Most visitors love this place for its homey quality and authentic Japanese offerings. Don't be fooled by the nondescript looks, Sushi Miyagi offers an outstanding sushi culinary experience. For about two decades, many have come and fallen in love with this sushi restaurant.
The joint is popular: sometimes you have to get in line due to the limited sitting area, but it remains a casual and relaxing place. The original artwork and traditional decorations of Sushi Miyagi are unique and make you feel like you are transported to a sushi bar in Japan.
This restaurant is managed by a married duo. The husband, Shinichi Miyagi, works behind bars to bring out sublime sushi dishes while his wife, Mrs. Miyagi, takes care of the rest. Everyone loves the enthusiastic serving of the sweet lady and the sushi creations of the chef.
Price range: $$
Food styles: Japanese, Sushi Bar
Location: 10600 Bellaire Blvd, Houston, TX 77072
Website: None
Phone: (281) 933-9112
No table reservations available (Note: There are no phone orders either)
Order online:
Speaking of the finest places to eat Thai food in Houston, you can't leave out Tony Thai restaurant. The menu includes a wide selection from many parts of Thailand, from the North to the South and the West to the East.
Don't be surprised if you find there are new foods from time to time. They want to bring the most unique and finest Thai dining experience to Houston. Be sure to explore the new flavors they introduce every time you set foot here.
The potions are very ample and are reasonably priced, with hearty specialties like Pad Thai or Pad Kee Mow. You can easily feed a group of 4 without breaking your bank. Plus, the whole place has a family-friendly vibe, so you can enjoy the good food with your parents and children here.
Price range: $$
Food styles: Thai, Vegetarian-friendly
Location: 10613 Bellaire Blvd Ste A10 Houston, TX 77072
Website: https://www.tonythairestaurant.com/
Phone: (281) 495-1711
Table reservation:
Order online:
If you haven't eaten Asian-Cajun-style crawfish, you haven't experienced Houston. Anytime you wonder about the best places to satisfy your seafood craving in Houston, the heavy-spiced mudbug at Crawfish And Beignets should be among your top choices.
True to its name, this place specializes in crawfish. Prices are on the higher side compared to other Asian crawfish restaurants. But it's worth it for the high quality and tastiness. The seasoning is heavenly, especially with Vietnamese-style sauces.
If you don't know what you are in the mood for, I recommend trying the Krajun crawfish and shrimp, flavorful meals with a lot of garlic. Remember to order some fluffy beignets drizzled with condensed milk and Vietnamese iced coffee, too.
Price range: $$
Food styles: Seafood, Cajun/Creole
Location: 9600 Bellaire Blvd Ste 102 Houston, TX 77036
Website: https://www.crawfishandbeignets.com/
Phone: (832) 581-3189
No reservations available
Order pickup:
Order delivery:
Here's another hidden gem in Chinatown. Northern Pasta offers authentic bao buns, dumplings, Chinese hamburgers, oil-splashed noodles, and more. Every Chinese restaurant has its signature charm, and this place is no exception with its menu of Northern region cuisine.
Northern Pasta is located between the Eastern foot massage and Szechuan house without any sign in English. Even the owner lady doesn't speak much English, so you know that this place has one of the best authentic Chinese foods you can find in Houston.
Price range: $
Food styles: Chinese, Noodles
Location: 9256 Bellaire Blvd Houston, TX 77036
Website: https://vipmenu.wixsite.com/
Phone: (281) 974-5386
No reservations available
Order online:
House of Bowls is the must-try destination for Hong Kong food lovers. To enjoy the foods in the true Cha chaan teng (Hong Kong-style diners) spirit, you should order a beverage. For recommendations, I advise trying the decadent Hong Kong-style milk tea.
You will have a field day browsing through the extensive selection of about 40+ meals and drinks. From pan-fried noodles to rice dishes, you won't get bored eating at this joint for several days or the whole week. There's always something different for every new visit.
The noodles are highly praised for being neither greasy nor too salty. They taste just right to most people. Hong Kong French toast is another great dish, which consists of peanut butter and condensed milk.
Price range: $
Food styles: Cantonese, Hong Kong, Noodles
Location: 6650 Corporate Dr, Houston, TX 77036
Facebook fan page: https://www.facebook.com/
Phone: (713) 776-2288
No online order or reservation options are available
Handam BBQ is one of the top go-to choices for BBQ restaurants in Houston, Texas. Diners sit around grills and cook the meat by themselves while chatting with each other. Handam BBQ is not just a place to eat; it's a place to gather and have a good time.
There are all-you-can-eat options. They give you the best bang for your bucks when you are dining out with your whole family or a group of friends. Beware that these options only include banchan (side dishes) and meats.
Korean barbecue with plenty of side dishes won't disappoint, especially when they are being served in a cozy space. What's special about this eatery is the smokeless charcoal grills (instead of gas grills like other places); you won't leave smelling like smoked grill meat.
Price range: $$
Food styles: Barbecue, Korean
Location: 6609 W Sam Houston Pkwy S Ste 96 Houston, TX 77072
Website: https://handambbq.com/
Phone: (346) 261-1500
No reservations available
Order online:
Let's see how good the food and services are at Houston Handam BBQ.
If you haven't had your fill of Japanese cuisine, here's another restaurant with decadent offerings from the land of the rising sun. IWA YA is situated just right next to Crawfish And Beignets with a large parking lot.
Everyone knows what sushi is, but what about Teppanyaki? The term refers to how the foods are cooked on a large, flat grill surface.
It is also the name of a restaurant type that allows everyone to sit around this grill and watch the chef whip up the food, even performing some culinary tricks for entertainment purposes.
Fresh and flavorful dishes and impeccable service, everything about this place is great. Did I mention the free soup yet? They provide an almost unlimited supply of miso, corn chowder, or red bean soup. Unsurprisingly, IWA YA is among my top 10 Teppanyaki places to try in Texas.
Price range: $$
Food styles: Teppanyaki, Sushi Bar
Location: 9600 Bellaire Blvd Ste 101A Houston, TX 77036
Website: https://iwayatogo.com/
Phone: (346) 867-2133
Table reservation:
Order online:
To eat Taiwanese foods at a bargain price, you should consider Star Snow Ice And Teriyaki. Located at the heart of Chinatown, you won't have much trouble finding a place to park. It is right next to Nu cafe at Dun Huang Plaza.
If you are hungry and want to find some substance to fill yourself, their portions won't disappoint. It's hard to believe how much food you get for such a good deal. Besides Taiwanese fares, sweet treats like milk tea and shaved ice are a must-try.
The service is straightforward. Make your orders at the counter, and the staff will deliver the food and drinks to your tables. If you want a quick meal with a generous portion at an unbelievable price, you can't beat it. Just a head up, you need to spend a minimum of $5 for credit card payments.
Price range: $
Food styles: Taiwanese, Fast Food, Shaved Snow
Location: 9889 Bellaire Blvd Houston, TX 77036
Website: https://www.starsnowicehouston.com/
Phone: (713) 779-8886
Table reservation: Please call the restaurant by phone to make a reservation.
Order pickup:
Order delivery:
Try Mind-Blowing Restaurants In Chinatown Houston Now!
Houston is a place to eat, enjoy, and live. Chinatown contributes to helping this city reign as one of the finest places to dine in the US. Thus, this area has become an integrated and essential part of Houston's spirit and soul.
And that's all I have to say about the best restaurants in Houston Chinatown. What do you think about them? Which would you try the next time you visit this neighborhood? Share your adventure with me and others; the comment section is all yours.
You should share this list with people who don't know much about Houston, don't let them miss these amazing diners. Better yet, you can convince them to explore this extraordinary part of the town together, with confidence and knowledge.