Partying at the best bars in Midland, Texas, is an easy task when you have this article saved in your pocket. Sometimes, the best way to uncover an area's ambiance is to go to places often visited; in this case, bars in Midland are the perfect answer.
No matter which location you pick, the club's energy will always be present in the venues I will present below. So put on your party clothes and get ready for a marvelous time in this small yet lively city with its bars.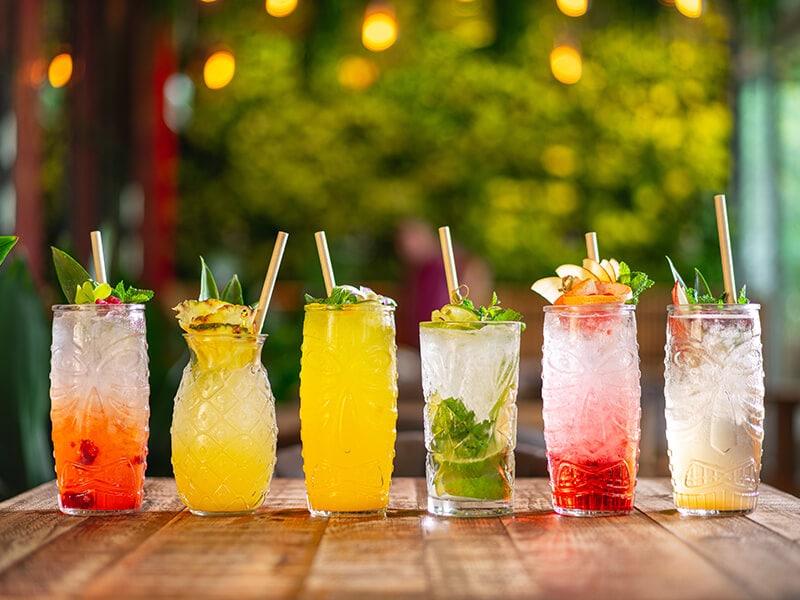 Lively Bars To Make Your Night In Midland
Take your time to look through the following suggestions so you may know where to head out for the night. Nothing beats a worry-free night with friends while chugging down refreshing beverages.
The Detour Bar
Riley's Bar & Grill
The Blue Door
Fair to Midland
Little Woodrow's Midland
The Bar
Woody's Hideaway
Walk-On's Sports Bistreaux – Midland
Triple Threat Sports Bar
Wall Street Bar & Grill
Hook & Reel Cajun Seafood & Bar
Cork & Pig Tavern
Torino's Pizza Bar
Bubba's 33
Fascinating Bars You Should Pay A Visit In Midland, Texas
Before you head out for a fantastic night in the city, this article should give you some tips about these local bars in the area. Whether it's a party or a simple drinking night, there is sure to be a suitable bar for you on this list.
The first stop on the list is The Detour Bar, a small establishment with a low-key appearance. However, it's a place where locals gather for beer and many events.
Why you should come to this bar:
The bar is a relatively basic spot featuring basic alcoholic bottles for whipping up common cocktails. Come to the site on Wednesday to sing to your heart's content during its karaoke night. As for Thursday and Friday, they offer live entertainment, such as dancing.
Depending on the day, you may get lucky enough to watch the pool tournament at night. The Detour Bar has a relaxing outdoor patio to treasure Midland's atmosphere.
What to eat/drink:
Typically, you should expect many drinks at The Detour Bar, featuring vibrant mixes you could never get elsewhere. Food is also available with soul food items like a juicy burger or Tex-Mex fare, complete with bacon and decadent ranch sauce.
Price range: $$
Food style: Bars
Location: 1708 Rankin Hwy, Midland, TX 79701
Website: https://www.facebook.com/
Phone: (432) 685-1011
Why not enjoy a bar and grilled food simultaneously? Visitors can experience that at Riley's Bar & Grill, a humble spot that can get quite lively at night. The place's signature red door always welcomes anyone looking for a great time at Midland.
Why you should come to this bar:
The venue is notorious for its grilled items that frequently change to adapt to customers' needs. However, burgers are a familiar pick at the place for their convenience. The weekend is the best time to be at Riley as it offers exciting live music performances.
Aside from the live music, the pool tables available at Riley are great for entertaining yourself during your visit. Commonly, you can also get to see a lot of bikers gathering at the bar.
What to eat/drink:
Two of the most sought-after fares at Riley have to be the Steak N' Bake and the legendary bloody marys. Steak is also another pick at Riley as they have the right amount of seasoning and provide you with energy for an energetic night.
Price range: $
Food style: American, Bars
Location: 3421 West Wall St, Midland, TX 79701
Facebook page: https://www.facebook.com/
Phone: (432) 520-0006
Located in Colonnade At Polo Park, a shopping mall area, The Blue Door is a casual and down-to-earth location to enjoy food and various drinks. Due to its position, you may spend an entire night venturing the stores in the area before dropping by the bar.
Why you should come to this bar:
With an ever-changing menu according to the season, The Blue Door offers a fresh experience, so you never get bored. However, you can still request favorite items that may not be available on its seasonal menu.
The patio is another lovely addition, as you can bring your furry friends to enjoy the airy ambiance and refreshing drinks at night. One more thing is the cocktails are rather attractive, thanks to the artistic touch of the skillful bartender.
What to eat/drink:
Enjoy your night with the house's signature creations, such as a glitter mix with fragrant pear and lemon essence. Interestingly, the drinks from the Almost Famous section let visitors personalize them with any kind of artistic design to the surface.
As for the food, wings, nacho, and ceviche are classic creations you can munch on at the place. Don't miss out on the happy hour offer, available from 4 to 7 PM daily.
Price range: $$
Food style: Bars
Location: 4610 North Garfield St D, #1C, Midland, TX 79705
Website: https://www.thebluedoormidland.com/
Phone: (432) 218-8793
A bar doubling as a kitchen is everything you can find at Fair To Midland, which houses all sorts of socializing events. Fair To Midland brings a relaxing spirit to the surrounding community thanks to the laid-back setting.
Why you should come to this bar:
If you don't feel like partying, sit back on the patio covered by trees to enjoy the night just the way you want with tasty food and beverages. Surprisingly, the bar also holds unique games often found at the fair.
Other than that, you may slide down a tube for entertainment. At night, the place is lit up with dim light in the outdoor area, creating a bustling atmosphere for people to partake in various games.
What to eat/drink:
Cocktails are my favorite at Fair To Midland, especially when you get the Cool as a cucumber or the Big top, featuring a touch of vodka infused using different elements. Of course, you can't forget about the long draft beer list offering 21 varieties to satisfy anyone's taste for alcohol.
Price range: $
Food style: American, Bars
Location: 1115 Tradewinds Blvd, Midland, TX 79706
Website: https://www.fairtomidlandtx.com/
Phone: (432) 203-3530
Little Woodrow is a sports bar chain making it one of the best stops for dining in Austin for its quality food with boozy refreshments. The bar has now made its appearance in the party landscape of Midland.
Why you should come to this bar:
Settled in a bright space, the bar captures the morning light for anyone to stop by for a quick drink. Equipped with TVs, Little Woodrow is ideal for cherishing sports moments with your best mates at the bar counter.
Plus, the outdoor seating lets guests enjoy Midland's fresh air. The airy patio usually features vibrant light at night to shroud the space in a fun atmosphere. Also, the spot has heaters so people can stay warm while enjoying the party.
What to eat/drink:
I prefer visiting Little Woodrow during its happy hours, as you may enjoy various draft beers at a lower price. As for food orders, handheld items, like burgers and chicken wings, are your safest bet to enjoy the cheerful ambiance on the go.
Price range: $$
Food style: American
Location: 3415 North Loop 250 W Suite 201, Midland, TX 79707
Website: https://littlewoodrows.com/
Phone: (432) 694-2337
A simple name like The Bar can leave a long-lasting impression in anyone's heart as a joyful sports bar with an incredible atmosphere. The Bar has been a familiar face in the community since its establishment in 1979.
Why you should come to this bar:
The cuisine at The Bar is where you can enjoy the best Texas flavor cooked in a home style to give you that cozy feeling of a family. On the weekend, pay The Bar a visit to immerse in the live music event on a stage with various cocktails and food offerings.
Typically, The Bar's outdoor area is the best place, with an airy space featuring many TVs, so you never miss out on a single sports match. Inside, the site is relatively rustic, with many jerseys hanging on the wall for decorating the dimly lit space.
What to eat/drink:
Eating may not be the priority at The Bar, but you can still find items like a simple plate of french fries or juicy pork chops paired with eggs. The bar is rather large, with numerous potent alcoholic offerings.
My favorite is a classic mimosa glass. However, I must remind you to take it easy as the mixes are quite strong and may not suit beginners' tastes.
Price range: $$
Food style: American
Location: 606 West Missouri Ave, Midland, TX 79701
Website: http://www.thebarmidland.com/
Phone: (432) 685-1757
Another perfect hideout for your night in Midland is Woody's Hideaway, a lively destination that features many games and arcades for entertaining. The spot is great if you're traveling in a group, as it's relatively spacious.
Why you should come to this bar:
Woody provides numerous TVs scattered around the area for any sports fan to catch up with the game. The bar at this joyful venue is top-notch, with endless taps for beers and other drinks. They also have pool tables and many arcade games so anyone can have a good time.
At night, the well-lit bar makes it a photogenic attraction before you let yourself go in the numerous entertainment forms at Woody.
What to eat/drink:
The happy hour at Woody is usually available from 3 to 7 PM on weekdays allowing guests to sip on beer at a lower price. While at the bar, grab a few small bites of nachos or a turkey sandwich.
For group dining, pizza is the way to go featuring options to customize the toppings. Each pizza is a 14-inch creation filled with meat and cheese for a fun time with your drink.
Price range: $$
Food style: Bars, American
Location: 5701 Starboard Dr #5, Midland, TX 79706
Website: https://www.woodyshideaway.com/
Phone: (432) 699-2406
A walk-on bar is a unique experience you need to try to enjoy the Louisiana spirit. By employing made-from-scratch dishes, Walk-on's Sports Bistreaux is a solid choice to cherish a moment with friends.
Why you should come to this bar:
Besides coming to Bistreaux as a group, a date night is also a brilliant plan for the place's joyful ambiance. This Louisiana-style sports bar also features a big screen for fans to enjoy their favorite games.
With over 100 locations spanning 15 states, Bistreaux will be your favorite spot for drinks and sporting events. The brand is also a favorite eatery in Arlington, Texas, with its lively touch from Louisianan.
What to eat/drink:
For recommendations, I love the lemon butter chicken with its eye-catching yellow sauce and refreshing lemon taste. However, the Cajundillas is a must-have delicacy at Bistreaux for a unique combination of cajun cooking and Mexican cuisine.
As for the refreshment, grab a glass of high west smash to savor American bourbon with a touch of peach essence. If you want to get a bit classy, sipping on wines like the Benziger, Chloe, or 7 moons are your best options.
Price range: $$
Food style: American, Cajun/Creole, Sports Bars
Location: 4605 Whitman Dr, Midland, TX 79705
Website: https://locate.walk-ons.com/
Phone: (432) 279-1516
It's hard to imagine what a casual sports bar looks like, but that's what you will get when you visit Triple Threat Sports Bar. The space suits people looking for a relaxing bar without overwhelming noises.
Why you should come to this bar:
Triple Threat's laid-back atmosphere at night is the main feature of the place, accompanied by casual American fare to keep guests at the maximum level of relaxation. Simply sit back on the outdoor patio and enjoy your games through the TVs to have a great time in Triple Threat.
Interestingly, the place has a unique fountain smack in the middle of the patio. In addition, Triple Threat has a few LED lights to create a chill ambiance at night.
What to eat/drink:
The wide dishes of Triple Threat is a big plus for anyone with an appetite for handheld items like wings, sandwiches, and small bites. However, I prefer having a drink at Triple Threat, with tequila-based cocktails or an old-fashioned shot like the 3T's Old Fashioned.
Price range: $$
Food style: American, Sports Bars
Location: 12 Meta Dr, Midland, TX 79701
Website: https://www.triplethreatsportsbar.com/
Phone: (432) 683-5300
Established in 1910, this over-100-year-old venue is a legendary landmark in Midland, serving tasty grilled items while boasting an impressive bar. Located in downtown Midland, Wall Street Bar & Grill is simply a go-to spot for anyone.
Why you should come to this bar:
Sit in a pressed-tin ceiling building; the venue possesses a casual look with huge glass windows for street views. It also comes with a wood mahogany bar and artistic-style carvings all over the surface, giving it a rustic feel.
Commonly, Wall Street Bar & Grill is a laid-back spot for relaxing while enjoying great food. Though the location has no music offering, Wall Street is ideal for people looking for a hearty meal before enjoying a chill drink.
What to eat/drink:
Typically, guests coming to Wall Street love the chicken fried steak for its perfect seasoning. Another option is the crab cake for your appetizer to savor its soft meat texture. In addition, drinks at the bar usually revolve around light cocktails and wines to pair with the food.
Price range: $$
Food style: Bars, American, Seafood
Location: 115 East Wall St, Midland, TX 79701
Facebook page: https://www.facebook.com/
Phone: (432) 684-8686
Hook & Reel may be an unfamiliar name in Midland, but it has made its mark as El Paso's beloved restaurant in Texas for delicious seafood offerings. Prepare to get your hands messy as dining seafood at Hook & Reel is a never-before-seen experience.
Why you should come to this bar:
The spot offers a lovely Southern touch in its seafood with a bold flavor from the seasoning. Furthermore, Hook & Reel provides soothing music in the background so you can happily share stories while chowing down delicious items.
Plus, the location features a lovely bar with friendly bartenders to whip up whatever refreshments you have in mind.
What to eat/drink:
Commonly, boiled seafood is the ultimate pick at Hook & Reel, as the options can vary from simple shrimp and crab to crawfish. There's also a raw bar where you can enjoy seasonal oysters for a breeze of the ocean.
Newcomers can quench their thirst at Hook & Reel's bar with a glass of its signature margarita. Otherwise, I suggest a refreshing sunrise with a touch of tropical passionfruit. If you like keeping it simple, then the rum punch may just be what you need at Hook & Reel.
Price range: $$
Food style: Cajun/Creole, Bars, Seafood
Location: 2215 Midland Dr, Midland, TX 79707
Website: https://hookreel.com/
Phone: (432) 218-8475
Discover an incredible gastropub in the form of Cork & Pig Tavern, a famous eating site in Las Colinas, now making a debut in Midland. The destination offers casual American fares with signature wood-fired pizzas for a relaxing time.
Why you should come to this bar:
The destination comes with a unique trait by offering gourmet dining of everyday items like salad, sandwiches, and wood-fired pizzas. Furthermore, the bar is smacked in the middle of the restaurant, surrounded by a slick, modern counter offering common alcohol.
Cork & Pig is rather festive at night, with a dim lighting system to back up the atmosphere. Usually, I recommend the outdoor space for its airy ground where you can take in the peacefulness of Midland.
What to eat/drink:
Start your business at the tavern by getting a simple serving of deviled eggs to jump-start your appetite. Then, follow that with the signature wood-fired pizza or a plate of double-cut pork chop. For beverages, the tavern boasts an array of spirits in gin, vodka, and whiskey.
Don't forget about the happy hour program (weekdays, 3 – 6 PM), providing specialty cocktails like the rum punch and jalapeno margarita martini. The hour is also suitable for grabbing the iconic pizza at a lower price.
Price range: $$
Food style: Bars
Location: 200 Spring Park Dr., Suite 200, Midland, TX 79705
Website: http://corkandpig.com/
Phone: (432) 400-4121
Have you ever wondered about a combination of a pizza restaurant and a bar? You get that at Torino's Pizza Bar, a unique outpost specializing in pizza digs and numerous cocktail mixes.
Why you should come to this bar:
Equipped with a pool table and arcade machines, Torino is the favorite site of many to entertain in the night scene of Midland. The site also has a full bar with TVs around the area to watch all the action unfold in your favorite game.
What to eat/drink:
Normally, the pizza is the main attraction with classic picks like the meat lovers, or choose your favorite toppings by ordering Torino's white pizza. Other options are wings, pasta, and sandwiches, all designed to be conveniently enjoyed while watching sporting events.
Drinks on the menu may seem limited, but I suggest asking the bartender for more alcoholic mixes available at the counter.
Price range: $$
Food style: Sports Bars, Pizza
Location: 3303 North Midkiff Rd #110, Midland, TX 79705
Website: https://torinospizzabar.com/
Phone: (432) 218-6943
A renowned name across the country, Bubba is a safe bet to enjoy American fare and take a sip from your favorite drinks. It's also an excellent dig for watching sports with your mates and having a blast with unlimited music.
Why you should come to this bar:
Let your tastebuds run free at Bubba's 33 with an array of made-from-scratch dishes. Thanks to the background music, the venue also fits the bill for a date night and having fun in the vibrant space of Bubba's 33.
What to eat/drink:
Burgers and pizzas are a no-brainer choice at the venue for their numerous twists, each having a generous amount of fillings or toppings. In addition, ice-cold beers are a brilliant choice to wash down your order quickly.
Alternatively, you can grab the signature margarita at Bubba's 33. My favorite is the exotic marg, featuring a beautiful blue hue from the blue curacao with two tequila varieties and a touch of sourness.
Price range: $$
Food style: Bars, American
Location: 3315 West Loop 250 N, Midland, TX 79705
Website: https://www.bubbas33.com/
Phone: (432) 694-2333
Parties At These Midland's Bar Will Never Let You Down
There's always a bar that fits your favorite niche in Midland. Therefore, you only need to research carefully before heading out for the night of your life. Have fun, and let these bars impress you with their fabulous items.
Remember to drop your comment below so I can learn your thoughts about these locations. Share this article with people you know so they can have a great plan for an energetic night with drinks and beverages.