It is a no-brainer to find the best bar in Irving, Texas. This bustling city boasts multiple amazing locations for nightlife fun. Whether you're into upscale cocktail lounges, laid-back sports bars, trendy craft breweries, or places with good food and drink, Irving can rarely disappoint.
Las Colinas is the most likely place to find entertaining bars in this city, especially the beating heart of its entertainment venues – Toyota Music Factory. But if you want to relax somewhere else outside this busy area, this post can help with that.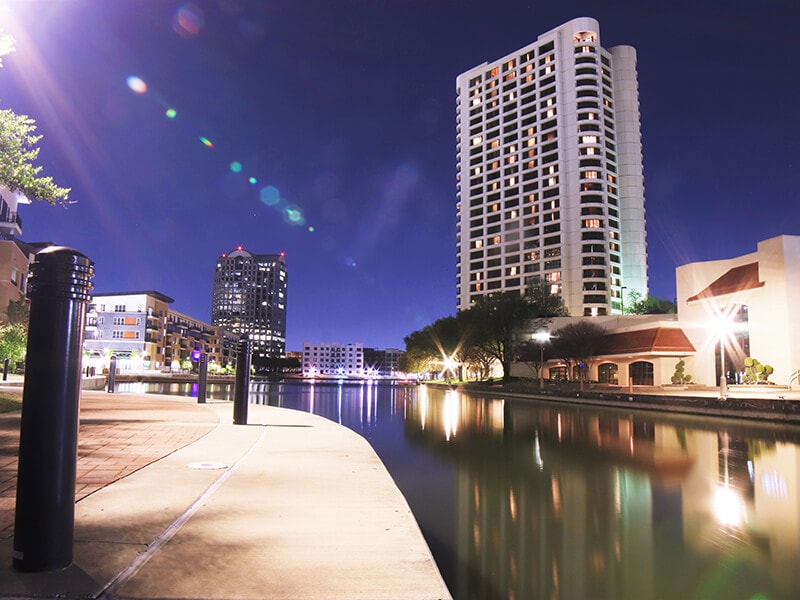 From Craft Beer to Cocktails: Discovering Irving's Best Bars
From classic American gastropubs to amusing Mexican bars, there are many places to have fun in Irving. Let's look at this outline for more information.
The Spirit Grille
Bar Louie – Music Factory
Gipsy Lime Taco Lounge
Thirsty Lion Gastropub – Irving
Twin Peaks – Irving
Reservoir at Toyota Music Factory
Cork & Pig Tavern – Las Colinas
Peak Restaurant & Bar
Yard House – Las Colinas
Our Glass Restaurant & Bar
Lamberti's Ristorante & Wine Bar
Whiskey Cake – Las Colinas
Check Out This Guide For The Most Exciting Bars In Irving
Some of the following bars are great for chilling with your partner and even kids, while others are more suitable for solo forays or coming with discreet buddies. Why? Well, you're about to find out.
This lively sports bar is a popular spot for locals to hang out. It offers many types of bar games and classic pub fare.
Why choose this bar:
Bars aren't just for adults! The Spirit Grille features many great family-friendly activities that you shouldn't miss. Trivia nights start at 7 PM every Thursday, while you can sing karaoke past midnight on Friday and Saturday.
The bar has a pleasant vibe, which will get even more exciting between 2 PM and 7 PM from Monday to Friday when happy hour happens. It is also a fantastic place to have lunch and dinner, not to mention delicious bites to enjoy with your drinks.
What to order:
When the happy hour is in place, you can enjoy a host of draft beers, wines, and well drinks at competitive prices. Feel free to try anything on the menu. As for accompanying dishes, chicken fried steak and spicy buffalo shrimp are the two most well-liked options.
Price range: $$
Food style: Sports Bar, American
Location: 4030 N MacArthur Blvd #112, Irving, TX 75038
Website: http://www.spiritgrille.com/
Phone: +19727177575
Established in 1991, the famous American bar and restaurant chain Bar Louie has nearly 70 locations in the country.
Why choose this bar:
This Bar Louie location has plenty of space for fun lovers to indulge themselves. The gas fire pit is a nice touch to the upbeat atmosphere. The bar is open until 2 AM daily, and the kitchen still operates until that time to keep you well-fed for fun.
While the beverages at this Bar Louie location may seem a little high (it's in the Music Factory, after all), you can easily accommodate your budget by coming here between 3 PM and 7 PM on weekdays.
The tempting Happy Hour deal will reduce the prices of all bar bites by 50% and make many items on the drink menu more affordable. You will find your craft drafts, cocktails, martinis, wines, and the likes more wonderful.
What to order:
The spiked sangrias are excellent choices to ease your thirst, either the strawberry lemonade sangria or the pineapple express variety. The DIVA martini (with Skyy pineapple, parma liqueur, pomegranates, etc.) is another nice choice.
Price range: $$
Food style: Bar, American
Location: 360 W Las Colinas Blvd., Irving, TX 75039
Website: https://www.barlouie.com/
Phone: +14694721050
Gipsy Lime Taco Lounge is famous for serving all-day breakfast tacos, gourmet burritos, and many types of heady cocktails.
Why choose this bar:
Walk through the beautifully decorated dining room, and you will reach the chic bar of Gipsy Lime Taco Lounge. There are many HD TVs on the wall to delight you with thrilling games, and the menu is overflowing with attractive cocktails, margaritas, and craft beers.
I really mean it when I say "attractive". The team behind this trendy Mexican sports bar pulls out all the stops to make their beverages Instagram-worthy. You will find an eye-catching mix of colors and aesthetic garnishes in every item.
Daily happy hour begins at 4 PM and ends at 8 PM, a great time to order those works of art at bargain prices. Even better, Friday nights boast live music and performances.
What to order:
My top picks are Palm Tree (Effen cucumber vodka, rum, lime juice, and simple syrup), Asian Paloma (Japanese whiskey, soda water, and grapefruit), and Texas mule (Texas whiskey, ginger beer, and lime juice).
In case you are hungry, delicious tacos like Texas Ranger tacos (filled with steak and bacon) or Caledonian Boar tacos (stuffed with slow-braised pork) will greatly satisfy your cravings.
Price range: $$
Food style: Mexican, Sports bar
Location: 8701 Cypress Waters Blvd #100, Irving, TX 75063
Website: https://gipsylime.com/
Phone: +12144960150
Founded in 2006 in Portland, Texas, Thirsty Lion Gastropub has established a solid presence in four US states. It serves made-from-scratch food, craft beers, and cocktails, plus over 25 wine varieties.
Why choose this bar:
With lively but not too loud music in the background, Thirsty Lion Gastropub makes a suitable place to unwind after a long day without torturing your raw nerves. The space is always spotless and has an urban look thanks to chic-industrial decor.
But perhaps the highlight is on the wall: a large number of flat-screen TVs playing sports or old music videos from the previous millennium (the 1980s – 1990s, to be more exact). That vintage detail contrasts nicely with the modern feel of the place.
The quality of beverages will certainly satisfy you, and since this place is a gastropub, the same goes for its food. Its happy hour occurs from 3 PM to 6 PM every day. Besides the bar, you can sit near the open kitchen or the sun-drenched patio.
What to order:
While Thirsty Lion Gastropub boasts a considerable drink menu with craft beer, featured wines, cocktails, and more, I recommend going with the happy hour menu. Moscow mules, classic mojitos, or Thirsty Lion margaritas are a few refreshing cocktails to explore.
In terms of food, must-try dishes include artichoke spinach dips, garlic sesame edamame, and ahi poke stack (marinated raw mahi tuna served with avocados, wonton chips, and spicy aioli).
Price range: $$
Food style: Gastropub, American
Location: 350 W Las Colinas Blvd., Irving, TX 75039
Website: https://www.thirstyliongastropub.com/
Phone: +12144960400
Have you ever heard of this exciting Texas-based chain of sports bars and restaurants? While it is famous (or infamous) for its attractive servers, Twin Peaks also delivers superb American eats and beers.
Why choose this bar:
Come to Twin Peaks at your own risk! This popular sports bar employs attractive waitresses dressed in revealing clothes, a sight that will captivate anyone with an eye for beauty! Treat them with respect, and they will make your time memorable with their wits and positive energy.
But the girls aren't the only thing drawing people to Twin Peaks. Its mountain lodge setting with hunting motifs will give you a break from mundane life, a place where you can enjoy the house-made beer on tap and a large selection of whiskey, bourbon, brandy, and spirits.
Twin Peaks' happy hour is quite extensive: 2 PM – 7 PM and 10 PM – 11 PM on weekdays. It is a great time to take advantage of discounts on liquors, wine, drafts, and appetizers.
What to order:
Twin Peaks Barrel Aged Knotty Brunette (American brown ale), Twin Peaks Drop Dead Redhead (American IPA), and Twin Peaks Light (light lager) are exciting cold brews to try. When it comes to cocktails, you can have a sip of Irish Coffee or Tito's Bloody Mary.
Price range: $$
Food style: Sports bar, American
Location: 1500 Market Pl Blvd, Irving, TX 75063
Website: https://twinpeaksrestaurant.com/
Phone: +14694209216
After attending a concert in the Music Factory, you can stop by this charming bar to relax and get an energy boost. It runs until 2 AM every day, with a Late Night Grub menu to match.
Why choose this bar:
Reservoir at Toyota Music Factory allows children in. It has 38 flat-screen TVs showing engaging games and programs. But the main appeal is the expansive heated patio area overlooking the Music Factory's outdoor turf pavilion. The view is stunning, especially at Christmas.
The other attractions are not very kid-friendly, like the two full-service bars with many types of draft beers and cocktails. The weekly Beer Pong happens at 10 PM every Sunday, while the rest of the week has live DJ performances at night.
Did I forget something? Oh yes, the happy hour specials are available from 3 PM – 7 PM on the weekdays. To improve your beverages with flavorful food, you can't go wrong with the Captain's Tenders (chicken tenders with spicy sauce and garlic parmesan fries).
What to order:
The fabulous White Wine Sangria (made with the Deep Eddy Peach Vodka) and Res Rita (a combo of tequila, natural orange liqueur, fresh lime juice, and sweet n' sour) are my top recommendations.
Price range: $$
Food style: Bar, American
Location: 330 W Las Colinas Blvd., Irving, TX 75039
Website: https://reservoirmusicfactory.com/
Phone: +14693517112
Cork & Pig Tavern is a small chain of stylish gastropubs serving chef-driven dishes, plus a big list of beers, full-bodied wines, and cocktails. It has 6 locations, counting the one in Las Colinas.
Why choose this bar:
Many patrons visiting Cork & Pig Tavern praise the unrivaled excellence of its brunch and American fare, from salads and wood-fired pizzas to artisan sandwiches and small plates. But its bar area, with over 30 wines and crafted cocktails, also deserves the spotlight.
While the prices at this charming spot can be a little costly, you will find your money very well-spent after stepping into the bright dining room full of country vibes and natural light coming through the big windows.
The attentive service and attractive happy hour deals occurring from 2 PM to 5 PM daily (except for weekends) will complete your blissful experience.
What to order:
Retro Old Fashioned, Molly Ringwald Cosmo (with berry-infused Nue vodka), and The Buzz (with Western Son gin, lemon juice, lavender bitters, etc.) are the best varieties for specialty cocktails.
You can also try beer on tap, such as Community Beer Co. (American lager). For an after-dinner drink, Cold Brew Martini (with coffee liquor and creme de cacao) will do nicely.
All those beverage choices can accompany the place's signature appetizers, like deviled eggs and pork chops.
Price range: $$
Food style: Gastropub, American
Location: 5224 N O'Connor Blvd, Irving, TX 75039
Website: https://www.corkandpig.com/
Phone: +19723647412
Why choose this bar:
On a scale of 1 to 10 for a cool sports bar, how does Peak Restaurant & Bar perform? Let's take a close look. Lots of space for having unbridled fun, check. Big-screen TVs for watching your favorite games, check. Live music events on weekends with famous DJs, check.
Lively vibes with dim lights and many interesting activities continuing late until the night, like 2 AM, check. And a large menu of Texas beer (both bottled and on tap) and craft cocktails, check. In terms of happy hour, the 4 PM – 7 PM period from Tuesday to Friday is the right time.
What to order:
The best-loved cocktail specials consist of Peak Margarita (tequila, triple sec, pineapple juice, and lime juice), Himalayan Mule (ginger beer, whiskey, apple juice, etc.), or Mountain Lion (whiskey, amaretto, and Angostura bitter).
You can also try craft beers, draft beers on tap (Bluemoon or Shiner Bock), and red/ white wines from California or Italy.
Price range: $$
Food style: Indian, Nepali, Bar
Location: 3401 W Airport Fwy #110, Irving, TX 75062
Website: https://peakirving.com/
Phone: +14696475500
A laid-back sports bar is awesome enough, but what about upping your game with an upscale venue? It's time to improve your experience with Yard House, a chain of high-end sports bars with yummy bar fare and numerous beer taps.
Why choose this bar:
Like other bars in the Toyota Music Factory, this Yard House location can get very busy before and after a concert. But it's got enough charms to keep you around and coming back many more times.
In an atmosphere alive with the chatter and laughter of patrons enjoying themselves, you can catch the timeless tunes of classic rock music from the 10,000-something-song playlist. The attentive service and ornate room decor, adorned with original artwork, are other pleasing things.
But the most fantastic sight is probably the glass-enclosed keg room with over 100 drafts on tap (and counting), not to mention countless imported beers, wines, craft cocktails, and more. Plus, the internationally-inspired American menu with more than 100 items is the cherry on top.
As far as happy hour is concerned, standard discounts are available from 3 PM to 6 PM on weekdays, while late-night ones take place from 9:30 PM to 11 PM from Sunday to Wednesday.
What to order:
Beer isn't the only thing to flow freely at this place. Dragon fruit cosmo martinis, salted watermelon margaritas, Hawaiian mules, and midnight sangrias are my top picks to sate the thirst for good drinks.
Hungry for finger-licking bites? Try vampire tacos (cheese-crusted tortilla, carnitas, roasted garlic, salsa, etc.) and poke nachos (marinated raw ahi tuna, wonton chips, sweet soy ginger sauce, and herbs); they won't let you down.
Price range: $$
Food style: Sports bar, American
Location: 320 W Las Colinas Blvd., Irving, TX 75039
Website: https://www.yardhouse.com/
Phone: +12144960151
Besides giving you some of Irving's most exhilarating nightlife activities, this low-key bar is also a highly-rated spot for lunch and dinner.
Why choose this bar:
Formerly a buffet restaurant, Our Glass Restaurant & Bar is now a spacious bar with lengthy happy hour from 2 PM to 7 PM, both on weekdays and weekends. It has separate sections for smokers and non-smokers: make sure that you enter the suitable one.
Once you're inside, plenty of appealing activities will unfold. Karaoke, poker games, pool games, trivia, shuffleboard, dancing – you name it, and Our Glass Restaurant & Bar will make your dream come true.
What to order:
You will find classic bar grub in this place, including globally popular dishes changed to suit the alcoholic beverages better. The most sought-after things are sushi, Asian-inspired buns with smoked briskets or shrimp fillings, and Vietnamese Pho (consisting of beef, chicken, or seafood).
Price range: $$
Food style: Sports bar
Location: 530 W Lyndon B Johnson Fwy, Irving, TX 75063
Website: https://www.facebook.com/
Phone: +19728309877
Besides offering irresistible Italian eats, this casual restaurant, which was established in 2017, boasts a considerable wine bar.
Why choose this restaurant:
While this classy venue has "wine bar" in its name, it also provides various beer types, like craft beers, craft beers, and imported bottles. Cocktails, liquors, and cordials are also available. But fine wines, both by the bottle and by the glass, are the true allure.
In an elegant setting overflowing with European elegance, you can easily order a full-flavored drink from the extensive menu of red and white wines. Some hail from America's top wine regions in California, while others come straight from premier European wineries.
Like any good wine bar worth its salt, Lamberti's has many savvy waiters and waitresses happy to give you superb pairing advice. Happy hour runs from 3 PM to 6 PM daily, an excellent time to browse the huge selection.
But it isn't the best time to visit Lamberti's yet. Look at its website, and you will know when the deal for wine by the bottle at half price occurs. It usually falls on Saturday and Sunday and is available all day!
What to order:
Chardonnay from Burgundy/ Abruzzo, Terlato from Friuli-Venezia Giulia, Cabernet Sauvignon from Piemonte, or Emmolo Merlot from Napa (California) are a few quality wines to try. You can also call for an Italian mule (vodka, Aerna amaro, ginger beer, etc.) or cappuccino martini.
Price range: $$ – $$$
Food style: Italian, Wine bar
Location: 7701 N MacArthur Blvd, Irving, TX 75063
Website: https://lambertiristorante.com/
Phone: +19725063000
Whiskey Cake is a casual restaurant chain focusing on made-from-scratch food. But it also offers a colossal drink menu with various kinds of alcoholic beverages.
Why choose this restaurant:
Fun lovers will love the steampunk style of this place, with its exposed brick walls and warehouse-high ceilings. That provides a pleasant atmosphere to browse through its spectacular selection of whiskey: American whiskey, scotch, rye, bourbon, and more.
Don't forget to check out the whiskey flights, which allow you to taste 4 kinds of whiskey. You can also create your own flights as well. Besides whiskey, this place also provides beer flights, wines, and cocktails.
While the lengthy social hour deal, which occurs from 3 PM – 6 PM and 9 PM – 11 PM, doesn't cover whiskey, you can demand several bar bites, beer, cocktails, and wines at bargain prices during it.
What to order:
What do you think about Bourbon flights (with Buffalo Trace, Old Forester, 1792 Small Batch, and Woodford Reserve)?
Or Rye Whiskey Flights (High West Double Rye, Rittenhouse Rye, Sazerac Rye, Bulleit Rye), and the Sazerac cocktail (with Sazerac Rye 6, simple syrup, and bitters)? These drinks are amazing!
Price range: $$ – $$$
Food style: American
Location: 3225 Regent Blvd, Irving, TX 75063
Website: https://whiskeycake.com/
Phone: +14699412253
Drink Up And Have A Toast To Irving In Those Excellent Bars
Irving's bar scene is teeming with possibilities, from family-friendly destinations with fun games for everyone to exciting spots only suitable for adults. Those places offer not only tasty drinks with robust flavors but also mouth-watering eats and captivating entertainment options.
So what are you waiting for? Save the best names to your device and use them to make your next trip to Irving an unforgettable experience. Please tell your friends about this post! And if you think that this post needs updating, feel free to list your suggestions in the comments section.