Looking for places with the best brunch in Irving, Texas, is more enjoyable than you think. While bottomless mimosas are a thing of the past in Texas, it doesn't mean that your brunch will be boring in the Lone Star state, or Irving, for that matter.
My post will show you the most wonderful places to have brunch in Irving. Some are proper breakfast and brunch restaurants, while others only offer brunch on the weekends. But they make up for the limited availability with many special menu items.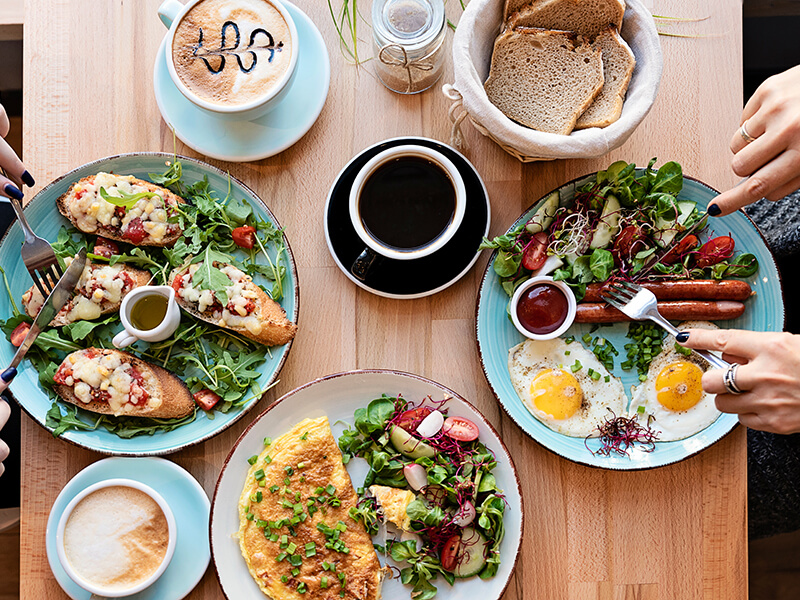 Where To Enjoy Brunch In Irving: A Concise Answer
With this list, it will take no more than a minute or two to discover the most promising brunch spots in Irving.
Le Peep – Las Colinas
Jam + Toast
La Madeleine – Irving
Original ChopShop – Irving
PJ's Cafe
Mama's Daughters' Diner – Irving
Whiskey Cake – Las Colinas
The Ranch At Las Colinas
Gloria's Latin Cuisine
Cork & Pig Tavern Las Colinas
Lamberti's Ristorante & Wine Bar
Thirsty Lion Gastropub – Irving
Siena Cafe
Gipsy Lime Taco Lounge
LAW Restaurant
Via Reál
Fuel Up For The Day Ahead With These Wonderful Restaurants in Irving
Do you like to enjoy brunch in a casual restaurant? Or are you more eager to try a fine dining experience? What about a buffet? My suggestions will cover them all.
Founded in Colorado, this famous restaurant chain has decades of delivering delicious breakfast, brunch, and lunch to health-conscious eaters.
Why choose this restaurant:
Upon entering Le Peep, you will be welcomed by smiling staff members and led to sit in the charmingly decorated dining room or the beautiful outdoor patio. This place serves daily breakfast and brunch, with made-from-scratch items consisting of the freshest ingredients.
What to eat:
Le Peep's special dishes include Gooey Buns (English muffins broiled with brown sugar and cream cheese), signature eggs benedicts, and rock lobster scramble (scrambled eggs with brie cheese, spices, and lobster seafood blend).
There are also more versatile varieties on the menu, like the Pancake of the Month and Create Your Own Omelet options (you can choose from many types of cheese, meats, and veggies).
Price range: $$ – $$$
Food style: Breakfast and brunch, American
Location: 4835 N O'Connor Rd, Irving, TX 75062
Website: https://lepeep.com/
Phone: +19727170422
2. Jam + Toast
This family-owned business has two locations in Irving and one in Frisco, Texas. It is dedicated to breakfast and brunch, but its lunch is just as irresistible.
Why choose this restaurant:
Hidden in Stampede Crossing and Las Colinas Village are two excellent Jam + Toast. Both are small but packed full of all the morning staples you can wish for, from pancakes to omelets. Their fare is of premium quality and is served in a very clean, friendly, and relaxing environment.
What to eat:
Jam + Toast' skillets are a true delight, whether you go for Triple Crown Skillet (three succulent types of morning meats mixed with cheese), Tex-Mex Skillet (chorizo sausage, jalapenos, salsa, etc.), or Garden Veggie Skillet (suitable for vegetarians).
Fluffy pancakes served with various sweet toppings (like berries, chocolate chips, or Oreo S'mores) and chicken fried steak in creamy gravy are also to die for. Whatever you order, ending your meal with freshly-squeezed orange juice is the right action.
Price range: $$ – $$$
Food style: Breakfast and brunch
Location 1:
Address: 3351 Regent Blvd #140, Irving, TX 75063
Website: https://sites.google.com/
Phone: +14695658622
Location 2:
Address: 975 W John Carpenter Fwy, Irving, TX 75039
Website: https://sites.google.com/
Phone: +14693725512
Founded in 1983, this Dallas-based chain of café-bakery hybrids has long provided lovers of French cuisine with top-notch dishes, baked goods, and coffee.
Why choose this restaurant:
How can La Madeleine locals enjoy the charms of the French countryside without going to France? The answer is simply to walk through the door of the quaint La Madeleine café.
This place oozes out plenty of rustic vibes, thanks to the tranquil decor, classical music in the air, a gorgeous fireplace in the center, and irresistible aromas of freshly-baked baguettes and pastries.
Open from dusk till dawn, La Madeleine offers all-day breakfast and, to some extent, brunch. There are plenty of yummy dishes carrying the finesse of authentic French cuisine. Their prices may not be the most affordable, but you won't regret coming here.
What to eat:
My top suggestions are breakfast croissant sandwiches (with scrambled eggs, breakfast meat, cheddar, and butter croissant), veggie egg white omelets, and potato galettes (including parmesan and green onions).
The signature tomato basil soup on the other menus is also worth trying. Next, you can browse through the menu of stimulating coffee-based drinks, like chai tea latte, café americano, or freshly brewed French roast.
Price range: $$ – $$$
Food style: Café, Bakery, Breakfast and brunch, French
Location: 6430 N MacArthur Blvd, Irving, TX 75039
Website: https://lamadeleine.com/
Phone: +14693851700
You can run into many locations of this regionally renowned restaurant chain in Arizona and Texas. It provides healthy dishes for breakfast, lunch, and dinner.
Why choose this restaurant:
Can restaurant fare be rich in both protein and veggies while still having an enticing taste? The answer is a resounding yes, at least as far as Original ChopShop is concerned. Its menu can accommodate many types of diets: vegan, soy-free, gluten-free, and so on.
From salads and superfruit bowls to protein bowls and salads, this casual restaurant is full of possibilities to make your meal both tasty and wholesome. The warm atmosphere and positive energy radiating from its professional staff is another big plus.
While Original ChopShop is open for all meals of the day, breakfast and brunch is usually the most significant highlight. On a side note, you can join the reward programs by downloading the Original ChopShop app, using it to order deliveries, and accumulating points for rewards.
What to eat:
Sunrise wraps and ABC toast are my favorite choices to start a day or for brunch. The former consists of egg whites, sweet potatoes, white cheddar, tomatoes, etc., while the latter is a delicious combo of white bread, eggs, smashed avocado, bacon, and veggies.
Regarding drinks and treats, you can go for Cold Buster (orange- and carrot-based drink), acai bowl, and Beach Burn (fruity protein shake).
Price range: $$ – $$$
Food style: Breakfast and brunch, American
Location: 7300 N MacArthur Blvd #140, Irving, TX 75063
Website: https://originalchopshop.com/
Phone: +19726358440
This low-key café restaurant boasts many types of popular all-day breakfast/ brunch grub to fuel up your day.
Why choose this restaurant:
Take a look at the handwritten daily specials on the chalkboard outside before you enter this homely restaurant; perhaps you will have amazing choices for brunch.
Though having a change of ownership, PJ's Cafe still offers a warm, family-friendly atmosphere and tasty American classics.
What to eat:
Everything has fair prices here, such as deep-fried catfish filets with hush puppies, chicken fried steak with eggs and biscuits, or breakfast tacos with refried beans and your choice of meat. Freshly baked pies with chocolate or coconut cream are great desserts.
Price range: $$ – $$$
Food style: Café, Breakfast and brunch, American
Location: 2301 N O'Connor Rd, Irving, TX 75062
Website: https://www.facebook.com/
Phone: +19722558400
Hungry for flavorful foul food? This family-run restaurant chain will help you appease your cravings! As proof of its excellence, this place has various locations in Texas.
Why choose this restaurant:
Though Mama's Daughters' Diner is a popular name in terms of the best places for lunch and dinner, its all-day breakfast and brunch are the star. With more than 60 years in business, it surely knows to please its patrons with home-cooked meal-grade menu items.
The place has the same cozy feel as an old-fashioned diner, but it also comes with little quotes and sayings on the walls to make a difference. There are special daily dishes served with signature rolls and cornbread. This eatery is also a kid-friendly venue: children can eat free on Tuesday.
What to eat:
Mama's combo of eggs with hash browns/ grits/ biscuits and gravy is heaven on earth. You can mix it with chicken fried steak/ sirloin for a Texas meal or bacon and sausage ham for more variety. Omelets with cheese and veggies or various types of waffles are also worth a try.
Price range: $$ – $$$
Food style: Soul food
Location: 2412 W Shady Grove Rd, Irving, TX 75060
Website: https://mamasdaughtersdiner.com/
Phone: +19727902778
Weekend brunch is incredibly scrumptious at Whiskey Cake, as this chain of casual restaurants only uses seasonal ingredients to create its dishes.
Why choose this restaurant:
This eccentric eater has a neo-steampunk look with its exposed brick and beams, yellow-filament bulbs, warehouse-high ceilings, and other industrial decor details.
Going hand in hand with that design is the use of exclusively live-wood grills, smokers, and spits, a slow-cooking method probably going back centuries. Meanwhile, its farm-to-fork concept employing only fresh veggies and meat is perhaps as old as healthy eating itself.
Another exciting feature of Whiskey Cake is, of course, whiskey. The well-stocked bar provides many premier varieties of it, as well as countless types of beer (both on tap and bottled), wines, cocktails, and so on.
What to eat:
My top brunch recommendations are the Farmer's Breakfast (with eggs, candied bacon, herb potatoes, biscuits, etc.), chicken tenders and malted waffles, and Croque Madame-It (toasted sourdough, sunny-side-up eggs, smoked bacon, fried green tomatoes, fontina cheese, etc.)
In terms of small bites and desserts, you can't skip chili BBQ-glazed duck wings and whiskey cakes (served with spiced pecans and whipped cream). The last one is the restaurant's namesake, after all.
Price range: $$ – $$$
Food style: American
Location: 3225 Regent Blvd, Irving, TX 75063
Website: https://whiskeycake.com/
Phone: +14699412253
Nothing screams Texas as a ranch, so a ranch-themed restaurant like this one will make an excellent stop in the Lone Star state. It's also a world-famous venue for lunch, dinner, and weekend brunch.
Why choose this restaurant:
Since 2008, The Ranch At Las Colinas has graced Irving's food scene with its inspiring presence. Foodies from everywhere flock to it to enjoy its made-from-scratch dishes based on locally sourced ingredients and lively bar area with many top-tier drinks to wash them down.
The decor inspired by the rich Texas tradition is another powerful appeal, with many pleasant vibes as warm as the manner of the attentive waitresses. The atmosphere blends upscale vibes with casual comfort, making it suitable for everyone.
While they are unlikely to happen at brunch (from 11 AM to 2 AM on weekends), there are also regular live music performances from Tuesday to Saturday. Perhaps you will want to become a full-time member of this exhilarating venue after having brunch here.
What to eat:
While a little pricey, all the items at The Ranch At Las Colinas have very memorable flavors. The top crowd-pleasers are chicken fried steak (which can be replaced with Texas wagyu beef) served with rich gravy, spiced potatoes, and sautéed green beans.
But grilled chipotle meatloaf (with smoked tomato poblano salsa and green beans), Texas pecan brown butter pancakes with whipped cream, and shrimp and grits are not inferior at all.
Price range: $$ – $$$
Food style:
Location: 857 W John Carpenter Fwy, Irving, TX 75039
Website: https://www.theranchlc.com/
Phone: +19725067262
From an eatery specializing in Salvadoran cuisine, this prominent hospitality brand with more than 20 locations now offers everything you want for a Latin American experience.
Why choose this restaurant:
Established in 1986 in Dallas, Gloria's Latin Cuisine has come to Irving to deliver yummy Salvadoran and Tex-Mex eats to locals. You can find it at Toyota Music Factory, the massive entertainment hub in Las Colinas.
An upbeat atmosphere alive with the sound of Latin music, made more dynamic by beaming staff members, will put you at ease while you wait for your order. Its brunch is available between 11 AM and 3 PM on Saturday and Monday, drawing savvy foodies from far away.
What to eat:
Let me give you the best names on the brunch menu: Valeria's Breakfast Tacos (stuffed with scrambled eggs, black beans, queso fresco, plus fruits on the side), tres leches waffles with berries, and huevos con brisket (scrambled eggs, brisket, and beans).
Don't forget to accompany your hearty food with tasty brunch drinks, like orange juice, prosecco at half price, and horchata (white rice-based drink with spices) with one free refill.
Price range: $$
Food style: Salvadoran, Tex-Mex
Location: 320 W Las Colinas Blvd., Irving, TX 75039
Website: https://gloriascuisine.com/
Phone: +14692422641
With 6 locations in Texas, Cork & Pig Tavern Las Colinas offers locals many choices to have fun and good food. It is open for brunch from 10 AM to 3 PM on the weekends.
Why choose this restaurant:
If you don't hesitate to spend more on brunch for a more captivating experience, this gastropub chain serving refined American fare will be your next favorite spot. The charming dining room with rustic decor and a great sense of tranquility will instantly soothe your mind.
Next comes the large selection of many classic dishes dressed in a fancier form. Simple appetizers, salads, sandwiches, or pizzas now take on an eye-catching look that urges you to sink your teeth into them and absorb their goodness right away.
Want to increase the allure of your brunch, lunch, or dinner? Choose from 30 wines and crafted cocktails, and you're golden.
What to eat:
While some of Cork & Pig Tavern's iconic dishes aren't available for brunch, you can indulge yourself with The Fix (ciabatta toast with scrambled eggs, sausage, and roasted potatoes), CPT omelets enriched with spinach and mushrooms, and crab cake benedicts.
Price range: $$
Food style: Gastropub, American
Location: 5224 N O'Connor Blvd, Irving, TX 75039
Website: https://www.corkandpig.com/
Phone: +19723647412
Though only founded in 2017, this casual Italian restaurant has a much richer history, thanks to the experienced team behind it. Its Saturday and Sunday brunch is available between 11 AM and 3 PM.
Why choose this restaurant:
The classy vibes and warm atmosphere at Lamberti's Ristorante & Wine Bar are highly suitable for both corporate events and intimate gatherings, like a family meal, wedding anniversary, and, of course, a fun weekend brunch get-together.
But it will be a big mistake to downplay the importance of its wine bar. The knowledgeable waiters and waitresses can give you helpful tips on what to pair with your food.
Besides daily happy hour, weekends can sometimes come with half-price wine by the bottle, making lunch even more attractive. You should keep track of notices on their website for more information.
What to eat:
My top recommendations are brunch pizzas (with spicy Italian sausage, pancetta, eggs, etc.), Italian eggs benedicts (English muffins with poached eggs, ham, and house-made Alfredo sauce), and bread pudding French toast. You should also order wines at bargain prices if possible.
Price range: $$ – $$$
Food style: Italian, Wine bar
Location: 7701 N MacArthur Blvd, Irving, TX 75063
Website: https://lambertiristorante.com/
Phone: +19725063000
This Portland-based chain of gastropubs has been a constant source of fantastic American dishes and craft-made beverages since 2006. Its top-tier brunch is available from 10 AM to 2 PM on Saturday and Sunday.
Why choose this restaurant:
You will love the phenomenal atmosphere at Thirsty Lion Gastropub whether you come here for nightlife fun or an outstanding meal by day. Its chic and modern decor, improved with upbeat music of the right volume, mixes wonderfully with the open kitchen concept.
While you sit down and wait to dig into the yummy eats, feel free to watch nostalgia-evoking music videos on the many flat-screen TVs. They date back to the 1980s or so and bring a nice ambiance.
What to eat:
I often go for the Gastropub Breakfast, which consists of bianca toast, cooked-to-order eggs, and spicy sausage. If you prefer something with more freshness, you won't go wrong with the avocado toast or Lion's breakfast burger (ciabatta bread, smoked ham, and veggies).
In case you want to get tipsy, the sizable list of breakfast cocktails is your guy. From passion fruit mimosa to bacon Bloody Mary and aperol spritz, make your pick!
Price range: $$
Food style: Gastropub, American
Location: 350 W Las Colinas Blvd., Irving, TX 75039
Website: https://www.thirstyliongastropub.com/
Phone: +12144960400
Whether you love all-day breakfast/ brunch or speedy lunch, this unassuming restaurant has it covered.
Why choose this restaurant:
When the weather is gorgeous, you can sit on the lovely outdoor patio, though the modern dining room with a vintage flair to it will also give you a good time.
The friendly waitresses will keep your wait time short. Since this place is BYOB-friendly, feel free to bring your favorite beverage.
What to eat:
Siena's benedicts with English muffins, poached eggs, veggies, and hollandaise sauce are a safe choice for brunch.
You can also ask for the signature breakfast sandwich (with rye toast, eggs, bacon, cheddar cheese, and veggies) or the classic combo of chicken fried steak and waffles.
Price range: $$ – $$$
Food style: Breakfast and brunch
Location: 8704 Cypress Waters Blvd Suite 190, Irving, TX 75063
Website: https://sienacafe.net/
Phone: +19724621726
At this Mexican lounge, you can find multiple tempting types of fancy tacos, burritos, small plates, and cocktails. Its all-day breakfast tacos are excellent for breakfast and brunch alike.
Why choose this restaurant:
Gipsy Lime Taco Lounge will give both your eyes and taste buds a feast to remember. Whether it is food or drink, your item surely includes many attractive colors to stimulate your senses.
Take a bite, and you will discover how that kaleidoscope of hues translates to a melange of flavors, infusing your fare with mouth-watering goodness. The classy decor of the dining room with many flat-screen TVs for watching sports is an added bonus.
What to eat:
In terms of brunch, the flour tortilla-based tacos won't let you down. Mixed with shredded cheese and salsa on the side, they can have eggs and your favorite toppings, such as barbacoa, ham, or cheese.
Price range: $$
Food style: Mexican, Sports bar
Location: 8701 Cypress Waters Blvd #100, Irving, TX 75063
Website: https://gipsylime.com/
Phone: +12144960150
A brunch buffet, why not? Nestled in The Las Colinas Resort, LAW Restaurant manages to attract both staying guests and foodies from outside. It is open for breakfast, lunch, dinner, and Sunday brunch.
Why choose this restaurant:
LAW stands for "Land, Air, and Water". Given that this restaurant uses fresh and natural ingredients to create deeply Texas food, a name invoking natural elements like it sounds very fitting.
Its strongest suit is the Sunday brunch buffet from 11 AM to 2:30 PM. You can find many morning staples, plus seasonal desserts, during the meal. It can have additional brunch buffets for special occasions, like Mother's Day or Thanksgiving.
What to eat:
The menu items for the brunch buffet can change from time to time. The most readily available dishes are scrambled eggs, sushi rolls (California rolls, tuna, veggie-based, etc.), acai bowls, hot breakfast meats (like pork sausage and turkey bacon), and more.
Price range: $$
Food style: Breakfast and brunch, Southern
Location: 4150 N MacArthur Blvd, Irving, TX 75038
Website: https://www.lawrestaurant.com/
Phone: +19727172420
This high-end restaurant has delivered top-notch Tex-Mex and Southwestern delights since 1985. Its Sunday brunch buffet is a festive event not to be missed.
Why choose this restaurant:
Dining venues in the heart of Las Colinas often employ unique decor evocative of their Texas heritage, and Via Reál is no exception.
It is a marriage of many pleasing features to elevate your experience, like the vast dining space, exposed adobe bricks, and warm ambiance oozing Southern generosity. Do you want to have a romantic date with your special someone? The answer is here.
Did I tell you that bottomless mimosas are no longer available in Texas? Well, Via Reál proves to be the exception in this matter. From 11 AM to 2 PM every Sunday, you can enjoy this feature, plus many tempting dishes, at the brunch buffet.
Pro tip: Reservations are essential!
What to eat:
The mainstays of the Sunday brunch buffet include queso sauce-topped eggs benedicts, made-to-order waffles with your choice of toppings, beef chilaquiles, and egg burritos.
Price range: $$
Food style: Southwestern, Tex-Mex
Location: 4020 N MacArthur Blvd Ste 100, Irving, TX 75038
Website: http://viareal.com/
Phone: +19726509001
Irving's Booming Brunch Scene Is A Joy To Discover!
An ideal combination of breakfast and lunch, brunch is an excellent activity to spend quality time with your family and supply your body with sufficient energy. And Irving has many marvelous locations to help with that. From all-day brunch to fancy Sunday buffets, you can have it all.
I'd love to hear about your experience with those places, so feel free to share your story and opinion in the comments section. In case you plan to have a cozy brunch with your friends, telling them about this post will be a great first step!