Finding the best bakeries in Fredericksburg, TX, is quite challenging since this city is small and not famous for sweet treats. But I'm here to help you satisfy your sweet cravings!
All the bakeries on this list will bring you the vastest range of sweets, from cakes to pastries, cookies, donuts, and even special German treats. Each store has its own specialty, so you won't feel bored discovering them all.
So, if you are in need of some sugary dishes, visit one of these spots now!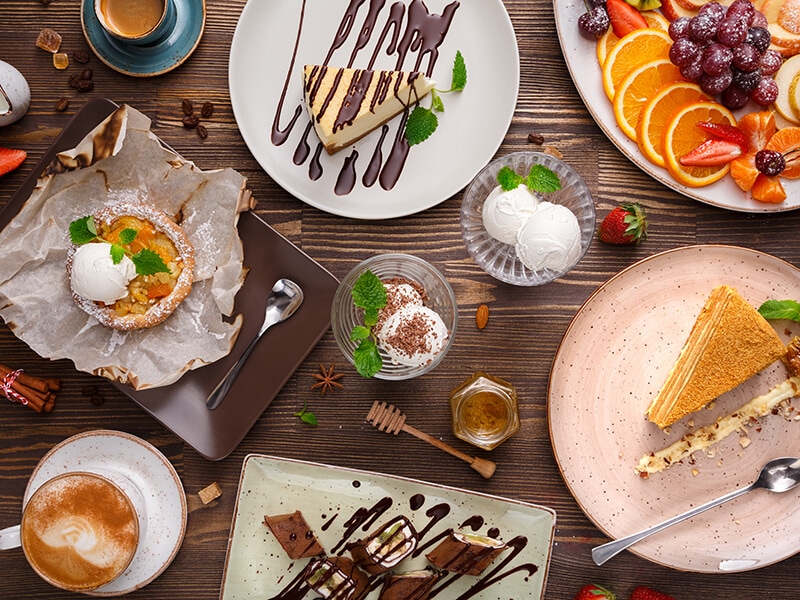 9 Bakeries For All Sweet Teeth In Fredericksburg, Tx
It's time to dive into these bakeries and learn about their strengths. Every store will meet all your demands for excellent desserts.
What's better than starting a dessert list with a pie-focused bakery? This family-owned Pie Company strives to provide customers with the tastiest pies that won't lose to their mother or grandmother's handmade.
Why you should come to this restaurant:
This bakery feels like a homey fairytale, with ceramic tableware and dried and fresh flowers everywhere. While the inside is a bit small, the pie fragrance will make you easily relax. There is a lineup of coffee machines for the customers to help themselves.
What to eat:
With 20+ different pie flavors made from scratch daily, you'll never run out of options. They are divided into 3 categories: cream, pecan, and fruit pies. Not to mention, if you can't handle sugar, call 1 day ahead to request a special pie for you.
Fruit pies with refreshing flavors like peach or orange are among the locals' favorites. Cream pies with coconut cream or meringue also receive much love due to their rich and creamy flavors. They'll go great with the rich, full-bodied coffee made from Arabica beans here.
Location: 108 E Austin St, Fredericksburg, TX 78624, United States
Website: http://www.fredericksburgtexasshopping.com/
Phone: (830) 990 6992
Opened in 2015, Twisted Sisters is only a small local bakery compared to the Pie Company above. Still, its desserts won't lose in terms of taste. There is no fixed menu, so just come and order whatever is available that day.
Why you should come to this restaurant:
Twisted Sisters has a pretty simple setting, save for several wall decorations to create a chic style. It also places some small tables outside so customers can choose to sit indoors or outdoors.
What to eat:
As mentioned above, Twisted Sister doesn't have a fixed menu every day. You can look at its bakery display and a few hanging boards to see the available treats. Among all baked goods, those receiving the most love are cinnamon rolls, cupcakes, blueberry muffins, etc.
It even offers other savory options, like breakfast tacos or bowls. So feel free to come here for breakfast or lunch.
Location: 111 S Washington St, Fredericksburg, TX 78624, United States
Website: https://www.facebook.com/
Phone: (830) 990 7999
Everyone knows Clear River is one of Texas's best ice cream shops. But it also claims to have the best peach cobbler in Texas. So, it's worth a try to come and taste its freshly baked goods coming out daily.
Why you should come to this restaurant:
Clear River is exactly your imagination of what an ice cream shop looks like. It has a huge freezer showcasing 35 flavors. And on top of this freezer are a line of glass jars with biscuits, shortbread, etc.
What to eat:
Although ice cream is Clear River's main highlight, its baked goods, like cookies, muffins, strudels, etc., are also worth trying. The famed peach cobbler is so crunchy and flavorful. Order a scoop of your favorite ice cream to accompany this treat.
Moreover, this bakery has several options for those with special diets, such as sugar-free raspberry muffins. Or the staff can change the dish according to your order.
Location: 138 E Main St, Fredericksburg, TX 78624, United States
Website: http://www.icecreamandfun.com/
Phone: (830) 997 8490
Germany doesn't have only beer and sausages; its desserts are also top-notch. And Old German will prove my words with its traditional pastries freshly baked daily. Moreover, they also offer breakfast and lunch fares here.
Why you should come to this restaurant:
True to its name, Old German follows the old-school design, with wood being the primary material for many furniture pieces, even the behind bread shelves. On one side of this bakery is a huge shelf showcasing various types of jams and coffee.
What to eat:
As the current owner was a baker in Germany for 20 years, the European pastries in Old German won't let you down. Among them, danishes and kolaches are the centers of attention thanks to their authentic flavors.
Besides the sweets on shelves, you can order several hot treats on the menu. The German pancakes are a huge hit with their massive size. Or go for the Belgium waffle with different filling options: strawberry, cherry, blueberry, or raspberry.
Location: 225 W Main St, Fredericksburg, TX 78624, United States
Website: http://www.oldgermanbakeryandrestaurant.com/
Phone: (830) 997 9084
It may not look like it, but Woerner's Warehouse is an excellent bakery with various fantastic baked goods. Apart from savory dishes, many have come here because of its signature lemon bars and massive cookies.
Why you should come to this restaurant:
As its name suggests, Woerner's Warehouse looks like a massive warehouse from afar. Welcoming you inside is a spacious dining room with wooden chairs and tables. The light strings hung around create a lovely cozy ambiance.
What to eat:
Both Woerner's breakfast and lunch menus have a separate category for baked goods. While the former only includes stuffed croissants (savory and sweet fillings), the latter offers more options, including the staff's most-loved key lime pie.
These desserts will be better with a cup of coffee at the espresso bar. It has several choices suitable for anyone: Americano, cappuccino, cold brew, etc. You can even ask the bartender to change milk to low-fat or almond milk.
Location: 305 S Lincoln St, Fredericksburg, TX 78624, United States
Website: http://www.woernerwarehouse.com/
Phone: (830) 997 2246
Different from other options on this list, this bakery only focuses on two main treats: donuts and kolaches. There are some other sweets like croissants or biscuits, but their number can't compare to these two.
Why you should come to this restaurant:
It's pretty easy to overlook Hill Country Donuts & Kolaches, as its exterior looks like simple wooden storage.
Inside, you'll find a large glass display showing different types of donuts and kolaches. There's a drink vending machine at the corner so the customers can quickly grab a drink.
What to eat:
The kolaches here come in both savory and sweet types. If you are looking for a dessert, look at the fruit category to choose among these flavors: cream cheese, poppy seeds, apricot, etc.
As for donuts, there are both classic and modern varieties here. People who like playing safe can opt for glazed, chocolate, or cake ones and donut holes. Otherwise, those with unique names like Bear Claw or Long John promise a memorable treat.
Location: 605 E Main St, Fredericksburg, TX 78624, United States
Website: https://www.facebook.com/
Phone: (830) 990 2424
Kaffee Haus is the brainchild of a mother and a daughter to bring their trademark espresso coffee to the Fredericksburg locals. Aside from coffee, you'll find other pastries made from scratch in this bakery.
Why you should come to this restaurant:
Some people may mistake Kaffe Haus for a local shop because several cases sell multiple ready-made foods, and a small island in the middle showcases clothes and other jewelry. But behind the wooden screen is a lovely private space for customers to eat and drink.
What to eat:
All pastries in Kaffee Haus are baked fresh daily, so you won't have to worry about their quality. It even has many gluten-free options, such as oatmeal cookies, lemon scones, or coconut macaroons.
And while its main focus is coffee, Kaffee Haus still offers several teas to go with your scones or croissants: chai latte, matcha latte, hibiscus tea, etc.
Location: 218 E Main St, Fredericksburg, TX 78624, United States
Website: https://www.facebook.com/
Phone: (830) 383 1055
Java Ranch is a great choice to enjoy sweets and history at the same time. Not to mention, its coffee is also a top-notch blend between high-quality coffee beans and milk. These three characteristics have created and protected its reputation for over 20 years.
Why you should come to this restaurant:
The biggest highlight of Java Ranch is its wall mural drawn by the Casbeer brother. It depicts how Fredericksburg city and people once looked. The wooden interior design furthers its classic ambiance even more.
What to eat:
Drinks are Java Ranch's main focus, with numerous choices of coffee, tea, milk, frappes, and smoothies. But if you come here for a sweet dish, look for the bakery good category. It includes every main treat.
The muffins have received much praise due to their excellent flavors. You can choose between the fruits (blueberries, cranberries, banana nuts) or other types (chocolate chips and red velvet).
Location: 114 E Main St, Fredericksburg, TX 78624
Website: https://javaranchcoffee.com/
Phone: (830) 990 4517
Although it's only open 3 days a week (Friday, Saturday, and Sunday), this food truck still manages to attract a huge amount of customers thanks to its artisan mini donuts.
Why you should come to this restaurant:
Since it's a food truck, you can easily order a portion and eat it on the go. All the foods are placed neatly in a paper box so they won't pose any trouble to your trip or dirty the surroundings.
What to eat:
These melt-in-your-mouth donuts come with different handmade glazes: vanilla, strawberry, chocolate, cinnamon roll, etc. Besides those, you can get a simple type dusted with powdered or cinnamon sugar.
One portion will give a dozen mini donuts of any flavor you choose. Also, don't forget to buy one glass of iced coffee. This drink is cold-brewed, leading to a light sweet taste.
Location: 1102 E Main St, Fredericksburg, TX 78624
Website: https://www.facebook.com/
Phone: Unavailable
No More Lacking Sugar With These Bakeries
While Fredericksburg is only a small city, it undoubtedly has a wonderful collection of bakeries. I hope this sweet adventure has satisfied your stomach and helped you learn more about this area's cuisine.
Please share your thoughts about these bakeries with other readers in the comment section. And if you know other dessert fans about to visit Fredericksburg, don't hesitate to introduce this list to them.